Background
PLX-4720, a 7-azaindole derivative discovered by a structure-guided discovery approach, is a potent inhibitor of B-RafV600E, the most frequent oncogenic protein kinase mutation, with the value of 50% inhibition concentration IC50 of 13 nM. PLX-4720 exhibits selective inhibition against B-RafV600E rather than wild type B-Raf (IC50 = 160 nM) as well as a wide range of other kinases, such as FRK, CSK, SRC, FAK, FGFR, and Aurora A (IC50 > 1000 nM for all). PLX-4720 potently inhibits ERK phosphorylation in tumor cell lines harboring B-RafV600E, induces cell cycle arrest and apoptosis in B-RafV600E-positive melanoma cells and causes tumor growth delays in B-RafV600E-dependent tumor xenograft models through oral administration.
Reference
Tsai J, Lee JT, Wang W, Zhang J, Cho H, Mamo S, Bremer R, Gillette S, Kong J, Haass NK, Sproesser K, Li L, Smalley KS, Fong D, Zhu YL, Marimuthu A, Nguyen H, Lam B, Liu J, Cheung I, Rice J, Suzuki Y, Luu C, Settachatgul C, Shellooe R, Cantwell J, Kim SH, Schlessinger J, Zhang KY, West BL, Powell B, Habets G, Zhang C, Ibrahim PN, Hirth P, Artis DR, Herlyn M, Bollag G. Discovery of a selective inhibitor of oncogenic B-Raf kinase with potent antimelanoma activity. Proc Natl Acad Sci U S A. 2008 Feb 26;105(8):3041-3046
文献引用
Chemical Properties
| | |
| --- | --- |
| Physical Appearance | A solid |
| Storage | Store at 4°C |
| M.Wt | 413.83 |
| Cas No. | 918505-84-7 |
| Formula | C17H14ClF2N3O3S |
| Synonyms | PLX4720, PLX-4720, PLX 4720 |
| Solubility | ≥20.69mg/mL in DMSO |
| Chemical Name | N-[3-(5-chloro-1H-pyrrolo[2,3-b]pyridine-3-carbonyl)-2,4-difluorophenyl]propane-1-sulfonamide |
| SDF | Download SDF |
| Canonical SMILES | CCCS(=O)(=O)NC1=C(C(=C(C=C1)F)C(=O)C2=CNC3=NC=C(C=C23)Cl)F |
| 运输条件 | 试用装:蓝冰运输。 其他可选规格:常温运输或根据您的要求用蓝冰运输。 |
| 一般建议 | 为了使其更好的溶解,请用37℃加热试管并在超声波水浴中震动片刻。不同厂家不同批次产品溶解度各有差异,仅做参考。若实验所需浓度过大至产品溶解极限,请添加助溶剂助溶或自行调整浓度。 |
试验操作
细胞实验[1]:

细胞系

WM793细胞

溶解方法

在DMSO中的溶解度>10 mM。为了获得更高的浓度,可以将离心管在37℃加热10分钟和/或在超声波浴中震荡一段时间。原液可以在-20℃以下储存几个月。

反应条件

0.5 μM;96 h

应用

细胞与PLX-4720孵育96 h后对活细胞进行鉴定,在药物持续存在时,移入非纤维状胶原凝胶上后进一步对细胞活力进行评估。PLX-4720处理培养物中活细胞数量约为63%。这些数据表明含有BRAFV600E突变的黑色素瘤细胞可以存活,尽管MEK-ERK信号级联反应中BRAF的活化减少。

动物实验[2]:

动物模型

注射A375黑色素瘤细胞无胸腺裸鼠

剂量

25-50 mg/kg/天;腹腔注射

应用

PLX-4720作为单一疗法可减少肿瘤生长。与CRM1的抑制剂KPT-276(75 mg/kg/天)联合使用时可诱导肿瘤完全消退(根据实体肿瘤的疗效评价标准(RECIST)标准)。单疗法与联合疗法之间具有统计学上显著的差异,联合疗法最大的贡献是对细胞凋亡的效应,药物组合使用显著增加细胞凋亡。

注意事项

请测试所有化合物在室内的溶解度,实际溶解度和理论值可能略有不同。这是由实验系统的误差引起的,属于正常现象。

References:

[1] Klein R M, Higgins P J. A switch in RND3-RHOA signaling is critical for melanoma cell invasion following mutant-BRAF inhibition. Mol Cancer, 2011, 10: 114.

[2] Fragomeni R A S, Chung H W, Landesman Y, et al. CRM1 and BRAF inhibition synergize and induce tumor regression in BRAF-mutant melanoma. Molecular cancer therapeutics, 2013, 12(7): 1171-1179.
生物活性
描述
PLX-4720是一种有效的和选择性的B-RafV600E抑制剂,IC50值为13 nM,对c-Raf-1(Y340D和Y341D突变型)具有同样的效力,作用于B-RafV600E比作用于野生型B-Raf的选择性高10倍。
靶点
B-RafV600E
c-Raf-1Y340D/Y341D
IC50
13 nM
6.7 nM
质量控制
化学结构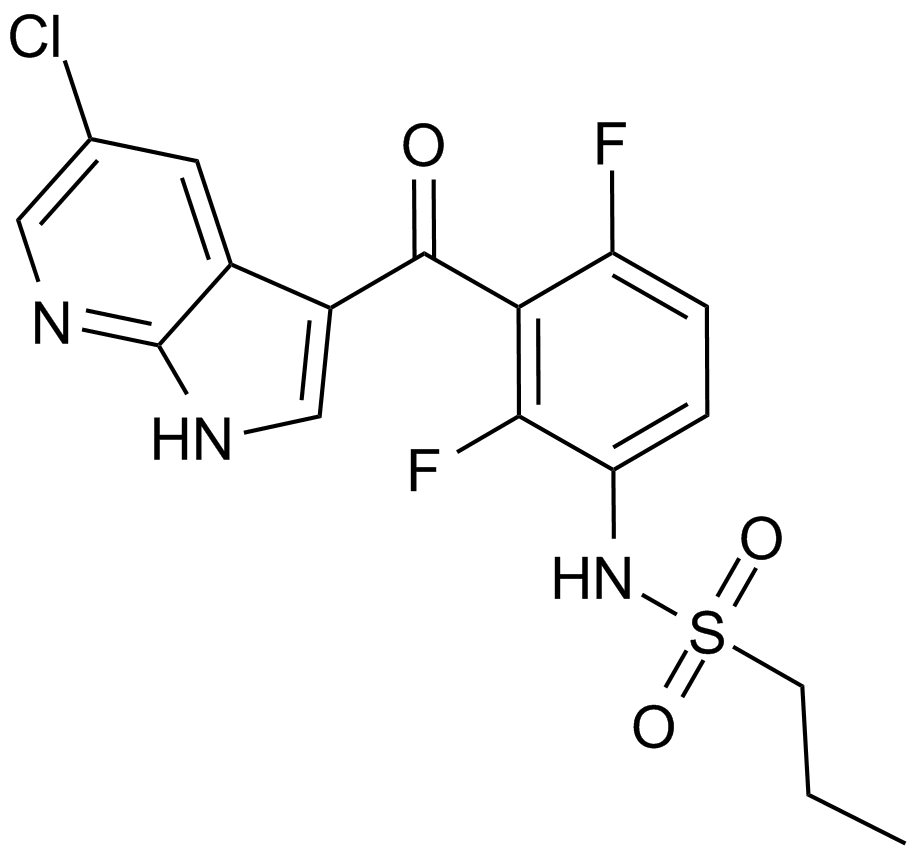 相关生物数据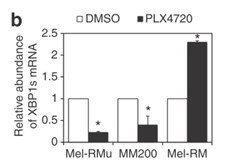 qPCR analysis showing that PLX4720 (3μM) alters the expression of XBP1s mRNA (n=3, mean±SEM; Student's t-test; *P<0.05).