Sample solution is provided at 25 µL, 10mM.
质量控制
化学结构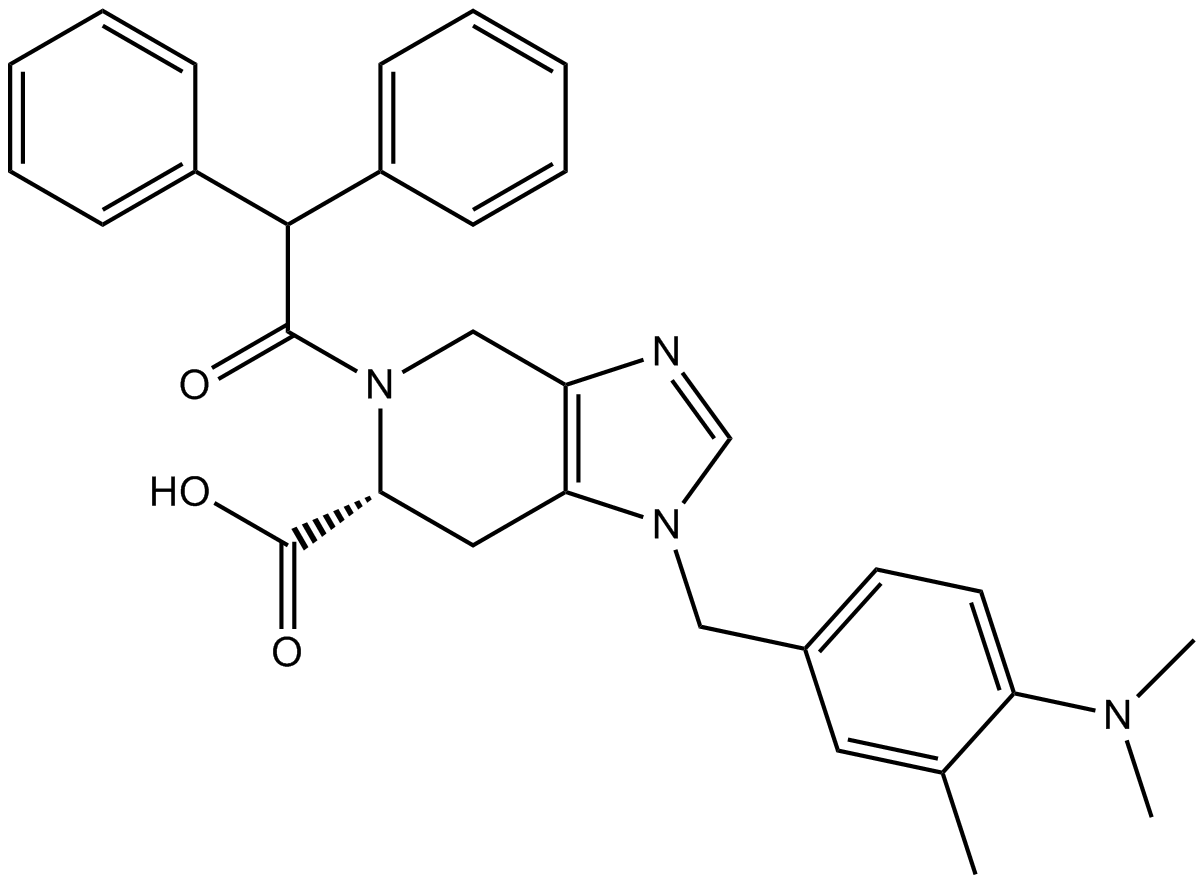 化学性质
CAS号
130663-39-7
SDF
Download SDF
化学名
(6S)-1-[[4-(dimethylamino)-3-methylphenyl]methyl]-5-(2,2-diphenylacetyl)-6,7-dihydro-4H-imidazo[4,5-c]pyridine-6-carboxylic acid
SMILES
CC1=C(C=CC(=C1)CN2C=NC3=C2CC(N(C3)C(=O)C(C4=CC=CC=C4)C5=CC=CC=C5)C(=O)O)N(C)C
分子式

C31H32N4O3

分子量

508.61

溶解度
≥22.4mg/mL in DMSO,≥104.2mg/mL in H2O
储存条件
Store at -20°C
物理性状
A colorless oil
运输条件
试用装:蓝冰运输。
其他可选规格:常温运输或根据您的要求用蓝冰运输。
一般建议
为了使其更好的溶解,请用37℃加热试管并在超声波水浴中震动片刻。不同厂家不同批次产品溶解度各有差异,仅做参考。若实验所需浓度过大至产品溶解极限,请添加助溶剂助溶或自行调整浓度。
生物活性
描述
PD 123319是一种有效的和选择性的AT2(血管紧张素II)受体的拮抗剂,IC50值为34 nM。
靶点
AT2 receptor
IC50
34 nM
实验操作
细胞实验 [1]:

细胞系

人间充质干细胞

溶解方法

该化合物在DMSO中的溶解度 > 10 mM。若配制更高浓度的溶液,一般步骤如下:请将试管置于37℃加热10分钟和/或将其置于超声波浴中震荡一段时间。原液于-20℃可放置数月。

反应时间

10μM、15天

应用

PD123319通过抑制细胞外信号调节激酶信号,抑制人间充质干细胞的成骨分化。

动物实验 [2]:

动物模型

大鼠模型

剂量

0.5或2 mg/kg /天、皮下注射6、10天

应用

在新生大鼠中,PD123319在低剂量下减弱高氧诱导的肺和心脏损伤。

注意事项

请于室内测试所有化合物的溶解度。实际溶解度和理论值可能略有不同,这是由实验系统的误差引起的,属于正常现象。

References:

1Matsushita, K., Wu, Y., Pratt, R. E. and Dzau, V. J. (2015) Blockade of angiotensin II type 2 receptor by PD123319 inhibits osteogenic differentiation of human mesenchymal stem cells via inhibition of extracellular signal-regulated kinase signaling. J Am Soc Hypertens. 9, 517-525

2Wagenaar, G. T., Sengers, R. M., Laghmani el, H., Chen, X., Lindeboom, M. P., Roks, A. J., Folkerts, G. and Walther, F. J. (2014) Angiotensin II type 2 receptor ligand PD123319 attenuates hyperoxia-induced lung and heart injury at a low dose in newborn rats. Am J Physiol Lung Cell Mol Physiol. 307, L261-272
产品描述
PD123319是血管紧张素II受体的非肽类抑制剂,IC50值为34 nM[1]。
血管紧张素II(Ang II)在多种生理功能,尤其是在血管收缩中起作用。不同于以往的药物,作为Ang II或ACE形成的抑制剂,PD123319是血管紧张素II受体的拮抗剂。在大鼠肾上腺和脑结合实验中,PD123319具有抑制作用,IC50值分别为34 nM和210 nM。在微粒体结合实验中,PD123319阻止Ang II与牛球状带微粒制剂的结合,IC50值为6.9 nM。据报道,PD123319可以抑制环磷酸鸟苷的生成,增加前列腺素E2的产生。此外,PD-123319不影响Ang II对蛋白酪氨酸磷酸化或胸苷掺入的效应[1,2,3]。
参考文献:
[1] Blankley C J, Hodges J C, Klutchko S R, et al. Synthesis and structure-activity relationships of a novel series of non-peptide angiotensin II receptor binding inhibitors specific for the AT2 subtype. Journal of medicinal chemistry, 1991, 34(11): 3248-3260.
[2] Boulay G, Servant G, Luong T T, et al. Modulation of angiotensin II binding affinity by allosteric interaction of polyvinyl sulfate with an intracellular domain of the DuP-753-sensitive angiotensin II receptor of bovine adrenal glomerulosa. Molecular pharmacology, 1992, 41(4): 809-815.
[3] Siragy H. Angiotensin II receptor blockers: review of the binding characteristics. The American journal of cardiology, 1999, 84(10): 3-8.