Background
PCI-32765, also named as Ibrutinib, is a Bruton tyrosine kinase inhibitor which is used to study the biological effects of Bruton tyrosine kinase inhibition on mature B-cell function and the progression of B cell-associated diseases in vivo. The Bruton tyrosine kinase is specifically necessary for BCR signaling as demonstrated by human and mouse mutations that disrupt Bruton tyrosine kinase function and prevent B-cell maturation at steps which need a functional BCR pathway. PCI-32765 also inhibited autoantibody production. Occupancy of the Bruton tyrosine kinase active site by PCI-32765 was monitored in vitro and in vivo using a fluorescent affinity probe for Bruton tyrosine kinase.
Reference
Lee A. Honigberga, Ashley M. Smitha, Mint Sirisawada, Erik Vernera, David Lourya, Betty Changa, Shyr Lib, Zhengying Panb,d, Douglas H. Thamme, Richard A. Millera, and Joseph J. Buggya. The Bruton tyrosine kinase inhibitor PCI-32765 blocks B-cell activation and is efficacious in models of autoimmune disease and B-cell malignancy. PNAS. 2010; 107(29): 13075 – 80.
文献引用
Chemical Properties
| | |
| --- | --- |
| Physical Appearance | A solid |
| Storage | Desiccate at -20°C |
| M.Wt | 440.5 |
| Cas No. | 936563-96-1 |
| Formula | C25H24N6O2 |
| Synonyms | PCI-32765,Ibrutinib,CRA-032765 |
| Solubility | ≥22.025mg/mL in DMSO |
| Chemical Name | 2-[(2R)-2-methylpyrrolidin-2-yl]-1H-benzimidazole-4-carboxamide |
| SDF | Download SDF |
| Canonical SMILES | C=CC(=O)N1CCCC(C1)N2C3=C(C(=N2)C4=CC=C(C=C4)OC5=CC=CC=C5)C(=NC=N3)N |
| 运输条件 | 试用装:蓝冰运输。 其他可选规格:常温运输或根据您的要求用蓝冰运输。 |
| 一般建议 | 为了使其更好的溶解,请用37℃加热试管并在超声波水浴中震动片刻。不同厂家不同批次产品溶解度各有差异,仅做参考。若实验所需浓度过大至产品溶解极限,请添加助溶剂助溶或自行调整浓度。 |
试验操作
细胞实验:

细胞系

CLL细胞系

溶解方法

在DMSO中的溶解度>10 mM。为了获得更高的浓度,可以将离心管在37℃加热10分钟和/或在超声波浴中震荡一段时间。原液可以在-20℃以下储存几个月。

反应条件

1 μM;24 h、48 h和72 h

应用

在CLL细胞中,PCI-32765处理24 h、48 h和72 h后均减少anti-IgM支持的细胞活力,从69%分别减少到33%、31%和29%。与非刺激对照相比,anti-IgM刺激24 h后诱导细胞活力平均增加27%±12%。而与非刺激对照相比,在anti-IgM刺激之前,用1 μM PCI-32765处理显著减少CLL细胞的活力到98%±8%。PCI-32765也可以有效抑制来自NLCs的存活信号。

动物实验:

动物模型

CB17 SCID小鼠和Eμ-TCL1转基因(Tg)C3H/BL6小鼠

剂量

次优(2.5 mg/kg/d);最佳(25 mg/kg/d)

应用

在过继转移TCL1小鼠模型中,细胞转移两周后分别用次优(2.5 mg/kg/d)和最佳(25 mg/kg/d)剂量的PCI-32765处理,小鼠在第4天出现瞬态淋巴细胞增多,并分别增加了7倍和10倍的循环TCL1白血病细胞。

注意事项

请测试所有化合物在室内的溶解度,实际溶解度和理论值可能略有不同。这是由实验系统的误差引起的,属于正常现象。

References:

[1] Ponader S, Chen S S, Buggy J J, et al. The Bruton tyrosine kinase inhibitor PCI-32765 thwarts chronic lymphocytic leukemia cell survival and tissue homing in vitro and in vivo[J]. Blood, 2012, 119(5): 1182-1189.
生物活性
描述
Ibrutinib是一种有效的、高选择性的Bruton's tyrosine kinase (BTK)抑制剂,IC50值为0.5 nM,对Bmx、CSK、 FGR、 BRK及HCK中度有效,对EGFR、Yes、ErbB2、JAK3等作用效果较弱。
靶点
Btk
IC50
0.5 nM
质量控制
化学结构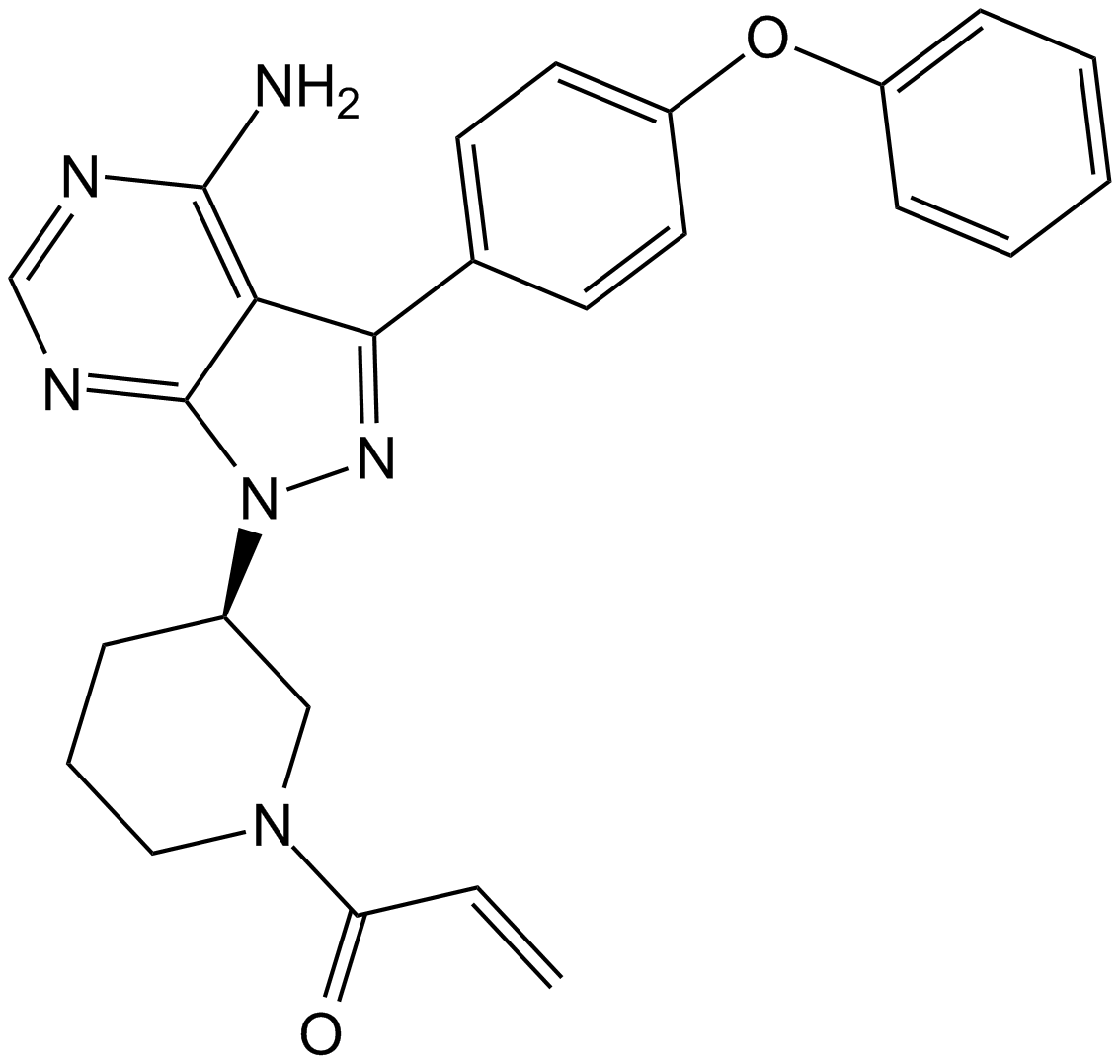 相关生物数据

In the Burkitt lymphoma cell line Namalwa, the anti-IgM–induced phosphorylation of protein kinase B (PKB/AKT) and ERK were inhibited by PCI-32765 , whereas phosphorylation of the activating LYN/SYK substrate site Y551 of BTK was actually upregulated.
Review (University of Minnesota)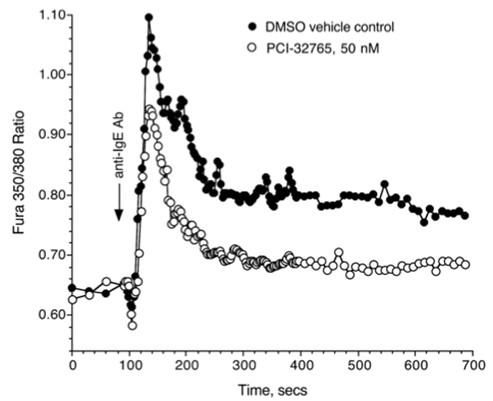 Fura-2 loaded purified basophils were incubated with vehicle control (0.0005% DMSO) or 50 nM PCI-32765 for 10 minutes prior to the addition of 0.5 μg/ml anti-IgE antibody and the cytosolic calcium response monitored. The 350/380 excitation ratio is plotted for the average of two experiments.
Review (Thomas Jefferson University)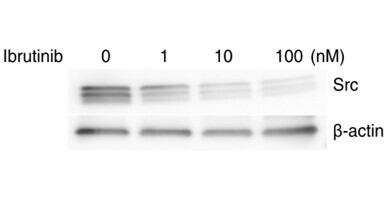 Src expression in BMMs cultured with RANKL and M-CSF for 3 days in the presence of ibrutinib at indicated concentration.
相关生物数据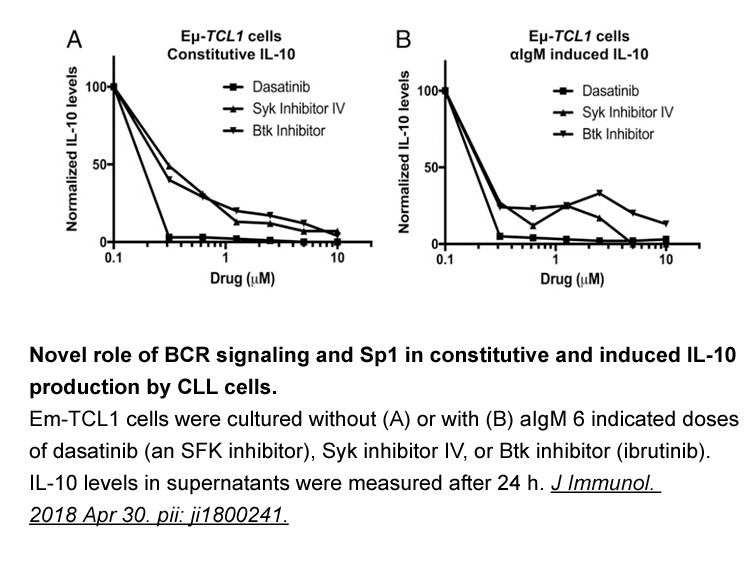 相关生物数据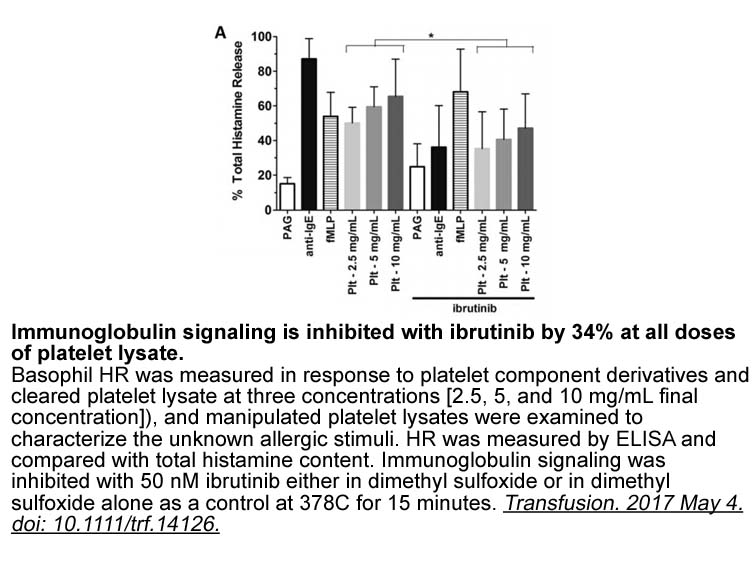 相关生物数据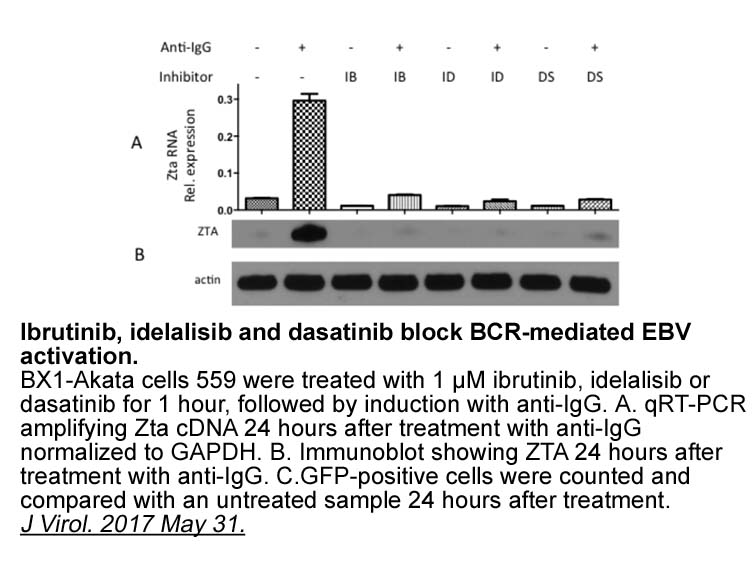 相关生物数据