Background
Panobinostat, as known as LBH589, is a novel and potent hydroxamic acid-based deacetylase inhibitor (DACis)that inhibits a broad spectrum of histone deacetylases (HDACs), including all Classes 1, 2 and 4 HDAC enzymes, at low nanomolar concentrations. According to previous studies, it not only induces apoptosis in multiple myeloma (MM) cells via caspase activation and poly(ADP-ribose) polymerase (PARP) cleavage, but also induces potent cell growth inhibition, cell-cycle arrest, and apoptosis in a time- and dose-dependent manner in both Philadelphia chromosome-negative (Ph-) actue lymphoblastic leukemia (ALL) cells lines (T-cell MOLT-4 and pre-B-cell Reh), which are correlated with induction of histone (H3K9 and H4K8) hyperacetylation, activation of p21 and p27, and suppression of c-Myc.
Reference
Wenlin Shao, Joseph D. Growney, Yun Feng, Gregory O'Connor, Minying Pu, Wenjing Zhu, Yung-Mae Yao, Paul Kwon, Stephen Fawell and Peter Atadja. Activity of deacetylase inhibitor panobinostat (LBH589) in cutaneous T-cell lymphoma models: defining molecular mechanisms of resistance. Int. J. Cancer: 127, 2199-2208 (2010)
Laurence Catley, Ellen Weisberg, Tanyel Kiziltepe, Yu-Tzu Tai, Teru Hideshima, Paola Neri, Pierfrancesco Tassone, Peter Atadja, Dharminder Chauhan, Nikhil C. Munshi and Keneth C. Anderson. Aggresome induction by proteasome inhibitor bortezomib and α-tubulin hyperacetylation by tubulin deacetylase (TDAC) inhibitor LBH589 are synergistic in myeloma cells. Blood (2006); 108(10): 3441-3449
Anna Scuto, Mark Kirschbaum, Claudia Kowolik, Leo Kretzner, Agnes Juhasz, Peter Atadja, Vinod Pullarkat, Ravi Bhatia, Stephen Forman, Yun Yen, and Richard Jove. The novel histone deacetylase inhibitor, LBH589, induces expression of DNA damage response genes and apoptosis in Ph- acute lymphoblastic leukemia cells. Blood (2008); 111(10):5093-5100
文献引用
Chemical Properties
| | |
| --- | --- |
| Storage | Store at -20°C |
| M.Wt | 349.43 |
| Cas No. | 404950-80-7 |
| Formula | C21H23N3O2 |
| Synonyms | Panobinostat,LBH589,LBH-589, Faridak, NVP-LBH589, |
| Solubility | ≥17.47mg/mL in DMSO, <3.19 mg/mL in EtOH, <2.27 mg/mL in H2O |
| Chemical Name | (E)-N-hydroxy-3-[4-[[2-(2-methyl-1H-indol-3-yl)ethylamino]methyl]phenyl]prop-2-enamide |
| SDF | Download SDF |
| Canonical SMILES | CC1=C(C2=CC=CC=C2N1)CCNCC3=CC=C(C=C3)C=CC(=O)NO |
| 运输条件 | 试用装:蓝冰运输。 其他可选规格:常温运输或根据您的要求用蓝冰运输。 |
| 一般建议 | 为了使其更好的溶解,请用37℃加热试管并在超声波水浴中震动片刻。不同厂家不同批次产品溶解度各有差异,仅做参考。若实验所需浓度过大至产品溶解极限,请添加助溶剂助溶或自行调整浓度。 |
试验操作
细胞实验[1]:

细胞系

MCF-7aro、LTEDaro、Exe-R、Let-R和Ana-R细胞系

溶解方法

在DMSO中的溶解度>10 mM。为了获得更高的浓度,可以将离心管在37℃加热10分钟和/或在超声波浴中震荡一段时间。原液可以在-20℃以下储存几个月。

反应条件

20 nM;6天

应用

用AI敏感细胞系MCF-7aro以及通过体外AI(Exe-R、Let-R和Ana-R)选择或在缺乏雌激素时长期培养获得的MCF-7aro的AI抗性变异(即LTEDaro)来研究芳香酶抑制剂(AIs)的细胞内反应以及获得AI抗性的机制。MCF-7aro、LTEDaro和三个AI抗性细胞系暴露于逐渐增加浓度的LBH589,LBH589以剂量依赖的方式抑制所有细胞系的增殖。

动物实验[1]:

动物模型

6-7周龄雌性去卵巢BALB/c Nu–Nu无胸腺小鼠

剂量

20 mg/kg,3次/周;腹腔注射

应用

用exemestane抗性的MCF7aro异种移植模型评估LBH589对体内AI抗性的抑制效果。LBH589显著抑制exemestane抗性肿瘤的生长,在实验结束时,LBH589处理小鼠中肿瘤的重量显著低于对照组。在LBH589处理组,没有小鼠出现明显的体重下降,表明LBH589耐受性良好。与其对肿瘤的效果一致,LBH589显著降低肿瘤细胞的增殖(Ki-67染色),并显著增加肿瘤细胞的凋亡(裂解PARP的染色)。

注意事项

请测试所有化合物在室内的溶解度,实际溶解度和理论值可能略有不同。这是由实验系统的误差引起的,属于正常现象。

References:

[1] Kubo M, Kanaya N, Petrossian K, et al. Inhibition of the proliferation of acquired aromatase inhibitor-resistant breast cancer cells by histone deacetylase inhibitor LBH589 (panobinostat)[J]. Breast cancer research and treatment, 2013, 137(1): 93-107.
生物活性
描述
Panobinostat (LBH589)是一种新型的广谱HDAC抑制剂,IC50值为5 nM。
靶点
HDAC (MOLT-4 cells)
HDAC (Reh cells)
IC50
5 nM
20 nM
质量控制
化学结构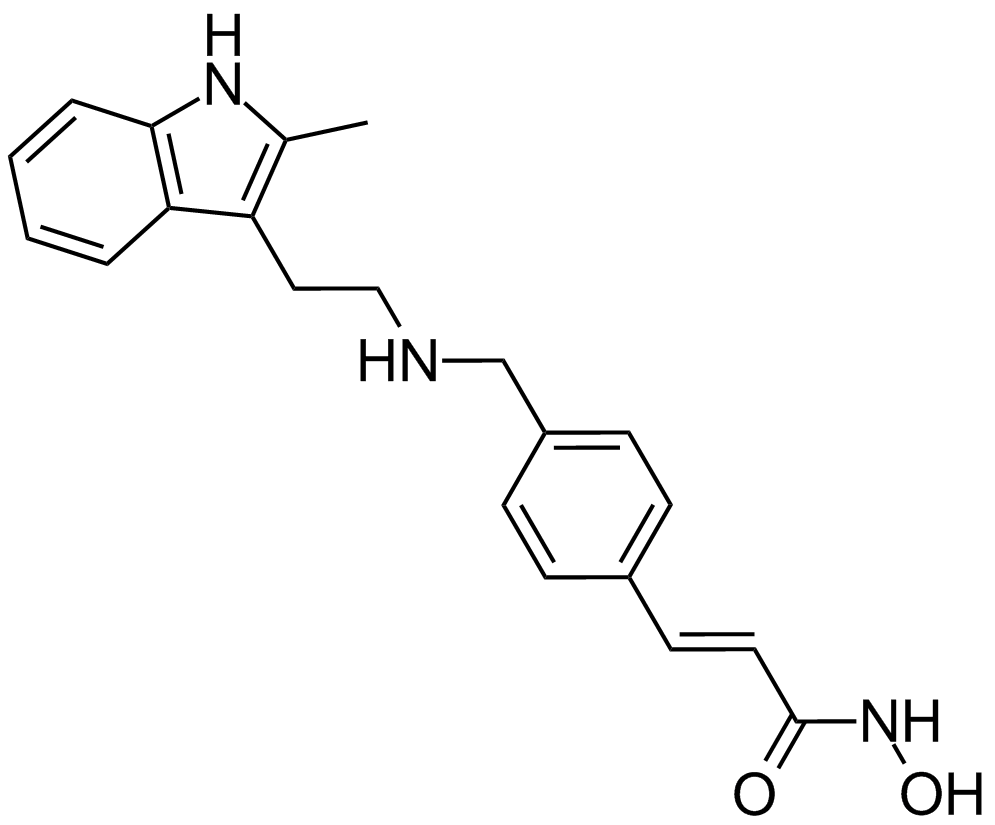 相关生物数据
相关生物数据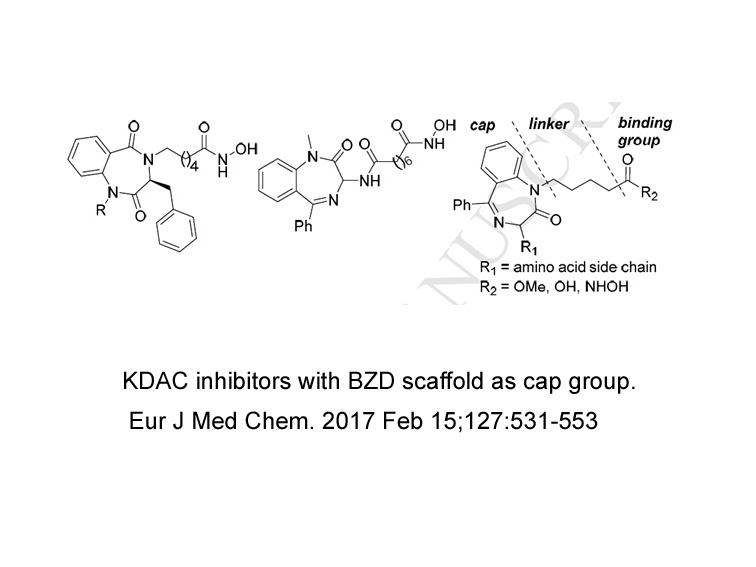 相关生物数据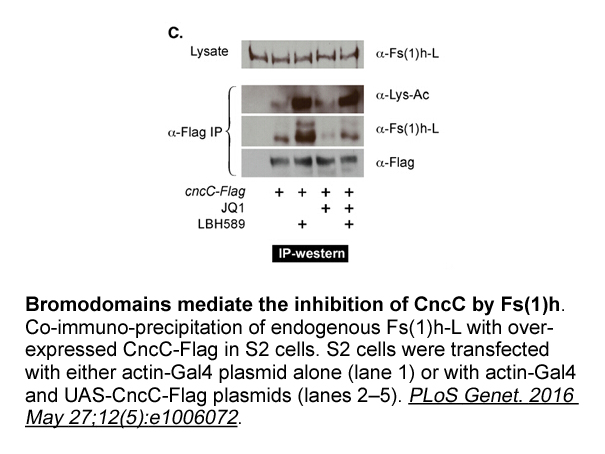 相关生物数据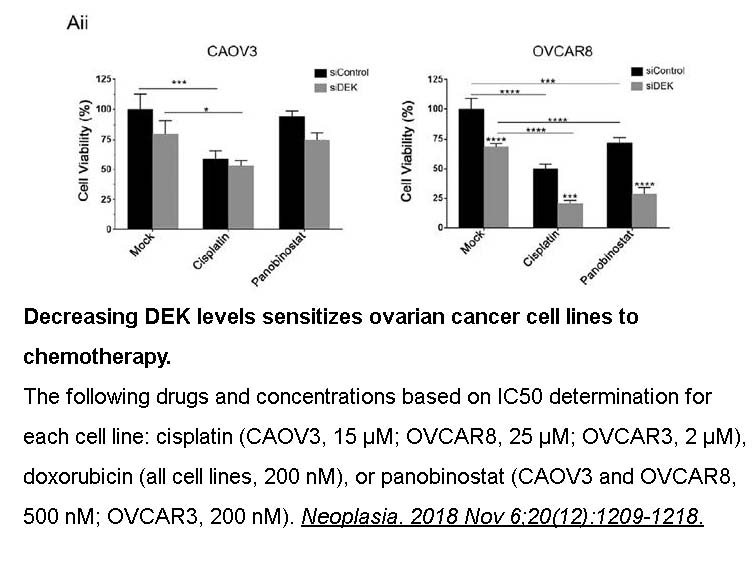 相关生物数据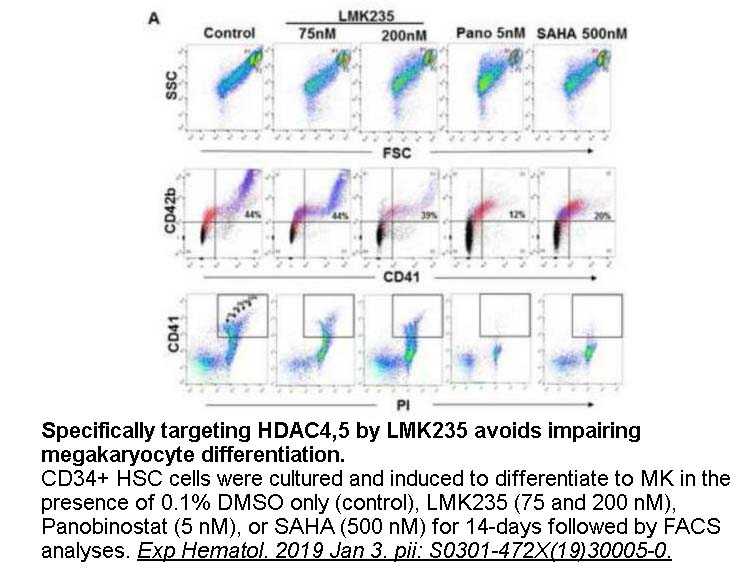 相关生物数据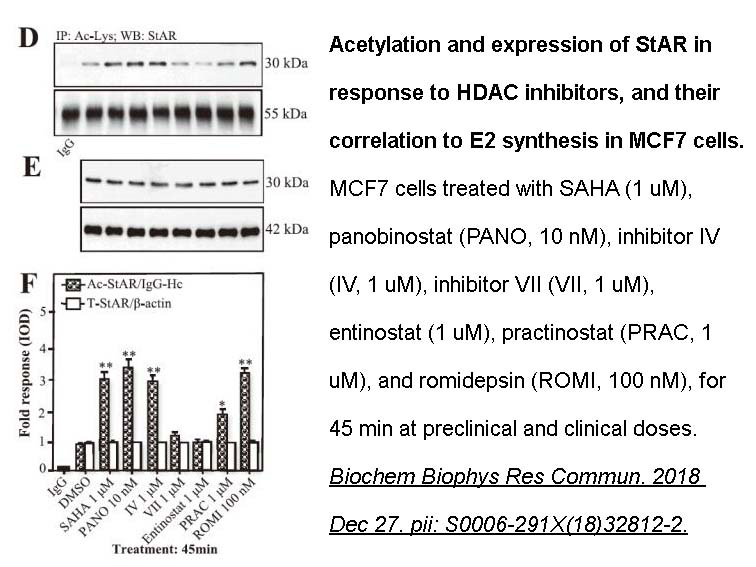 相关生物数据