Background
Obatoclax mesylate, also known as GX15-070, is a hydrophobic small molecule that potently inhibits BCL-2 family by binding to the BH3-binding site of BCL-2 and other related BCL-2 family members (including BCL-XL, MCL-1, A1, and BCL-B). As a pan-BCL-2 inhibitor being investigated for the treatment of refractory malignancies, obatoclax mesylate directly induce apoptosis in cultured acute myeloid leukemia (AML) cells as well as primary patient samples and exhibits antitumor activity in mouse xengografts of solid tumor and myeloma cell lines. Study results have shown that obatoclax mesylate inhibited clonogenic growth of primary AML samples (IC50 < nmol/L) and dissociated Bak and Bim from MCL-1 in cultured AML cells.
Reference
Aaron D. Schimmer, Susan O'Brien, Hagop Kantarjian, Joseph Brandwein, Bruce D. Cheson, Mark D. Minden, Karen Yee, Farhad Ravandi, Francis Giles, Andre Schuh, Vikas Gupta, Michael Andreeff, Charles Koller, Hong Chang, Suzanne Kamel-Reid, Mark Berger, Jean Viallet, and Gautam Borthakur. A phase I study of the Pan BCL-2 family inhibitor obatoclax mesylate in patients with advanced hematologic malignancies. Clin Cancer Res 2008; 14:8295-8301
文献引用
Chemical Properties
| | |
| --- | --- |
| Physical Appearance | A solid |
| Storage | Store at -20°C |
| M.Wt | 413.5 |
| Cas No. | 803712-79-0 |
| Formula | C20H19N3O.CH4O3S |
| Solubility | ≥20.7 mg/mL in DMSO, ≥3.15 mg/mL in EtOH with ultrasonic and warming, <2.35 mg/mL in H2O |
| Chemical Name | (2Z)-2-[(5Z)-5-[(3,5-dimethyl-1H-pyrrol-2-yl)methylidene]-4-methoxypyrrol-2-ylidene]indole;methanesulfonic acid |
| SDF | Download SDF |
| Canonical SMILES | CC1=CC(=C(N1)C=C2C(=CC(=C3C=C4C=CC=CC4=N3)N2)OC)C.CS(=O)(=O)O |
| 运输条件 | 试用装:蓝冰运输。 其他可选规格:常温运输或根据您的要求用蓝冰运输。 |
| 一般建议 | 为了使其更好的溶解,请用37℃加热试管并在超声波水浴中震动片刻。不同厂家不同批次产品溶解度各有差异,仅做参考。若实验所需浓度过大至产品溶解极限,请添加助溶剂助溶或自行调整浓度。 |
试验操作
细胞实验 [1]:

细胞系

稳定表达GFP-LC3的UMSCC-22A细胞

制备方法

该化合物在DMSO中的溶解度大于10 mM。若配制更高浓度的溶液,一般步骤如下:请将试管置于37℃加热10分钟和/或将其置于超声波浴中震荡一段时间。原液于-20℃可放置数月

反应条件

200 nM,48 hours

实验结果

Obatoclax处理后,将细胞固定在4%多聚甲醛中,然后用Hoechst 33258染色。使用共焦显微镜观察GFP-LC3点状点。用obatoclax(100或200 nM)处理这些细胞24或48小时导致GFP-LC3蛋白重新定位成点状细胞质点,这是自噬体形成的标志。用obatoclax治疗导致在48小时以及24小时每个细胞的平均点数增加约10倍。

动物实验[2]:

动物模型

注射SUDHL4细胞的Beige-nude-XID小鼠

给药剂量

腹腔注射,3.0 mg/kg

实验结果

Obatoclax(3.0 mg/kg)对肿瘤生长几乎没有影响,而carfilzomib(2.0 mg/kg)显著减少肿瘤大小。联合治疗导致最小的肿瘤生长,效果显著大于单独使用任一药剂。荧光素酶表达的肿瘤细胞的IVIS成像证实了联合治疗的肿瘤生长的显著减少。Kaplan-Meier分析还证明,carfilzomib显著增加了obatoclax治疗的小鼠的存活。

注意事项

请测试所有化合物在室内的溶解度,实际溶解度和理论值可能略有不同。这是由实验系统的误差引起的,属于正常现象。

References:

[1] Yazbeck VY, Li C, Grandis JR, Zang Y, Johnson DE. Single-agent obatoclax (GX15-070) potently induces apoptosis and pro-survival autophagy in head and neck squamous cell carcinoma cells. Oral Oncol. 2014 Feb;50(2):120-7.

[2] Dasmahapatra G, Lembersky D, Son MP, Patel H, Peterson D, Attkisson E, Fisher RI, Friedberg JW, Dent P, Grant S. Obatoclax interacts synergistically with the irreversible proteasome inhibitor carfilzomib in GC- and ABC-DLBCL cells in vitro and in vivo. Mol Cancer Ther. 2012 May;11(5):1122-32.
生物活性
Obatoclax(GX15-070)是BCL-2蛋白的拮抗剂,Ki值为0.22 μM,能够克服MCL-1介导的抗细胞凋亡。
靶点
Bcl-2
IC50
0.22 μM (Ki)
质量控制
化学结构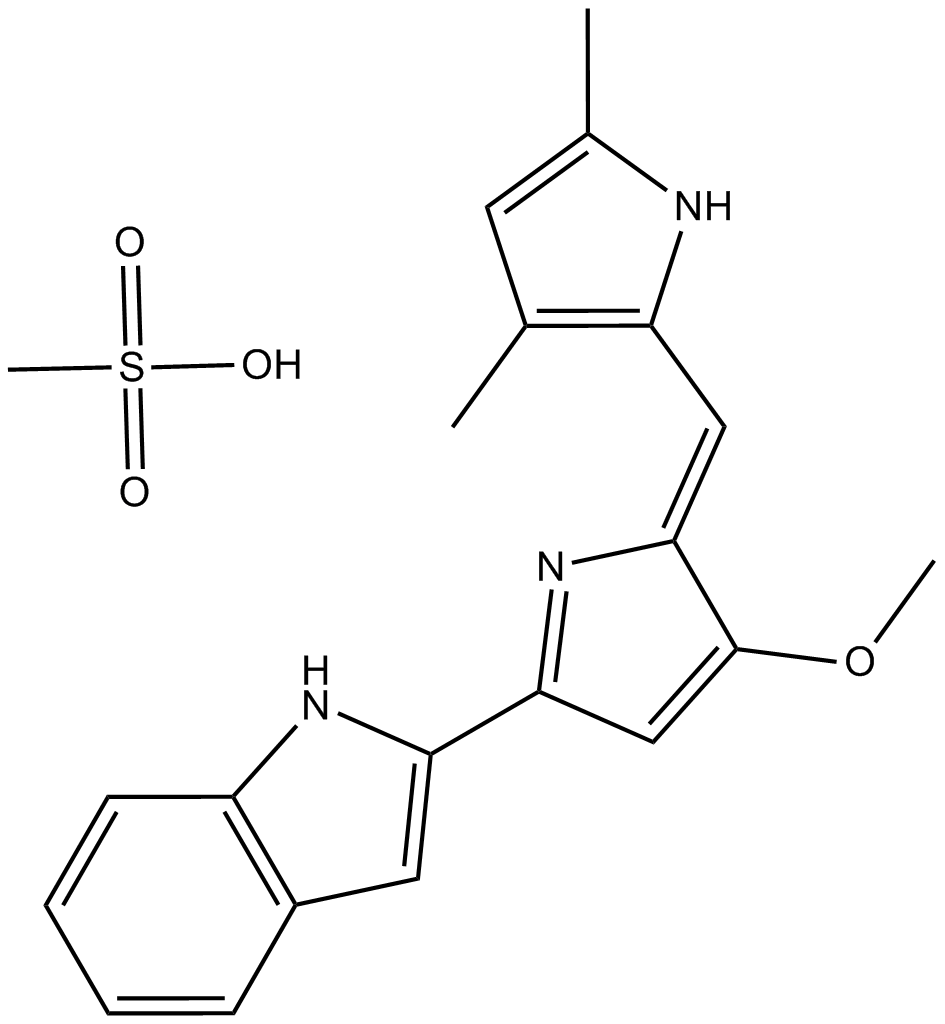 相关生物数据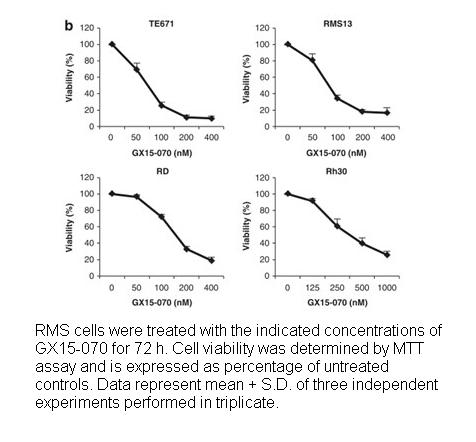 相关生物数据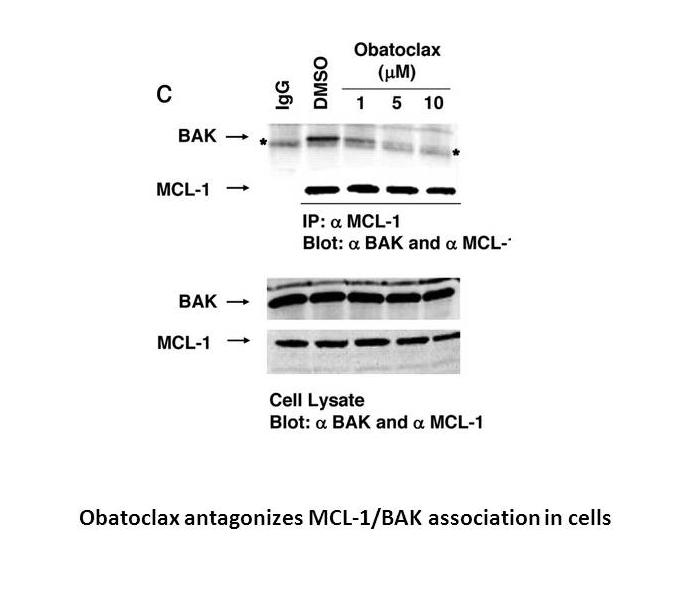 相关生物数据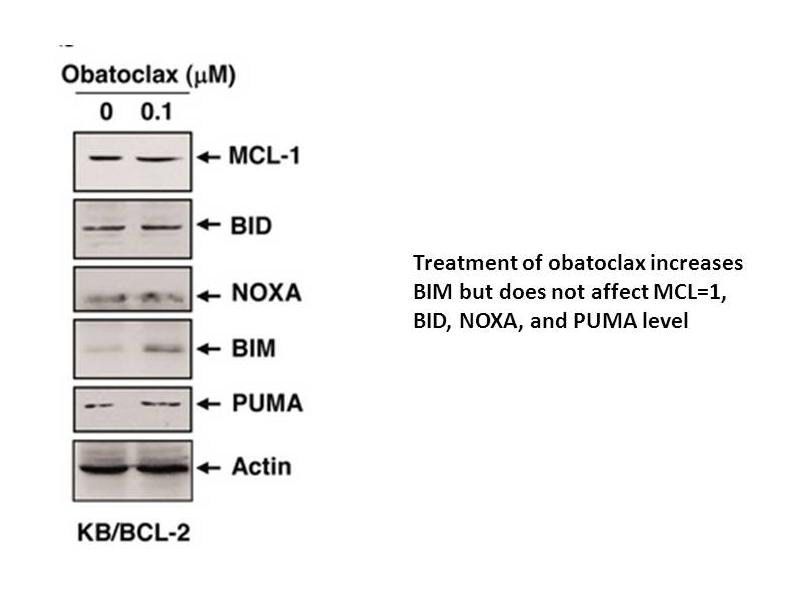 相关生物数据