Background
The orally bioavailable agent, MLN8237 (also known as alisertib), is a potent small-molecule inhibitor of Aurora A kinase (AAK) which is overexpressed in several types of tumor and  associated with oncogenesis and tumor progression. It was developed from its predecessor, MLN8054, in order to minimize the benzodiazepine-like effects seen with MLN8054. The inhibitory effect of MLN8237 is ATP-competitive, reversible and AAK-specific with an inhibition constant (Ki) of 0.43 nmol/L. MLN8237 is being investigated to treat advanced malignancies, due to its both in vitro and in vivo activities against a broad range of tumor types.
Reference
E. Claire Dees, Roger B. Cohen, Margaret von Mehren, Thomas E. Stinchcombe, Hua Liu, Karthik Venkatakrishnan, Mark Manfredi, Howard Fingert, Howard A. Burris III, and Jeffrey R. Infante. Phase I study of aurora A kniase inhibitor MLN8237 in advanced solid tumors: safety, pharmacokinetics, pharmacodynamics, and bioavailability of two oral formulations. Clin Cancer Res 2012; 18:4775-4784.
文献引用
Chemical Properties
| | |
| --- | --- |
| Physical Appearance | A solid |
| Storage | Store at -20°C |
| M.Wt | 518.92 |
| Cas No. | 1028486-01-2 |
| Formula | C27H20ClFN4O4 |
| Solubility | ≥25.9 mg/mL in DMSO, <2.59 mg/mL in ETOH, <2.57 mg/mL in H2O |
| Chemical Name | 4-[[9-chloro-7-(2-fluoro-6-methoxyphenyl)-5H-pyrimido[5,4-d][2]benzazepin-2-yl]amino]-2-methoxybenzoic acid |
| SDF | Download SDF |
| Canonical SMILES | COC1=C(C(=CC=C1)F)C2=NCC3=CN=C(N=C3C4=C2C=C(C=C4)Cl)NC5=CC(=C(C=C5)C(=O)O)OC |
| 运输条件 | 试用装:蓝冰运输。 其他可选规格:常温运输或根据您的要求用蓝冰运输。 |
| 一般建议 | 为了使其更好的溶解,请用37℃加热试管并在超声波水浴中震动片刻。不同厂家不同批次产品溶解度各有差异,仅做参考。若实验所需浓度过大至产品溶解极限,请添加助溶剂助溶或自行调整浓度。 |
试验操作
细胞实验[1]:

细胞系

TIB-48和CRL-2396细胞

溶解方法

在DMSO中的溶解度>10 mM。为了获得更高的浓度,可以将离心管在37℃加热10分钟和/或在超声波浴中震荡一段时间。原液可以在-20℃以下储存几个月。

反应条件

>100 nM;48 h

应用

TIB-48和CRL-2396细胞分别用10 nM、50 nM、100 nM、500 nM和1.0 μM的MLN8237处理48小时,在>100 nM浓度时,MLN8237诱导细胞凋亡,表明其是剂量依赖的。在处理的TIB-48和CRL-2396细胞中,切割PARP的水平增加,即使在MLN8237浓度低至50 nM时也能观察到PARP切割。

动物实验[2]:

动物模型

植入OVCAR-5-pWZL-Luc细胞的雌性C.B-17 SCID小鼠

剂量

20或30 mg/kg,1次/天(QD)或2次/天(BID);口服给药

应用

小鼠(n=16/组)随机分成5组:1)对照;2)20 mg/kg alisertib;3)30 mg/kg alisertib;4)5 mg/kg paclitaxel;5)20 mg/kg alisertib + 5 mg/kg paclitaxel。用每周BLI监测肿瘤生长。对数转换总通量数据表明,与对照小鼠相比,alisertib (20或30 mg/kg)治疗小鼠显著减少肿瘤生长速度,分别导致51%和49%的TGI。

注意事项

请测试所有化合物在室内的溶解度,实际溶解度和理论值可能略有不同。这是由实验系统的误差引起的,属于正常现象。

References:

[1] Qi W, Spier C, Liu X, et al. Alisertib (MLN8237) an investigational agent suppresses Aurora A and B activity, inhibits proliferation, promotes endo-reduplication and induces apoptosis in T-NHL cell lines supporting its importance in PTCL treatment. Leukemia research, 2013, 37(4): 434-439.

[2] Do T V, Xiao F, Bickel L E, et al. Aurora kinase A mediates epithelial ovarian cancer cell migration and adhesion. Oncogene, 2013, 33(5): 539-549.
生物活性
描述
Alisertib (MLN8237)是一种选择性的Aurora A抑制剂,IC50值为1.2 nM,对Aurora A的选择性比对Aurora B高200倍以上。
靶点
Aurora A
IC50
1.2 nM
质量控制
化学结构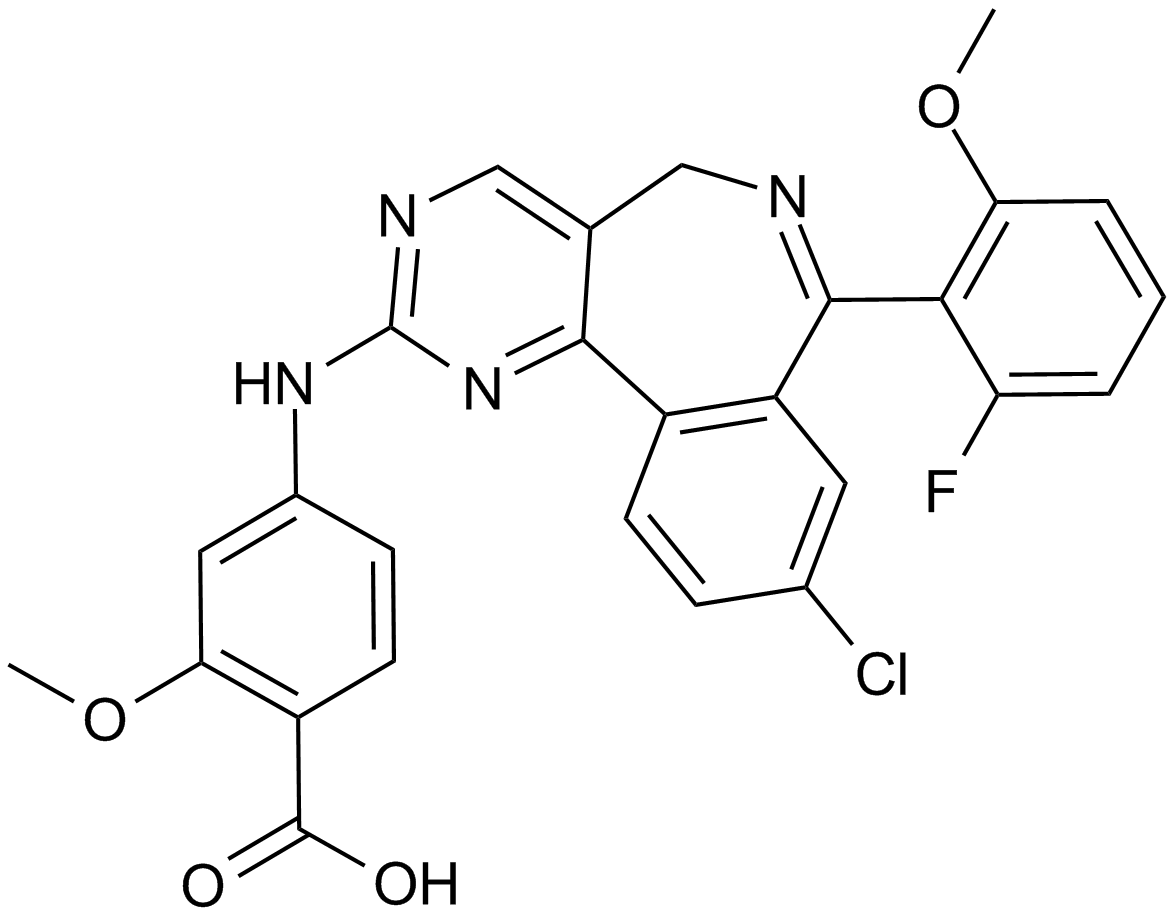 相关生物数据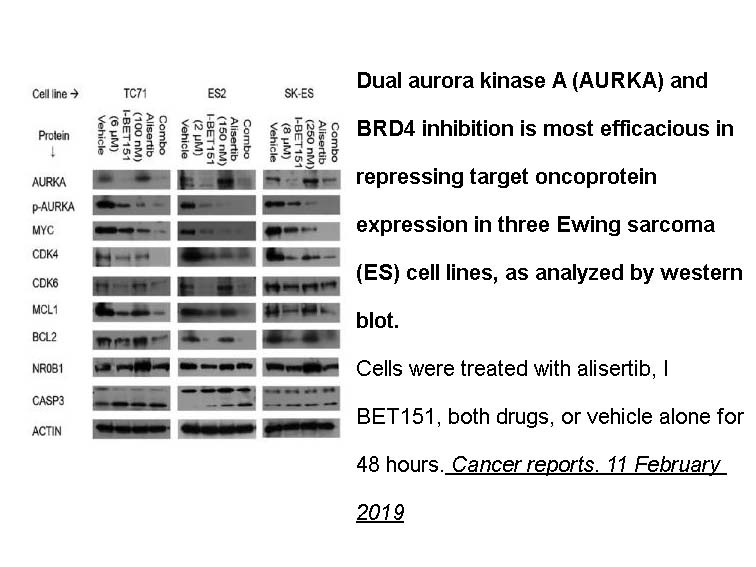 相关生物数据
相关生物数据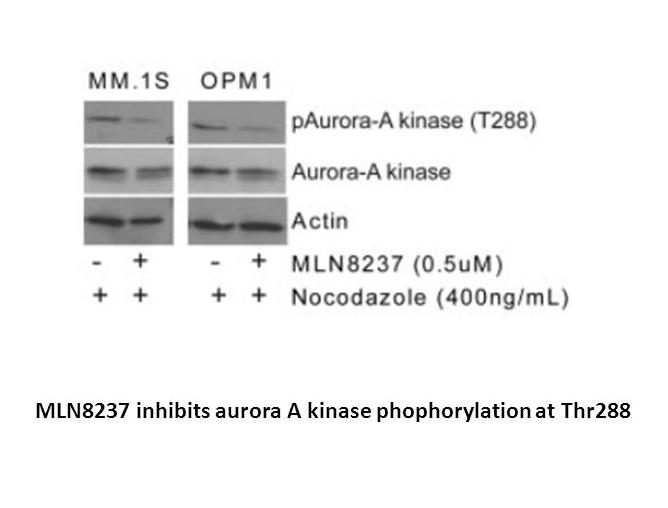 相关生物数据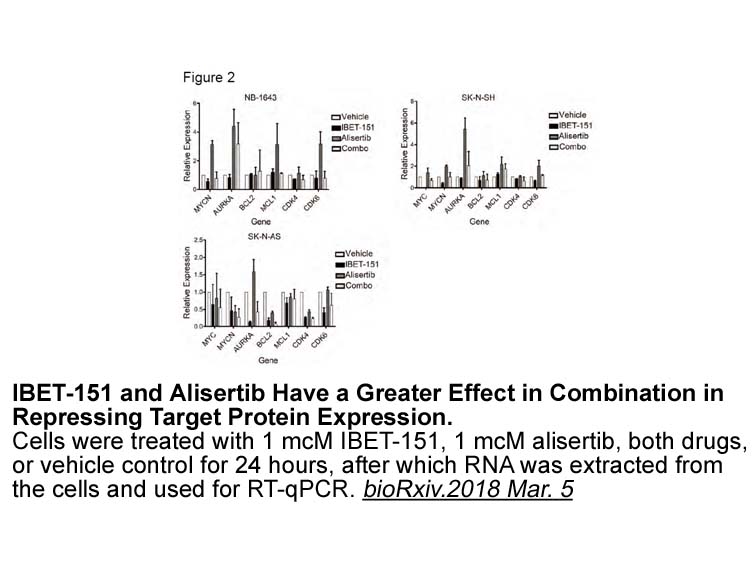 相关生物数据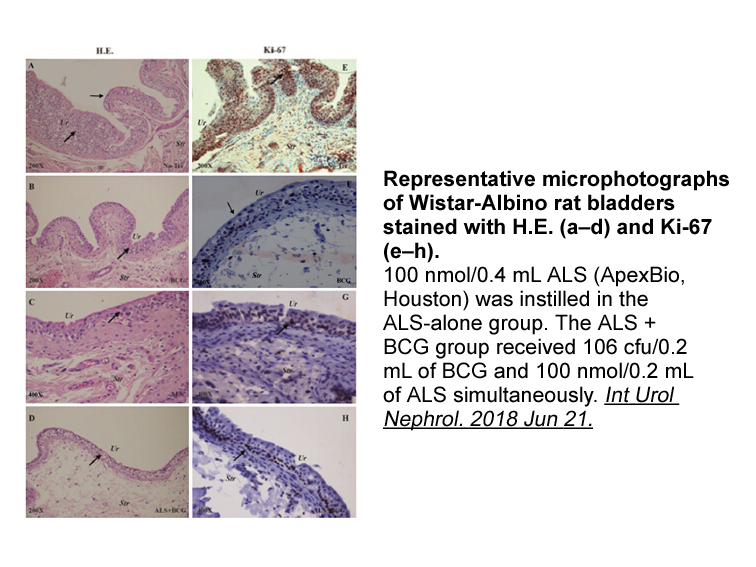 相关生物数据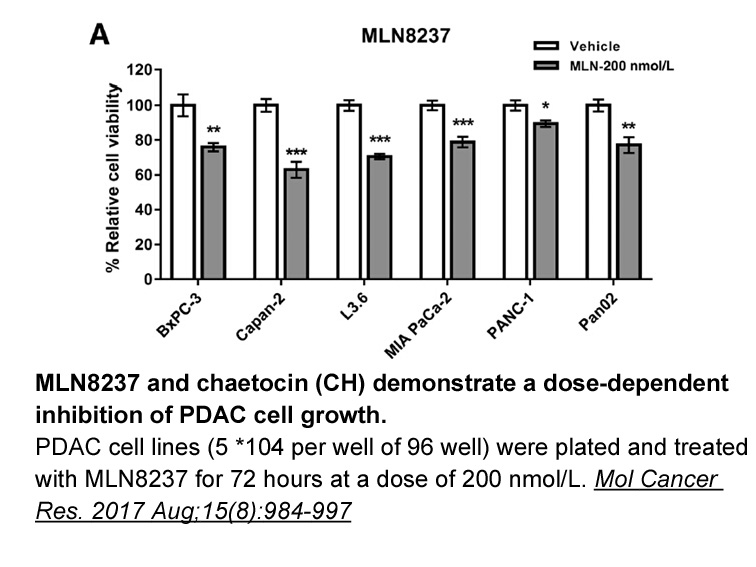 相关生物数据