Background
MG-262 (also known as Z-Leu-Leu-Leu-B(OH)2), a boronic peptide acid, is a potent proteasome inhibitor that selectively and reversibly inhibits the chymotryptic activity of the proteasome. It consists of a peptide and boronic acid moiety which are functional to proteasome inhibition. According to previous studies, MG-262 is capable of reducing the viability of nasal mucosa and polyp fibroblasts, provoking cell growth arrest, inhibiting DNA replication and retinoblastoma phosphorylation, increasing expression of the cell cycle inhibitor p21 and p27, and inducing cell death via loss of mitochondrial membrane potential, caspase-3 and poly(ADP-ribose) polymerase activation, induction of c-Jun phosphorylation and mitogen-activated protein kinase phosphatase-1 expression.
Reference
Laura Pujols, Laura Fernandez-Bertolin, Mireya Fuentes-Prado, Isam Alobid, Jordi Roca-Ferrer, Neus Agell, Joaquim Mullol, and Cesar Picado. Proteasome inhibition reduces proliferation, collagen expression, and inflammatory cytokine production in nasal mucosa and polyp fibroblasts. The Journal of Pharmacology and Experimental Therapeutics 2012; 343:184-197
Hilary Frase, Jason Hudak, and Irene Lee. Identification of the proteasome inhibitor MG262 as a potent ATP-dependent inhibitor of the Salmonella enteric serovar typhimurium lon protease. Biochemistry 2006; 45 (27): 8264-8274
文献引用
Chemical Properties
| | |
| --- | --- |
| Physical Appearance | A solid |
| Storage | Store at -20°C该产品在溶液中不稳定,建议现配现用 |
| M.Wt | 491.44 |
| Cas No. | 179324-22-2 |
| Formula | C25H42BN3O6 |
| Synonyms | PS-III,MG262,MG 262 |
| Solubility | ≥24.57mg/mL in DMSO, ≥96.4 mg/mL in EtOH, <2.41 mg/mL in H2O |
| Chemical Name | [(1R)-3-methyl-1-[[(2S)-4-methyl-2-[[(2S)-4-methyl-2-(phenylmethoxycarbonylamino)pentanoyl]amino]pentanoyl]amino]butyl]boronic acid |
| SDF | Download SDF |
| Canonical SMILES | B(C(CC(C)C)NC(=O)C(CC(C)C)NC(=O)C(CC(C)C)NC(=O)OCC1=CC=CC=C1)(O)O |
| 运输条件 | 试用装:蓝冰运输。 其他可选规格:常温运输或根据您的要求用蓝冰运输。 |
| 一般建议 | 为了使其更好的溶解,请用37℃加热试管并在超声波水浴中震动片刻。不同厂家不同批次产品溶解度各有差异,仅做参考。若实验所需浓度过大至产品溶解极限,请添加助溶剂助溶或自行调整浓度。 |
试验操作
细胞实验[1]:

细胞系

外周血单核细胞(PBMC)

溶解方法

溶于DMSO。为了获得更高的浓度,可以将离心管在37℃加热10分钟和/或在超声波浴中震荡一段时间。原液可以在-20℃以下储存几个月。

反应条件

0.01 μM;28天

应用

在MG-262处理28天后,用光镜对TRAP阳性和多核破骨细胞进行定量。MG-262以剂量依赖的方式显著抑制破骨细胞的形成,0.01μM浓度时减少27%的骨细胞分化,0.001μM浓度时减少30%的骨细胞分化。

动物实验[2]:

动物模型

GFPdgn TG小鼠

剂量

5 μmol/kg;20小时;静脉注射。

应用

TG小鼠静脉注射MG-262或对照样品20小时后,收集其组织样本。MG-262抑制心脏、肺、骨骼肌和肝脏中50-75%的糜蛋白酶活性(chymotryptic activity)。MG-262诱导全身蛋白酶体抑制,从而增加所有主要器官中GFPdgn蛋白的丰度。

注意事项

请测试所有化合物在室内的溶解度,实际溶解度和理论值可能略有不同。这是由实验系统的误差引起的,属于正常现象。

References:

[1] Zavrski I, Krebbel H, Wildemann B, et al. Proteasome inhibitors abrogate osteoclast differentiation and osteoclast function. Biochemical and biophysical research communications, 2005, 333(1): 200-205.

[2] Kumarapeli A R K, Horak K M, Glasford J W, et al. A novel transgenic mouse model reveals deregulation of the ubiquitin-proteasome system in the heart by doxorubicin. The FASEB journal, 2005, 19(14): 2051-2053.
生物活性
描述
MG-262是一种可逆的细胞通透性蛋白酶体抑制剂。
靶点
proteasome
IC50
122 nM
质量控制
化学结构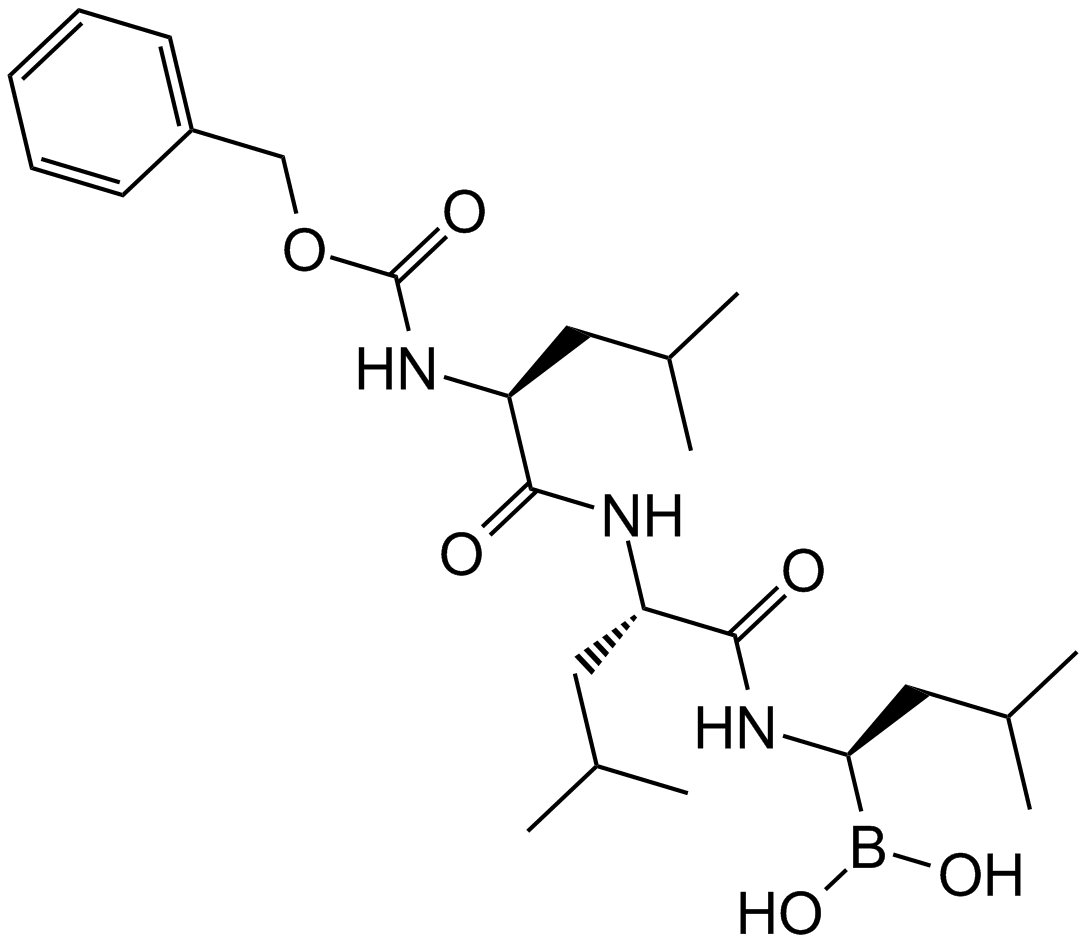 相关生物数据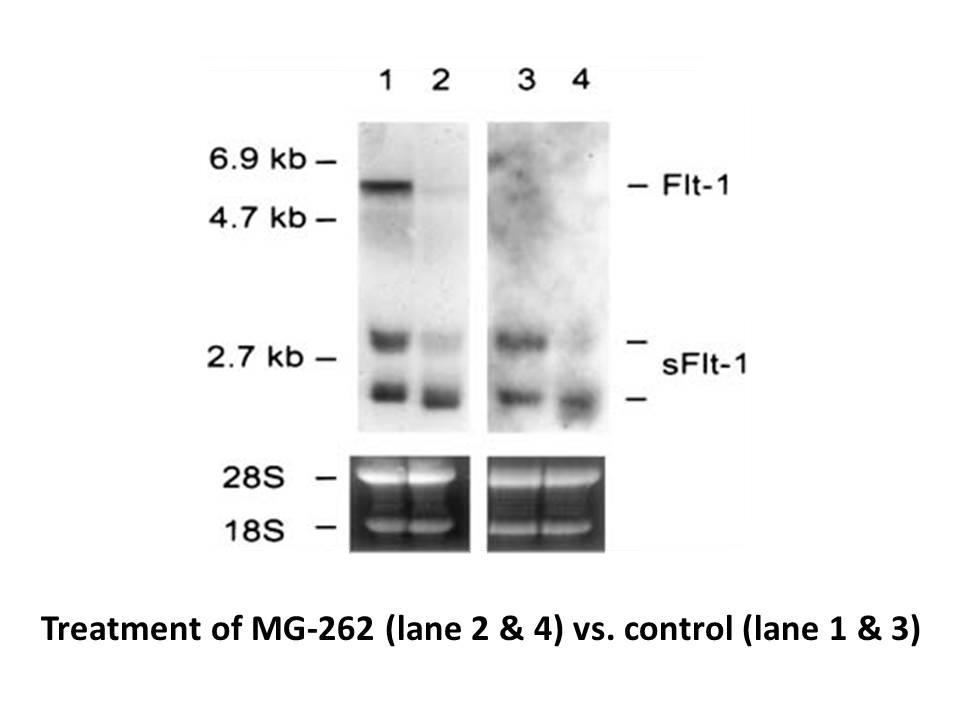 相关生物数据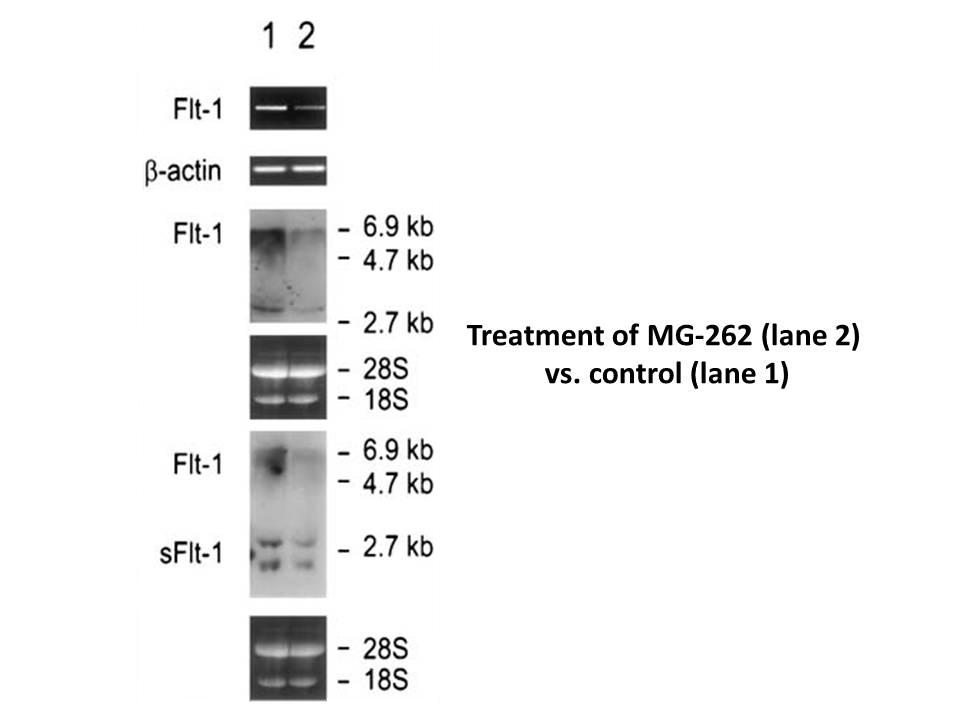 相关生物数据