Background
MDV3100, known as Enzalutamide, is a second-generation androgen receptor (AR) signaling inhibitor. It has been demonstrated impressive affinity to the AR compared to the first-generation AR inhibitors. It is able to inhibit binding of androgens to the AR, AR nuclear translocation, and the association of the AR with DNA. The AR is a 919-amino acid member of the steroid receptor transcription factor superfamily with different domains including an N-terminal regulation domain, a central DNA binding domain, and a C-terminal domain, which includes the ligand-binding domain incorporated within its protein structure. MDV3100 was identified by the Sawyers/Jung laboratories by using the nonsteroidal agonist. Testing was showing that it induced apoptosis in VCaP cells, an AR gene amplified human prostate cancer line, while bicalutamide was ineffective.
Reference
Howard I. Scher, Karim Fizazi, Fred Saad, Mary-Ellen Taplin, Cora N. Sternberg, Kurt Miller, Ronald De Wit, Peter Mulders, Mohammad Hirmand, Bryan Selby, Johann Sebastian. Effect of MDV3100, an androgen receptor signaling inhibitor (ARSI), on overall survival in patients with prostate cancer postdocetaxel: Results from the phase III AFFIRM study. Journal of Clinical Oncology. 2012; 30(5):
Manoj P. Menon, Celestia S. Higano. Enzalutamide, a Second Generation Androgen Receptor Antagonist: Development and Clinical Applications in Prostate Cancer. Current Oncology Reports. 2013; 15(2): 69 – 75.
Joelle El-Amm, Nihar Patel, Ashley Freeman, Jeanny B. Aragon-Ching. Metastatic Castration-Resistant Prostate Cancer: Critical Review of Enzalutamide. Clinical Medicine Insights: Oncology. 2013; 7: 235 – 245.
文献引用
Chemical Properties
| | |
| --- | --- |
| Physical Appearance | A solid |
| Storage | Store at -20°C |
| M.Wt | 464.4 |
| Cas No. | 915087-33-1 |
| Formula | C21H16F4N4O2S |
| Synonyms | Enzalutamide, MDV3100, MDV-3100, MDV 3100 |
| Solubility | ≥23.22mg/mL in DMSO |
| Chemical Name | 4-[3-[4-cyano-3-(trifluoromethyl)phenyl]-5,5-dimethyl-4-oxo-2-sulfanylideneimidazolidin-1-yl]-2-fluoro-N-methylbenzamide |
| SDF | Download SDF |
| Canonical SMILES | CC1(C(=O)N(C(=S)N1C2=CC(=C(C=C2)C(=O)NC)F)C3=CC(=C(C=C3)C#N)C(F)(F)F)C |
| 运输条件 | 试用装:蓝冰运输。 其他可选规格:常温运输或根据您的要求用蓝冰运输。 |
| 一般建议 | 为了使其更好的溶解,请用37℃加热试管并在超声波水浴中震动片刻。不同厂家不同批次产品溶解度各有差异,仅做参考。若实验所需浓度过大至产品溶解极限,请添加助溶剂助溶或自行调整浓度。 |
试验操作
细胞实验:

细胞系

VCaP、LNCaP、22RV1、DU145和PC3前列腺癌细胞系。

溶解方法

在DMSO中的溶解度>10 mM。为了获得更高的浓度,可以将离心管在37℃加热10分钟和/或在超声波浴中震荡一段时间。原液可以在-20℃以下储存几个月。

反应时间

10 μM,12 h

应用

MDV3100显著减少AR在靶位点的聚集,比bicalutamide的作用更强。而JQ1抑制AR的聚集,几乎跟MDV3100一样有效。MDV3100抑制DHT介导的AR在BRD4位点的聚集,作用比JQ1更强。用基因芯片对VCaP和LNCaP细胞中的基因表达进行分析,表明JQ1比MDV3100或bicalutamide更加有效地抑制DHT诱导的AR靶基因的转录。

动物实验:

动物模型

四周龄雄性SCIDC.B17小鼠

剂量

10 mg/kg,五天/周;口服灌胃或腹腔注射

应用

在VCaP肿瘤异种移植小鼠中,JQ1显著减少肿瘤的体积/重量,而MDV3100的效果不太明显。几个临床前研究表明,MDV3100具有促肿瘤转移的效应。为了检测MDV3100是否会导致VCaP异种移植模型中自发的肿瘤转移,从MDV3100治疗的小鼠中分离股骨、肝脏和脾脏,结果发现股骨和肝脏中有肿瘤转移的证据。相比之下,JQ1治疗的小鼠没有肿瘤转移的证据。这些临床前研究表明,MDV3100在临床上用于治疗前列腺癌时,有可能增强肿瘤微转移。

注意事项

请测试所有化合物在室内的溶解度,实际溶解度和理论值可能略有不同。这是由实验系统的误差引起的,属于正常现象。

3期临床实验[2]:

疾病模型

阉割性前列腺癌患者

剂量

160 mg/天(800位患者)或安慰剂(399位患者)

应用

Enzalutamide与安慰剂组相比的优越性主要表现在以下几个方面:前列腺特异性抗原(PSA)水平减少50%或更多的患者比例(54% vs. 2%,P<0.001),软组织反应率(29% vs. 4%,P<0.001),生活质量的应答率(43% vs. 18%,P<0.001),PSA进展时间(8.3 vs. 3.0个月;风险比,0.25;P<0.001),放射学无进展生存期(8.3 vs. 2.9个月;风险比,0.40;P<0.001)和第一次骨骼相关事件(SRE)的时间(16.7 vs. 13.3个月;风险比,0.69;P<0.001)。Enzalutamide治疗组中出现疲劳,腹泻和潮热的比例也更高。

References:

1. Asangani IA, Dommeti VL, Wang X et al. Therapeutic targeting of BET bromodomain proteins in castration-resistant prostate cancer. Nature. 2014 Jun 12;510(7504):278-82.

2. Scher HI, Fizazi K, Saad F et al. Increased survival with enzalutamide in prostate cancer after chemotherapy. N Engl J Med. 2012 Sep 27;367(13):1187-97.
生物活性
描述
Enzalutamide (MDV3100)是一种雄激素受体(AR)拮抗剂,IC50值为36 nM。
靶点
Androgen-receptor
IC50
36 nM
质量控制
化学结构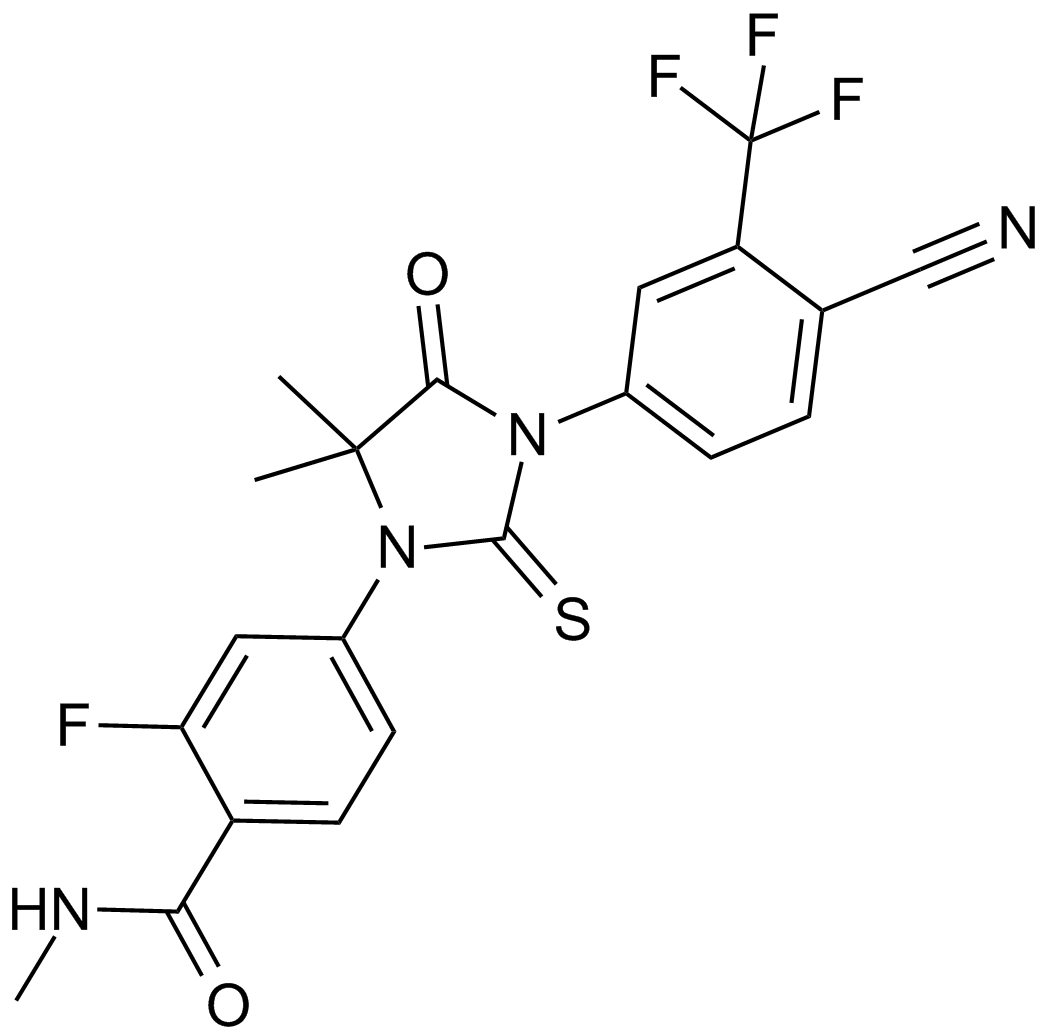 相关生物数据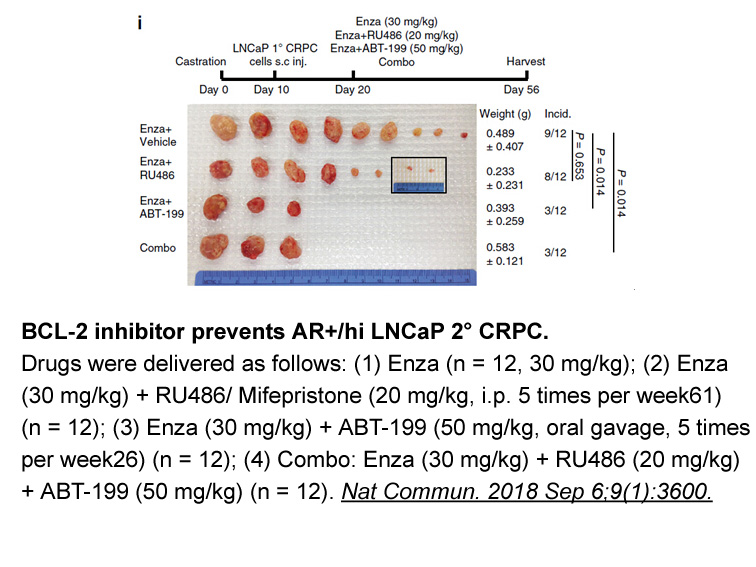 相关生物数据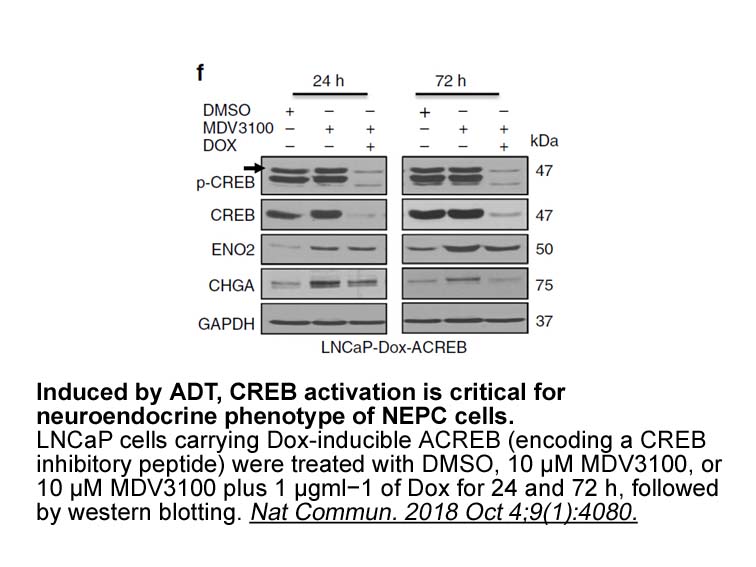 相关生物数据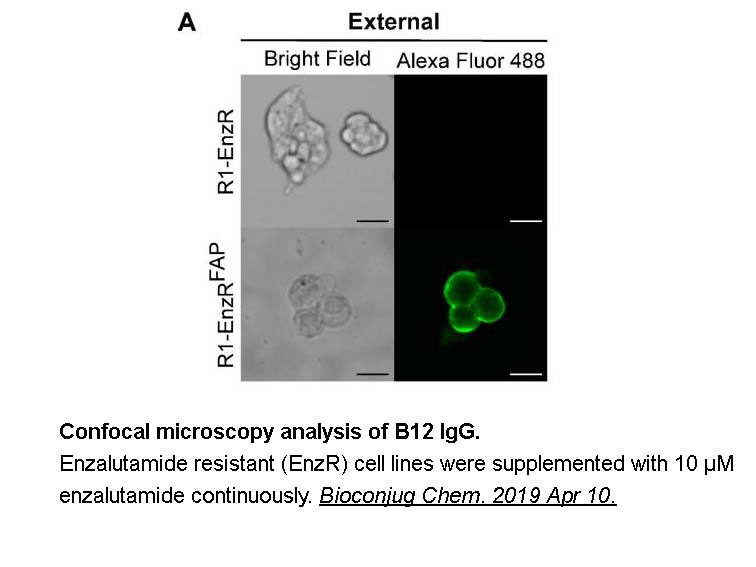 相关生物数据
相关生物数据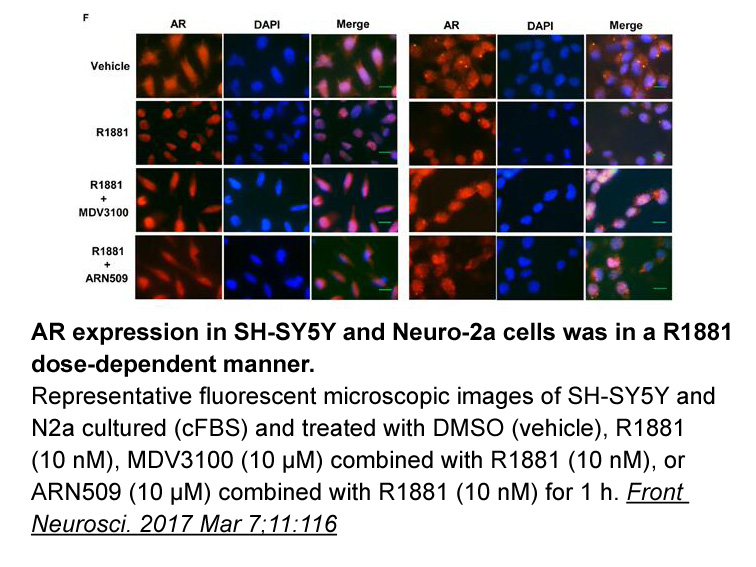 相关生物数据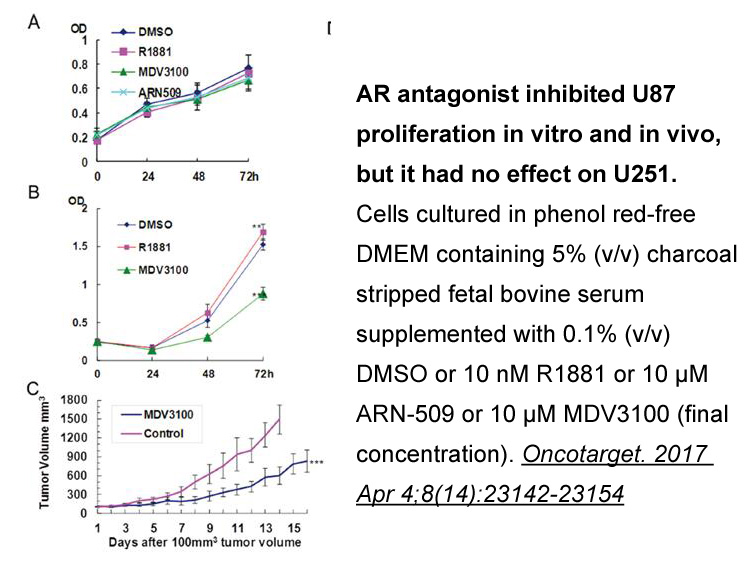 相关生物数据