Background
Marimastat is a broad range inhibitor of Matrix metalloproteinases with IC50 values of  5, 6, 13, 3 and 9 nM for MMP-1, MMP-2, MMP-7 , MMP-9 and MMP-14 [1].
Marimastat is an orally bioavailable inhibitor with an absolute bioavailability of 20%–50% in preclinical studies, which can bind covalently to the zinc atom of the MMP-active site by a collagen-mimicking hydroxamate structure [1].
A reduction in the size and number of metastatic foci in treated compared with the control animals was demonstrated by experimental metastases models against lung and breast cancer. The studies were carried out at doses of 100–500 mg/kg per day, and the agent induced gastrointestinal toxicity and weight loss, as well as hemorrhage, fibrosis, inflammation, and necrosis at particular ankle and knee tissues. Single oral doses of up to 800 mg were well tolerated and did not lead to obvious toxicity. Peak plasma concentrations can be detected within 1.5–3 hours after oral administration, and the elimination half-life was estimated as a range of 8–10 hours. No plasma accumulation was detected after an oral doses of 50–200 mg in continuous administration twice a day for 6 consecutive days [2,3].
Pharmacological studies demonstrated that marimastat is well absorbed from the gastrointestinal tract and exhibits a linear pharmacokinetic behavior. The minimum plasma concentration was found after exceeding 10 mg doses twice a day, which were sixfold greater than the required for inhibition of MMP in vitro. Complain to the patients treated with gemcitabine, the most effective chemotherapeutic agent against the nonmetastatic pancreatic cancer, the patients who received high doses of marimastat had a 1-year survival rates.  It is encouraging that the patients with unresectable gastric cancer who were treated with marimastat show a modest increase in survival [1,2].
References:
1.Hidalgo M, Eckhardt SG, Development of matrix metalloproteinase inhibitors in cancer therapy. JOURNAL OF THE NATIONAL CANCER INSTITUTE. 2001, 93(3):178-193.
2.Coussens LM, Fingleton B , Matrisian LM , Cancer therapy - Matrix metalloproteinase inhibitors and cancer: Trials and tribulations. SCIENCE, 295 (5564): 2387-2392.
3.Van Wijngaarden J , Snoeks TJA , van Beek E, et al . An in vitro model that can distinguish between effects on angiogenesis and on established vasculature: Actions of TNP-470, marimastat and the tubulin-binding agent Ang-510. BIOCHEMICAL AND BIOPHYSICAL RESEARCH COMMUNICATIONS, 2000, 391 (2): 1161-1165.
文献引用
Chemical Properties
| | |
| --- | --- |
| Storage | Store at -20°C |
| M.Wt | 331.41 |
| Cas No. | 154039-60-8 |
| Formula | C15H29N3O5 |
| Solubility | ≥80.1 mg/mL in DMSO, ≥20.43 mg/mL in EtOH, ≥2.8 mg/mL in H2O with ultrasonic and warming |
| Chemical Name | (2R,3S)-N-[(2S)-3,3-dimethyl-1-(methylamino)-1-oxobutan-2-yl]-N',3-dihydroxy-2-(2-methylpropyl)butanediamide |
| SDF | Download SDF |
| Canonical SMILES | CC(C)CC(C(C(=O)NO)O)C(=O)NC(C(=O)NC)C(C)(C)C |
| 运输条件 | 试用装:蓝冰运输。 其他可选规格:常温运输或根据您的要求用蓝冰运输。 |
| 一般建议 | 为了使其更好的溶解,请用37℃加热试管并在超声波水浴中震动片刻。不同厂家不同批次产品溶解度各有差异,仅做参考。若实验所需浓度过大至产品溶解极限,请添加助溶剂助溶或自行调整浓度。 |
试验操作
细胞实验[1]:

细胞系

人类神经胶质瘤细胞系U251和GaMG.

溶解方法

该化合物在DMSO中的溶解度大于10 mM。若配制更高浓度的溶液,一般步骤如下:请将试管置于37℃加热10分钟和/或将其置于超声波浴中震荡一段时间。原液于-20℃可放置数月

反应条件

0.3 μM、0.6 μM、1.0 μM、10 μM和 50 μM,48 h或6 天

实验结果

在衍生自人神经胶质瘤细胞系U251和具有RBA的GaMG的肿瘤球体的共培养物中,10 μM的marimastat强烈抑制肿瘤侵袭。Marimastat(10μM)将细胞增殖降低54%,50 μM的药物在6天内完全抑制细胞生长。此外,10 μM的marimastat将U251球体生长减少65%。

动物实验 [2]:

动物模型

肝纤维化的雄性6周龄C57BL6/J小鼠

剂量

100 mg/kg,填喂,每天两次,一周。

实验结果

Marimastat显著减少肝损伤和炎症,但诱导急性CCl4给药后胶原沉积增加25%。Marimastat抑制MMP活性并减少纤维化。在CCl4诱导的慢性肝损伤中,Marimastat使血清丙氨酸转氨酶(ALT)水平显著降低14倍,并下调主要促纤维形成基因的mRNA水平。

注意事项

请测试所有化合物在室内的溶解度,实际溶解度和理论值可能略有不同。这是由实验系统的误差引起的,属于正常现象。

References:

[1]. Tonn JC, Kerkau S, Hanke A, et al. Effect of synthetic matrix-metalloproteinase inhibitors on invasive capacity and proliferation of human malignant gliomas in vitro. Int J Cancer, 1999, 80(5): 764-772.

[2]. de Meijer VE, Sverdlov DY, Popov Y, et al. Broad-spectrum matrix metalloproteinase inhibition curbs inflammation and liver injury but aggravates experimental liver fibrosis in mice. PLoS One, 2010, 5(6): e11256.
生物活性
描述
Marimastat (BB-2516)是一种广谱的基质金属蛋白酶(matrix metalloprotease,MMP)抑制剂,作用于 MMP-9、MMP-1、MMP-2、MMP-14 和 MMP-7,IC50值分别为 3 nM、5 nM、6 nM、9 nM 和 13 nM。
靶点
MMP-9
MMP-1
MMP-2
MMP-14
MMP-7
IC50
3 nM
5 nM
6 nM
9 nM
13 nM
质量控制
化学结构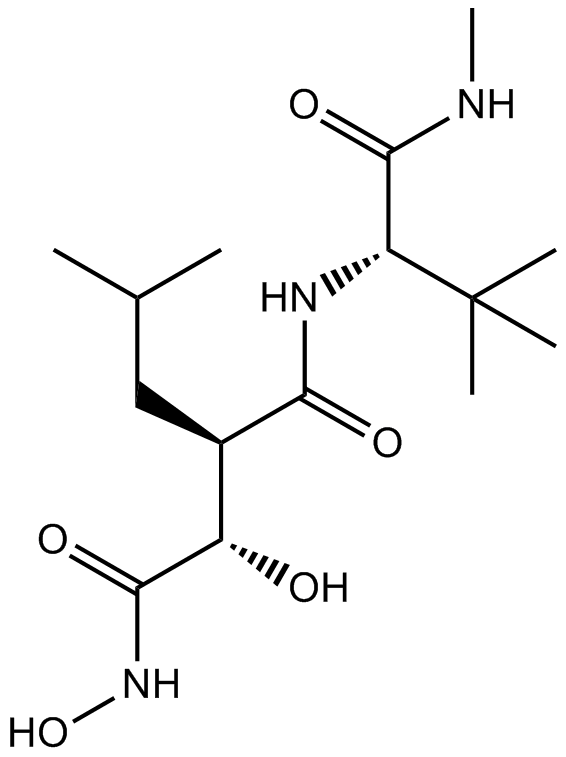 相关生物数据