Background
LY2886721 is an oral and furothiazine-based inhibitor of β site-amyloid protein cleaving enzyme (BACE) with IC50 of 20.3nM. This product has the potency for the treatment of Alzheimer's disease.
BACE, also known as Beta-Secretase 1, is an aspartic-acid protease that plays important role in the formation of myelin sheaths in peripheral nerve cells.
In vitro, treatment of LY2886721 leads to the inhibition of Aβ in HEK293Swe with IC50 of 18.7nM and PDAPP neuronal culture with IC50 10.7 nM1. LY2886721 decreases CSF sAPPβ and increases CSF sAPPα in a dose- dependent manner 2.
In PDAPP mice, oral administration of LY2886721 resulted in a reduction in brain Aβ, C99 and sAPPβ in a dose-dependent pattern 2. Aβ levels in the brain were decreased by 20% -65% as compared with the vehicle-treated groups 3 hours after treatment of LY2886721 at a dosage of 3-30 mg/kg per mice. In addition, LY2886721 significantly lowers plasma and CSF Aβs in the MAD study 1.
References:
1. Vassar R. BACE1 inhibitor drugs in clinical trials for Alzheimer's disease. Alzheimer's research & therapy. 2014;6(9):89.
2. Nishitomi K, Sakaguchi G, Horikoshi Y, et al. BACE1 inhibition reduces endogenous Abeta and alters APP processing in wild-type mice. Journal of neurochemistry. 2006;99(6):1555-1563.
文献引用
Chemical Properties
| | |
| --- | --- |
| Physical Appearance | A solid |
| Storage | Store at -20°C |
| M.Wt | 390.41 |
| Cas No. | 1262036-50-9 |
| Formula | C18H16F2N4O2S |
| Solubility | ≥19.52mg/mL in DMSO |
| Chemical Name | N-[3-[(4aS,7aS)-2-amino-4,4a,5,7-tetrahydrofuro[3,4-d][1,3]thiazin-7a-yl]-4-fluorophenyl]-5-fluoropyridine-2-carboxamide |
| SDF | Download SDF |
| Canonical SMILES | C1C2CSC(=NC2(CO1)C3=C(C=CC(=C3)NC(=O)C4=NC=C(C=C4)F)F)N |
| 运输条件 | 试用装:蓝冰运输。 其他可选规格:常温运输或根据您的要求用蓝冰运输。 |
| 一般建议 | 为了使其更好的溶解,请用37℃加热试管并在超声波水浴中震动片刻。不同厂家不同批次产品溶解度各有差异,仅做参考。若实验所需浓度过大至产品溶解极限,请添加助溶剂助溶或自行调整浓度。 |
试验操作
动物实验 [1]:

动物模型

PDAPP小鼠

给药剂量

3、10或30 mg/kg;口服给药

实验结果

在3种剂量下,LY2886721均能显著降低海马以及皮层的Aβ1-x水平。此外,LY2886721显著降低脑实质的C99和sAPPβ水平。在10和30 mg/kg的剂量下,LY2886721显著降低皮质的C99水平,在3 mg/kg的剂量下,LY2886721的效应没有达到统计学显著性。另一方面,在3种剂量下,LY2886721均能显著降低sAPPβ水平。

其它注意事项

请于室内测试所有化合物的溶解度。虽然化合物的实际溶解度可能与其理论值略有不同,但仍处于实验系统误差的允许范围内。

References:

[1]. May PC, Willis BA, Lowe SL, Dean RA, Monk SA, Cocke PJ, Audia JE, Boggs LN, Borders AR, Brier RA, Calligaro DO, Day TA, Ereshefsky L, Erickson JA, Gevorkyan H, Gonzales CR, James DE, Jhee SS, Komjathy SF, Li L, Lindstrom TD, Mathes BM, Martényi F, Sheehan SM, Stout SL, Timm DE, Vaught GM, Watson BM, Winneroski LL, Yang Z, Mergott DJ. The potent BACE1 inhibitor LY2886721 elicits robust central Aβ pharmacodynamic responses in mice, dogs, and humans. J Neurosci. 2015 Jan 21;35(3):1199-210.
生物活性
Description
LY2886721是β位淀粉样蛋白裂解酶(BACE)的口服小分子抑制剂,用于治疗阿尔茨海默症。
靶点
BACE
IC50
质量控制
化学结构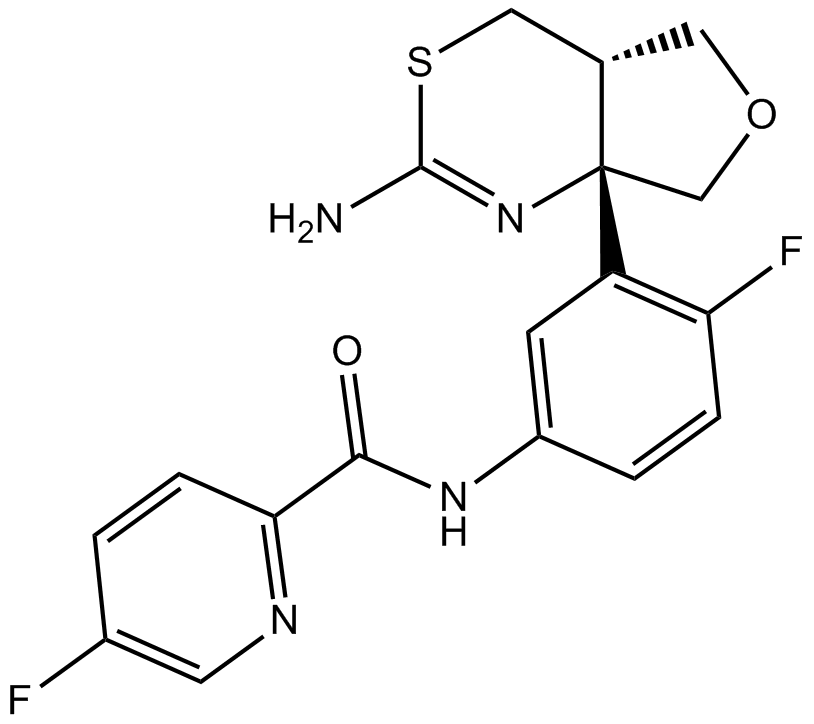 相关生物数据