Background
Linsitinib (OSI-906) is a potent and novel small-molecule inhibitor inhibiting insulin receptor (IR) and IGF-1 receptor (IGF-1R) kinases with IC50 value of 75nM and 35nM, respectively1.
Studies in 3T3/hulGF-1R(LISN) cells showed that linsitinib inhibits the ligant-dependent autophosphorylation of IGF-1R and its downstream signaling pathways including pERK1/2, pAKT, p-p70S6K. Linsitinib showed anti-proliferative effects in different cancer cell lines including colorectal cells (SW620), breast tumor cells (DY4475) and mouse fibroblast cells (3T3/hulGF-1R) with EC50 of 21nM, 86nM, and 78nM, respectively1.
Linsitinib administrated orally in LISN derived xenograft model has been shown to suppress the tumor growth in a dose-dependent manner 1.
References:
1. Mulvihill MJ1, Cooke A, Rosenfeld-Franklin M, Buck E, Foreman K, Landfair D, O'Connor M, Pirritt C, Sun Y, Yao Y, Arnold LD, Gibson NW, Ji QS. Discovery of OSI-906: a selective and orally efficacious dual inhibitor of the IGF-1 receptor and insulin receptor. Future Med Chem. 2009 Sep;1(6):1153-71
文献引用
Chemical Properties
| | |
| --- | --- |
| Physical Appearance | A solid |
| Storage | Store at -20°C |
| M.Wt | 421.51 |
| Cas No. | 867160-71-2 |
| Formula | C26H23N5O |
| Synonyms | OSI 906; OSI-906; OSI906 |
| Solubility | ≥21.1mg/mL in DMSO |
| Chemical Name | 3-[8-amino-1-(2-phenylquinolin-7-yl)imidazo[1,5-a]pyrazin-3-yl]-1-methylcyclobutan-1-ol |
| SDF | Download SDF |
| Canonical SMILES | CC1(CC(C1)C2=NC(=C3N2C=CN=C3N)C4=CC5=C(C=C4)C=CC(=N5)C6=CC=CC=C6)O |
| 运输条件 | 试用装:蓝冰运输。 其他可选规格:常温运输或根据您的要求用蓝冰运输。 |
| 一般建议 | 为了使其更好的溶解,请用37℃加热试管并在超声波水浴中震动片刻。不同厂家不同批次产品溶解度各有差异,仅做参考。若实验所需浓度过大至产品溶解极限,请添加助溶剂助溶或自行调整浓度。 |
试验操作
细胞实验: [1]

细胞系

HepG2、Hep3B、Huh-7、PLC/PRF/5、SNU-387和SNU-423细胞

制备方法

该化合物在DMSO中的溶解度大于10 mM,若配制更高浓度的溶液,一般步骤如下:请将试管置于37℃加热10分钟和/或将其置于超声波浴中震荡一段时间。原液于-20℃可放置数月。

反应条件

3 μM,20 hours

实验结果

所有6个HCC细胞系中IR磷酸化程度比IGF-1R更高,表明IR活性在HCC中具有重要作用。此外,与OSI-906不敏感细胞系相比,对OSI-906敏感的3种HCC细胞系HepG2、Hep3B和HuH-7的IGF-1R和IR的磷酸化水平较高,这表明HCC细胞系中,细胞对OSI-906的敏感性与IGF-1R和IR的活化相关。

动物实验: [2]

动物模型

注射NCI-H292或NCI-H441细胞的雌性无胸腺裸鼠

给药剂量

口服,60 mg/kg

实验结果

与载体处理的对照相比,对OSI-906治疗敏感的NCI-H292异种移植动物中,给予OSI-906后的第2、4和24小时18FDG摄取显著减少(p < 0.05)。对OSI-906治疗不敏感的NCI-H441异种移植动物在所评估的任何时间点18FDG摄取都未显示明显变化。NCI-H292异种移植物中,%ID/g下降,表明18FDG成像观察到的快速PD效应是通过OSI-906抑制IGF-1R和IR途径介导的。相比之下,对于NCI-H441异种移植物模型,载体对照和OSI-906治疗组之间的肿瘤样品中未观察到放射性示踪剂的摄取差异。

注意事项

请于室内测试所有化合物的溶解度。虽然化合物的实际溶解度可能与其理论值略有不同,但仍处于实验系统误差的允许范围内。

References:

[1] Zhao H, Desai V, Wang J, et al. Epithelial–Mesenchymal Transition Predicts Sensitivity to the Dual IGF-1R/IR Inhibitor OSI-906 in Hepatocellular Carcinoma Cell Lines. Molecular cancer therapeutics, 2012, 11(2): 503-513.

[2] McKinley E T, Bugaj J E, Zhao P, et al. 18FDG-PET predicts pharmacodynamic response to OSI-906, a dual IGF-1R/IR inhibitor, in preclinical mouse models of lung cancer. Clinical Cancer Research, 2011, 17(10): 3332-3340.
生物活性
Description
OSI-906(Linsitinib)是IGF-1R的选择性抑制剂,其IC50值为35 nM;对InsR具有适度抑制作用,其IC50值为75 nM。
靶点
IGF-1R
InsR
IC50
35 nM
75 nM
质量控制
化学结构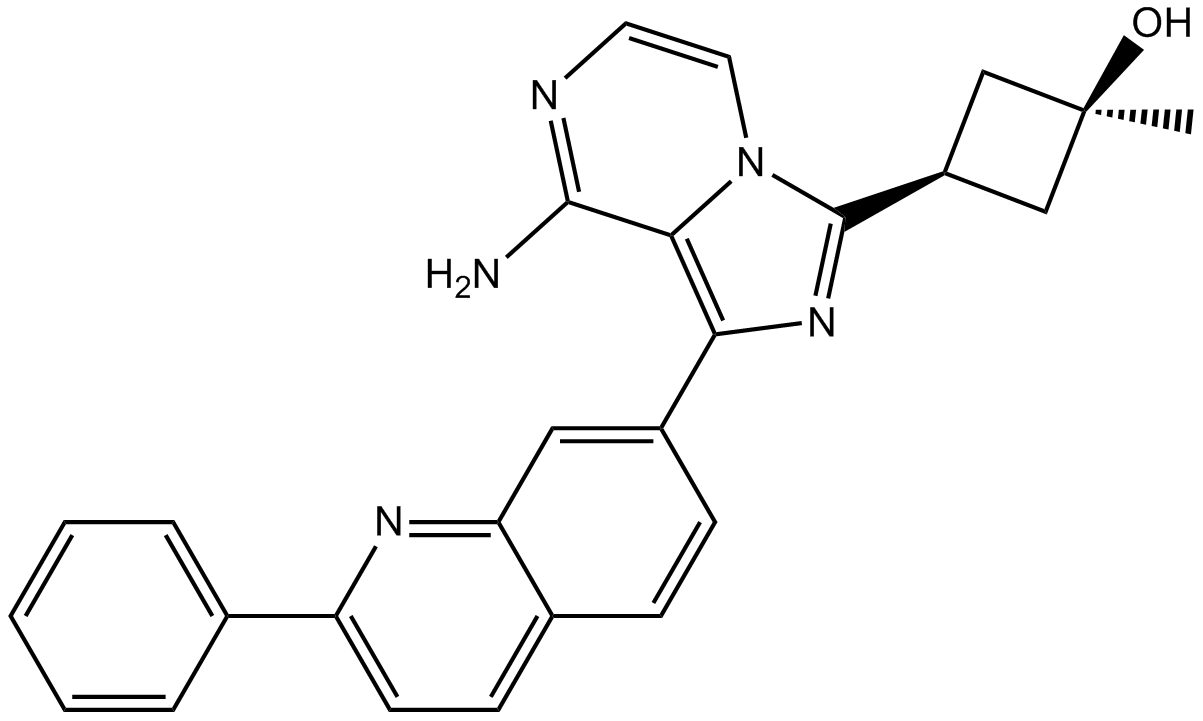 相关生物数据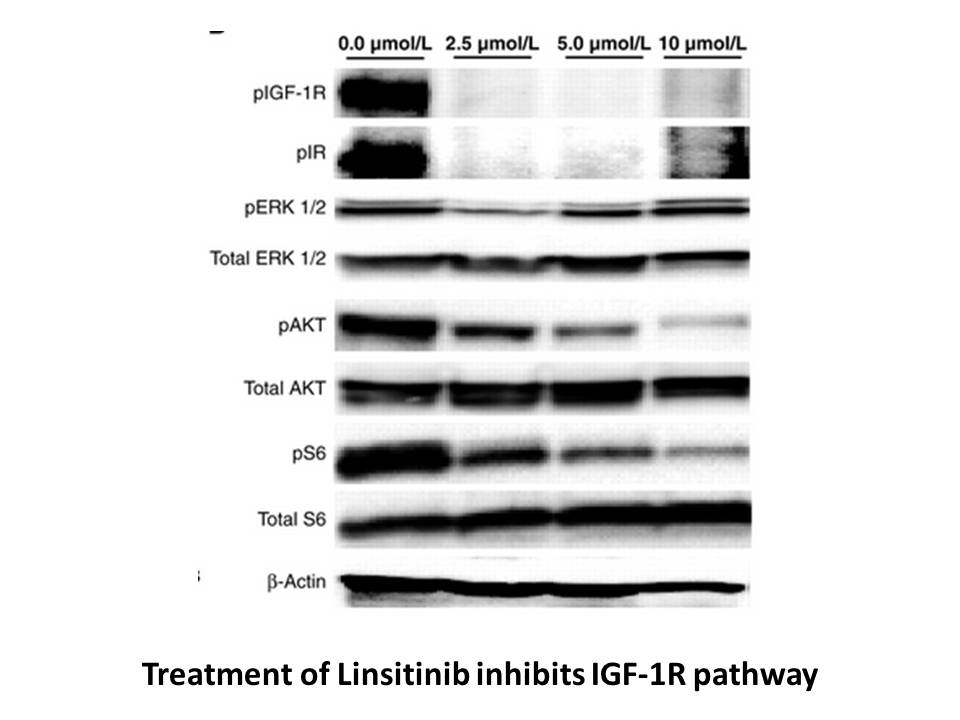 相关生物数据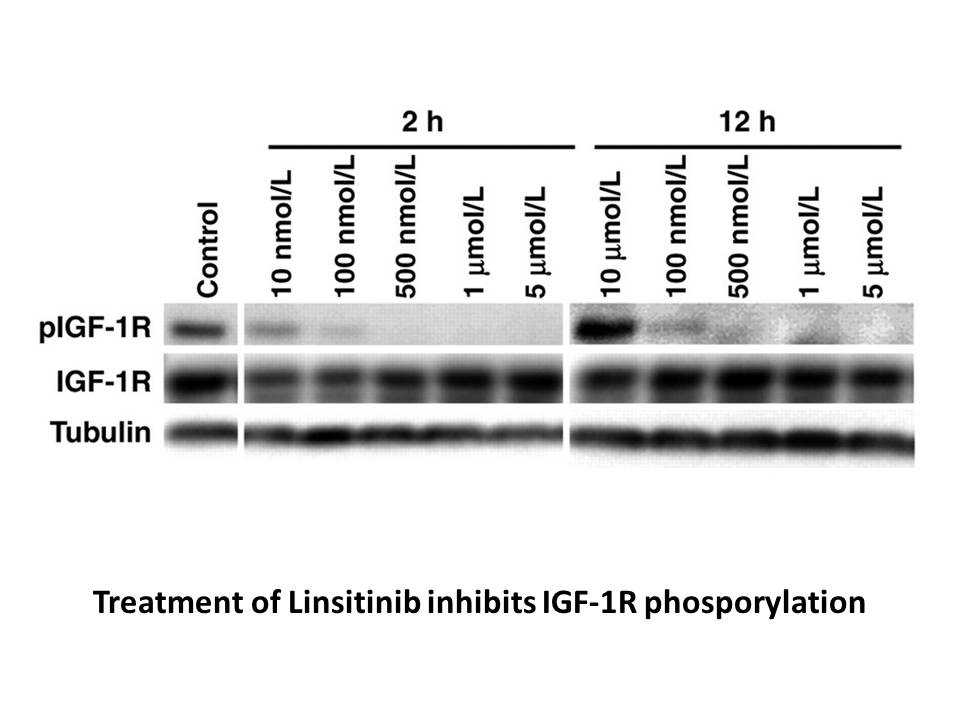 相关生物数据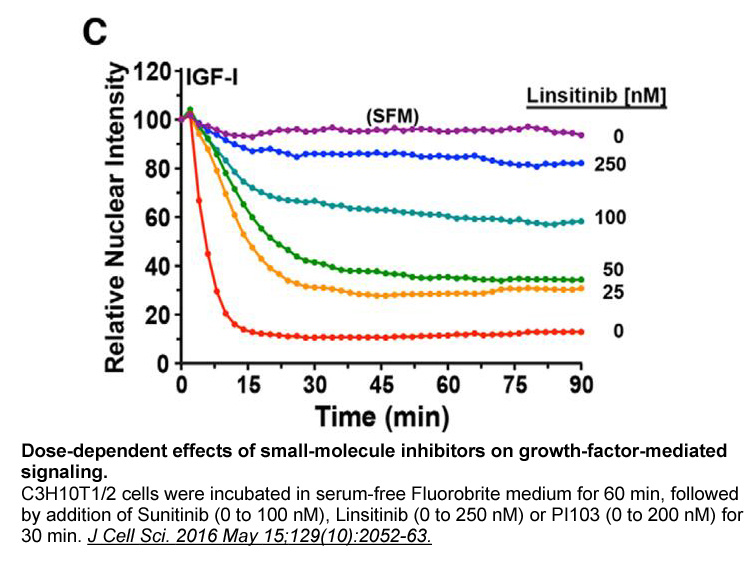 相关生物数据