质量控制
化学结构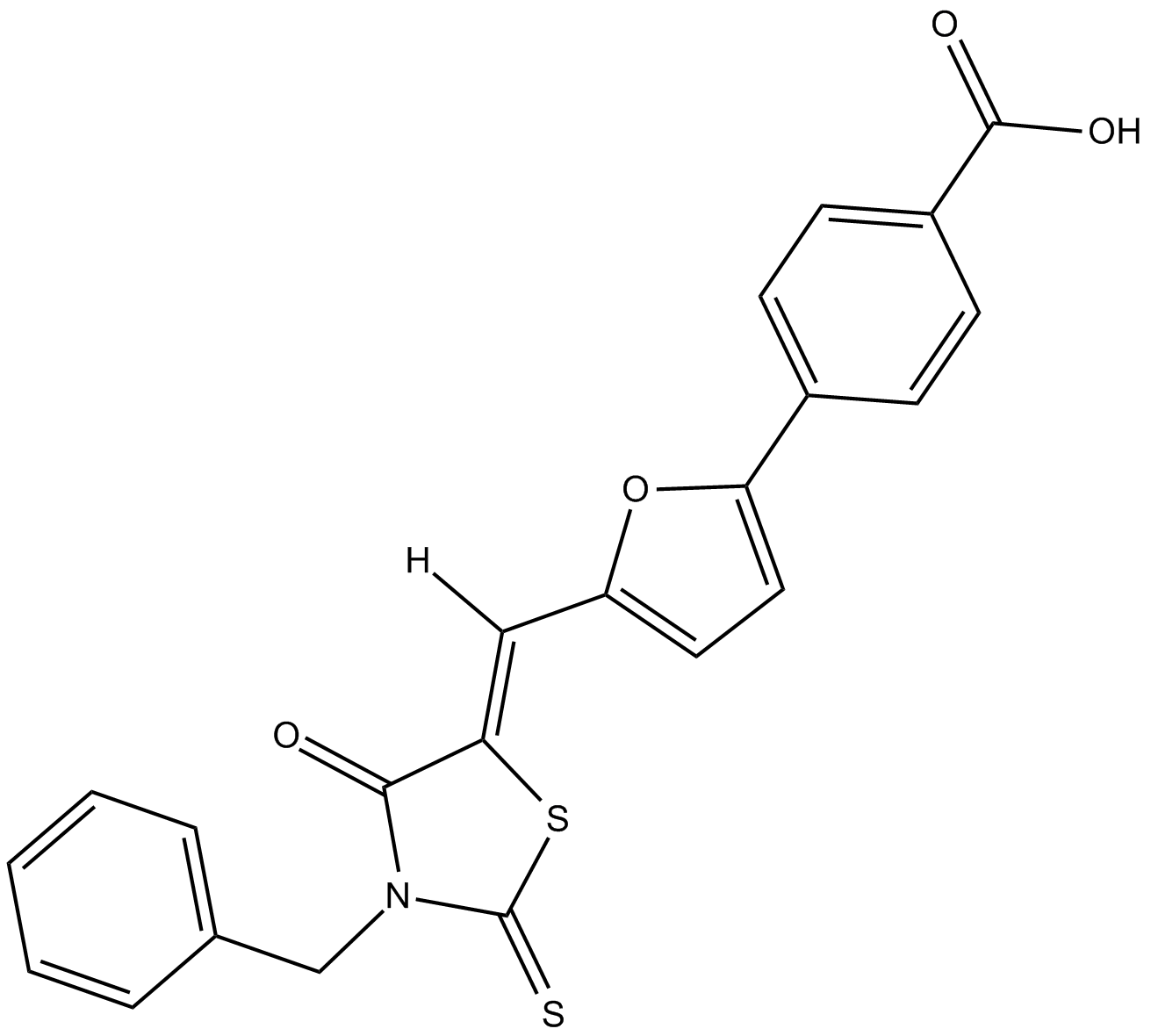 化学性质
CAS号
344897-95-6
SDF
Download SDF
化学名
(Z)-4-(5-((3-benzyl-4-oxo-2-thioxothiazolidin-5-ylidene)methyl)furan-2-yl)benzoic acid
SMILES
O=C(N(C1=S)CC2=CC=CC=C2)/C(S1)=C([H])/C(O3)=CC=C3C4=CC=C(C(O)=O)C=C4
分子式
C22H15NO4S2
分子量

421.49

溶解度
Soluble in DMSO
储存条件
Store at -20°C
物理性状
Orange solid
运输条件
试用装:蓝冰运输。
其他可选规格:常温运输或根据您的要求用蓝冰运输。
一般建议
为了使其更好的溶解,请用37℃加热试管并在超声波水浴中震动片刻。不同厂家不同批次产品溶解度各有差异,仅做参考。若实验所需浓度过大至产品溶解极限,请添加助溶剂助溶或自行调整浓度。
产品描述
Leukadherin 1是CD11b/CD18的激活剂[1]。
CD11b/CD18是一种细胞表面粘附受体,介导免疫功能和白细胞迁移,主要在先天免疫系统的细胞中表达。
Leukadherin 1是CD11b/CD18的激活剂。Leukadherin 1增加CD11b/CD18依赖性细胞粘附到纤维蛋白原上,EC50值为4 μM[1]。Leukadherin 1还可以增加CD11b/CD18依赖性细胞粘附到其配体ICAM-1上。在K562细胞中,leukadherin 1通过形成长膜系绳,从而增加CD11b/CD18与ICAM-1的结合[2]。
在急性腹膜炎小鼠模型中,leukadherin 1显著减少40%的嗜中性粒细胞积累[1]。在MHC不匹配原位肾移植小鼠模型中,leukadherin 1减少间质性白细胞浸润、肾小球损害、新内膜增生和延长存活,从48.5%(仅CsA)延长至100%(CsA和LA1)[3]。在暴露于高氧(85%O2)的新生大鼠中,leukadherin 1减少肺部巨噬细胞和中性粒细胞浸润[4]。
参考文献:
[1]. Maiguel D, Faridi MH, Wei C, et al. Small molecule-mediated activation of the integrin CD11b/CD18 reduces inflammatory disease. Sci Signal, 2011, 4(189): ra57.
[2]. Celik E1, Faridi MH, Kumar V, et al. Agonist leukadherin-1 increases CD11b/CD18-dependent adhesion via membrane tethers. Biophys J, 2013, 105(11): 2517-2527. [3]. Khan SQ, Guo L, Cimbaluk DJ, et al. A small molecule b2 integrin agonist improves chronic kidney allograft survival by reducing leukocyte recruitment and accompanying vasculopathy. Front Med (Lausanne), 2014, 1: 45.
[4]. Jagarapu J, Kelchtermans J, Rong M, et al. Leukadherin-1 Attenuates Hyperoxia-induced Lung Injury in Neonatal Rats. Am J Respir Cell Mol Biol, 2015.