Background
Lenalidomide (also known as CC-5013), an oral derivative of thalidomide, is an antineoplastic agent exhibiting antitumor activity through a variety of mechanisms, including immune system activation, angiogenesis inhibition, and direct antineoplastic effects. It has been extensively studied for the treatment of multiple myeloma and myelodysplastic syndrome as well as lymphoproliferative disorders including chronic lymphocytic leukemia (CLL) and non-Hodgkin lymphoma. According to recent studies, Lnalidomide promotes and restores immune system function in CLL patients by inducing an overexpression of costimulatory molecules in leukemic lymphocytes to restore the humoral immunity and immunoglobulins production as well as improving the ability of T cells and leukemic cells to form synapses with T lymphocytes.
Reference
Ana Pilar Gonzalez-Rodriguez, Angel R. Payer, Andrea Acebes-Huerta, Leticia Hergo-Zapico, Monica Villa-Alvarez, Esther Gonzalez-Garcia, and Segundo Gonzalez. Lenalidomide and chronic lymphocytic leukemia. BioMed Research International 2013.
Chemical Properties
| | |
| --- | --- |
| Physical Appearance | A solid |
| Storage | Store at -20°C |
| M.Wt | 259.3 |
| Cas No. | 191732-72-6 |
| Formula | C13H13N3O3 |
| Synonyms | Revlimid,IMiD3,CC 5013,CDC-501,CDC 501 |
| Solubility | ≥100.8 mg/mL in DMSO, <2.29 mg/mL in EtOH, <2.53 mg/mL in H2O |
| Chemical Name | 3-(7-amino-3-oxo-1H-isoindol-2-yl)piperidine-2,6-dione |
| SDF | Download SDF |
| Canonical SMILES | C1CC(=O)NC(=O)C1N2CC3=C(C2=O)C=CC=C3N |
| 运输条件 | 试用装:蓝冰运输。 其他可选规格:常温运输或根据您的要求用蓝冰运输。 |
| 一般建议 | 为了使其更好的溶解,请用37℃加热试管并在超声波水浴中震动片刻。不同厂家不同批次产品溶解度各有差异,仅做参考。若实验所需浓度过大至产品溶解极限,请添加助溶剂助溶或自行调整浓度。 |
试验操作
细胞实验 [1]:

细胞系

外周血单核细胞(PBMC)

制备方法

该化合物在DMSO中的溶解度大于10 mM。若配制更高浓度的溶液,一般步骤如下:请将试管置于37℃加热10分钟和/或将其置于超声波浴中震荡一段时间。原液于-20℃可放置数月

反应条件

10 μM,7 days

实验结果

将细胞与染料在37℃孵育10分钟,并在含有lenalidomide的RPMI培养基中处理7天。用抗CD4-PerCP和抗CD25-APC对细胞进行表面染色,然后用抗FOXP3-PE进行细胞内染色。Lenalidomide抑制高CD4+CD25high细胞中CTLA-4+FOXP3+的表达。在培养7天后lenalidomide的孵育显著降低T调节细胞群体的表达。该药物将表达CTLA-4和FOXP3的CD4+CD25high细胞的百分比从25%降低至12%。

动物实验[2]:

动物模型

雄性Sprague–Dawley大鼠

给药剂量

口服,50 mg/kg或250 mg/kg,

实验结果

在大鼠肠系膜窗分析(RMWA)中,通过在bFGF诱导的血管生成窗中用针对大鼠内皮的抗体染色,结果表明,对照组和50或250 mg/kg lenalidomide治疗组大鼠之间有显著性差异。口服lenalidomide以剂量依赖性方式显著抑制bFGF对血管生成的诱导。50和250 mg/kg的lenalidomide将血管化面积的百分比从对照组中的5.16%分别降低至2.58%和1.69%。

注意事项

请测试所有化合物在室内的溶解度,实际溶解度和理论值可能略有不同。这是由实验系统的误差引起的,属于正常现象。

References:

[1] Galustian C, Meyer B, Labarthe M C, et al. The anti-cancer agents lenalidomide and pomalidomide inhibit the proliferation and function of T regulatory cells. Cancer Immunology, Immunotherapy, 2009, 58(7): 1033-1045.

[2] Dredge K, Horsfall R, Robinson S P, et al. Orally administered lenalidomide (CC-5013) is anti-angiogenic in vivo and inhibits endothelial cell migration and Akt phosphorylation in vitro. Microvascular research, 2005, 69(1): 56-63.
生物活性
描述
Lenalidomide (CC-5013)是TNF-α分泌的抑制剂,IC50值为13 nM。
靶点
TNF-α
IC50
13 nM
质量控制
化学结构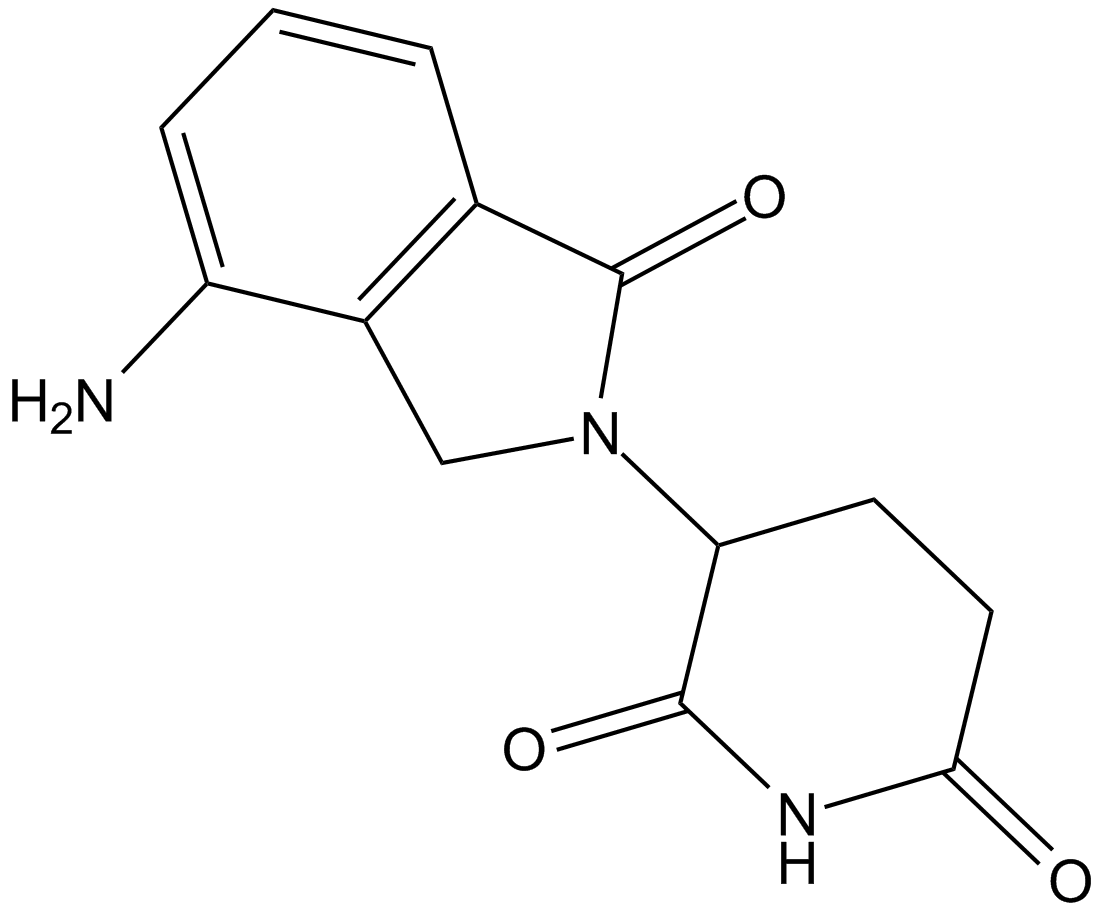 相关生物数据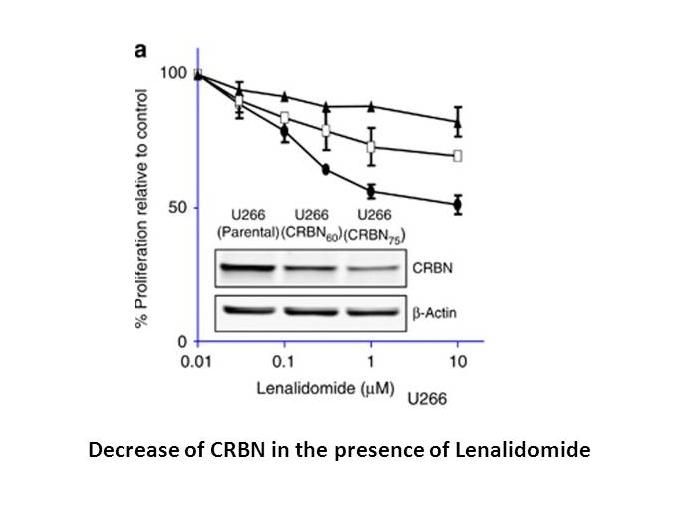 相关生物数据