Background
LDE225 is a potent and selective inhibitor of smoothened with IC50 values of 1.3nM in mouse and 2.5nM in human, respectively [1].
LDE225 is screened out from a high-throughput cell-based screen of in-house diversity combinatorial libraries and is developed to be an antagonist of Smo. Smo is an activator of the hedgehog(Hh) signaling pathway and aberrant activation links to tumorigenesis in several cancers. The antitumor efficacy of LDE225 has been evaluated in vivo. In the subcutaneous Ptch+/-p53-/- medulloblastoma allograft mouse model, LDE225 can significantly inhibit tumor growth at a dose of 5mg/kg/day. And in an orthotopic Ptch+/-p53-/- medulloblastoma allograft model, LDE225 is suggested to penetrate the blood-brain barrier in tumor-bearing animals and cause the tumor growth inhibition after 4 days of treatment. Additionally, the preclinical safety assays show that LDE225 has no genotoxicity and has good selectivity [1].
References:
[1] Shifeng Pan, Xu Wu, Jiqing Jiang, et al. Discovery of NVP-LDE225, a potent and selective smoothened antagonist. ACS Med. Chem. Lett. 2010, 1: 130–134.
文献引用
Chemical Properties
| | |
| --- | --- |
| Physical Appearance | A solid |
| Storage | Store at -20°C |
| M.Wt | 485.5 |
| Cas No. | 956697-53-3 |
| Formula | C26H26F3N3O3 |
| Solubility | ≥24.3mg/mL in DMSO |
| Chemical Name | N-[6-[(2S,6R)-2,6-dimethylmorpholin-4-yl]pyridin-3-yl]-2-methyl-3-[4-(trifluoromethoxy)phenyl]benzamide |
| SDF | Download SDF |
| Canonical SMILES | CC1CN(CC(O1)C)C2=NC=C(C=C2)NC(=O)C3=CC=CC(=C3C)C4=CC=C(C=C4)OC(F)(F)F |
| 运输条件 | 试用装:蓝冰运输。 其他可选规格:常温运输或根据您的要求用蓝冰运输。 |
| 一般建议 | 为了使其更好的溶解,请用37℃加热试管并在超声波水浴中震动片刻。不同厂家不同批次产品溶解度各有差异,仅做参考。若实验所需浓度过大至产品溶解极限,请添加助溶剂助溶或自行调整浓度。 |
试验操作
细胞实验[1]:

细胞系

癌干细胞(CSCs)

溶解方法

在DMSO中的溶解度>10 mM。为了获得更高的浓度,可以将离心管在37℃加热10分钟和/或在超声波浴中震荡一段时间。原液可以在-20℃以下储存几个月。

反应条件

10 μM,凋亡诱导:48 h;细胞活力抑制:7天

应用

LDE225以剂量依赖的方式诱导细胞凋亡。在前列腺CSCs中,LDE225导致切割caspase-3和PARP表达的增加。在原代和继代球体细胞培养物中,LDE225以剂量依赖的方式抑制细胞活力。

动物实验[1]:

动物模型

植入人前列腺CSCs的NOD/SCID IL2Rγnull小鼠

剂量

20 mg/kg,3次/周,4周;腹腔注射

应用

NVP-LDE-225对小鼠体重没有影响。有趣的是,NVP-LDE-225抑制CSC肿瘤生长,显著减少肿瘤的重量。

注意事项

请测试所有化合物在室内的溶解度,实际溶解度和理论值可能略有不同。这是由实验系统的误差引起的,属于正常现象。

References:

[1] Nanta R, Kumar D, Meeker D, et al. NVP-LDE-225 (Erismodegib) inhibits epithelial–mesenchymal transition and human prostate cancer stem cell growth in NOD/SCID IL2Rγ null mice by regulating Bmi-1 and microRNA-128. Oncogenesis, 2013, 2(4): e42.
生物活性
描述
LDE225是一种有效的和选择性的Smoothened(Smo)拮抗剂,作用于人和小鼠的Hedgehog,IC50值分别为2.5 nM和1.3 nM。
靶点
human Hedgehog
mouse Hedgehog
IC50
2.5 nM
1.3 nM
质量控制
化学结构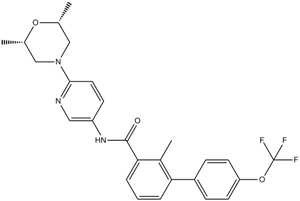 相关生物数据