Background
Laminin (925-933) is a peptide(Cys-Asp-Pro-Gly-Tyr-Ile-Gly-Ser-Arg) derived from residues 925-933 of the laminin B1 chain that binds to the laminin receptor.
Laminins, a family of extracellular matrix glycoproteins, are the major noncollagenous constituent of basement membranes. They have been implicated in a wide variety of biological processes including cell adhesion, differentiation, migration, signaling, neurite outgrowth and metastasis. Laminins are composed of 3 non identical chains: laminin alpha, beta and gamma (formerly A, B1, and B2, respectively)
The laminin beta 1 chain has 7 structurally distinct domains, which it shares with other beta chain isomers. Laminin, beta 1 is expressed in most tissues that produce basement membranes, and is one of the 3 chains constituting laminin 1, the first laminin isolated from Engelbreth-Holm-Swarm (EHS) tumor. A sequence in the beta 1 chain that is involved in cell attachment, chemotaxis, and binding to the laminin receptor was identified and shown to have the capacity to inhibit metastasis.
Figure1  Structure of Laminin
Figure2  Formula of LamininB1 (925-933)
Ref:
1.Ikonen J, Pikkarainen T, Savolainen ER, Tryggvason K (Feb 1989). "A Hpa I polymorphism in the human laminin B1 chain gene on 7q22". Nucleic Acids Res 17 (1): 473.
2.Roche KB, Moore JW, Surana RB, Wilson BE (May 1989). "Aortic root dilatation associated with partial trisomy 7(q31.2----qter)". Pediatr Cardiol 10 (1): 53–5.
3.Bonneau D, Huret JL, Godeau G, Couet D, Putterman M, Tanzer J, Babin P, Larregue M (Sep 1991). "Recurrent ctb(7)(q31.3) and possible laminin involvement in a neonatal cutis laxa with a Marfan phenotype". Hum Genet 87 (3): 317–9. 
文献引用
Chemical Properties
| | |
| --- | --- |
| Physical Appearance | A solid |
| Storage | Store at -20°C |
| M.Wt | 967.06 |
| Cas No. | 110590-60-8 |
| Formula | C40H62N12O14S |
| Synonyms | H2N-Cys-Asp-Pro-Gly-Tyr-Ile-Gly-Ser-Arg-OH |
| Solubility | ≥48.35mg/mL in DMSO |
| Chemical Name | Laminin (925-933) |
| SDF | Download SDF |
| Canonical SMILES | CCC(C)C(C(=O)NCC(=O)NC(CO)C(=O)NC(CCCN=C(N)N)C(=O)O)NC(=O)C(CC1=CC=C(C=C1)O)NC(=O)CNC(=O)C2CCCN2C(=O)C(CC(=O)O)NC(=O)C(CS)N |
| 运输条件 | 试用装:蓝冰运输。 其他可选规格:常温运输或根据您的要求用蓝冰运输。 |
| 一般建议 | 为了使其更好的溶解,请用37℃加热试管并在超声波水浴中震动片刻。不同厂家不同批次产品溶解度各有差异,仅做参考。若实验所需浓度过大至产品溶解极限,请添加助溶剂助溶或自行调整浓度。 |
质量控制
化学结构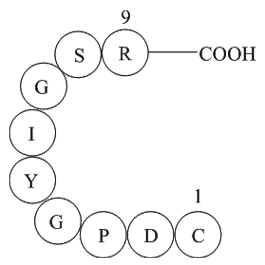 相关生物数据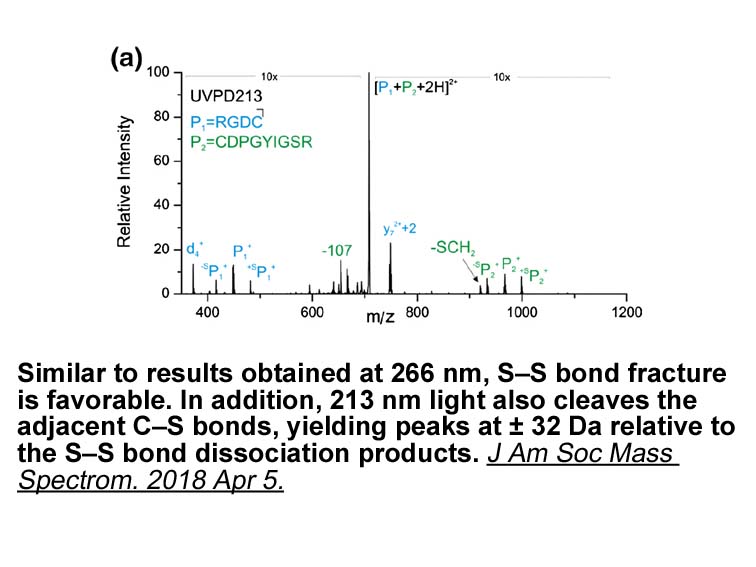 相关生物数据