Background
KU-55933 is a specific inhibitor of ATM kinase with IC50 value of 13 nM [1].
ATM can stimulate Ser473 phosphorylation of Akt and mediate its full activation in response to insulin. As an ATM inhibitor, KU-55933 significantly inhibited the increase of phospho-Akt at Ser473 in MDA-MB-453 and PC-3 cells treated with insulin and IGF-I following serum starvation. In the MTT assay, KU-55933 treatment suppressed cell proliferation by about 50% at concentration of 10 μM in MDA-MB-453 and PC-3 cells. In a panel of cell lines that have varied Akt activities, KU-55933 treatment caused cell proliferation inhibition correlated with the Akt phosphorylation. KU-55933 was also found to induce G1 cell cycle arrest through down-regulating the cyclin D1 level in MDA-MB-453 and PC-3 cells [2].
References:
[1] Hickson I, Zhao Y, Richardson C J, et al. Identification and characterization of a novel and specific inhibitor of the ataxia-telangiectasia mutated kinase ATM. Cancer research, 2004, 64(24): 9152-9159.
[2] Li Y, Yang D Q. The ATM inhibitor KU-55933 suppresses cell proliferation and induces apoptosis by blocking Akt in cancer cells with overactivated Akt. Molecular cancer therapeutics, 2010, 9(1): 113-125.
文献引用
Chemical Properties
| | |
| --- | --- |
| Physical Appearance | A solid |
| Storage | Desiccate at -20°C |
| M.Wt | 395.49 |
| Cas No. | 587871-26-9 |
| Formula | C21H17NO3S2 |
| Solubility | ≥41.7mg/mL in DMSO with gentle warming, <2.38 mg/mL in EtOH, <2.33 mg/mL in H2O |
| Chemical Name | 2-morpholin-4-yl-6-thianthren-1-ylpyran-4-one |
| SDF | Download SDF |
| Canonical SMILES | C1COCCN1C2=CC(=O)C=C(O2)C3=C4C(=CC=C3)SC5=CC=CC=C5S4 |
| 运输条件 | 试用装:蓝冰运输。 其他可选规格:常温运输或根据您的要求用蓝冰运输。 |
| 一般建议 | 为了使其更好的溶解,请用37℃加热试管并在超声波水浴中震动片刻。不同厂家不同批次产品溶解度各有差异,仅做参考。若实验所需浓度过大至产品溶解极限,请添加助溶剂助溶或自行调整浓度。 |
试验操作
细胞实验: [1]

细胞系

MCF-7细胞

制备方法

该化合物在DMSO中的溶解度大于10 mM,若配制更高浓度的溶液,一般步骤如下:请将试管置于37℃加热10分钟和/或将其置于超声波浴中震荡一段时间。原液于-20℃可放置数月。

反应条件

10 μM,72 hours

实验结果

通过计数能够排除台盼蓝的细胞来测量KU-55933对活细胞数的影响。KU-55933显著减少细胞数量。在KU-55933处理的细胞中,乳酸产生显著增加。KU-55933处理的细胞葡萄糖消耗增加。KU-55933也降低MCF-7细胞中的ATP水平。

注意事项

请于室内测试所有化合物的溶解度。虽然化合物的实际溶解度可能与其理论值略有不同,但仍处于实验系统误差的允许范围内。

References:

[1] Zakikhani M, Bazile M, Hashemi S, et al. Alterations in cellular energy metabolism associated with the antiproliferative effects of the ATM inhibitor KU-55933 and with metformin. PloS one, 2012, 7(11): e49513.
生物活性
描述
KU-55933(ATM激酶抑制剂)是一种有效的和特异性的ATM抑制剂,IC50/Ki值为12.9 nM/2.2 nM,与DNA-PK、PI3K/PI4K、ATR和mTOR相比,对ATM具有高度选择性。
靶点
ATM
ATM
IC50
13 nM
2.2 nM (Ki)
质量控制
化学结构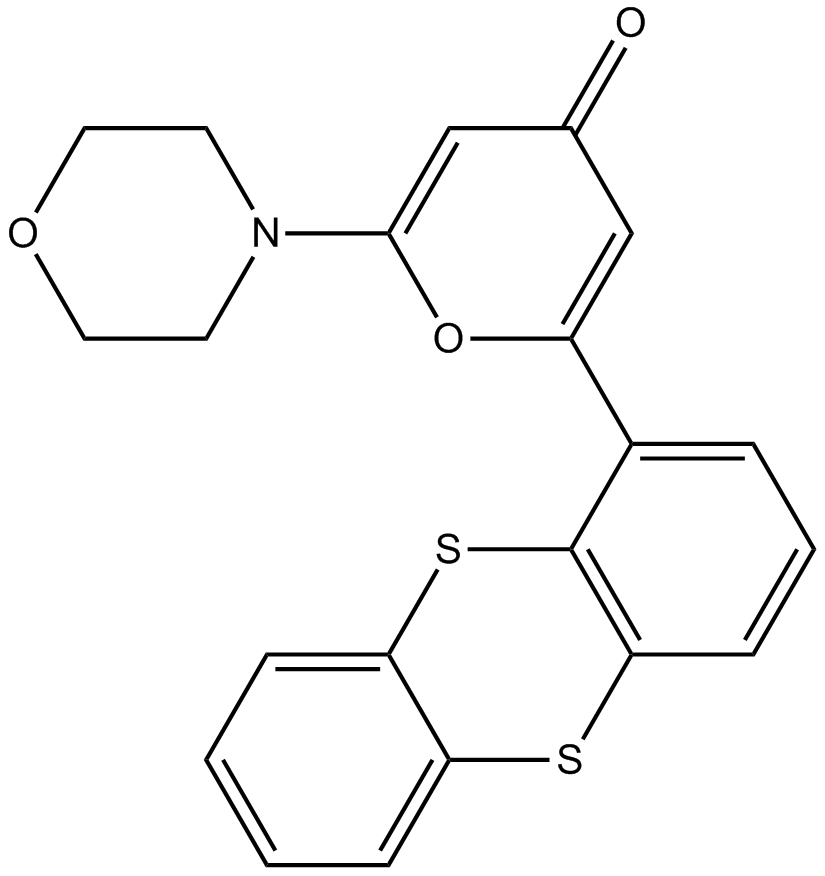 相关生物数据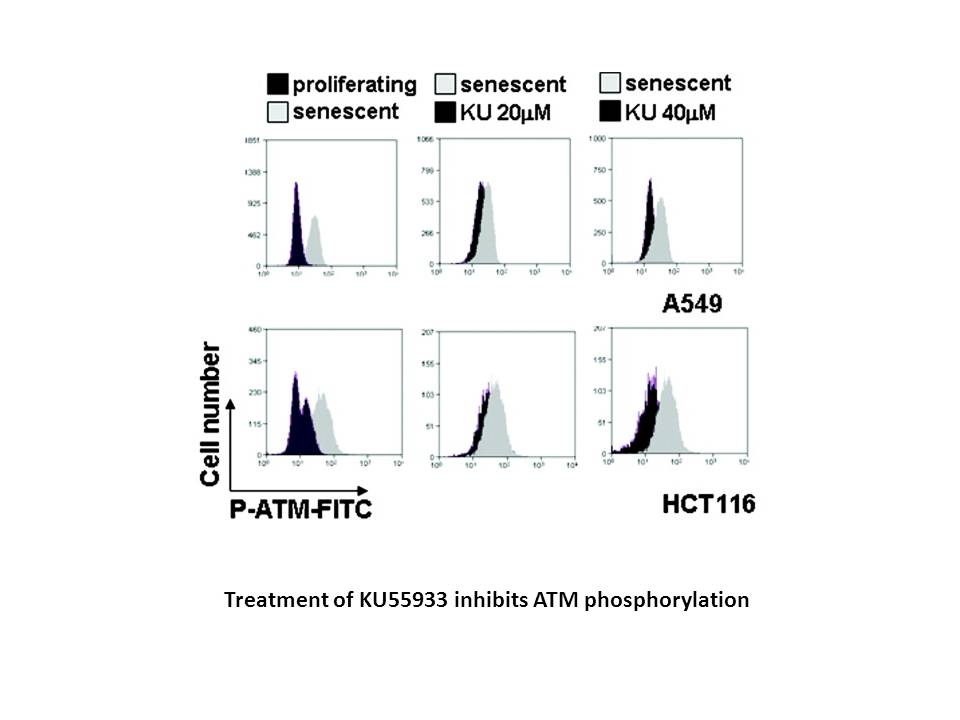 相关生物数据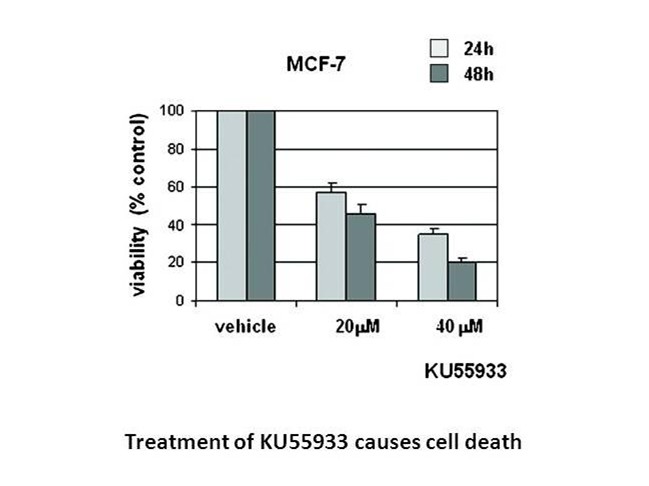 相关生物数据