质量控制
化学结构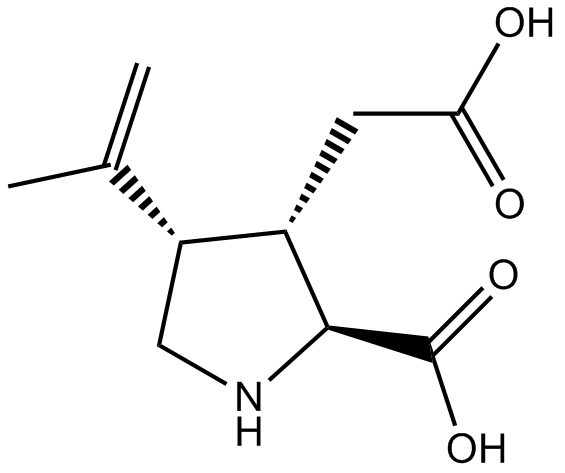 化学性质
CAS号
487-79-6
SDF
Download SDF
化学名
(2S,3S,4S)-3-(carboxymethyl)-4-(prop-1-en-2-yl)pyrrolidine-2-carboxylic acid
SMILES
OC([C@H]1NC[C@H](C(C)=C)[C@@H]1CC(O)=O)=O
分子式
C10H15NO4
分子量

213.23

溶解度
≥11.05mg/mL in H2O with gentle warming
储存条件
Store at RT
物理性状
A solid
运输条件
试用装:蓝冰运输。
其他可选规格:常温运输或根据您的要求用蓝冰运输。
一般建议
为了使其更好的溶解,请用37℃加热试管并在超声波水浴中震动片刻。不同厂家不同批次产品溶解度各有差异,仅做参考。若实验所需浓度过大至产品溶解极限,请添加助溶剂助溶或自行调整浓度。
产品描述
Kainic acid(红藻氨酸)是一种选择性的kainate receptor(红藻氨酸受体)激动剂[1]。
红藻氨酸受体是一种离子型受体,对谷氨酸做出响应。突触前红藻氨酸受体调节GABA的释放,参与抑制性神经传递。突触后红藻氨酸受体参与兴奋性神经传递。
在老年大鼠中,kainic acid显著减少全面性强直-阵挛发作的潜伏期,增加癫痫大鼠的数量。在强直-阵挛发作的老年大鼠中,kainic acid也可以显著增加去甲肾上腺素(NE)、ASP 和GLU的释放[1]。在新生大鼠中,海马内注射kainic acid(1 μg)显著诱导锥体细胞死亡[2]。在成年大鼠中,kainic acid显著增加背角和脊髓白质中神经营养因子-4/5(NT-4/5)的mRNA水平以及腹角中脑源性神经营养因子(BDNF)的mRNA水平,而对神经营养因子-3(NT-3)没有影响。这些结果表明,NT-4/5和BDNF参与脊髓对kainic acid诱导的兴奋性毒性刺激的反应[3]。
参考文献:
[1]. Dawson R Jr, Wallace DR. Kainic acid-induced seizures in aged rats: neurochemical correlates. Brain Res Bull, 1992, 29(3-4): 459-468.
[2]. Cook TM, Crutcher KA. Intrahippocampal injection of kainic acid produces significant pyramidal cell loss in neonatal rats. Neuroscience, 1986, 18(1): 79-92.
[3]. Scarisbrick IA, Isackson PJ, Windebank AJ. Differential expression of brain-derived neurotrophic factor, neurotrophin-3, and neurotrophin-4/5 in the adult rat spinal cord: regulation by the glutamate receptor agonist kainic acid. J Neurosci, 1999, 19(18): 7757-7769.