质量控制
化学结构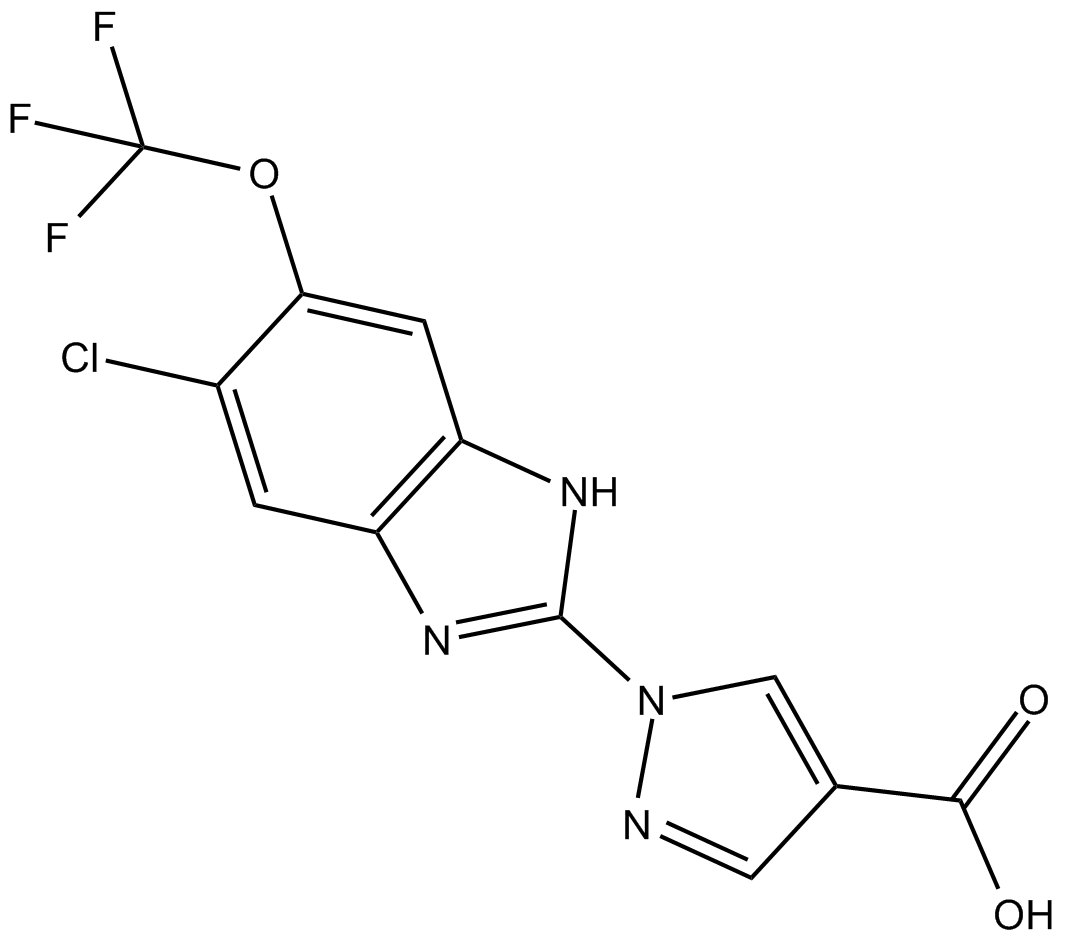 化学性质
CAS号
1193383-09-3
SDF
Download SDF
别名
HIF-PHD Inhibitor II
化学名
1-[6-chloro-5-(trifluoromethoxy)-1H-benzimidazol-2-yl]-1H-pyrazole-4-carboxylic acid
SMILES
ClC1=CC2=C(NC(N3C=C(C(O)=O)C=N3)=N2)C=C1OC(F)(F)F
分子式
C12H6ClF3N4O3
分子量

346.7

溶解度
≤10mg/ml in ethanol;30mg/ml in DMSO;25mg/ml in dimethyl formamide
储存条件
Store at -20°C
物理性状
A crystalline solid
运输条件
试用装:蓝冰运输。
其他可选规格:常温运输或根据您的要求用蓝冰运输。
一般建议
为了使其更好的溶解,请用37℃加热试管并在超声波水浴中震动片刻。不同厂家不同批次产品溶解度各有差异,仅做参考。若实验所需浓度过大至产品溶解极限,请添加助溶剂助溶或自行调整浓度。
产品描述
pKI: 7.3-7.9
JNJ-42041935 is a Hypoxia-inducible factor (HIF) prolyl hydroxylase (PHD) inhibitor.
The hypoxia-inducible factor prolyl hydroxylase enzymes have been considered as novel targets for the treatment of ulcerative colitis, anemia, ischemic and metabolic disease inter alia. In addition, hypoxia-inducible factor prolyl hydroxylase enzymes act as central gatekeepers of posttranscriptional and transcriptional adaptation to hypoxia, oxidative stress, as well as excitotoxicity.
In vitro: In a previou study, the pharmacology of JNJ-42041935 was investigated in both enzyme and cellular and was compared with other compounds described in the literature as PHD inhibitors. Results showed that JNJ-42041935 was a selective, potent, 2-oxoglutarate competitive and reversible inhibitor of PHD enzymes [1].
In vivo: In animal study, JNJ-42041935 was used to compare the effect of selective inhibition of PHD to intermittent, high doses (50 μg/kg i.p.) of an exogenous erythropoietin receptor agonist in an inflammation-induced anemia model in rats. Results showed that daily JNJ-42041935 treatment at 100 μmol/kg for 14 days was effective in reversing inflammation-induced anemia, while erythropoietin had no effect [1].
Clinical trial: So far, no clinical study has been conducted.
Reference:
[1] Barrett, T. D.,Palomino, H.L.,Brondstetter, T.I., et al. Pharmacological characterization of 1-(5-chloro-6-(trifluoromethoxy)-1H-benzoimidazol-2-yl)-1H-pyrazole-4-carboxylic acid (JNJ-42041935), a potent and selective hypoxia-inducible factor prolyl hydroxylase inhibitor. Molecular Pharmacology 79(6), 910-920 (2011).