Background
ITF2357, also known as givinostat, is a potent inhibitor of both class I and class II histone deacetylase (HDAC) as well as a potent inhibitor of hematopoietic colony formation by JAKEV617F-bearing progenitor cells from chronic myeloproliferative neoplasms in vitro. Previous studies has shown that ITF2357 induces apoptosis of multiple myeloma (MM) and acute myelogenous leukemia (AML) cells following induction of p21 and down-modulation of Bcl-2 and Mcl-1 proteins and inhibits the production of pro-inflammatory cytokines (such as IL-1, IL-6, tumor necrosis factor (TNF)-α and interferon (IFN)-γ) by peripheral blood mononuclear cells as well as the production of IL-6 and vascular endothelium growth factor (VEGF) by mesenchymal stromal cells.
Reference
Katia Todoerti, Valentina Barbui, Olga Pedrini, Marta Linett, Gianluca Fossati, Paolo Mascagni, Alessandro Rambaldi, Antonino Neri, Martino Introna, Luigia Lombardi, and Josee Golay. Pleiotropi anti-myeloma activity of ITF2357: inhibition of interleukin-6 receptor signaling and repression of miR-19a and miR-19b. Haematologica 2010; 95(2): 260-269
文献引用
Chemical Properties
| | |
| --- | --- |
| Physical Appearance | A solid |
| Storage | Store at -20°C |
| M.Wt | 475.97 |
| Cas No. | 732302-99-7 |
| Formula | C24H27N3O4.HCl.H2O |
| Synonyms | ITF-2357 |
| Solubility | ≥23.8 mg/mL in DMSO, <2.61 mg/mL in EtOH, ≥2.9 mg/mL in H2O with ultrasonic and warming |
| Chemical Name | (6-((diethylamino)methyl)naphthalen-2-yl)methyl (4-(hydroxycarbamoyl)phenyl)carbamate hydrochloride hydrate |
| SDF | Download SDF |
| Canonical SMILES | CCN(CC)CC1=CC2=C(C=C(COC(NC3=CC=C(C(NO)=O)C=C3)=O)C=C2)C=C1.O.Cl |
| 运输条件 | 试用装:蓝冰运输。 其他可选规格:常温运输或根据您的要求用蓝冰运输。 |
| 一般建议 | 为了使其更好的溶解,请用37℃加热试管并在超声波水浴中震动片刻。不同厂家不同批次产品溶解度各有差异,仅做参考。若实验所需浓度过大至产品溶解极限,请添加助溶剂助溶或自行调整浓度。 |
试验操作
细胞实验[1]:

细胞系

PBMC细胞

溶解方法

在DMSO中的溶解度>10 mM。为了获得更高的浓度,可以将离心管在37℃加热10分钟和/或在超声波浴中震荡一段时间。原液可以在-20℃以下储存几个月。

反应条件

超乙酰化:100 nM,24 h

应用

为了检测ITF2357对乙酰化的能力,静息PBMCs与该抑制剂在37℃孵育1小时后用LPS刺激。在3、6和24 h后制备细胞沉淀提取物,并检测总细胞提取物中的乙酰化赖氨酸。ITF2357存在时,LPS孵育3小时后出现明显的超乙酰化,并一直持续到24小时。

动物实验[1]:

动物模型

BALB/C和C57BL/6小鼠

剂量

BALB/C小鼠:5 mg/kg,C57BL/6小鼠:1或10 mg/kg;灌胃。

应用

小鼠通过灌胃的方式给予100μL的水或ITF2357(5 mg/kg),1小时后静脉注射200 ?g的ConA。24小时后采血用于评估血清ALT的水平。ITF2357减少了超过80%的ALT水平。1 mg/kg的ITF2357与10 mg/kg的剂量均可有效减少ConA肝炎。

注意事项

请测试所有化合物在室内的溶解度,实际溶解度和理论值可能略有不同。这是由实验系统的误差引起的,属于正常现象。

References:

[1] Leoni F, Fossati G, Lewis E C, et al. The histone deacetylase inhibitor ITF2357 reduces production of pro-inflammatory cytokines in vitro and systemic inflammation in vivo. Molecular Medicine, 2005, 11(1-12): 1.
生物活性
描述
Givinostat (ITF2357)是一种有效的HDAC抑制剂,作用于玉米HD2、HD1B和HD1A,非细胞实验中的IC50值分别为10 nM、7.5 nM和16 nM。
靶点
HDAC
IC50
7.5 to 16 nM
质量控制
化学结构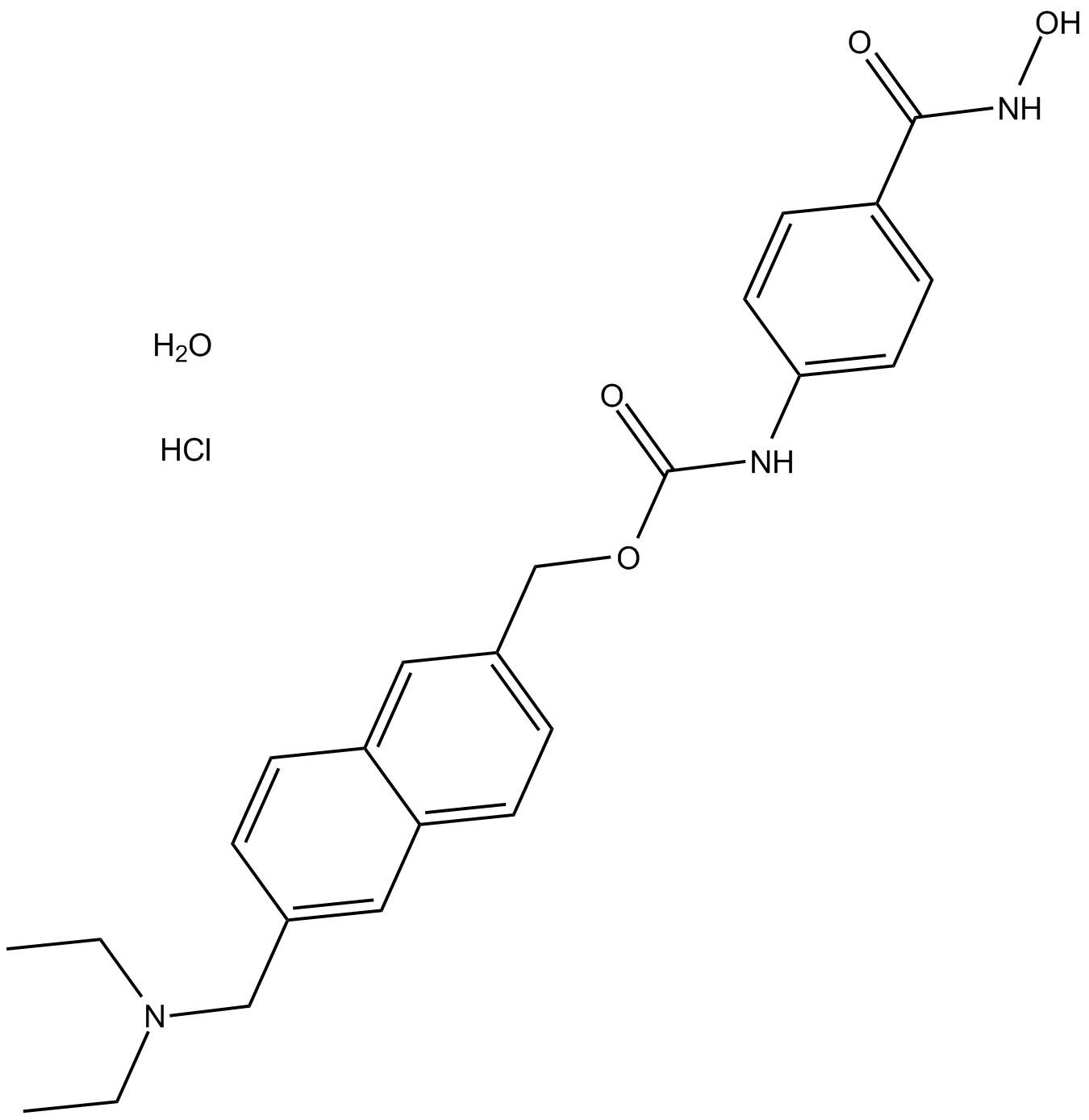 相关生物数据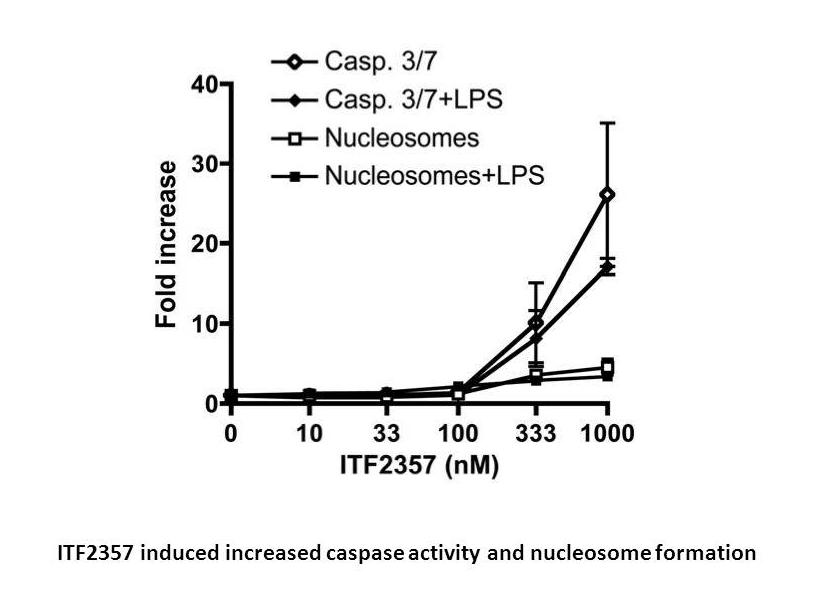 相关生物数据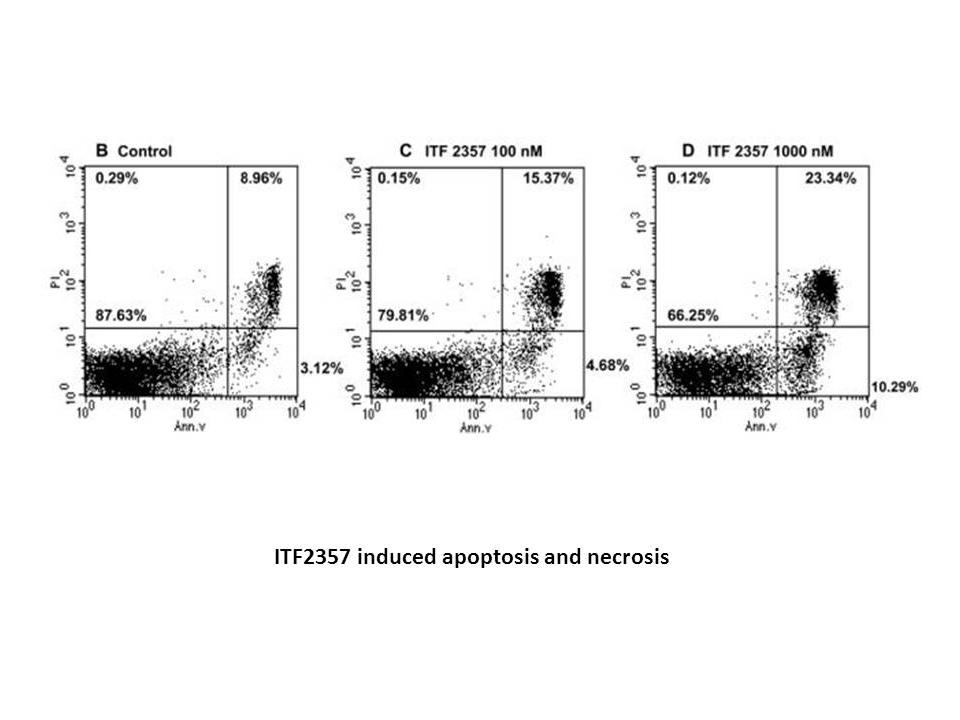 相关生物数据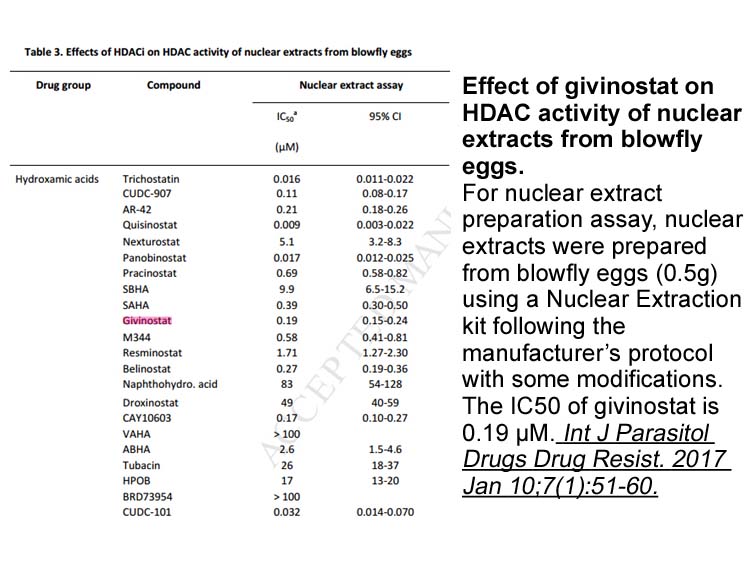 相关生物数据