Background
IC50: 35 nM for IRAK-4
The interleukin-1 receptor associated kinase (IRAK) family is comprised of four family members IRAK-1, IRAK-2, IRAK-3/M, and IRAK-4. Upon activation of their upstream cognate receptors, IRAK-4 is thought to phosphorylate IRAK-1 resulting in the activation and autophosphorylation of IRAK-1 an subsequent phosphorylation of downstream substrates. IRAK inhibitor 1 is an inhibitor of interleukin-1 receptor associated kinase 4 (IRAK-4).
In vitro: The regioisomeric pyridines IRAK inhibitor 1 (6) and it analogue (7) showed contrasting SAR, with the 2,6-pyridine isomer IRAK inhibitor 1 having low-nanomolar potency whilst the 2,4-pyridine isomer 7 showed little activity, despite having a more accessible bidentate-binding motif. At 10 μM, IRAK inhibitor 1 was found to have 39% inhibition for JNK-1 and 15% inhibition for JNK-2, respectivley [1].
In vivo: No animal in-vivo data available currently IRAK inhibitor 1 and its analogues.
Clinical trial: IRAK inhibitor 1 is currently in the preclinical development stage and no clinical data are available.
Reference:
[1] Buckley GM, Ceska TA, Fraser JL, Gowers L, Groom CR, Higueruelo AP, Jenkins K, Mack SR, Morgan T, Parry DM, Pitt WR, Rausch O, Richard MD, Sabin V.   IRAK-4 inhibitors. Part II: a structure-based assessment of imidazo[1,2-a]pyridine binding. Bioorg Med Chem Lett. 2008;18(11):3291-5.
文献引用
Chemical Properties
| | |
| --- | --- |
| Storage | Store at -20°C |
| M.Wt | 293.37 |
| Cas No. | 1042224-63-4 |
| Formula | C17H19N5 |
| Solubility | Soluble in DMSO |
| Chemical Name | 6-imidazo[1,2-a]pyridin-3-yl-N-piperidin-4-ylpyridin-2-amine |
| SDF | Download SDF |
| Canonical SMILES | C1CNCCC1NC2=CC=CC(=N2)C3=CN=C4N3C=CC=C4 |
| 运输条件 | 试用装:蓝冰运输。 其他可选规格:常温运输或根据您的要求用蓝冰运输。 |
| 一般建议 | 为了使其更好的溶解,请用37℃加热试管并在超声波水浴中震动片刻。不同厂家不同批次产品溶解度各有差异,仅做参考。若实验所需浓度过大至产品溶解极限,请添加助溶剂助溶或自行调整浓度。 |
生物活性
Description
IRAK inhibitor 1是白介素-1受体相关激酶4 (IRAK-4)的抑制剂。
靶点
IRAK-4
IC50
质量控制
化学结构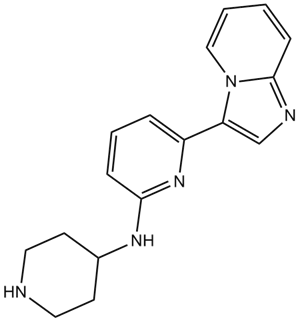 相关生物数据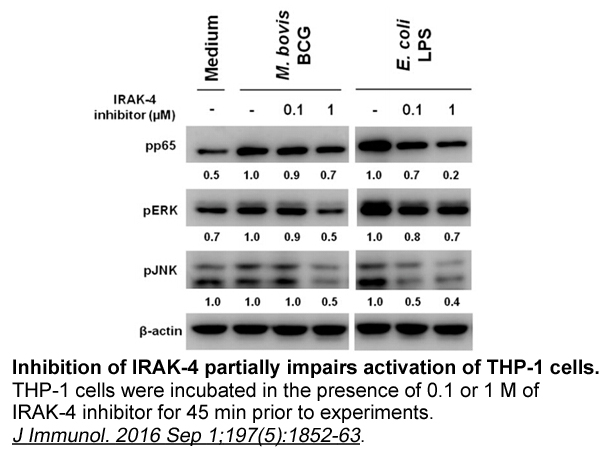 相关生物数据