Background
Description:IC50: 170 nm (CREBBP/EP300)
A bromodomain is an approximately 110 amino acid protein domain that recognizes monoacetylated lysine residues such as those on the N-terminal tails of histones. Members of the BET family (Bromodomain and extraterminal domain family) have been implicated as targets in human cancer. Inhibitors of BET have shown therapeutic effects in multiple models of hematological malignancies as well as solid tumors. SGC have developed an inhibitor, I-CBP112, against the CREBBP and EP300 Bromodomains.
In vitro: A CREBBP/EP300-selective chemical probe from a completely different structural class which was also developed by the SGC is I-CBP112. I-CBP112 has an IC50 value of 170 nm in the CREBBP AlphaScreen assay, and is selective against the bromodomain proteins ATAD2, BAZ2B, BRD2(BD2), BRD4 (BD1), PB1(BD5), PCAF, PHIP(BD2), TRIM24/TIF-1a. In U2OS cells no significant cytotoxicity up to 50 mm was found. Similar to bromosporine 129, data related to SGCCBP30 and I-CBP112 are reported on the SGC homepage exclusively [1].
In vivo: Currently, I-CBP112 is still in the in-vitro investigation, and no animal in-vivo study is on-going.
Clinical trial: I-CBP112 is currently in the preclinical development and no clinical trial is ongoing.
References:
[1] Gallenkamp D, Gelato KA, Haendler B, Weinmann H. Bromodomains and their pharmacological inhibitors. ChemMedChem. 2014;9(3):438-64.
Chemical Properties
| | |
| --- | --- |
| Physical Appearance | White Brittle Foam |
| Storage | Store at 4°C |
| M.Wt | 468.59 |
| Formula | C27H36N2O5 |
| Solubility | Soluble to 100 mM in DMSO and to 100 mM in 1eq. HCl |
| Chemical Name | (S)-1-(7-(3,4-dimethoxyphenyl)-9-((1-methylpiperidin-3-yl)methoxy)-2,3-dihydrobenzo[f][1,4]oxazepin-4(5H)-yl)propan-1-one |
| SDF | Download SDF |
| Canonical SMILES | COC1=C(OC)C=C(C2=CC(OC[C@H]3CCCN(C)C3)=C(OCCN4C(CC)=O)C(C4)=C2)C=C1 |
| 运输条件 | 试用装:蓝冰运输。 其他可选规格:常温运输或根据您的要求用蓝冰运输。 |
| 一般建议 | 为了使其更好的溶解,请用37℃加热试管并在超声波水浴中震动片刻。不同厂家不同批次产品溶解度各有差异,仅做参考。若实验所需浓度过大至产品溶解极限,请添加助溶剂助溶或自行调整浓度。 |
试验操作
细胞实验 [1]:

细胞系

永生化的鼠骨髓细胞,人类白血病细胞

溶解方法

该化合物在DMSO中的溶解度大于10 mM。若获取更高浓度的溶液,可在37℃下孵育10分钟,随后在超声波浴中摇匀。-20℃以下可储存数月。

反应条件

0.1-10 μM,48 h或72 h

应用

在永生化的鼠骨髓细胞中,I-CBP112(0.1-10 μM,48小时或72小时)损伤了永生化的鼠骨髓细胞的克隆生长。在永生化的鼠骨髓细胞中,I-CBP112(10 μM,72小时)具有显著的细胞毒性。I-CBP112显著降低MC细胞中MLL-CBP永生化细胞的克隆生长。I-CBP112(3 μM,3天)损伤人白血病细胞的克隆生长,并敏化它们对BET的抑制和doxorubicin的敏感性。

动物实验 [1]:

动物模型

移植逆转录病毒表达融合癌基因骨髓的小鼠

给药剂量

5 μM,3天

应用

I-CBP112预处理的MLL-AF9+鼠AML原始细胞在移植到放射小鼠后减少了LIC的数量,延迟了该疾病的诱导。

注意事项

由于实验环境的不同,实际溶解度可能与理论值略有不同,请测试室内所有化合物的溶解度。

References:

[1]. Picaud S, Fedorov O, Thanasopoulou A, et al. Generation of a selective small molecule inhibitor of the CBP/p300 bromodomain for leukemia therapy[J]. Cancer research, 2015, 75(23): 5106-5119.
生物活性
Description
I-CBP 112是一种选择性CREBBP/EP300抑制剂,作用于CREBBP(Alphascreen)、CREBBP(BLI)、 CREBBP(ITC)和EP300(ITC)的IC50值分别为170 nM、170 nM、151 nM和625 nM。
靶点
CREBBP
EP300
IC50
~170 nM
625 nM
质量控制
化学结构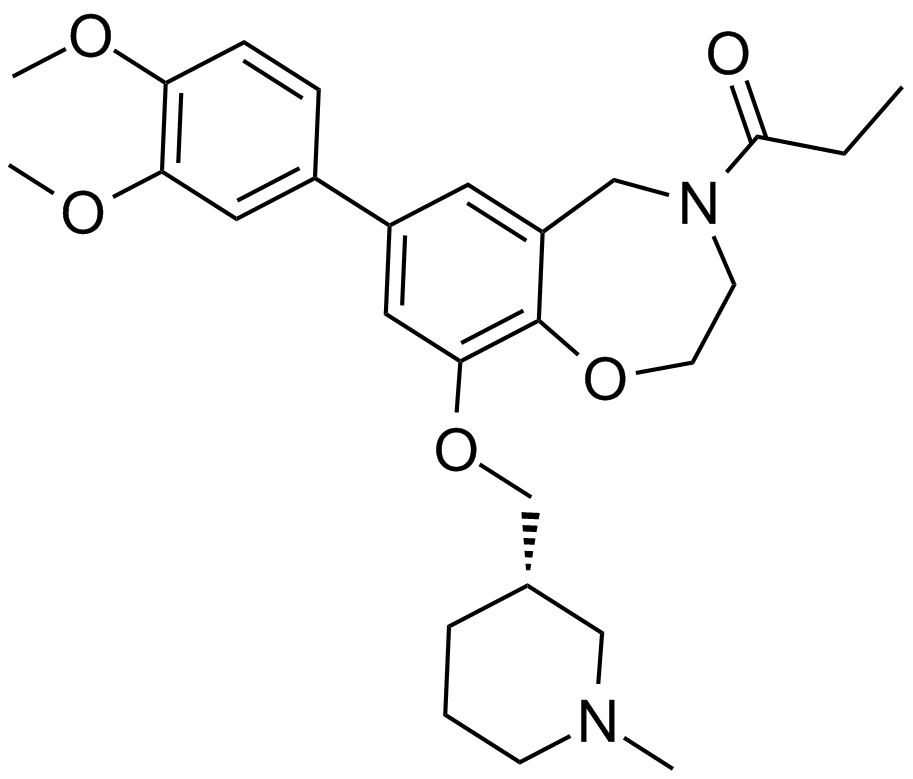 相关生物数据