Background
Hydroxy benzotriazole, abbreviated HOBt, is anorganic compoundthat is a derivative of benzotriazole. HOBt, as a commercial product, is a white crystalline powder contains some water (~11.7% wt as the HOBt monohydrate crystal). Anhydrous HOBt is explosive. It is mainly used to suppress the racemization of single-enantiomerchiral molecules and to improve the efficiency ofpeptide synthesis. Automated peptide synthesisinvolves the condensation of the amino group of protected amino acidswith the activated ester. HOBt can be used to produce activated esters such as N-hydroxysuccinimide ester. These esters are insoluble and react with amines at ambient temperature to give amides [1]. HOBt is also used for the synthesis of amides from carboxylic acidsaside from amino acids. These substrates may not be convertible to theacyl chlorides [2]. For instance amide derivatives of ionophoric antibiotics have been prepared in this way [3].
References:
[1].  Knig W, Geiger R. EineneueMethodezurSynthese von Peptiden: Aktivierung der CarboxylgruppemitDicyclohexylcarbodiimidunterZusatz von 1‐Hydroxy‐benzotriazolen[J]. ChemischeBerichte, 1970, 103(3): 788-798.
[2].  Myers A G, Yang B H, Chen H. Transformation of Pseudoephedrine Amides into Highly Enantiomerically Enriched Aldehydes, Alcohols, and Ketones[J]. Organic Syntheses, 2000: 29-29.
[3].  owicki D, Huczyński A, Ratajczak-Sitarz M, et al. Structural and antimicrobial studies of a new N-phenylamide of monensin A complex with sodium chloride[J]. Journal of Molecular Structure, 2009, 923(1): 53-59.
文献引用
Chemical Properties
| | |
| --- | --- |
| Physical Appearance | A solid |
| Storage | Desiccate at -20°C |
| M.Wt | 135.1 |
| Cas No. | 2592-95-2 |
| Formula | C6H5N3O |
| Solubility | ≥6.76mg/mL in DMSO, ≥22.4 mg/mL in EtOH with ultrasonic, ≥4.09 mg/mL in H2O with ultrasonic |
| Chemical Name | 1-hydroxybenzotriazole |
| SDF | Download SDF |
| Canonical SMILES | C1=CC=C2C(=C1)N=NN2O |
| 运输条件 | 试用装:蓝冰运输。 其他可选规格:常温运输或根据您的要求用蓝冰运输。 |
| 一般建议 | 为了使其更好的溶解,请用37℃加热试管并在超声波水浴中震动片刻。不同厂家不同批次产品溶解度各有差异,仅做参考。若实验所需浓度过大至产品溶解极限,请添加助溶剂助溶或自行调整浓度。 |
生物活性
Description
HOBt是外消旋的抑制剂,用于多肽合成。
Targets
racemization
IC50
质量控制
化学结构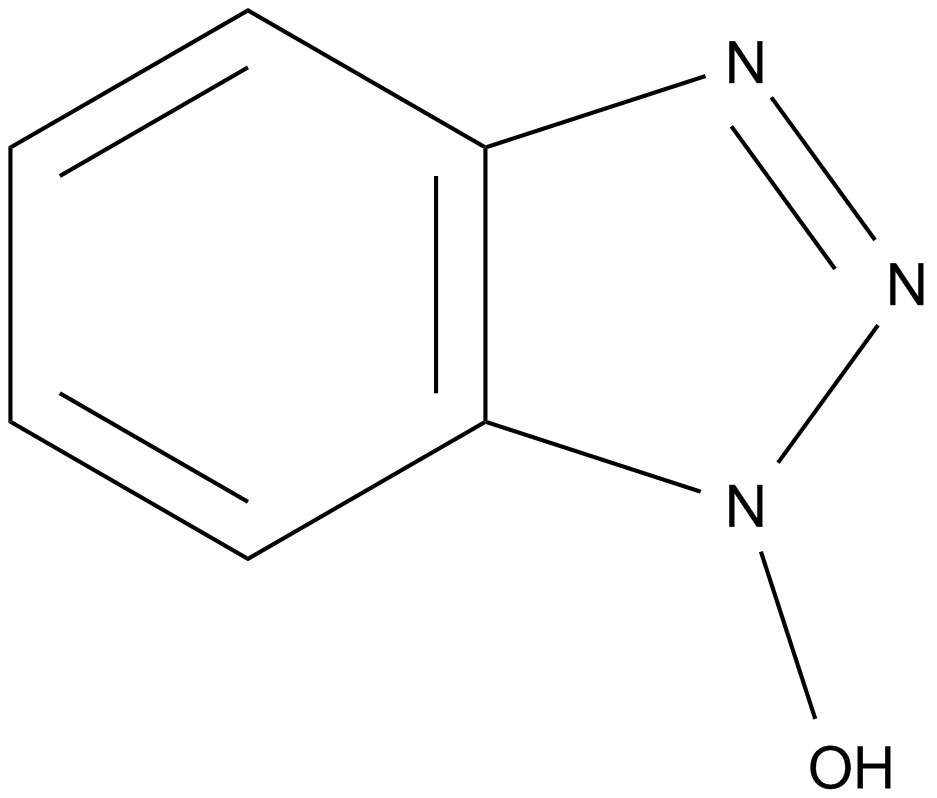 相关生物数据
相关生物数据