质量控制
化学结构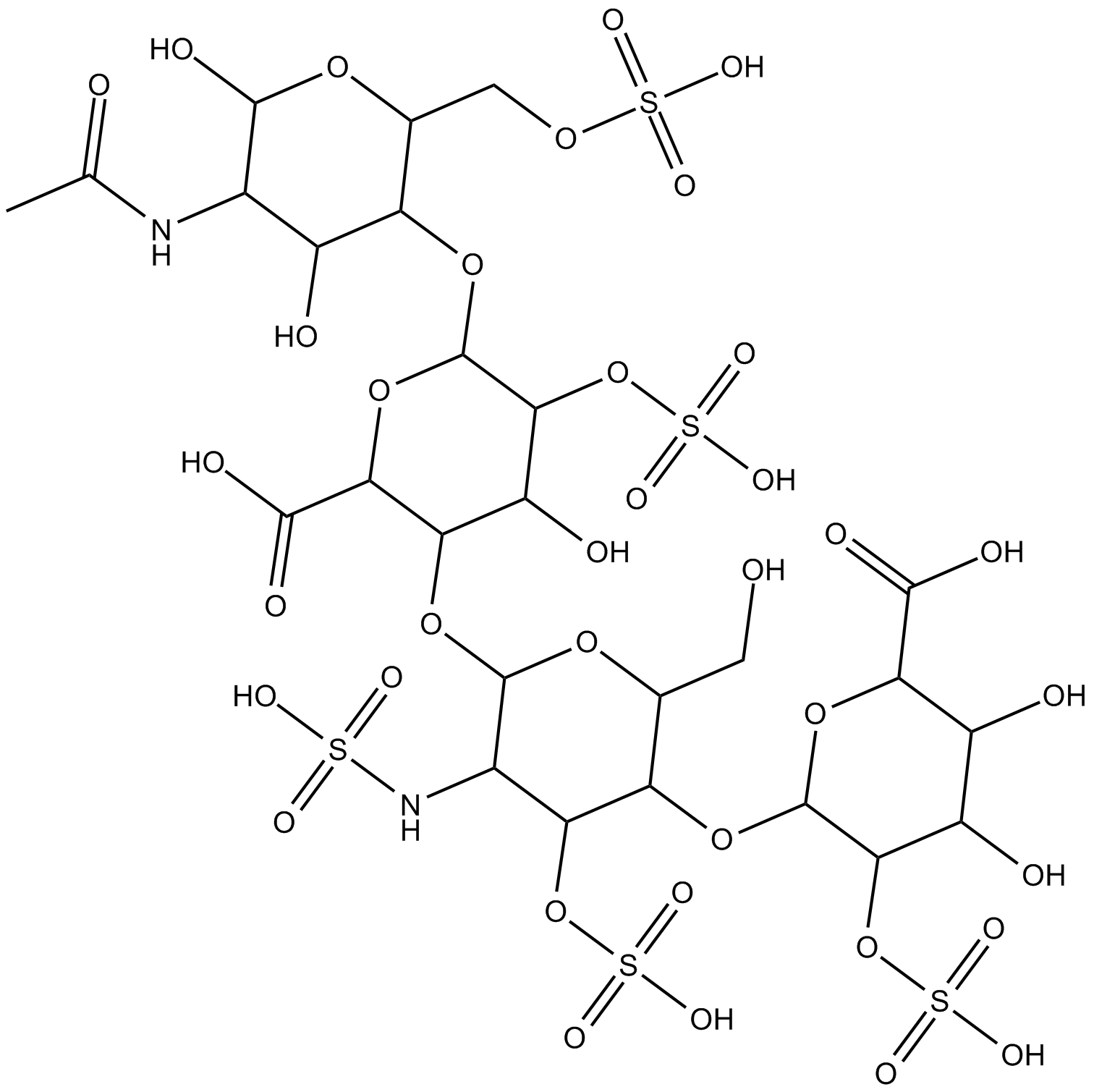 化学性质
CAS号
9005-49-6
SDF
Download SDF
SMILES
CC(NC1C(O)C(OC2C(OS(=O)(O)=O)C(O)C(OC3C(NS(=O)(O)=O)C(OS(=O)(O)=O)C(OC4C(OS(=O)(O)=O)C(O)C(O)C(C(O)=O)O4)C(CO)O3)C(C(O)=O)O2)C(COS(=O)(O)=O)OC1O)=O
分子式
C26H42N2O37S5
分子量

1134.93

溶解度
≥12.75mg/ml in H2O
储存条件
Store at -20°C
运输条件
试用装:蓝冰运输。
其他可选规格:常温运输或根据您的要求用蓝冰运输。
一般建议
为了使其更好的溶解,请用37℃加热试管并在超声波水浴中震动片刻。不同厂家不同批次产品溶解度各有差异,仅做参考。若实验所需浓度过大至产品溶解极限,请添加助溶剂助溶或自行调整浓度。
产品描述
肝素是高度硫酸化的糖胺聚糖,广泛用作可注射的抗凝血剂。肝素仅存在于动物界的少数组织和物种中,在特殊细胞的细胞质中的细胞器内的以颗粒形式存在。肝素可能参与针对细菌和其他外来物质的防御机制[1]。
体外实验:肝素(25-500 Nμ/ ml)以剂量依赖性方式抑制由FMLP或通过酵母聚糖活化的血清诱导的细胞聚集和脱颗粒。25 μg/ml的肝素特异性抑制FMLP依赖超氧化物阴离子产生和化学发光。肝素抑制功能和代谢粒细胞激活的所有方面[2]。
在体实验:在来自肝素处理大鼠的细胞或肝素处理的细胞中,由于血管紧张素II受体的数量和亲和力降低,[125I]碘-血管紧张素II的特异性结合降低。在肝素处理大鼠的细胞和肝素处理的细胞中,肝素还降低了血管紧张素II诱导的醛固酮产生的最大值。肝素与肾上腺血管紧张素II受体相互作用从而抑制血管紧张素II诱导的醛固酮产生[3]。
参考文献:
[1]. Nader H B, Chavante S F, Dos-Santos E A, et al. Heparan sulfates and heparins: similar compounds performing the same functions in vertebrates and invertebrates[J]. Brazilian Journal of Medical and Biological Research, 1999, 32(5): 529-538.
[2]. Pasini F L, Pasqui A L, Ceccatelli L, et al. Heparin inhibition of polymorphonuclear leukocyte activation in vitro. A possible pharmacological approach to granulocyte-mediated vascular damage[J]. Thrombosis research, 1984, 35(5): 527-537.
[3]. Azukizawa S, Iwasaki I, Kigoshi T, et al. Effects of heparin treatments in vivo and in vitro on adrenal angiotensin II receptors and angiotensin II-induced aldosterone production in rats[J]. Acta endocrinologica, 1988, 119(3): 367-372.