Sample solution is provided at 25 µL, 10mM.
质量控制
化学结构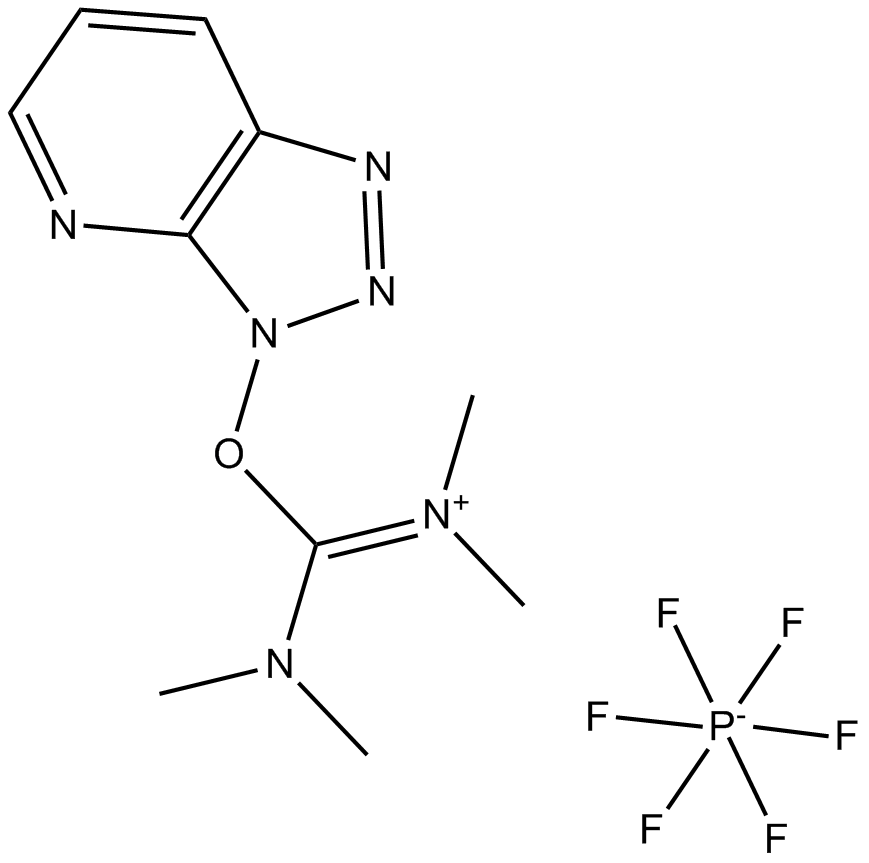 化学性质
CAS号
148893-10-1
SDF
Download SDF
化学名
[dimethylamino(triazolo[4,5-b]pyridin-3-yloxy)methylidene]-dimethylazanium;hexafluorophosphate
SMILES
CN(C)C(=[N+](C)C)ON1C2=C(C=CC=N2)N=N1.F[P-](F)(F)(F)(F)F
分子式
C10H15F6N6OP
分子量

380.2

溶解度
≥16mg/mL in DMSO
储存条件
Desiccate at -20°C
运输条件
试用装:蓝冰运输。
其他可选规格:常温运输或根据您的要求用蓝冰运输。
一般建议
为了使其更好的溶解,请用37℃加热试管并在超声波水浴中震动片刻。不同厂家不同批次产品溶解度各有差异,仅做参考。若实验所需浓度过大至产品溶解极限,请添加助溶剂助溶或自行调整浓度。
产品描述
HATU(1-[Bis(dimethylamino)methylene]-1H-1,2,3-triazolo[4,5-b]pyridinium 3-oxid hexafluorophosphate)在肽偶联化学中用于从羧酸生成活性酯。HATU可与Hünig碱(N,N-二异丙基乙胺,DIPEA)一起使用以形成酰胺键。常用溶剂为DMF [1]。
HATU通常用于醇和胺酰化反应,例如酯和酰胺形成。这样的反应通常在两个不同的反应步骤中进行:(1)羧酸与HATU反应形成OAt-活性酯;(2)将亲核试剂如醇或胺加入到活性酯溶液中,得到酰化产物 [2,3]。
参考文献:
[1]. Carpino L A. 1-Hydroxy-7-azabenzotriazole. An efficient peptide coupling additive[J]. Journal of the American Chemical Society, 1993, 115(10): 4397-4398.
[2]. Carpino L A, Imazumi H, El‐Faham A, et al. The uronium/guanidinium peptide coupling reagents: Finally the true uronium salts[J]. Angewandte Chemie International Edition, 2002, 41(3): 441-445.
[3]. Carpino L A, Imazumi H, Foxman B M, et al. Comparison of the Effects of 5-and 6-HOAt on Model Peptide Coupling Reactions Relative to the Cases for the 4-and 7-Isomers[J]. Organic letters, 2000, 2(15): 2253-2256.