Background
CHIR-99021 is a highly specific glycogen synthase kinase-3 (GSK-3) inhibitor which can inhibit both isoforms with IC50 of 10 nM (GSK-3α) and 6.7 nM (GSK-3β).
CHIR-99021 was proved to promote self-renewal and maintain pluripotency of both B6 and BALB/c ES cells via stabilizing the downstream effectors like c-Myc and β -catenin[1]. In J1 mESC cells, CHIR-99021 played an important role in maintaining the colony morphology as well as the self-renewal when combined with leukemia inhibitory factor (LIF). CHIR-99021 has shown to regulate multiple signaling pathways which involve Wnt/β-catenin, TGF-β, Nodal and MAPK, and the expression of epigenetic regulatory genes like Dnmt3l[2].
CHIR-99021 has been demonstrated to promote DN3 thymocytes proliferation and differentiation in the absence of pre-TCR signaling, Notch1 signaling or CXCL12[3]. However, study has also found that higher concentration (10 ?M but not 1 ?M or 3 ?M) of CHIR99021 might selectively inhibit differentiation by activating IL-7 signaling pathway[3].
References:
1. Ye S1, Tan L, Yang R, Fang B, Qu S, Schulze EN, Song H, Ying Q, Li P. Pleiotropy of glycogen synthase kinase-3 inhibition by CHIR99021 promotes self-renewal of embryonic stem cells from refractory mouse strains. PLoS One. 2012;7(4):e35892.
2. Wu Y1, Ai Z, Yao K, Cao L, Du J, Shi X, Guo Z, Zhang Y. CHIR99021 promotes self-renewal of mouse embryonic stem cells by modulation of protein-encoding gene and long intergenic non-coding RNA expression. Exp Cell Res. 2013
3. PLoS One. 2013;8(3):e58501. doi: 10.1371/journal.pone.0058501. Epub 2013 Mar 20. Schroeder JH1, Bell LS, Janas ML, Turner M. Pharmacological inhibition of glycogen synthase kinase 3 regulates T cell development in vitro. PLoS One. 2013;8(3):e58501.
文献引用
Chemical Properties
| | |
| --- | --- |
| Physical Appearance | A solid |
| Storage | Store at 4°C |
| M.Wt | 465.34 |
| Cas No. | 252917-06-9 |
| Formula | C22H18Cl2N8 |
| Synonyms | CHIR99021, CHIR-99021, CHIR 99021, CT99021,GSK-3 Inhibitor XVI |
| Solubility | ≥23.3mg/mL in DMSO |
| Chemical Name | 6-((2-((4-(2,4-dichlorophenyl)-5-(5-methyl-1H-imidazol-2-yl)pyrimidin-2-yl)amino)ethyl)amino)nicotinonitrile |
| SDF | Download SDF |
| Canonical SMILES | N#CC1=CC=C(NCCNC2=NC=C(C3=NC=C(C)N3)C(C4=CC=C(Cl)C=C4Cl)=N2)N=C1 |
| 运输条件 | 试用装:蓝冰运输。 其他可选规格:常温运输或根据您的要求用蓝冰运输。 |
| 一般建议 | 为了使其更好的溶解,请用37℃加热试管并在超声波水浴中震动片刻。不同厂家不同批次产品溶解度各有差异,仅做参考。若实验所需浓度过大至产品溶解极限,请添加助溶剂助溶或自行调整浓度。 |
试验操作
细胞实验[1]:

细胞系

人类胚胎干细胞(ESCs)

溶解方法

该化合物在DMSO中的溶解度大于10 mM。若配制更高浓度的溶液,一般步骤如下:请将试管置于37℃加热10分钟和/或将其置于超声波浴中震荡一段时间。原液于-20℃可放置数月

反应条件

8 μM,24小时

实验结果

在第0天,用8μMCHIR-99021起始分化24小时,赋予经典的Wnt/β-联蛋白活化,接着在第3天加入4μMIWR-1进行为期48小时的Wnt抑制。对于测试的所有组,在第6天观察到eGFP荧光的第一体征和第一次跳动EB,持续增加直到d10,对于接种了666-2000个细胞的实验组达到几乎100%的跳动EB。对于接种666个细胞/聚集体的组,在第10天解离的EB的流式细胞术分析显示5.9Nkx2-5-eGFP+细胞的最高产率;每个聚集体较高的细胞数目导致较低的产量。EB冷冻切片和解离/再接种细胞的免疫荧光染色证实了高含量的Nkx2-5+和cTnT+心肌细胞,从而证明了在琼脂糖微孔上聚集和用基于小分子的培养基诱导后,人ESC衍生EB的有效心肌分化。

动物实验[2]:

动物模型

秋田1型糖尿病小鼠和野生型小鼠

剂量

腹腔注射,每日50 mg/kg

实验结果

在普萘洛尔注射后15分钟,2-min平均HF分数从CHIR-99021处理前的46.8 ± 2.9%增加到处理后的67.8 ± 5.1%。用CHIR-99021处理Akita小鼠使SREBP-1从0.53 ± 0.07增加到1.17 ± 0.11倍。野生型小鼠中,CHIR-99021治疗使GIRK4水平从0.28 ± 0.06增加至1.08 ± 0.14倍,显著高于安慰剂。

注意事项

请测试所有化合物在室内的溶解度,实际溶解度和理论值可能略有不同。这是由实验系统的误差引起的,属于正常现象。

References:

[1] Dahlmann J, Kensah G, Kempf H, et al. The use of agarose microwells for scalable embryoid body formation and cardiac differentiation of human and murine pluripotent stem cells. Biomaterials, 2013, 34(10): 2463-2471.

[2] Zhang Y, Welzig C M, Picard K L, et al. Glycogen synthase kinase-3β inhibition ameliorates cardiac parasympathetic dysfunction in type 1 diabetic Akita mice. Diabetes, 2014, 63(6): 2097-2113.
生物活性
描述
CHIR-99021 (CT99021)是GSK-3α/β的抑制剂,IC50值为10 nM/6.7 nM,比对其最接近同系物CDC2和ERK2,以及其它蛋白激酶的选择性高500倍以上。
靶点
GSK-3
IC50
7 nM
质量控制
化学结构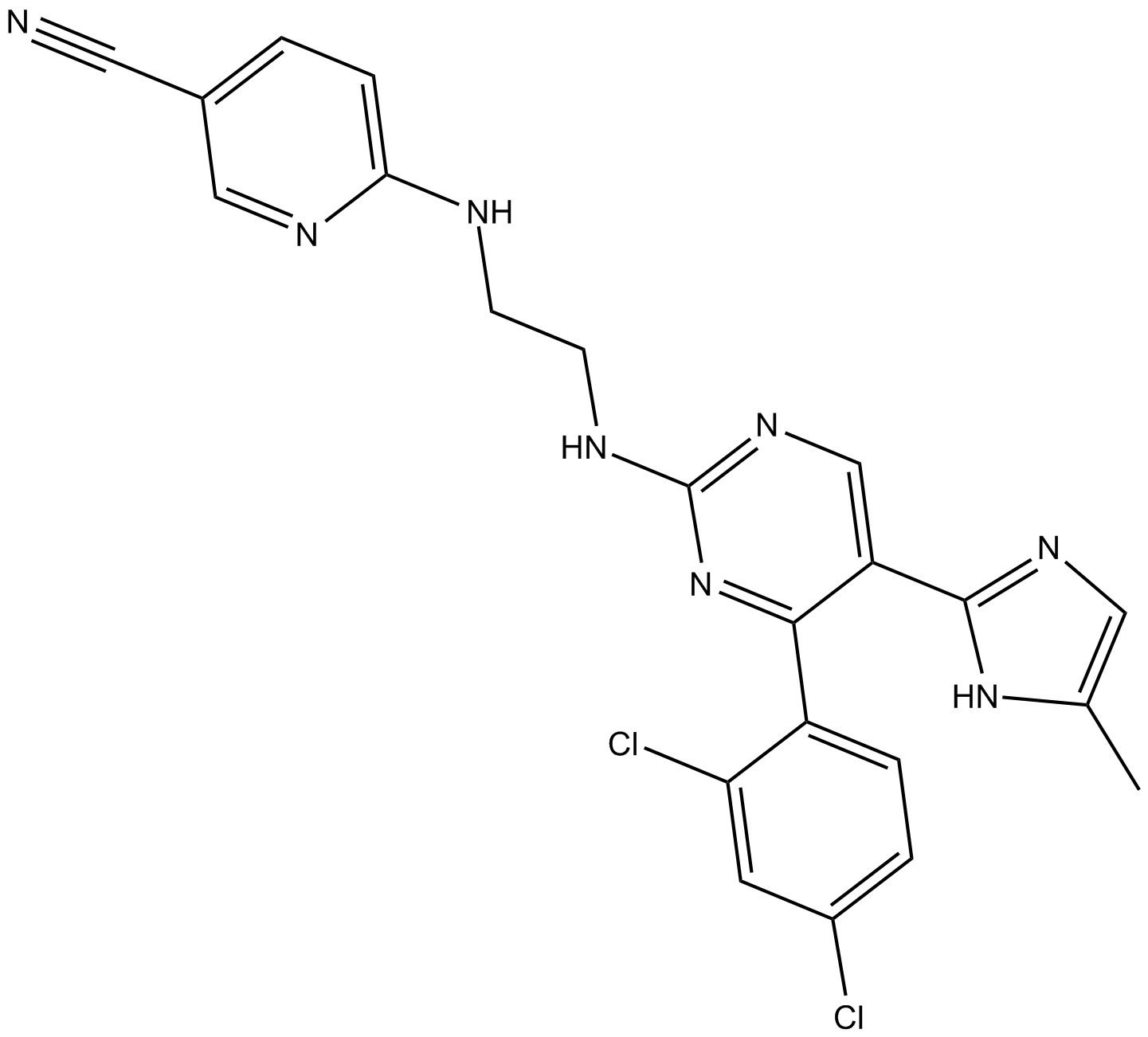 相关生物数据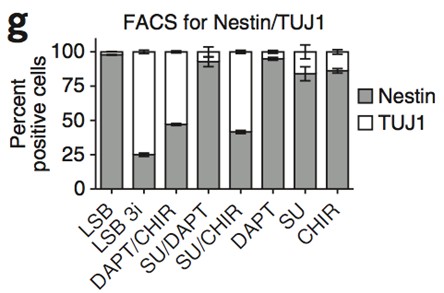 Intracellular?antibody FACS staining for Nestin and TUJ1 indicated a stark contrast in the number of neurons generated by LSB (2% TUJ1+) compared to LSB3i (75% TUJ1+). When one or two of the three inhibitors used in 3i were added, the same level of TUJ1 cells was not achieved; however, CHIR (CHIR99021) with either SU5402 or DAPT achieved >53% neurons, indicating a requirement for CHIR in the formation of TUJ1+ neurons. Results are presented as mean ± s.e.m.
相关生物数据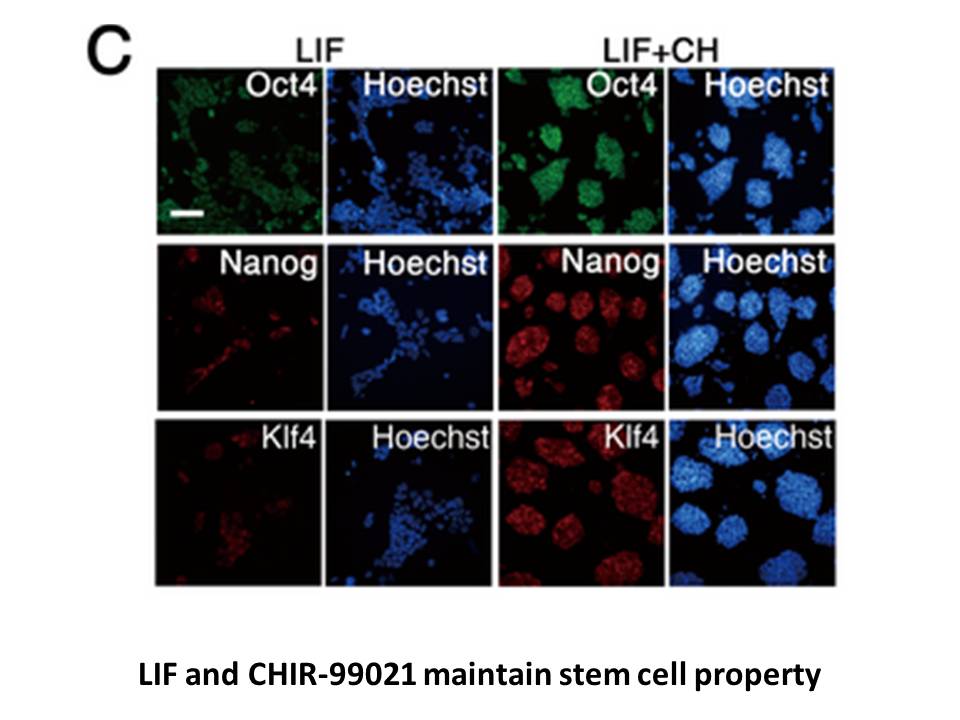 相关生物数据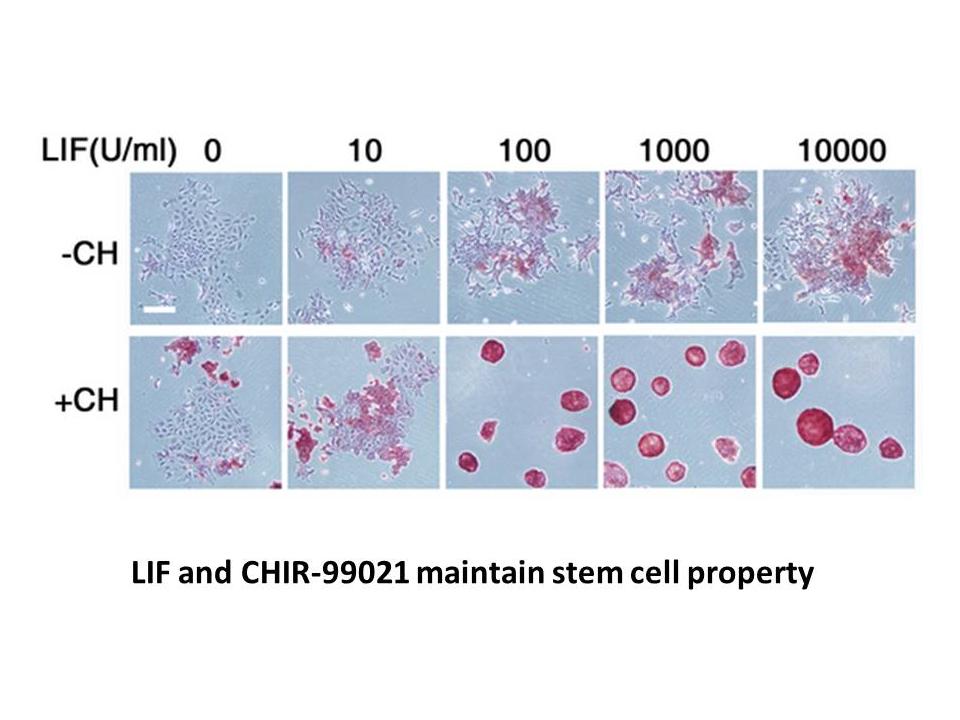 相关生物数据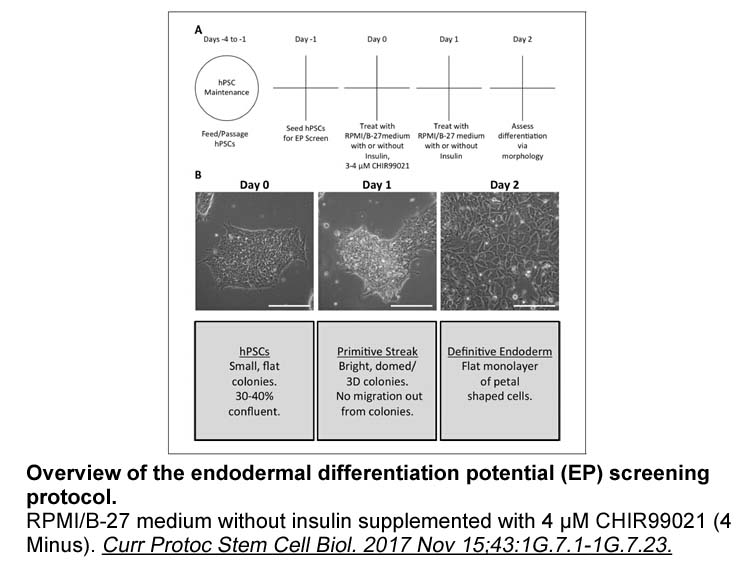 相关生物数据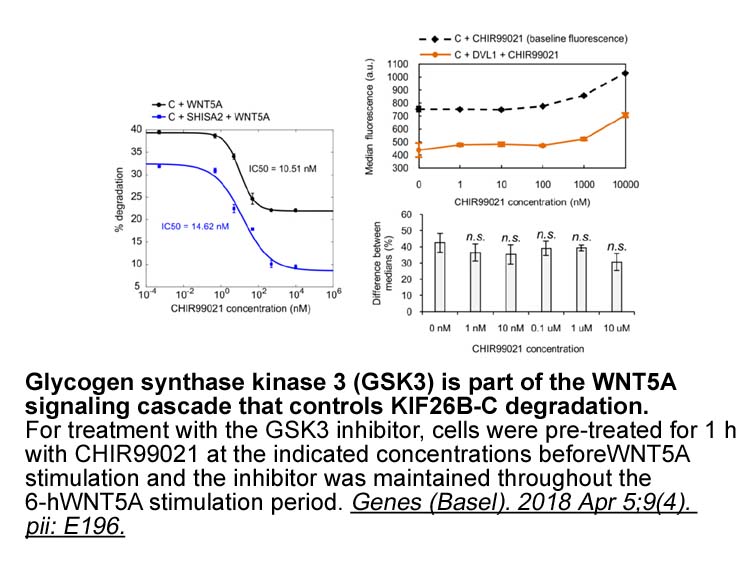 相关生物数据