Sample solution is provided at 25 µL, 10mM.
质量控制
化学结构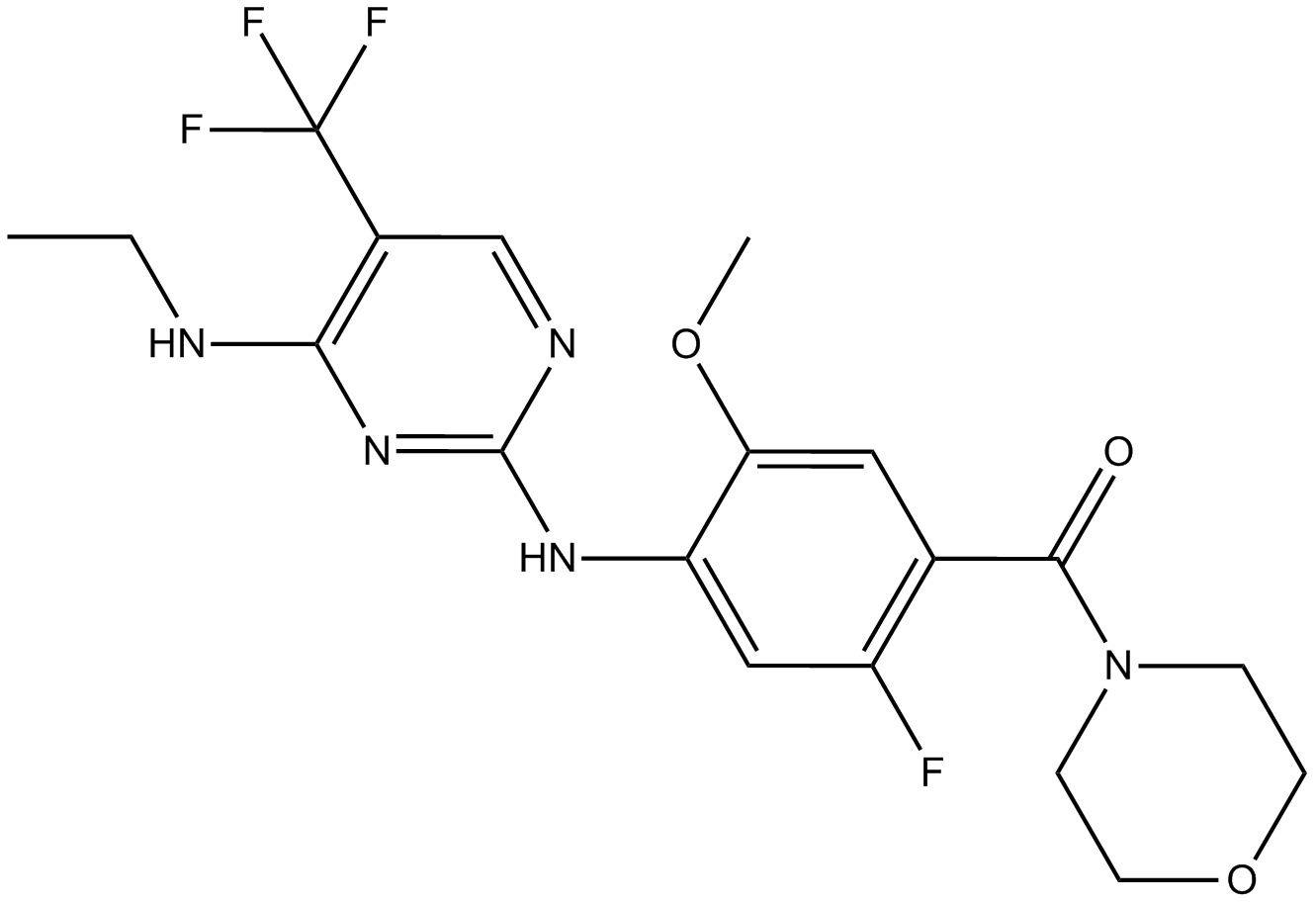 化学性质
CAS号
1351761-44-8
SDF
Download SDF
化学名
(4-((4-(ethylamino)-5-(trifluoromethyl)pyrimidin-2-yl)amino)-2-fluoro-5-methoxyphenyl)(morpholino)methanone
SMILES
CCNC1=C(C(F)(F)F)C=NC(NC2=CC(F)=C(C(N3CCOCC3)=O)C=C2OC)=N1
分子式
C19H21F4N5O3
分子量

443.4

溶解度
≥22.15mg/mL in DMSO
储存条件
Store at -20°C
物理性状
A solid
运输条件
试用装:蓝冰运输。
其他可选规格:常温运输或根据您的要求用蓝冰运输。
一般建议
为了使其更好的溶解,请用37℃加热试管并在超声波水浴中震动片刻。不同厂家不同批次产品溶解度各有差异,仅做参考。若实验所需浓度过大至产品溶解极限,请添加助溶剂助溶或自行调整浓度。
产品描述
GNE-7915是高效\选择性和脑穿透性的富亮氨酸重复激酶2(LRRK2)的抑制剂,Ki值和IC50值分别为1 nM和9 nM.
GNE-7915是针对187种筛选的激酶的广谱抑制剂,除了TTK激酶.拓展到392种激酶时,GNE-7915仅显著结合10种激酶(100 nM浓度下取代超过50%的探针).GNE-7915及其前体是穿透脑屏障的第一类选择性LRRK2抑制剂[1].
GEN-7915能诱导转基因小鼠脑中LRRK2的去磷酸化.目前尚无GEN-7915具有细胞或基因毒性的报道,已在猕猴中进行临床前研究[3].通过硅片模型,大量体外研究和资源高效体内技术以生产GEN-7915,反映出在药物开发早期效应\选择性和药代动力学特性协同优化的趋势[1].在野生型和LRRK2 KO实验中,高浓度GEN-7915 (≥ 3 μM)能抑制TNFα和CXCL10[2].
参考文献:
1. Kavanagh ME, Doddareddy MR, Kassiou M. The development of CNS-active LRRK2 inhibitors using property-directed optimisation. Bioorg Med Chem Lett. 2013 Jul 1;23(13):3690-6. doi: 10.1016/j.bmcl.2013.04.086. Epub 2013 May 9.
2. Luerman GC, Nguyen C, Samaroo H et al. Phosphoproteomic evaluation of pharmacological inhibition of leucine-rich repeat kinase 2 reveals significant off-target effects of LRRK-2-IN-1. J Neurochem. 2014 Feb;128(4):561-76. doi: 10.1111/jnc.12483. Epub 2013 Nov 11.
3. Estrada AA, Liu X, Baker-Glenn C et al. Discovery of highly potent, selective, and brain-penetrable leucine-rich repeat kinase 2 (LRRK2) small molecule inhibitors. J Med Chem. 2012 Nov 26;55(22):9416-33. doi: 10.1021/jm301020q. Epub 2012 Oct 15.