Background
Geldanamycin, a crystalline antimicrobial compound derived from the culture filtrates of Streptomyces hygroscopicus var. geldanus var. nova., is a potent and specific inhibitor of heat shock protein 90 (Hsp90) that specifically binds to the unique ATP binding pocket of Hsp90 in a stable and pharmacologically specific manner. As an antimicrobial agent, geldanamycin exhibits moderate activity against protozoa, bacteria and fungi as well as parasite Syphacia oblevata and cell cultures of L-1210 and KB. Recent studies have shown that geldanamycin also inhibits the function of glucocorticoid receptor and endothelium-dependent relaxation of the rat aorta, mesentery and middle artery.
Reference
Bucci M, Roviezzo F, Cicala C, Sessa WC, Cirino G. Geldanamycin, an inhibitor of heat shock protein 90 (Hsp90) mediated signal transduction has anti-inflammatory effects and interacts with glucocorticoid receptor in vivo. Br J Pharmacol. 2000; 131(1): 13-16.
DeBoer C, Meulman PA, Wnuk RJ, Peterson DH. Geldanamycin, a new antibiotic. J Antibiot (Tokyo). 1970; 23(9):442-447.
文献引用
Chemical Properties
| | |
| --- | --- |
| Physical Appearance | A solid |
| Storage | Store at -20°C |
| M.Wt | 560.6 |
| Cas No. | 30562-34-6 |
| Formula | C29H40N2O9 |
| Solubility | ≥16.9 mg/mL in DMSO, <2.38 mg/mL in EtOH, <2.51 mg/mL in H2O |
| Chemical Name | [(3R,5S,6R,7S,8E,10S,11S,12Z,14E)-6-hydroxy-5,11,21-trimethoxy-3,7,9,15-tetramethyl-16,20,22-trioxo-17-azabicyclo[16.3.1]docosa-1(21),8,12,14,18-pentaen-10-yl] carbamate |
| SDF | Download SDF |
| Canonical SMILES | CC1CC(C(C(C=C(C(C(C=CC=C(C(=O)NC2=CC(=O)C(=C(C1)C2=O)OC)C)OC)OC(=O)N)C)C)O)OC |
| 运输条件 | 试用装:蓝冰运输。 其他可选规格:常温运输或根据您的要求用蓝冰运输。 |
| 一般建议 | 为了使其更好的溶解,请用37℃加热试管并在超声波水浴中震动片刻。不同厂家不同批次产品溶解度各有差异,仅做参考。若实验所需浓度过大至产品溶解极限,请添加助溶剂助溶或自行调整浓度。 |
试验操作
激酶实验 [1]:

核苷结合的等温滴定量热法 (ITC)

使用MSC系统进行滴定实验。在每项实验中,于25°C下,将16等份的15 μL Geldanamycin(在1% DMSO中的浓度为300 μM)加入到1.3 mL蛋白(在20 mM Tris-HCl中的浓度为31 μM,pH 7.5,1 mM EDTA)。减去稀释热后,将获得的数据进行拟合。将Geldanamycin加入到缓冲液中,同时将缓冲液加入到蛋白质中。通过上述两个独立实验测定稀释热。结果显示,DMSO没有结合核苷酸结合位点。滴定数据使用非线性最小二乘法曲线拟合算法拟合,该算法有3个不固定变量:化学计量、结合常数 (Kb = 1/Kd) 以及相互作用焓的变化 (ΔH°)。Geldanamycin结合到完整酵母Hsp90和Hsp90 N-末端结构域,估计的解离常数分别为1.22 μM和0.78 μM。当Geldanamycin结合到C-末端片段时,没有观察到显著的热量。

细胞实验 [2]:

细胞系

A2780细胞

制备方法

在DMSO中的溶解度大于10 mM。若配制更高浓度的溶液,一般步骤如下:请将试管置于37℃加热10分钟和/或将其置于超声波浴中震荡一段时间。原液于-20℃可放置数月。

反应条件

0.001 ~ 10 μM;3小时

实验结果

在人卵巢细胞系A2780中,Geldanamycin引起剂量依赖性的G2期阻滞,并可逆抑制其进入S期。

动物实验 [3]:

动物模型

携带FRE/erbB-2肿瘤的小鼠

给药剂量

50、100、200和400 mg/kg;腹腔注射;每日2次,持续5天

实验结果

在携带FRE/erbB-2肿瘤的小鼠中,Geldanamycin (50 mg/kg) 抑制p185相关的磷酸酪氨酸水平(30%)。

其它注意事项

请于室内测试所有化合物的溶解度。虽然化合物的实际溶解度可能与其理论值略有不同,但仍处于实验系统误差的允许范围内。

References:

[1]. Roe SM, Prodromou C, O'Brien R, Ladbury JE, Piper PW, Pearl LH. Structural basis for inhibition of the Hsp90 molecular chaperone by the antitumor antibiotics radicicol and geldanamycin. J Med Chem. 1999 Jan 28;42(2):260-6.

[2]. McIlwrath AJ, Brunton VG, Brown R. Cell-cycle arrest and p53 accumulation induced by geldanamycin in human ovarian tumour cells. Cancer Chemother Pharmacol. 1996;37(5):423-8.

[3]. Schnur RC, Corman ML, Gallaschun RJ, Cooper BA, Dee MF, Doty JL, Muzzi ML, Moyer JD, DiOrio CI, Barbacci EG, et al. Inhibition of the oncogene product p185erbB-2 in vitro and in vivo by geldanamycin and dihydrogeldanamycin derivatives. J Med Chem. 1995 Sep 15;38(19):3806-12.
质量控制
化学结构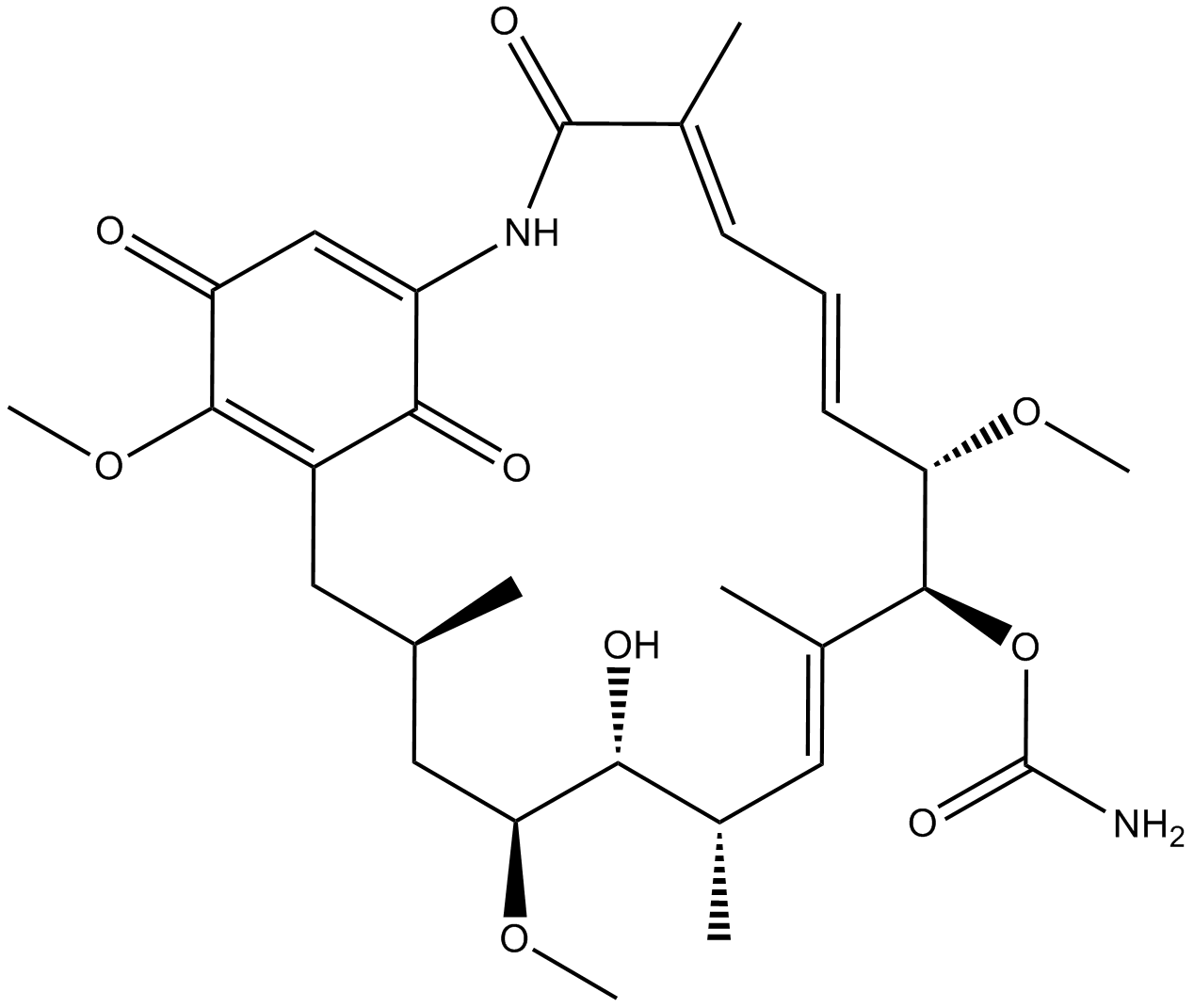 相关生物数据
相关生物数据