Background
Gefitinib, also known as ZD1839 or Iressa, is a potent and orally-bioavailable small-molecule inhibitor of epidermal growth factor receptor (EGFR) tyrosine kinase with 50% inhibition concentration IC50 values of 0.033 μM and 0.027 μM in A431 membrane prep and baculovirus lysate respectively. Gefitinib binds to the kinase ATP binding site of EGFR interfering with the binding of adenosine triphosphate, which suppresses the EGFR tyrosine kinase activity and resultant signal transduction of EGFR. Gefitinib exhibits anti-angiogenic activities in a wide range of human tumor types, including head and neck, prostate, breast, ovarian, colon, small-cell lung and non-small-cell lung cancer. Moreover, geftinib has also been found to reduce proliferation, induce cell cycle arrest and increase apoptosis.
Reference
M. Ranson and S. Wardell. Gefitinib, a novel, orally administered agent for the treatment of cancer. Journal of Clinical Pharmacy and Therapeutics (2004) 29, 95-103
Joachim Von Pawel. Gefitinib (Iressa, ZD1839): a novel targeted approach for the treatment of solid tumors. Bull Cancer 2004; 91(5): E70-E76
文献引用
Chemical Properties
| | |
| --- | --- |
| Physical Appearance | A solid |
| Storage | Store at -20°C |
| M.Wt | 446.90 |
| Cas No. | 184475-35-2 |
| Formula | C22H24ClFN4O3 |
| Synonyms | Iressa,ZD-1839,Gefitinib |
| Solubility | ≥22.3mg/mL in DMSO, ≥2.48 mg/mL in EtOH with ultrasonic, <2.76 mg/mL in H2O |
| Chemical Name | N-(3-chloro-4-fluorophenyl)-7-methoxy-6-(3-morpholin-4-ylpropoxy)quinazolin-4-amine |
| SDF | Download SDF |
| Canonical SMILES | COC1=C(C=C2C(=C1)N=CN=C2NC3=CC(=C(C=C3)F)Cl)OCCCN4CCOCC4 |
| 运输条件 | 试用装:蓝冰运输。 其他可选规格:常温运输或根据您的要求用蓝冰运输。 |
| 一般建议 | 为了使其更好的溶解,请用37℃加热试管并在超声波水浴中震动片刻。不同厂家不同批次产品溶解度各有差异,仅做参考。若实验所需浓度过大至产品溶解极限,请添加助溶剂助溶或自行调整浓度。 |
试验操作
细胞实验: [1]

细胞系

BT-474细胞

制备方法

该化合物在DMSO中的溶解度大于10 mM,若配制更高浓度的溶液,一般步骤如下:请将试管置于37℃加热10分钟和/或将其置于超声波浴中震荡一段时间。原液于-20℃可放置数月。

反应条件

1 μM,24 hours

实验结果

用1 μM ZD1839处理BT-474细胞24小时,G1分数从74增加至88%,S期细胞的比例从15降至4%。G1中细胞积累的同时,用磷酸特异性抗体测量,活性Akt和MAPK完全消失,总Akt和MAPK的含量没有变化。与Akt活性的抑制一致,Akt激酶的靶标GSK-3β的磷酸化减少。细胞周期蛋白D1和Cdk4也减少,而Cdk抑制剂p27的蛋白质水平上调。

动物实验: [2]

动物模型

注射BT-474细胞的雌性Balb/C无胸腺裸鼠

给药剂量

口服,200 mg/kg/day

实验结果

将小鼠随机分配为未治疗、ZD1839、Herceptin或两者组合。ZD1839完全抑制肿瘤生长,但没有诱导完全消退。单独的Herceptin处理,诱导7个小鼠中的2个完全消退,而药物组合使用导致8个小鼠中的3个得到完全缓解。小鼠没有表现出治疗相关毒性。用ZD1839加上Herceptin治疗的三只小鼠的肿瘤完全消退,在停止治疗后保持无肿瘤状态大于6个月,在尸体解剖时没有可检测的肿瘤。

注意事项

请于室内测试所有化合物的溶解度。虽然化合物的实际溶解度可能与其理论值略有不同,但仍处于实验系统误差的允许范围内。

References:

[1] Moulder S L, Yakes F M, Muthuswamy S K, et al. Epidermal growth factor receptor (HER1) tyrosine kinase inhibitor ZD1839 (Iressa) inhibits HER2/neu (erbB2)-overexpressing breast cancer cells in vitro and in vivo. Cancer research, 2001, 61(24): 8887-8895.
生物活性
Description
Gefitinib (ZD-1839)是EGFR的抑制剂,作用于NR6wtEGFR和NR6W细胞中的EGFR Tyr1173、Tyr992、Tyr1173和Tyr992,IC50值分别为37 nM、37nM、26 nM 和57 nM。
靶点
Tyr1173 (NR6wtEGFR cells)
Tyr992 (NR6wtEGFR cells)
Tyr1173 (NR6W cells)
Tyr992 (NR6W cells)
IC50
37 nM
37nM
26 nM
57 nM
质量控制
化学结构
相关生物数据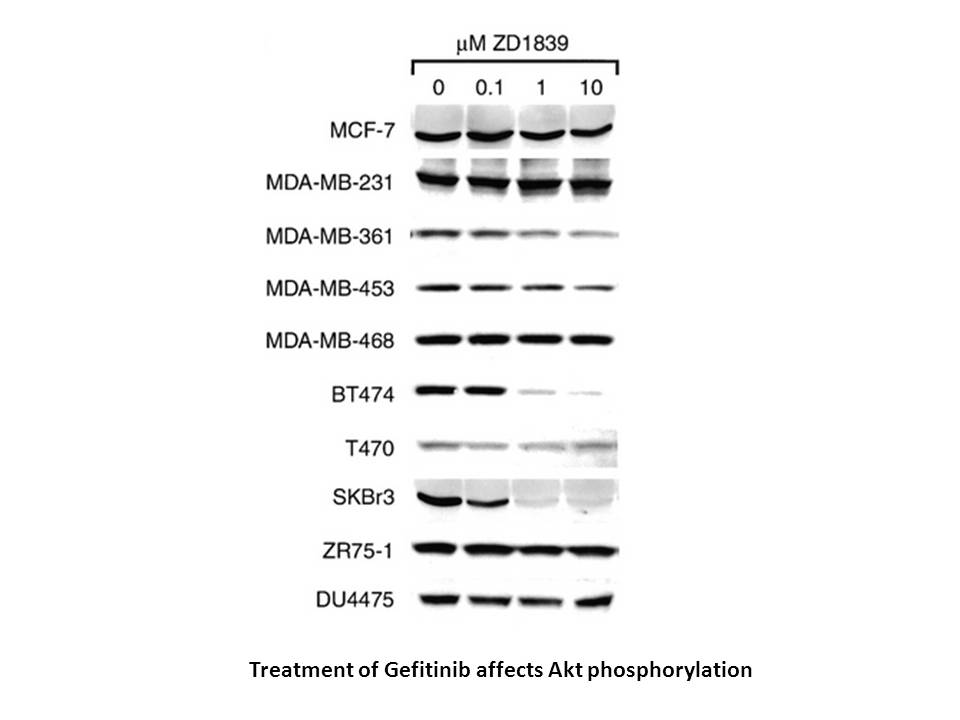 相关生物数据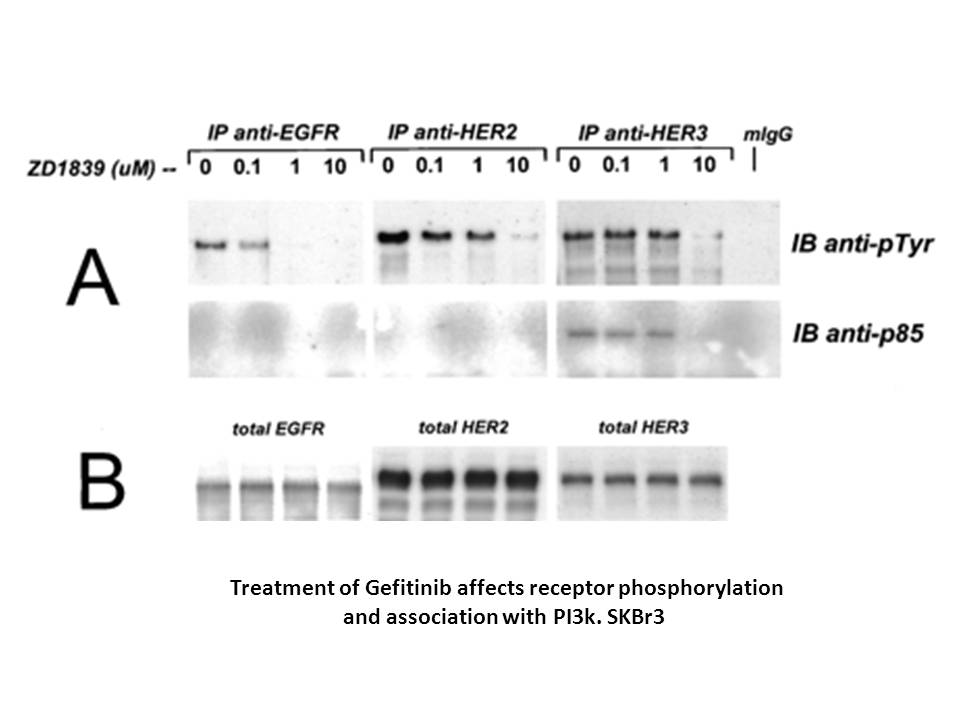 相关生物数据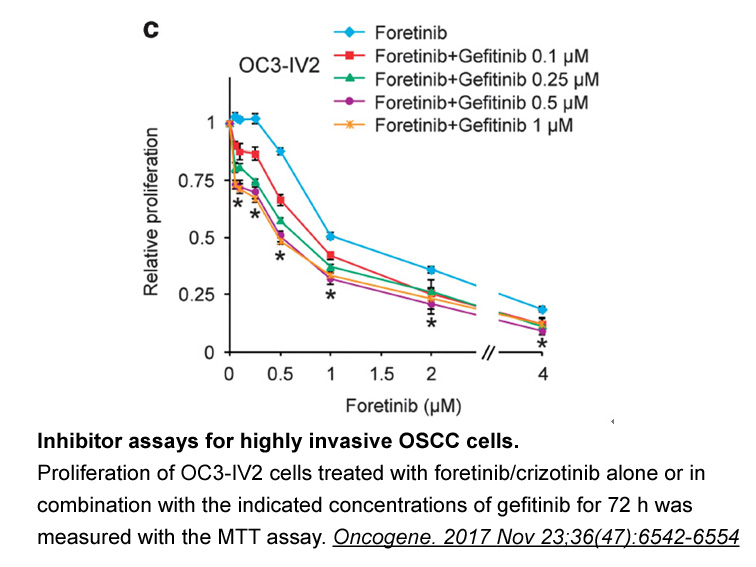 相关生物数据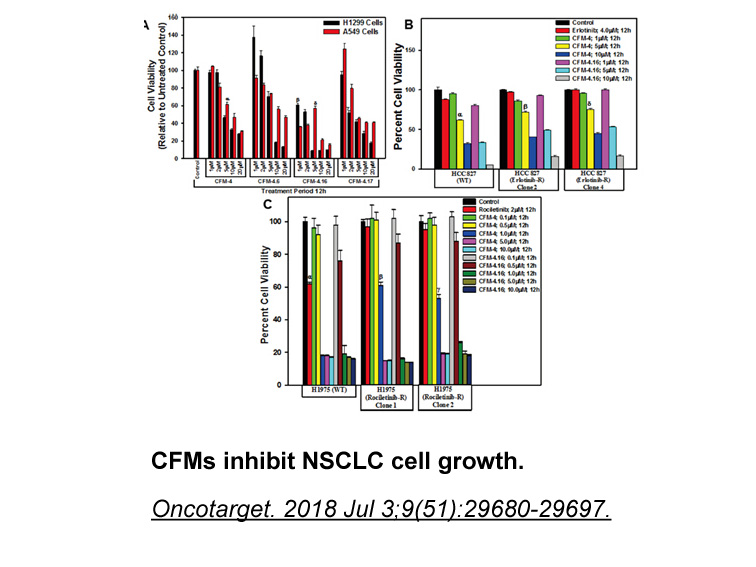 相关生物数据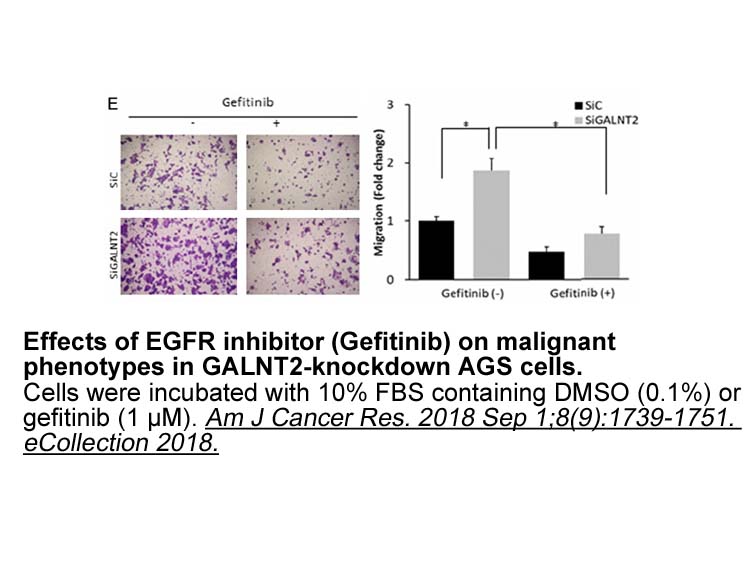 相关生物数据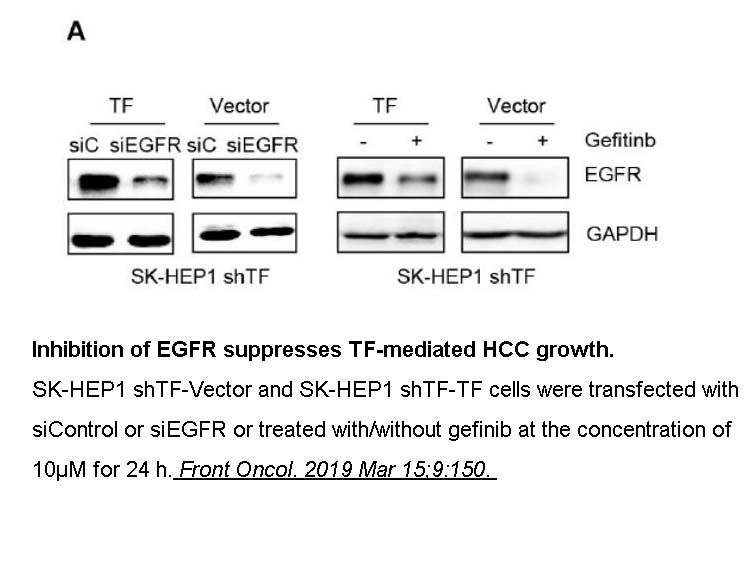 相关生物数据