Background
Everolimus, also known as RAD001, is a potent and orally bio-available inhibitor of mammalian target of rapamycin (mTOR), a key component of active PI3K/Akt pathway in human cancers. It binds to intracellular receptor FKBP12 in the mTOR pathway with high affinity forming an everolimus-FKBP12 complex. The complex further binds to mTOR resulting in reducing the activity of the downstream effectors S6 ribsomal protein kinase (S6K1) and translational repressor protein eukaryotic elongation factor 4E-binding protein (4EBP). Besides its immunosuppressive activity for the prevention of organ transplant rejection, everolimus exhibits antineoplastic activity and is currently used to treat renal cell cancer and other tumors.
Reference
G Anandappa, AE Hollingdale, and TG Eisen. Everolimus – a new approach in the treatment of renal cell carcinoma. Cancer Management and Research 2010:2 61-70
Laura Elibenschutz, Delia Colombo, and Caterina Catricala. Everolimus for compassionate use in multiple basal cell carcinomas. Case Reports in Dermatological Medicine 2013
Raffaele Pezzani, Beatrice Rubin, Marco Redaelli, Claudia Radu, Susi Barollo, Maria Verena Cicala, Monica Salva, Caterina Mian, Carla Mucignat-Caretta, Paolo Simioni, Maurizio Iacobone and Franco Mantero. The antiproliferative effects of ouabain and everolimus on adrenocortical tumor cells. Endocrine journal, 2013
文献引用
Chemical Properties
| | |
| --- | --- |
| Physical Appearance | A solid |
| Storage | Store at -20°C |
| M.Wt | 958.22 |
| Cas No. | 159351-69-6 |
| Formula | C53H83NO14 |
| Synonyms | Everolimus,RAD001 |
| Solubility | ≥47.911mg/mL in DMSO, ≥122 mg/mL in EtOH, <2.65 mg/mL in H2O |
| SDF | Download SDF |
| Canonical SMILES | OCCO[C@H]1[C@H](OC)C[C@H](C[C@H](C)[C@H](CC([C@H](C)/C=C(C)/[C@@H](O)[C@H]2OC)=O)OC([C@@H]3CCCCN3C(C([C@@]4(O)[C@H](C)CC[C@@H](C[C@H](OC)/C(C)=C/C=C/C=C/[C@@H](C)C[C@@H](C)C2=O)O4)=O)=O)=O)CC1 |
| 运输条件 | 试用装:蓝冰运输。 其他可选规格:常温运输或根据您的要求用蓝冰运输。 |
| 一般建议 | 为了使其更好的溶解,请用37℃加热试管并在超声波水浴中震动片刻。不同厂家不同批次产品溶解度各有差异,仅做参考。若实验所需浓度过大至产品溶解极限,请添加助溶剂助溶或自行调整浓度。 |
试验操作
细胞实验[1]:

细胞系

胰腺癌细胞系Panc-1和小细胞肺癌细胞系ScLc

溶解方法

在DMSO中的溶解度>10 mM。为了获得更高的浓度,可以将离心管在37℃加热10分钟和/或在超声波浴中震荡一段时间。原液可以在-20℃以下储存几个月。

反应条件

24 h;IC50:50 μg/mL(Panc-1);5 μg/mL(ScLc)。

应用

Everolimus具有抗增殖活性。在Panc-1和ScLc中,everolimus剂量依赖地抑制BrdU的掺入,IC50值分别为50 μg/mL和5 μg/mL,两者都是高浓度,在人体中是不可行的。Everolimus用于治疗的血清水平介于0.005和0.01 μg/mL之间。

动物实验[2]:

动物模型

卵巢癌TgMISIIR-TAg-DR26小鼠模型

剂量

RAD001溶解在2%(重量/体积)的微乳液中,口服灌胃之前在双蒸水中稀释。安慰剂(对照)或5 mg/kg RAD001以口服方式每周给药两次,在小鼠5周龄时开始,一直持续到20周。安慰剂或RAD001处理的小鼠用MRM扫描。

应用

RAD001抑制肿瘤发生。RAD001处理小鼠的体重比安慰剂处理小鼠低约10%。

注意事项

请测试所有化合物在室内的溶解度,实际溶解度和理论值可能略有不同。这是由实验系统的误差引起的,属于正常现象。

References:

[1] Stracke S, Ramudo L, Keller F, et al. Antiproliferative and overadditive effects of everolimus and mycophenolate mofetil in pancreas and lung cancer cells in vitro. Transplantation proceedings. Elsevier, 2006, 38(3): 766-770.

[2] Mabuchi S, Altomare D A, Connolly D C, et al. RAD001 (Everolimus) delays tumor onset and progression in a transgenic mouse model of ovarian cancer. Cancer Research, 2007, 67(6): 2408-2413.
生物活性
描述
Everolimus (RAD001)是一种mTOR抑制剂,作用于FKBP12,IC50值为1.6-2.4 nM。
靶点
mTOR (FKBP12)
IC50
1.6-2.4 nM
质量控制
化学结构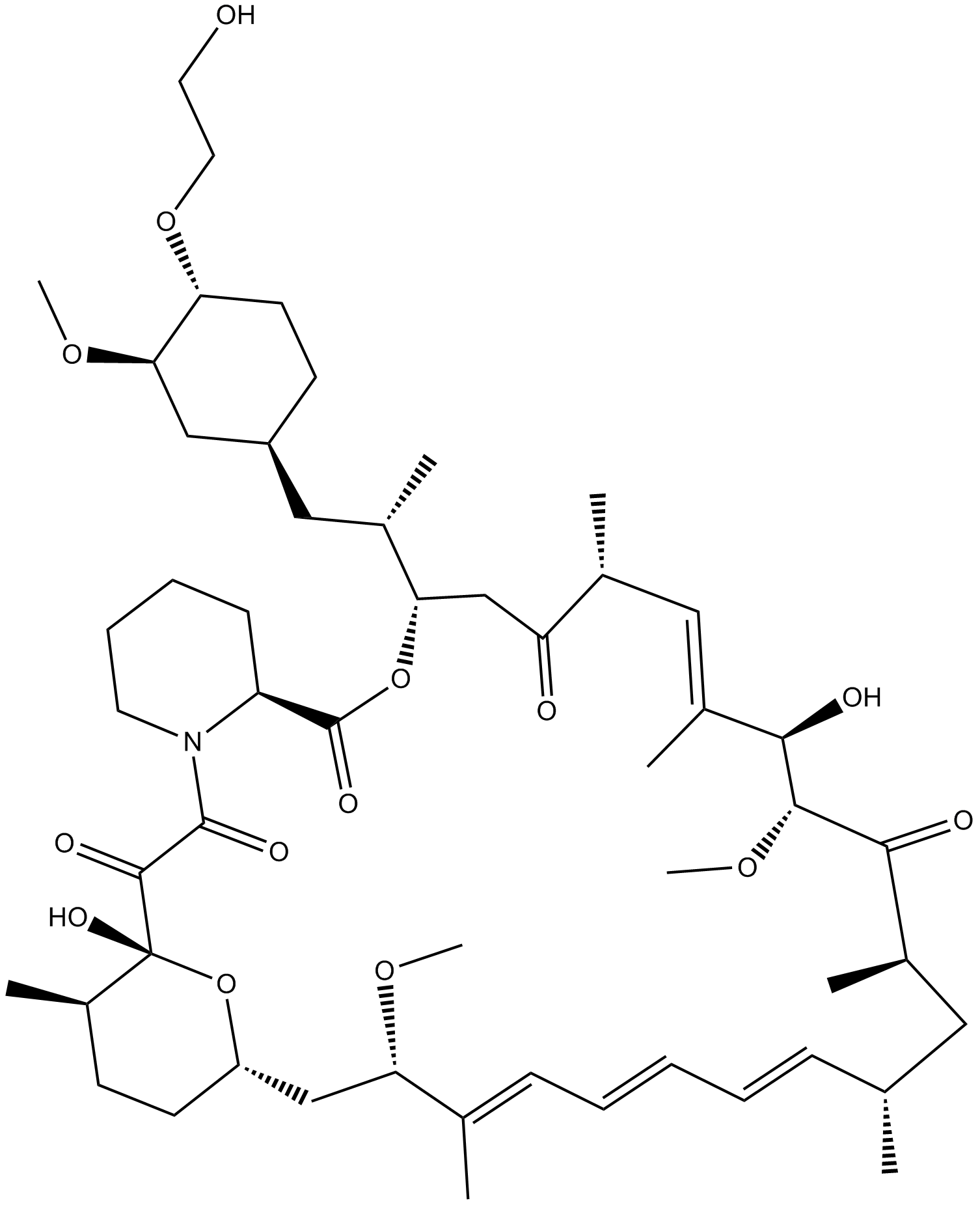 相关生物数据
相关生物数据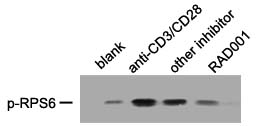 RAD001 significantly inhibited the phosphorylation of RPS6 which is the downstream target of mTOR.
Method:western blot; Cell Lines:primary mouse T lymphocytes; Concentration:10 nM; Incubation Time:24 h.
相关生物数据
相关生物数据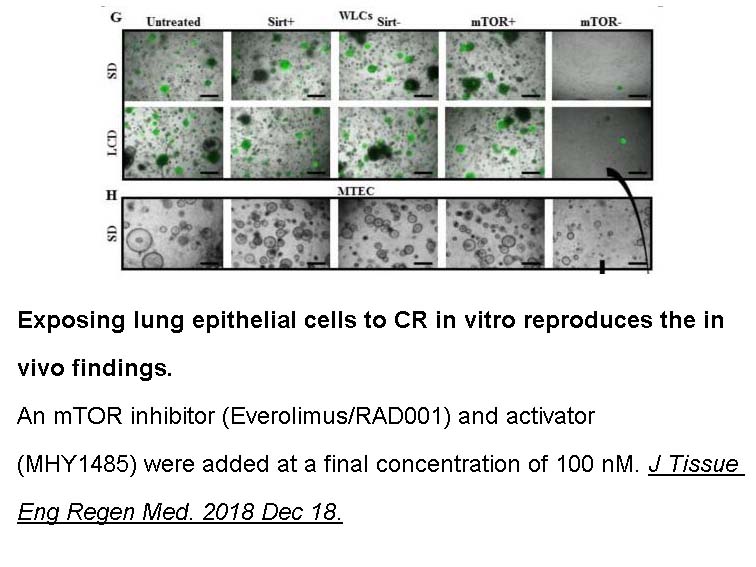 相关生物数据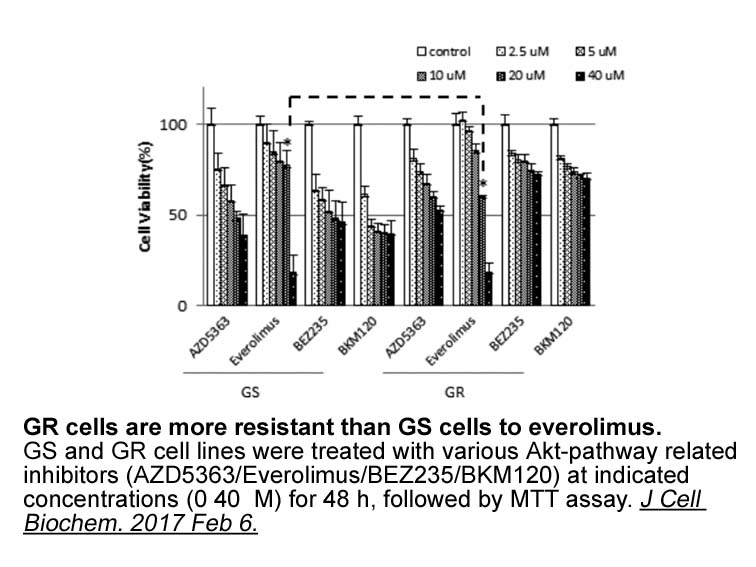 相关生物数据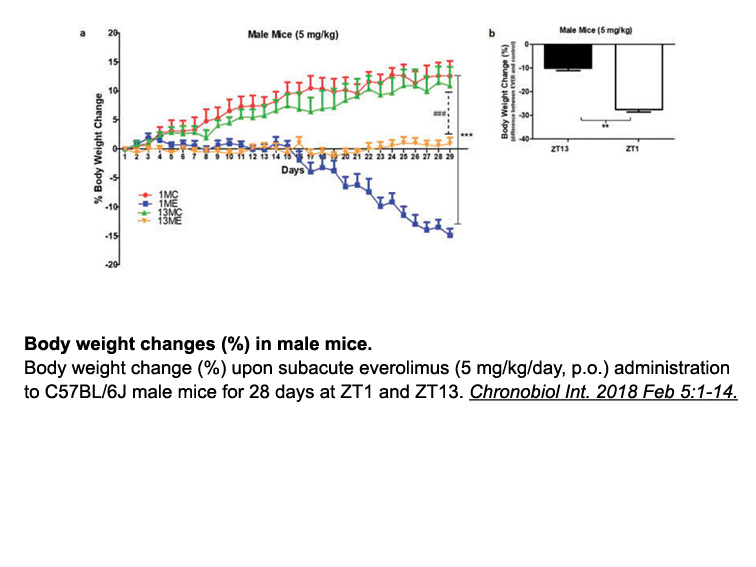 相关生物数据