Background
Erlotinib (also known as NSC 718781 or CP 358,774) is a potent and orally-bioavailable inhibitor of epidermal growth factor receptor (EGFR) tyrosine kinase that selectively and reversibly inhibits EGFR-associated intracellular autophosphorylation of tyrosine kinase. Erlotinib inhibits purified EGFR tyrosine kinase and EGFR autophosphorylation intact cells with 50% inhibition concentration IC50 values of 2 nmol/L and 20 nmol/L respectively. Erlotinib competes for the ATP-binding sits on the intracellular domain of EGFR resulting in the inhibition of downstream signaling pathway involved in angiogenesis, cell propagation and cell survival. Erlotinib concentration-dependently inhibits EGFR-mediated propagation signals transduction, displays prominent anti-tumor activity against neoplasms harboring EGFR expression and exhibits a tolerable toxicologic profile.
Reference
Janine Smith. Erlotinib: small-molecule targeted therapy in the treatment of non-small-cell lung cancer. Clinical Therapeutics 2005; 27(10): 1513-1534
文献引用
Chemical Properties
| | |
| --- | --- |
| Physical Appearance | A solid |
| Storage | Store at -20°C |
| M.Wt | 393.44 |
| Cas No. | 183321-74-6 |
| Formula | C22H23N3O4 |
| Synonyms | NSC 718781;OSI-744;R-1415;OSI744;OSI 744;R1415;R 1415 |
| Solubility | ≥19.65 mg/mL in DMSO, ≥30.27 mg/mL in EtOH with gentle warming, <2.33 mg/mL in H2O |
| Chemical Name | N-(3-ethynylphenyl)-6,7-bis(2-methoxyethoxy)quinazolin-4-amine |
| SDF | Download SDF |
| Canonical SMILES | COCCOC1=C(C=C2C(=C1)C(=NC=N2)NC3=CC=CC(=C3)C#C)OCCOC |
| 运输条件 | 试用装:蓝冰运输。 其他可选规格:常温运输或根据您的要求用蓝冰运输。 |
| 一般建议 | 为了使其更好的溶解,请用37℃加热试管并在超声波水浴中震动片刻。不同厂家不同批次产品溶解度各有差异,仅做参考。若实验所需浓度过大至产品溶解极限,请添加助溶剂助溶或自行调整浓度。 |
试验操作
激酶实验[1]:

结合实验

激酶反应在50 μl的反应体系50 mM HEPES(pH 7.3)中进行,含有125 mM NaCl、24 mM MgCl2、0.1 mM原钒酸钠、20 μM ATP、1.6 μg/ml EGF和15 ng EGFR。加入溶于DMSO的化合物,DMSO的最终浓度为2.5%。加入ATP引发磷酸化,并在室温下持续振荡8分钟。通过抽吸反应混合物终止激酶反应,并用洗涤缓冲液洗涤4次。每孔用50μl HRP缀合的PY54抗磷酸酪氨酸抗体(使用封闭缓冲液稀释至0.2 μg/ml,封闭液是包含3%BSA和0.05%TWEEN 20的PBS)孵育25分钟,测定磷酸化POT,通过抽吸除去抗体,并用洗涤缓冲液洗涤板4次。加入TMB微孔过氧化物酶底物(每孔50μl)开发比色信号,每孔加入50 μl 0.09M硫酸终止反应。通过测量450nm的吸光度估计磷酸酪氨酸。

Cell experiment [1-3]:

细胞系

人非小细胞肺癌细胞系H322、A549、H1650和H1975

溶解方法

该化合物在DMSO中的溶解度大于19.7 mg/mL。若获取更高浓度的溶液,可在37℃下孵育10分钟,随后在超声波浴中摇匀。-20℃以下可储存数月。

反应条件

2 μmol/L、24h

应用

在H322细胞中,Erlotinib诱导大约80%的G1期停滞。Erlotinib(2 μM)显著抑制AsPC-1和BxPC-3胰腺细胞的生长。Erlotinib可有效抑制HNS人头颈部肿瘤细胞、DiFi人结肠癌细胞和MDA MB-468人乳腺癌细胞中的EGFR活化。Erlotinib(1 μM)诱导DiFi人结肠癌细胞凋亡。

动物实验 [4]:

动物模型

H460a和A549肿瘤模型

给药剂量

100 mg/kg

应用

在H460a和A549肿瘤模型中,Erlotinib(100 mg/kg)在MTD处表现出抗肿瘤活性。

注意事项

由于实验环境的不同,实际溶解度可能与理论值略有不同,请测试室内所有化合物的溶解度。

References:

[1]. Moyer J D, Barbacci E G, Iwata K K, et al. Induction of apoptosis and cell cycle arrest by CP-358,774, an inhibitor of epidermal growth factor receptor tyrosine kinase[J]. Cancer research, 1997, 57(21): 4838-4848.

[2]. Li T, Ling Y H, Goldman I D, et al. Schedule-dependent cytotoxic synergism of pemetrexed and erlotinib in human non–small cell lung cancer cells[J]. Clinical Cancer Research, 2007, 13(11): 3413-3422.

[3]. Ali S, Banerjee S, Ahmad A, et al. Apoptosis-inducing effect of erlotinib is potentiated by 3, 3′-diindolylmethane in vitro and in vivo using an orthotopic model of pancreatic cancer[J]. Molecular cancer therapeutics, 2008, 7(6): 1708-1719.

[4]. Higgins B, Kolinsky K, Smith M, et al. Antitumor activity of erlotinib (OSI-774, Tarceva) alone or in combination in human non-small cell lung cancer tumor xenograft models[J]. Anti-cancer drugs, 2004, 15(5): 503-512.
质量控制
化学结构
相关生物数据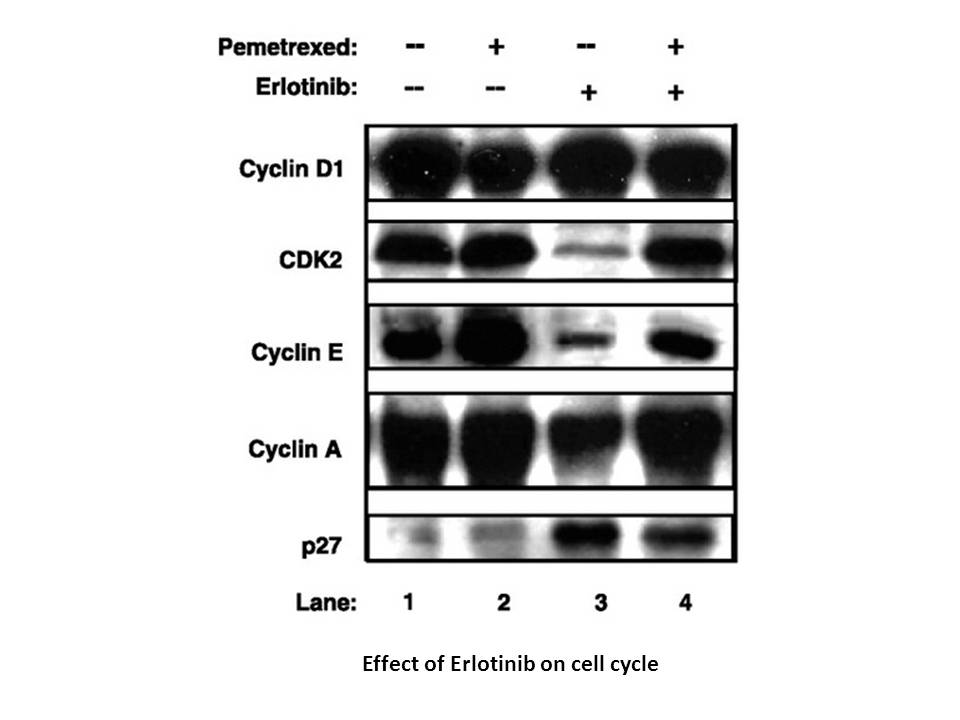 相关生物数据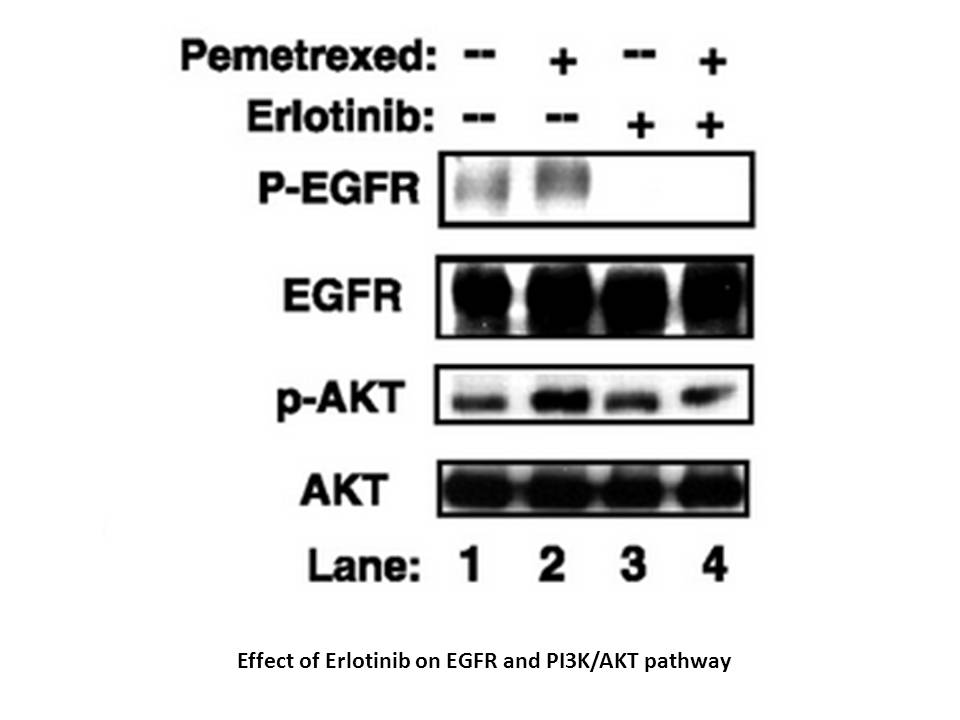 相关生物数据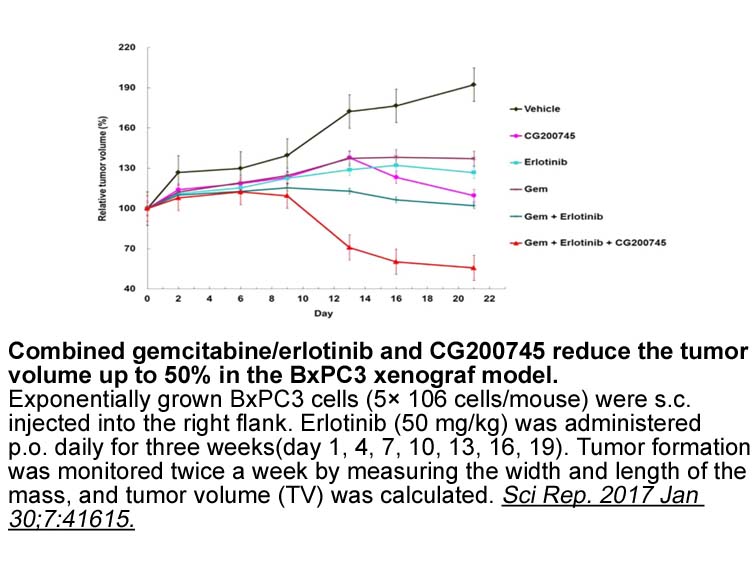 相关生物数据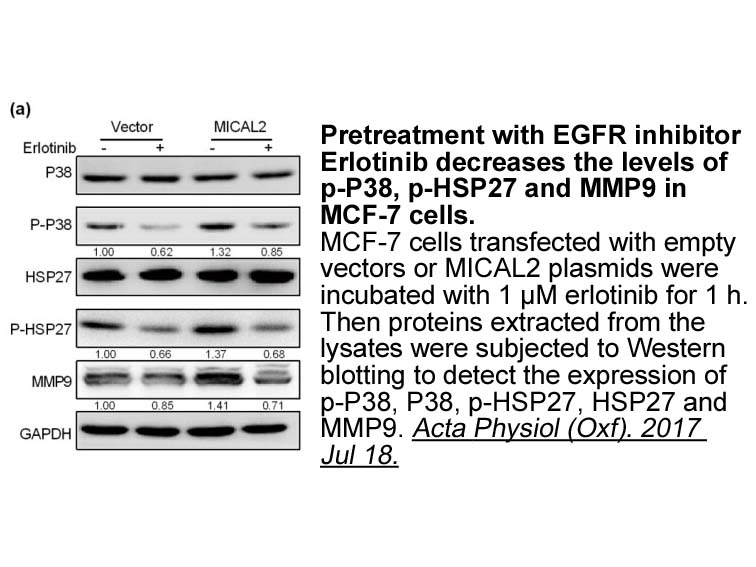 相关生物数据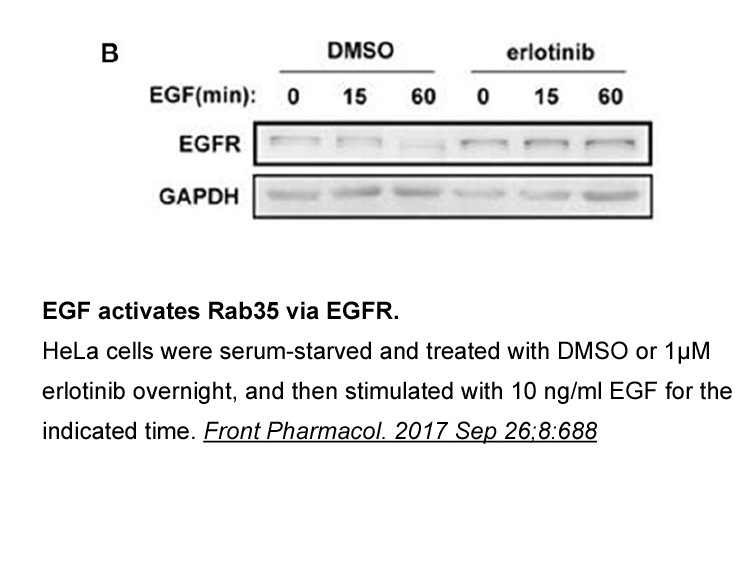 相关生物数据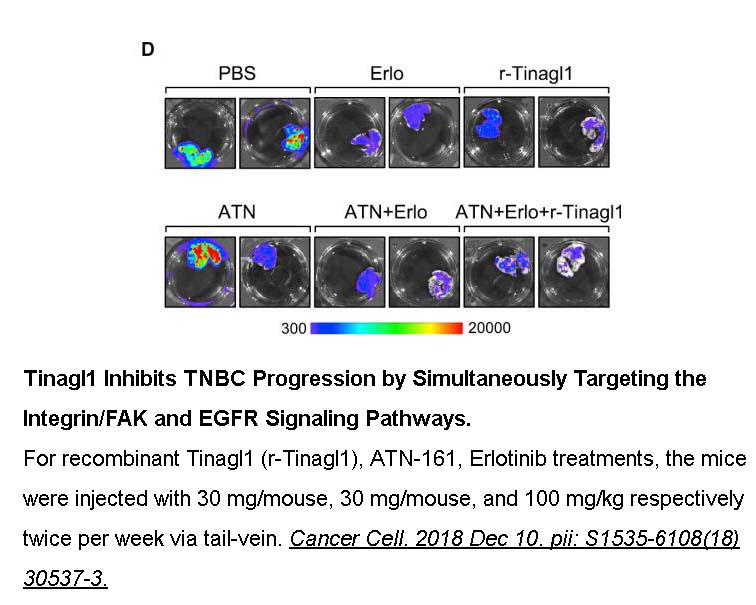 相关生物数据