Background
Erlotinib hydrochloride (the trade name Tarceva?) is a directly acting inhibitor of epidermal growth factor receptor (EGFR/HER-1) tyrosine kinase with an IC50 of 2 nM.
Epidermal growth factor receptor (EGFR) is one member of the ErbB family which includes EGFR (ErbB1), ErbB2, ErbB3 and ErbB4. The activation of EGFR is dependent on the binding of peptide growth factors to the receptor. In many carcinomas, the presence of EGFR mutation leads to the activation of EGFP, which causes cell proliferation and other cancer processes [1].
Selective inhibition of EGFR tyrosine kinase by erlotinib hydrochloride leads to the disruption of cancer growth and development which include cell migration, proliferation, angiogenesis, and apoptosis. For instance, erlotinib hydrochloride was shown to induce cell apoptosis and G0/G1 cell cycle arrest in hepatocellular cancer cells, Bxpc-3 and PANC-1 cells, thereby enhancing chemosensitivity towards cytostatics [2, 3].
In addition, this product is widely researched and used for the treatment of human advanced non-small cell lung cancer (NSCLC) [4]. In pancreatic cancer, erlotinib hydrochloride was also reported to exhibit an anti-tumour effect [5].
References:
1.  Melosky B. Review of EGFR TKIs in Metastatic NSCLC, Including Ongoing Trials. Front Oncol 2014,4:244.
2.  Zheng YT, Yang HY, Li T, Zhao B, Shao TF, Xiang XQ, et al. Amiloride sensitizes human pancreatic cancer cells to erlotinib in vitro through inhibition of the PI3K/AKT signaling pathway. Acta Pharmacol Sin 2015,36:614-626.
3.  Huether A, Hopfner M, Sutter AP, Schuppan D, Scherubl H. Erlotinib induces cell cycle arrest and apoptosis in hepatocellular cancer cells and enhances chemosensitivity towards cytostatics. J Hepatol 2005,43:661-669.
4.  Singh N, Jindal A, Behera D. Erlotinib usage after prior treatment with gefitinib in advanced non-small cell lung cancer: A clinical perspective and review of published literature. World J Clin Oncol 2014,5:858-864.
5.  Renouf DJ, Tang PA, Hedley D, Chen E, Kamel-Reid S, Tsao MS, et al. A phase II study of erlotinib in gemcitabine refractory advanced pancreatic cancer. Eur J Cancer 2014,50:1909-1915.
文献引用
Chemical Properties
| | |
| --- | --- |
| Physical Appearance | A solid |
| Storage | Store at -20°C |
| M.Wt | 429.91 |
| Cas No. | 183319-69-9 |
| Formula | C22H24ClN3O4 |
| Synonyms | Tarceva; CP-358774; OSI-774; NSC 718781 |
| Solubility | ≥6.44 mg/mL in DMSO with gentle warming, <2.79 mg/mL in EtOH, <2.21 mg/mL in H2O |
| Chemical Name | N-(3-ethynylphenyl)-6,7-bis(2-methoxyethoxy)quinazolin-4-amine;hydrochloride |
| SDF | Download SDF |
| Canonical SMILES | COCCOC1=C(C=C2C(=C1)C(=NC=N2)NC3=CC=CC(=C3)C#C)OCCOC.Cl |
| 运输条件 | 试用装:蓝冰运输。 其他可选规格:常温运输或根据您的要求用蓝冰运输。 |
| 一般建议 | 为了使其更好的溶解,请用37℃加热试管并在超声波水浴中震动片刻。不同厂家不同批次产品溶解度各有差异,仅做参考。若实验所需浓度过大至产品溶解极限,请添加助溶剂助溶或自行调整浓度。 |
试验操作
细胞实验: [1]

细胞系

Calu1细胞

制备方法

该化合物在DMSO中的溶解度小于10 mM,若配制更高浓度的溶液,一般步骤如下:请将试管置于37℃加热10分钟和/或将其置于超声波浴中震荡一段时间。原液于-20℃可放置数月。

反应条件

1 ?M,24 hours

实验结果

Erlotinib(1 ?M,24 小时)、docetaxel?(50 nM,18小时)或erlotinib和docetaxel?共同使用处理细胞。Txt-> OSI-774->培养基序列处理的细胞死亡程度最大,而用OSI-774>Txt->培养基序列处理的细胞在处理后72小时恢复增殖。两种药物同时处理,Txt-> OSI-774的序列中检测到切割PARP和Caspase-3,但在OSI-774->Txt的序列中没有检测到。此外,切割PARP和Caspase-3持续至Txt-> OSI-774处理后的72小时。这些数据与亚G1细胞的结果一致,从分子水平上表现出凋亡效应。

动物实验: [2]

动物模型

注射H460a细胞的雌性无胸腺nu/nu-nuBR裸鼠

给药剂量

口服,100mg/kg,每天,持续三周

实验结果

Erlotinib具有显著的剂量依赖性功效。在100 mg/kg组中抑制61%的细胞生长。其他组具有以下生长抑制:25 mg/kg:46%;12.5 mg/kg:36%;6.25 mg/kg:28%。没有产生部分或完全消退。

注意事项

请于室内测试所有化合物的溶解度。虽然化合物的实际溶解度可能与其理论值略有不同,但仍处于实验系统误差的允许范围内。

References:

[1] Kimura T, Mahaffey C M, Pryde B J, et al. Apoptotic effects of the docetaxel→ OSI-774 combination in non-small cell lung carcinoma (NSCLC) cells//Proc Am Soc Clin Oncol. 2004, 22: 7143.

[2] Higgins B, Kolinsky K, Smith M, et al. Antitumor activity of erlotinib (OSI-774, Tarceva) alone or in combination in human non-small cell lung cancer tumor xenograft models. Anti-cancer drugs, 2004, 15(5): 503-512.
生物活性
描述
Erlotinib HCl (OSI-744)是EGFR的抑制剂,IC50值为2 nM,对EGFR的敏感性比对人c-Src或v-Abl高1000倍以上。
靶点
HER1/EGFR
IC50
2 nM
质量控制
化学结构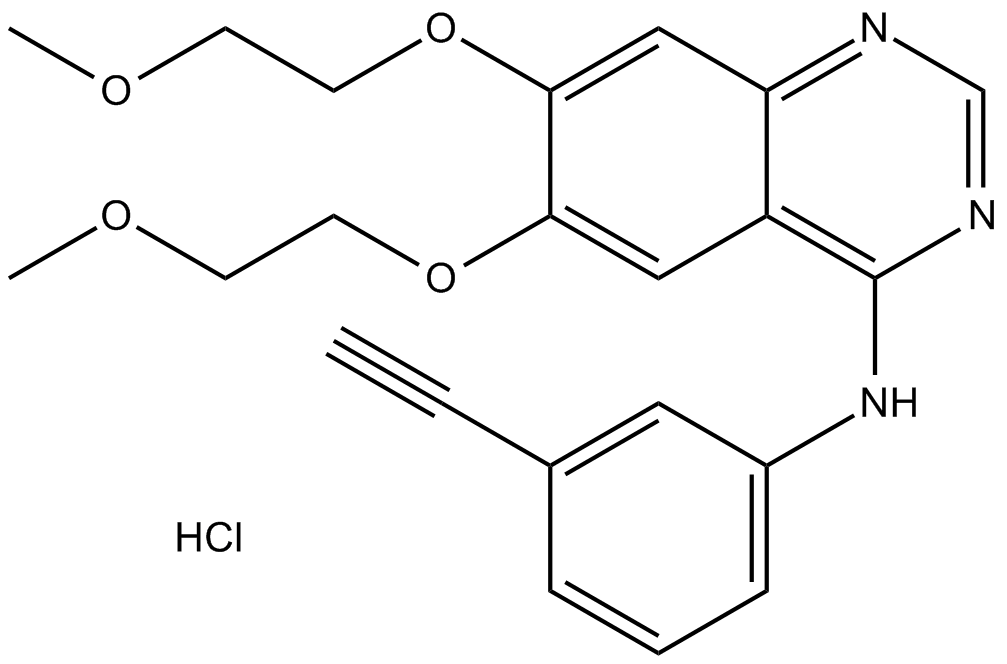 相关生物数据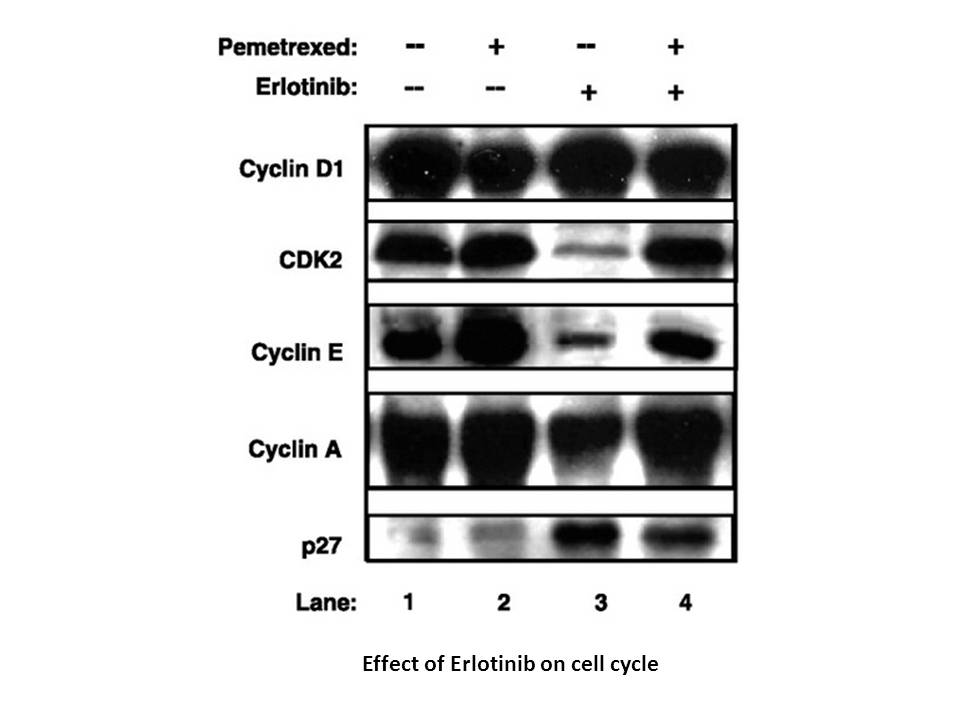 相关生物数据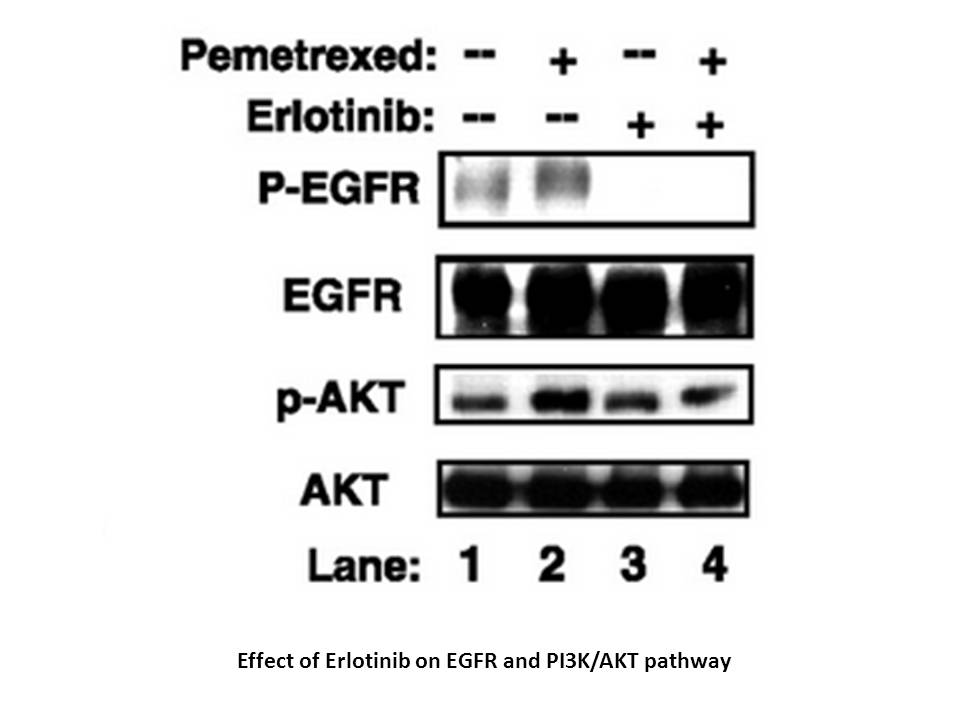 相关生物数据
相关生物数据