Background
EHop-016 is a novel and specific inhibitor of Rac1 and Rac3 activity (IC50= 1.1 μm).
Rac is a member of the RAS superfamily of small GTPase. It functions in various cellular processes including regulation of secretory processes, membrane ruffles, cell polarization and phagocytosis of apoptotic cells etc. It is contributed to malignant progression.
Ehop-016 inhibited Rac activity in metastatic cancer cell MDA-MB-435 which overexpressed Rac and inhibited high endogenous Rac activity as well. In metastatic breast cancer cell MDA-MB-231, Ehop-016 blocked the Rac activity and reduced Rac-mediated lamelipodia formation. It also attenuated the effects of Rac downstream protein p21-activated kinase 1 and directed migration of metastatic cancer cells. [1]
In C3H/HeJ mice carrying KITD814V following overnight treatment of 2.5 μM EHop-016 or 25 μM NSC23766, EHop-016 reduced spleen size and PB counts thus significantly promoted the survival of leukemic mice compared with NSC23766. [2]
References:
1. Montalvo-Ortiz BL, Castillo-Pichardo L, Hernández E et al. Characterization of EHop-016, novel small molecule inhibitor of Rac GTPase. J Biol Chem. 2012 Apr 13;287(16):13228-38.
2. Martin H, Mali RS, Ma P et al. Pak and Rac GTPases promote oncogenic KIT-induced neoplasms. J Clin Invest. 2013 Oct;123(10):4449-63.
文献引用
Chemical Properties
| | |
| --- | --- |
| Physical Appearance | A solid |
| Storage | Store at -20°C |
| M.Wt | 430.55 |
| Cas No. | 1380432-32-5 |
| Formula | C25H30N6O |
| Solubility | ≥25.6mg/mL in DMSO with gentle warming |
| Chemical Name | 4-N-(9-ethylcarbazol-3-yl)-2-N-(3-morpholin-4-ylpropyl)pyrimidine-2,4-diamine |
| SDF | Download SDF |
| Canonical SMILES | CCN1C2=C(C=C(C=C2)NC3=NC(=NC=C3)NCCCN4CCOCC4)C5=CC=CC=C51 |
| 运输条件 | 试用装:蓝冰运输。 其他可选规格:常温运输或根据您的要求用蓝冰运输。 |
| 一般建议 | 为了使其更好的溶解,请用37℃加热试管并在超声波水浴中震动片刻。不同厂家不同批次产品溶解度各有差异,仅做参考。若实验所需浓度过大至产品溶解极限,请添加助溶剂助溶或自行调整浓度。 |
试验操作
激酶实验 [1]:

Rac活性测定

用MDA-MB-435和MDA-MB-231人转移癌细胞系的裂解物测定Rac活性。用载体(0.1%DMSO)或不同浓度的EHop-016(0-10μM)处理培养基(DMEM,10%FBS,pH7.5)中的癌细胞24小时。 使用G-LISA Rac1激活测定试剂盒测定Rac1活性。

细胞实验 [1]:

细胞系

MDA-MB-435和MDA-MB-231转移性癌细胞

溶解方法

该化合物在DMSO中的溶解度 > 10 mM。若配制更高浓度的溶液,一般步骤如下:请将试管置于37℃加热10分钟和/或将其置于超声波浴中震荡一段时间。原液于-20℃可放置数月。

反应时间

0-10μM、24小时

应用

EHop-016抑制Rac活性并减少MDA-MB-435和MDA-MB-231转移癌细胞中Rac引导的片状伪足的形成。此外,EHop-016减少Rac下游PAK1(p21激活激酶1)活性,并定向转移性癌细胞的迁移。

动物实验 [2]:

动物模型

KITD814V细胞移植小鼠模型

剂量

2.5 μM、静脉注射、45天

应用

用EHop-016处理带有KITD814V的细胞的小鼠模型,显著增强白血病小鼠存活,并延迟疾病进展。

注意事项

请于室内测试所有化合物的溶解度。实际溶解度和理论值可能略有不同,这是由实验系统的误差引起的,属于正常现象。

References:

1Montalvo-Ortiz, B. L., Castillo-Pichardo, L., Hernandez, E., Humphries-Bickley, T., De la Mota-Peynado, A., Cubano, L. A., Vlaar, C. P. and Dharmawardhane, S. (2012) Characterization of EHop-016, novel small molecule inhibitor of Rac GTPase. J Biol Chem. 287, 13228-13238

2Martin, H., Mali, R. S., Ma, P., Chatterjee, A., Ramdas, B., Sims, E., Munugalavadla, V., Ghosh, J., Mattingly, R. R., Visconte, V., Tiu, R. V., Vlaar, C. P., Dharmawardhane, S. and Kapur, R. (2013) Pak and Rac GTPases promote oncogenic KIT-induced neoplasms. J Clin Invest. 123, 4449-4463
生物活性
Description
EHop-016 is a specific inhibitor of Rac GTPase with an IC50 value of 1.1 μM for Rac1.
Targets
Rac1
IC50
1.1 μM
质量控制
化学结构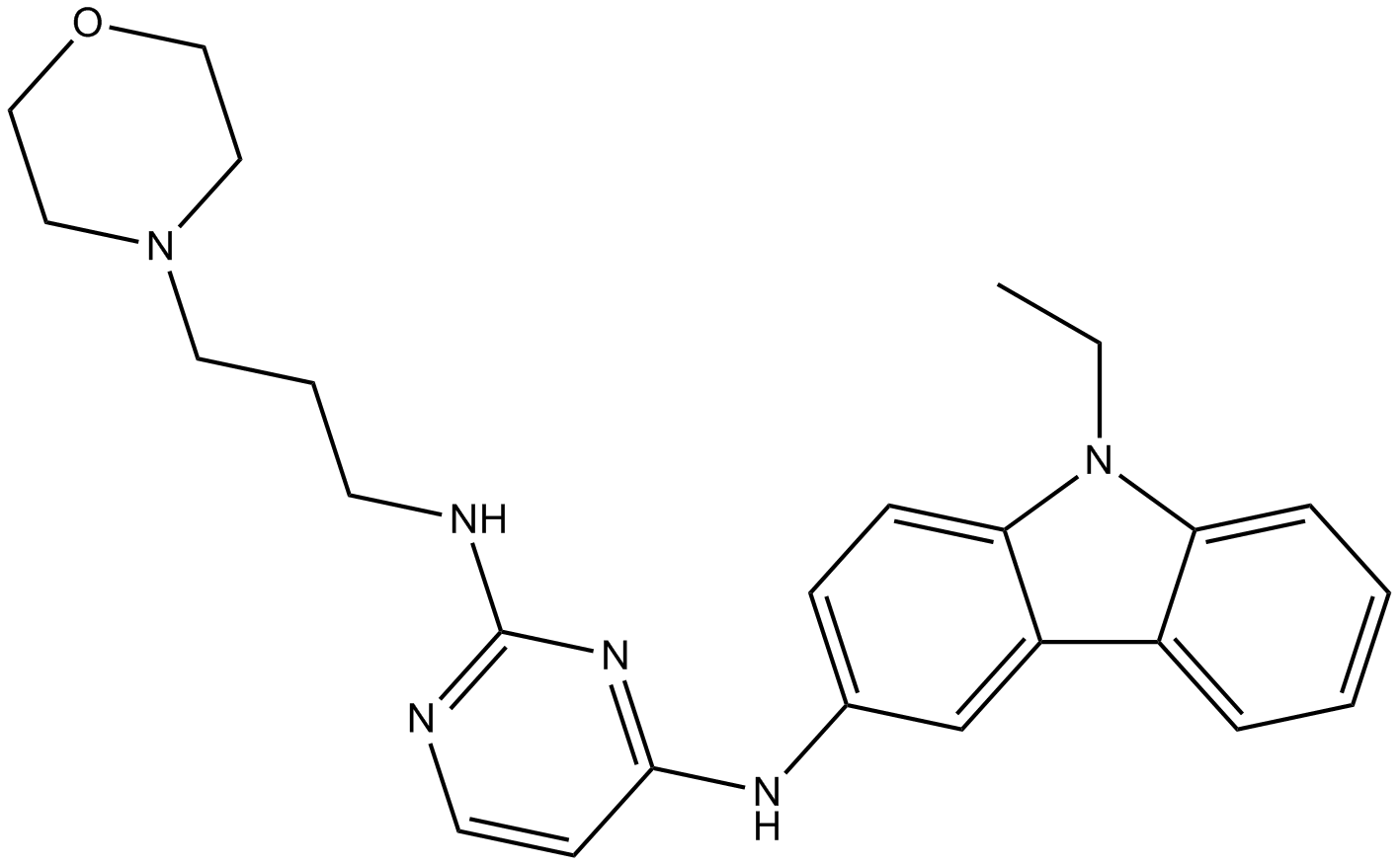 相关生物数据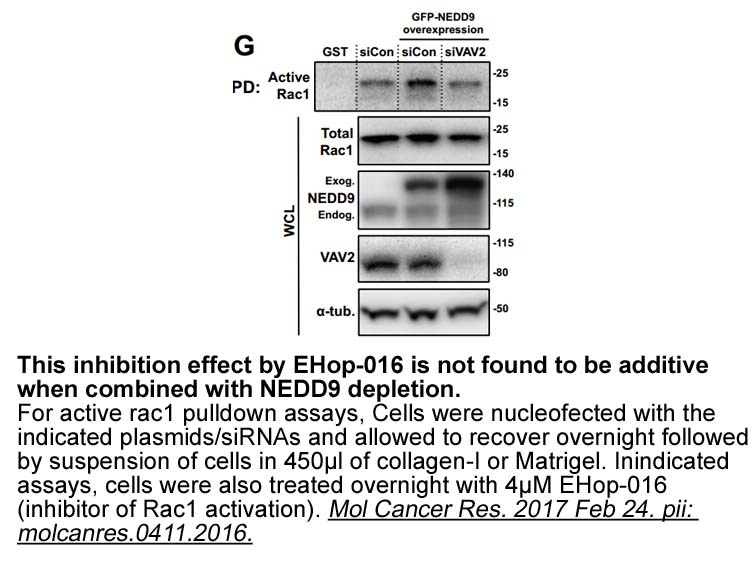 相关生物数据