Background
Non-small cell lung cancer (NSCLC) patients with activating epidermal growth factor receptor (EGFR) mutations respond to EGFR tyrosine kinase inhibitors (TKI) but ultimately develop resistance to these therapies. The most common resistance mechanism is a second site gate-keeper mutation within exon 20 of EGFR (T790M). EGF816 is identified as a novel covalent inhibitor of mutant-selective epidermal growth factor receptor.
In vitro: EGF816 showed sustained inhibition of pEGFR, which is consistent with the irreversible binding mechanism of EGF816. EGF816 also performs exceptionally well in long term dosing studies providing durable responses in the preclinical models [1].
In vivo: EGF816 demonstrated strong in vivo tumor regressions in several EGFR activating and resistant tumor models. In all of the models EGF816 inhibited tumor growth dose-dependently and achieved regressions of established tumors at well tolerated doses [1].
Clinical trial: A phase I/II study of EGFRmut-TKI EGF816 is being conducted to investigate the efficacy in adult patients with EGFRmut solid malignancies.
Reference:
[1] Shailaja Kasibhatla, Jie Li, Celin Tompkins, Mei-Ting Vaillancourt, Jennifer Anderson, AnneMarie Culazzo Pferdekamper, Chun Li, Oliver Long, Mathew McNeill, Robert Epple, Debbie Liao, Eric Murphy, Steve Bender, Yong Jia, Gerald Lelais.  EGF816, a novel covalent inhibitor of mutant-selective epidermal growth factor receptor, overcomes T790M-mediated resistance in NSCLC. [abstract]. In: Proceedings of the 105th Annual Meeting of the American Association for Cancer Research; 2014 Apr 5-9; San Diego, CA. Philadelphia (PA): AACR; Cancer Res 2014;74(19 Suppl):Abstract nr 1733. doi:10.1158/1538-7445.AM2014-1733

文献引用
Chemical Properties
| | |
| --- | --- |
| Storage | Store at -20°C |
| M.Wt | 495.02 |
| Cas No. | 1508250-71-2 |
| Formula | C26H31ClN6O2 |
| Synonyms | Nazartinib |
| Solubility | Soluble in DMSO |
| Chemical Name | (R,E)-N-(7-chloro-1-(1-(4-(dimethylamino)but-2-enoyl)azepan-3-yl)-1H-benzo[d]imidazol-2-yl)-2-methylisonicotinamide |
| SDF | Download SDF |
| Canonical SMILES | CC1=CC(C(NC2=NC3=CC=CC(Cl)=C3N2[C@]4([H])CCCCN(C(/C([H])=C([H])/CN(C)C)=O)C4)=O)=CC=N1 |
| 运输条件 | 试用装:蓝冰运输。 其他可选规格:常温运输或根据您的要求用蓝冰运输。 |
| 一般建议 | 为了使其更好的溶解,请用37℃加热试管并在超声波水浴中震动片刻。不同厂家不同批次产品溶解度各有差异,仅做参考。若实验所需浓度过大至产品溶解极限,请添加助溶剂助溶或自行调整浓度。 |
试验操作
细胞实验 [1]:

细胞系

H3255、HCC827和H1975细胞

制备方法

该化合物可溶于DMSO。若配制更高浓度的溶液,一般步骤如下:请将试管置于37 °C加热10分钟和/或将其置于超声波浴中震荡一段时间。原液于-20 °C可放置数月。

反应条件

0.01 nM ~ 100 μM; 3 hrs

实验结果

在H3255、HCC827和H1975细胞中,EGF816显著降低pEGFR水平,其EC50值分别为5 nM、1 nM和3 nM。此外,EGF816抑制H3255、HCC827和H1975细胞增殖,其EC50值分别为9、11和25 nM。

动物实验 [1]:

动物模型

小鼠H1975异种移植瘤模型

给药剂量

3、10、30或100 mg/kg; 口服给药; 每天一次, 给药14天

实验结果

在小鼠H1975异种移植瘤模型中,EGF816 (10 mg/kg) 显著抑制肿瘤生长,其T/C值为29%。在30 mg/kg和100 mg/kg较高剂量下,EGF816抑制肿瘤生长,其T/C值分别为~ 60%和~ 80%。

注意事项

请于室内测试所有化合物的溶解度。虽然化合物的实际溶解度可能与其理论值略有不同,但仍处于实验系统误差的允许范围内。

References:

[1]. Jia Y, Juarez J, Li J, Manuia M, Niederst MJ, Tompkins C, Timple N, Vaillancourt MT, Pferdekamper AC, Lockerman EL, Li C, Anderson J, Costa C, Liao D, Murphy E, DiDonato M, Bursulaya B, Lelais G, Barretina J, McNeill M, Epple R, Marsilje TH, Pathan N, Engelman JA, Michellys PY, McNamara P, Harris J, Bender S, Kasibhatla S. EGF816 Exerts Anticancer Effects in Non-Small Cell Lung Cancer by Irreversibly and Selectively Targeting Primary and Acquired Activating Mutations in the EGF Receptor. Cancer Res. 2016 Mar 15;76(6):1591-602.
质量控制
化学结构
相关生物数据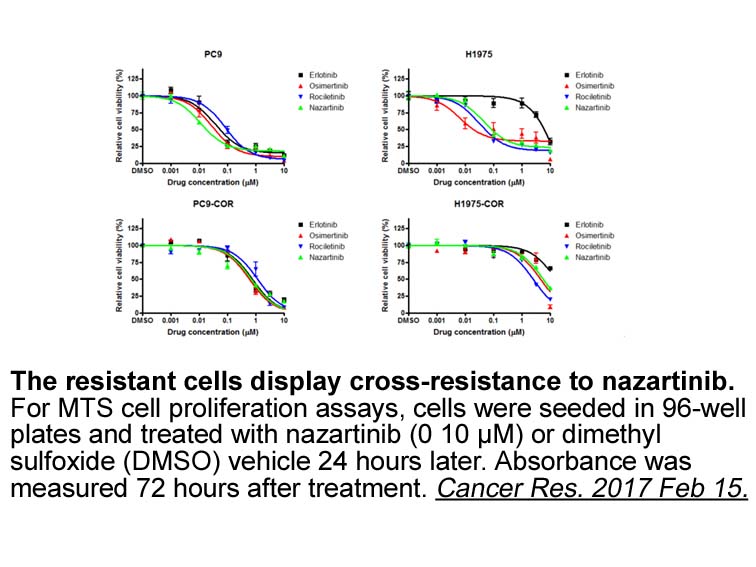 相关生物数据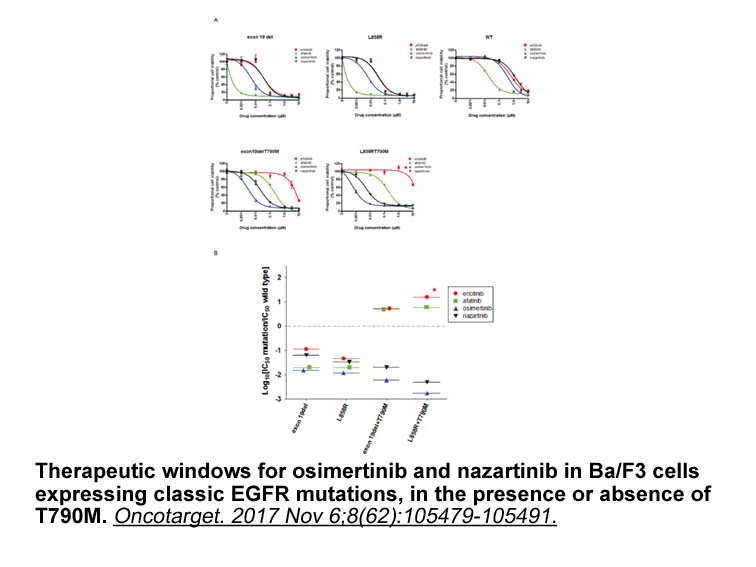 相关生物数据