Dabrafenib Mesylate (GSK-2118436)
BRAF(V600E)抑制剂
Sample solution is provided at 25 µL, 10mM.
质量控制
化学结构
相关生物数据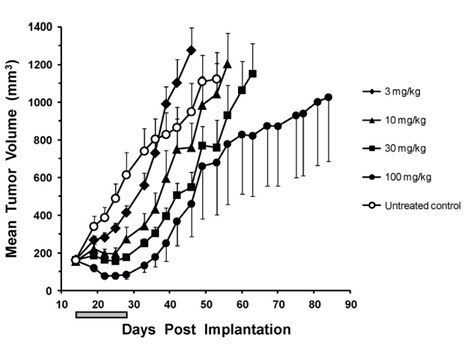 Growth of Colo 205 tumor xenografts was measured in mice during and for a period following oral q.d. x 14 treatment with 0, 3, 10, 30, and 100 mg/kg dabrafenib. Mean tumor volumes are plotted with their standard error mean and 4 partial regressions out of 8 mice were observed at the 100 mg/kg dose after the 14-day treatment period. The 14-day period of dosing is indicated by the shaded gray bar.
化学性质
CAS号
1195768-06-9
SDF
Download SDF
别名
GSK-2118436 Mesylate;GSK2118436 Mesylate;GSK 2118436 Mesylate;GSK 2118436B,Tafinlar,
化学名
N-[3-[5-(2-aminopyrimidin-4-yl)-2-tert-butyl-1,3-thiazol-4-yl]-2-fluorophenyl]-2,6-difluorobenzenesulfonamide;methanesulfonic acid
SMILES
CC(C)(C)C1=NC(=C(S1)C2=NC(=NC=C2)N)C3=C(C(=CC=C3)NS(=O)(=O)C4=C(C=CC=C4F)F)F.CS(=O)(=O)O
分子式
C24H24F3N5O5S3
分子量

615.67

溶解度
≥30.75 mg/mL in DMSO, ≥2.74 mg/mL in EtOH with ultrasonic and warming, <2.25 mg/mL in H2O
储存条件
Store at -20°C
物理性状
A solid
运输条件
试用装:蓝冰运输。
其他可选规格:常温运输或根据您的要求用蓝冰运输。
一般建议
为了使其更好的溶解,请用37℃加热试管并在超声波水浴中震动片刻。不同厂家不同批次产品溶解度各有差异,仅做参考。若实验所需浓度过大至产品溶解极限,请添加助溶剂助溶或自行调整浓度。
生物活性
| | | | | | | |
| --- | --- | --- | --- | --- | --- | --- |
| Targets | Raf | | | | | |
| IC50 | 3.2/0.8/5.0 nM (B-Raf/B-RafV600E/ c-Raf) | | | | | |
实验操作
细胞实验[1]:

细胞系

M257野生型BRAF、LCP BRAF V600E和WM266 BRAF V600D黑素瘤细胞系。

溶解方法

可溶于DMSO。若配制更高浓度的溶液,一般步骤如下:请将试管置于37℃加热10分钟和/或将其置于超声波浴中震荡一段时间。原液于-20℃可放置数月

反应条件

3-100 nM;72 h

实验结果

在携带突变BRAF的黑色素瘤细胞系中,Dabrafenib显著抑制细胞增殖和磷酸化ERK。

动物实验 [2]:

动物模型

异种移植BRAF V600E(A375P)人肿瘤的雌性CD1 nu/nu小鼠。

剂量

30 mg/kg;14 days;每天一次;口服

溶解方法

0.5%羟丙基甲基纤维素,0.2% Tween 80,溶于pH 8.0蒸馏水,每20g体重给药0.2 mL。

实验结果

Dabrafenib是一种口服生物可利用药物,降低pERK并抑制肿瘤生长。Dabrafenib使pERK和Ki67分别降低89%和28%,并将p27增加54%。

注意事项

请测试室内所有化合物的溶解度,实际溶解度可能与理论值略有不同。这是由实验系统错误引起的,这是正常的。

References:

[1]. Gentilcore G, Madonna G, Mozzillo N, et al. Effect of dabrafenib on melanoma cell lines harbouring the BRAF(V600D/R) mutations. BMC Cancer, 2013, 13: 17.

[2]. King AJ, Arnone MR, Bleam MR, et al. Dabrafenib; preclinical characterization, increased efficacy when combined with trametinib, while BRAF/MEK tool combination reduced skin lesions. PLoS One, 2013, 8(7): e67583.
产品描述
GSK2118436是一种选择性的和可口服的BRAF V600E抑制剂。与对野生型B-Raf和c-Raf(IC50值为3.2 nM和5.0 nM)的作用相比,GSK2118436对B-Raf V600E具有高选择性,IC50值为0.8 nM[4]。BRAF是一种丝氨酸/苏氨酸蛋白激酶,在调控MAPK/ERK信号通路中起重要作用。BRAF突变在许多人类癌症中频繁发生[1, 2]。BRAF V600E突变具有持续活性,使得MAPK/ERK的激活不依赖于上游信号[3]。
GSK2118436结合并抑制Raf家族激酶的活性。GSK2118436选择性地抑制MAPK/ERK激活,抑制细胞增殖、转化和致瘤性。FDA于2013年5月30日已批准GSK2118436作为单药用于治疗BRAF V600E突变的晚期黑色素瘤。
参考文献:
[1]Namba H, Nakashima M, Hayashi T, Hayashida N, Maeda S, Rogounovitch TI, Ohtsuru A, Saenko VA, Kanematsu T, Yamashita S. Clinical implication of hot spot BRAF mutation, V599E, in papillary thyroid cancers. J. Clin. Endocrinol. Metab. 2003; 88 (9): 4393–7.
[2]Tan YH, Liu Y, Eu KW, Ang PW, Li WQ, Salto-Tellez M, Iacopetta B, Soong R. Detection of BRAF V600E mutation by pyrosequencing. Pathology 2008; 40 (3): 295–8.
[3]Davies H, Bignell GR, Cox C, et al. Mutations of the BRAF gene in human cancer. Nature. 2002; 417: 949-954.
[4]Ma XH, Piao SF, Dey S, McAfee Q, Karakousis G, Villanueva J, Hart LS, Levi S, Hu J, Zhang G, Lazova R, Klump V, Pawelek JM, Xu X, Xu W, Schuchter LM, Davies MA, Herlyn M, Winkler J, Koumenis C, Amaravadi RK. Targeting ER stress-induced autophagy overcomes BRAF inhibitor resistance in melanoma. J Clin Invest. 2014; 124(3): 1406-17.