Background
Cyclopamine is a naturally occurring Hedgehog (Hh)?specific small?molecule signaling steroidal alkaloid inhibitor, causes a profound inhibition of tumor growth, has significant anti?invasive, anti?proliferative and anti?estrogenic potency in human breast cancer cells [2] [1]. The EC50 of cyclopamine is 10.57 μM, it was identified by an FXR-bla (farnesoid X receptor- b-lactamase) assay [3].
Hh signaling pathway plays a critical role in embryonic development and tumorigenesis [4]. Hh signaling pathway shows saliency in regulating cellular proliferation and differentiation in a wide array of human tissues. It is related to aberrant cell survival in numerous human malignancies, ranging from BCCs and medulloblastomas to small cell lung, gastrointestinal, breast and prostate tumors [1].
Treated with cyclopamine (10 or 20 μM) only and incubated for time periods ranging from 0 to10 days, MCF-7 cells and MDA?MB?231 cells displayed a significant reduction in proliferation rate compared with the control cells on days 3 and 6 (P
Embryoes exposed to cyclopamine resulted in visible external defects, including cyclopia, proboscis formation, microphthalmia, thoracic lordosis, amelia and decreased body size. Examination of gastrointestinal organs revealed severe deficits, including less length of the gut tube and mesenchymal cell numbers in foregut-derived organs. Ectopic structures in duodenum, stomach, and dorsal pancreas were also found [5].
References:
[1].  Marc J. Meth and Jeffrey M. Weinberg. Cyclopamine: Inhibiting Hedgehog in the Treatment of Psoriasis. Continuing Medical Education, 2006, 78: 185-188.
[2].  Jun Che, Fu-Zheng Zhang, Chao-Qian Zhao, et al. Cyclopamine is a novel Hedgehog signaling inhibitor with significant anti?proliferative, anti?invasive and anti?estrogenic potency in human breast cancer cells. Oncology Letters, 2013, 5: 1417-1421.
[3].  Chia-Wen Hsu, Jinghua Zhao, Ruili Huang, et al. Quantitative High-Throughput Profiling of Environmental Chemicals and Drugs that Modulate Farnesoid X Receptor. Scientific Reports, 2014, 4: 6437.
[4].  Robert J. Lipinski, Paul R. Hutson, Paul W. Hannam, et al. Dose- and Route-Dependent Teratogenicity, Toxicity, and Pharmacokinetic Profiles of the Hedgehog Signaling Antagonist Cyclopamine in the Mouse. Toxicological Sciences, 2008, 104(1):189-197.
[5].  Seung K. Kim and Douglas A. Melton. Pancreas development is promoted by cyclopamine, a Hedgehog signaling inhibitor. Proc. Natl. Acad. Sci. USA, 1998, 95: 13036-13041.
文献引用
Chemical Properties
| | |
| --- | --- |
| Physical Appearance | A solid |
| Storage | Store at -20°C |
| M.Wt | 411.62 |
| Cas No. | 4449-51-8 |
| Formula | C27H41NO2 |
| Synonyms | 11-Deoxojervine |
| Solubility | ≥6.9mg/mL in DMSO |
| Chemical Name | (3S,3'R,3'aS,6'S,6aS,6bS,7'aR,9R,11aS,11bR)-3',6',10,11b-tetramethylspiro[2,3,4,6,6a,6b,7,8,11,11a-decahydro-1H-benzo[a]fluorene-9,2'-3a,4,5,6,7,7a-hexahydro-3H-furo[3,2-b]pyridine]-3-ol |
| SDF | Download SDF |
| Canonical SMILES | CC1CC2C(C(C3(O2)CCC4C5CC=C6CC(CCC6(C5CC4=C3C)C)O)C)NC1 |
| 运输条件 | 试用装:蓝冰运输。 其他可选规格:常温运输或根据您的要求用蓝冰运输。 |
| 一般建议 | 为了使其更好的溶解,请用37℃加热试管并在超声波水浴中震动片刻。不同厂家不同批次产品溶解度各有差异,仅做参考。若实验所需浓度过大至产品溶解极限,请添加助溶剂助溶或自行调整浓度。 |
试验操作
细胞实验: [1]

细胞系

AA/C1、RG/C2、CaCo2、HT29和SW480细胞

制备方法

该化合物在DMSO中的溶解度小于10 mM,若配制更高浓度的溶液,一般步骤如下:请将试管置于37℃加热10分钟和/或将其置于超声波浴中震荡一段时间。原液于-20℃可放置数月。

反应条件

细胞产量抑制:20 μM,48小时;凋亡诱导:10 μM,48小时(通过PARP表达测量)

实验结果

在所测试的所有人结肠直肠肿瘤细胞系中,Cyclopamine以剂量依赖性方式显著降低细胞产量。Cyclopamine还显著诱导每种细胞系的凋亡。CaCo2细胞系对环巴胺诱导的细胞凋亡特别敏感。

动物实验: [2]

动物模型

C57BL/6J小鼠

给药剂量

腹腔注射,160 mg/kg/day,持续31小时。

实验结果

在测试动物中,Cyclopamine显示致畸潜力。受影响的胚胎略小于正常同窝出生,并表现出轻微的口鼻钝化以及唇裂和腭裂。胚胎表现出单侧和双侧完全裂口,裂口延伸到原发和继发上腭。面部裂缝通常伴有开放的眼睑缺陷,在其中一个胚胎中存在前肢联合。

注意事项

请于室内测试所有化合物的溶解度。虽然化合物的实际溶解度可能与其理论值略有不同,但仍处于实验系统误差的允许范围内。

References:

[1] Qualtrough D, Buda A, Gaffield W, et al. Hedgehog signalling in colorectal tumour cells: induction of apoptosis with cyclopamine treatment. International journal of cancer, 2004, 110(6): 831-837.

[2] Lipinski R J, Hutson P R, Hannam P W, et al. Dose-and route-dependent teratogenicity, toxicity, and pharmacokinetic profiles of the hedgehog signaling antagonist cyclopamine in the mouse. Toxicological sciences, 2008, 104(1): 189-197.
生物活性
Description
Purmorphamine is a blocker of BODIPY-cyclopamine binding to Smo with IC50 of ~ 1.5 μM and also is an inducer of osteoblast differentiation with EC50 of 1 μM.
Targets
Smoothened (Smo)
IC50
46 nM
质量控制
化学结构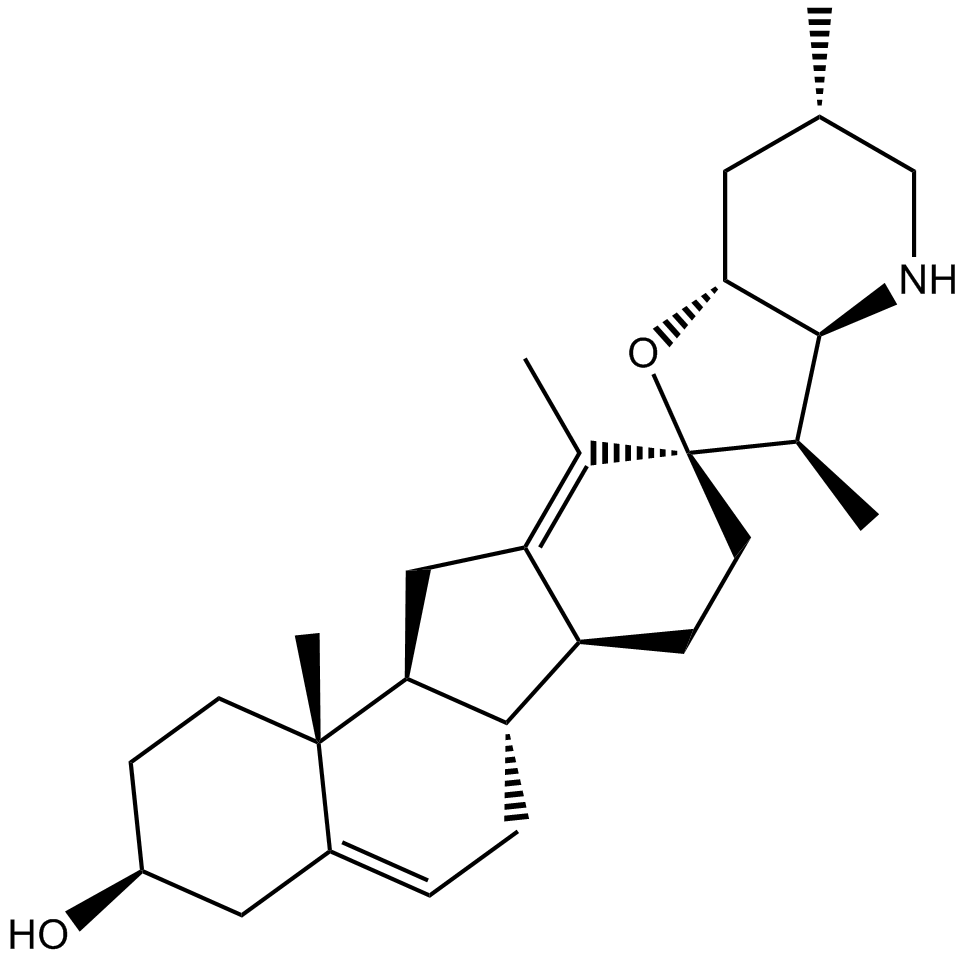 相关生物数据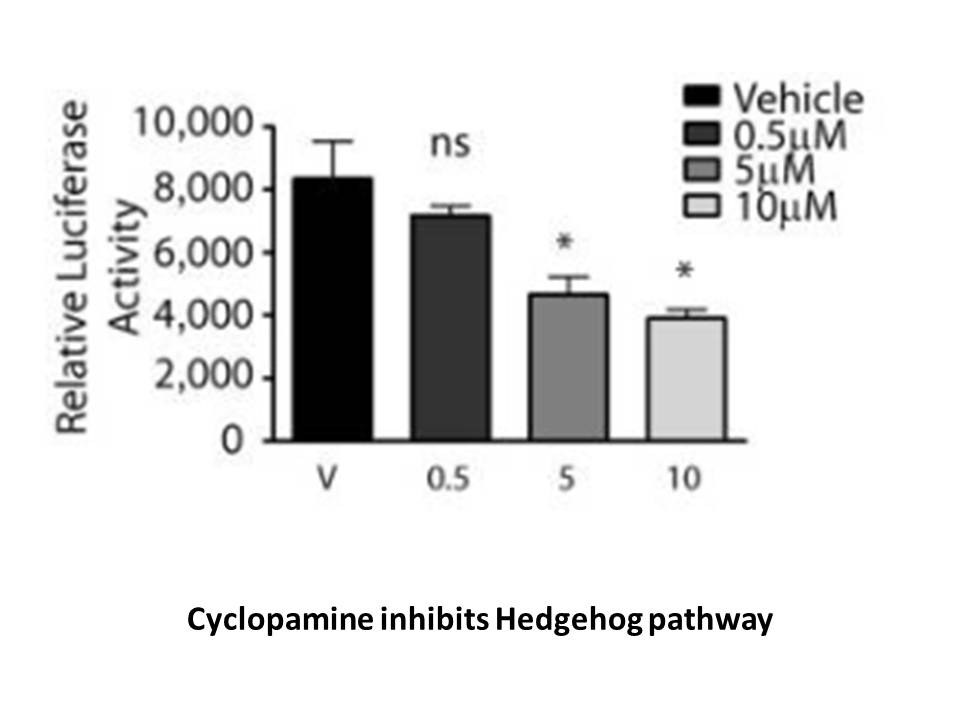 相关生物数据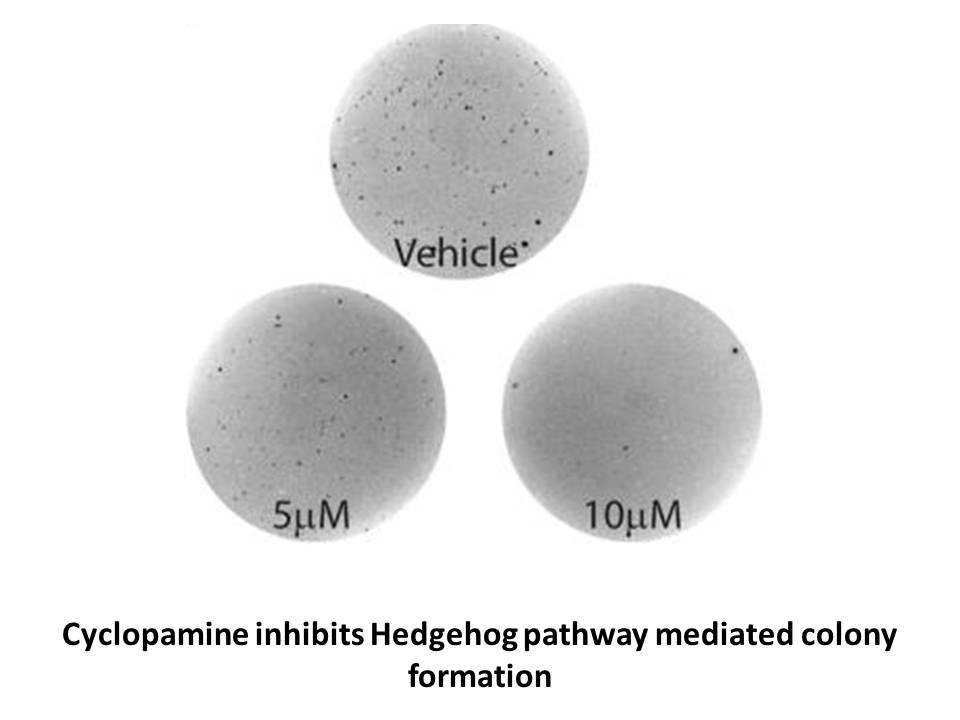 相关生物数据