Sample solution is provided at 25 µL, 10mM.
质量控制
化学结构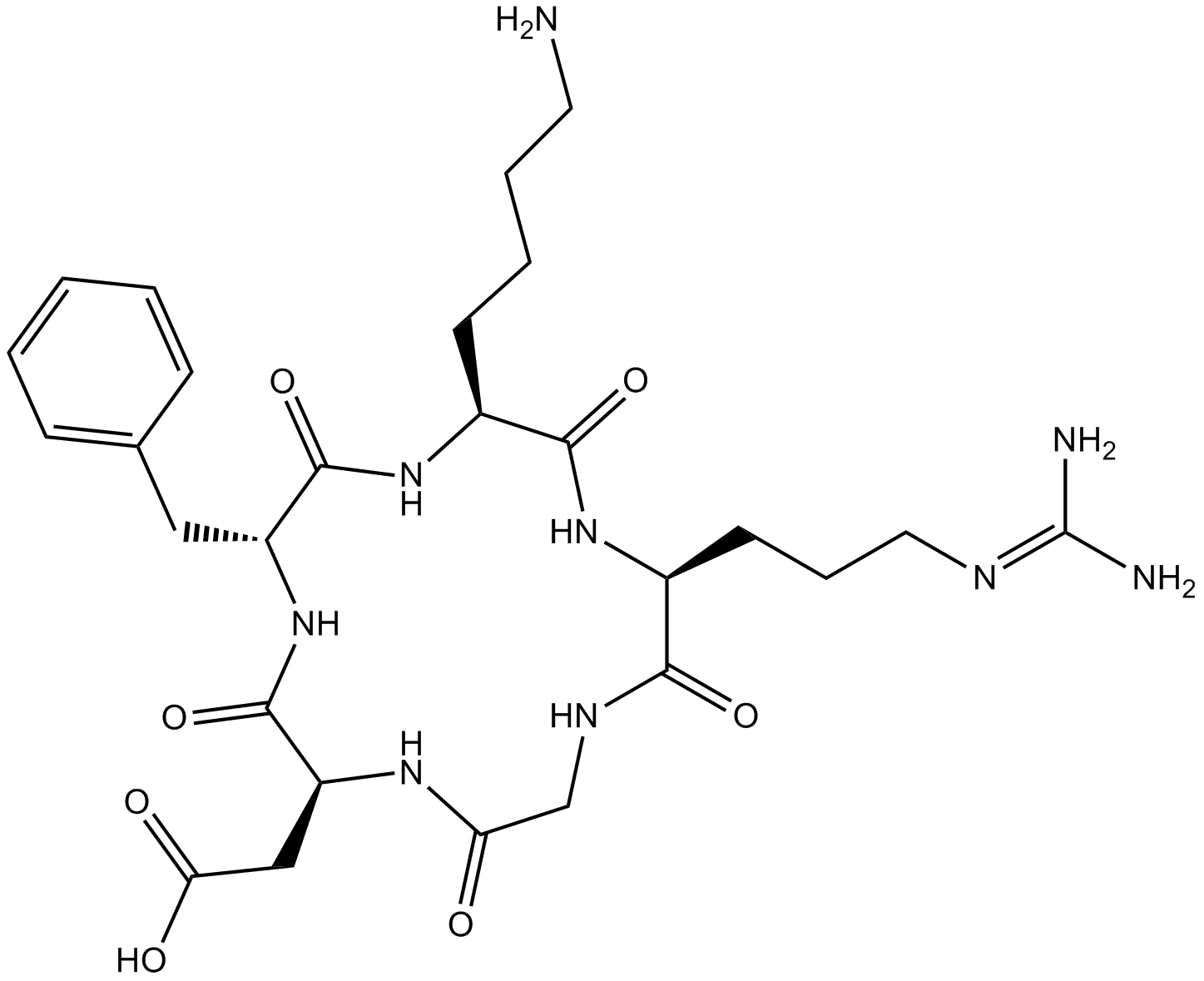 相关生物数据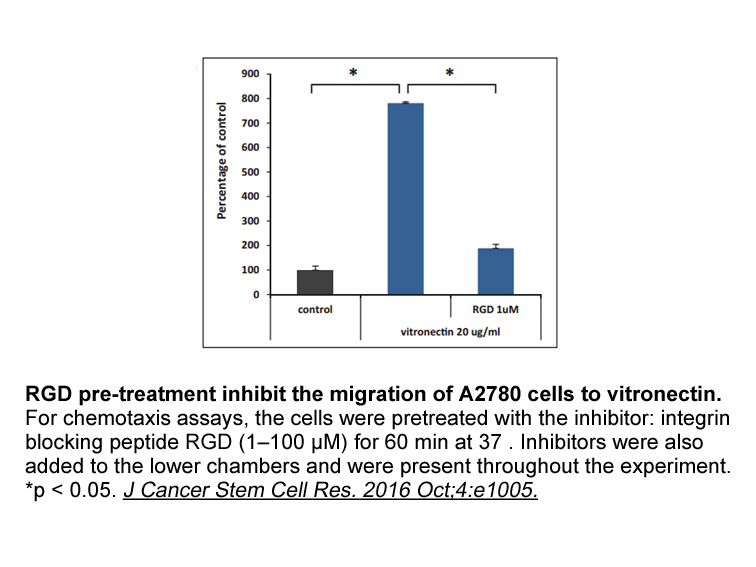 相关生物数据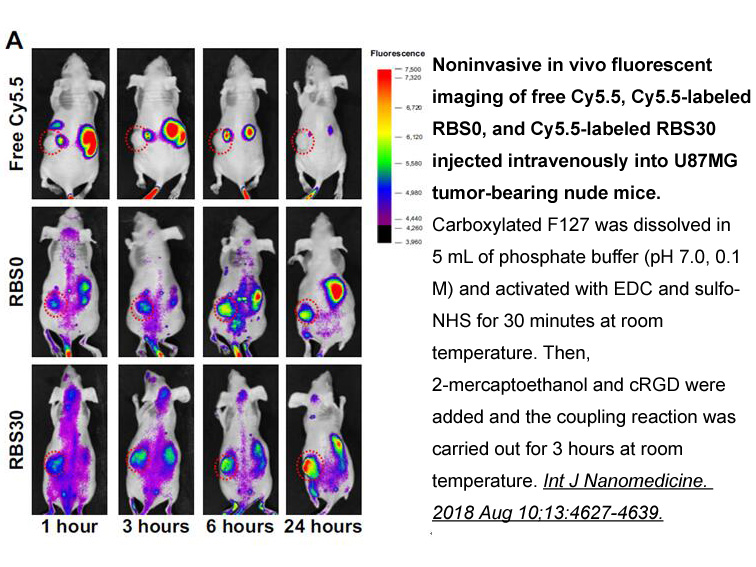 相关生物数据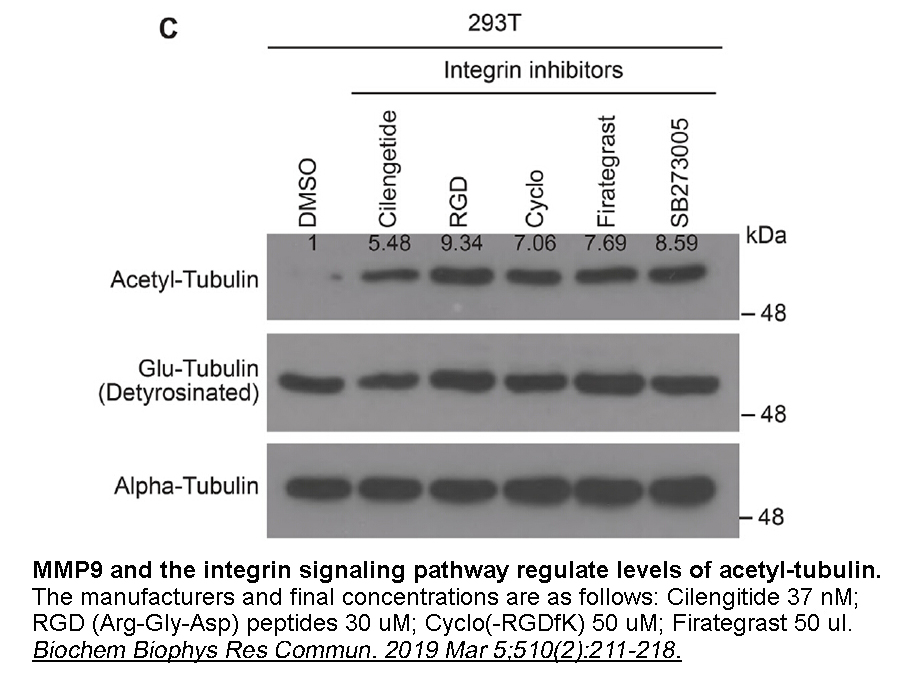 化学性质
CAS号
161552-03-0
SDF
Download SDF
别名
Cyclo(-Arg-Gly-Asp-D-Phe-Lys)
化学名
2-[(2S,5R,8S,11S)-8-(4-aminobutyl)-5-benzyl-11-[3-(diaminomethylideneamino)propyl]-3,6,9,12,15-pentaoxo-1,4,7,10,13-pentazacyclopentadec-2-yl]acetic acid
SMILES
C1C(=O)NC(C(=O)NC(C(=O)NC(C(=O)NC(C(=O)N1)CCCN=C(N)N)CCCCN)CC2=CC=CC=C2)CC(=O)O
分子式
C27H41N9O7
分子量

603.7

溶解度
≥30.185mg/mL in DMSO, <2.59 mg/mL in EtOH, ≥59.2 mg/mL in H2O
储存条件
Store at -20°C
运输条件
试用装:蓝冰运输。
其他可选规格:常温运输或根据您的要求用蓝冰运输。
一般建议
为了使其更好的溶解,请用37℃加热试管并在超声波水浴中震动片刻。不同厂家不同批次产品溶解度各有差异,仅做参考。若实验所需浓度过大至产品溶解极限,请添加助溶剂助溶或自行调整浓度。
生物活性
Description
Cyclo (-RGDfK) is a potent and selective inhibitor of the αvβ3 integrin.
Targets
Integrin
IC50
产品描述
IC50:对细胞粘附显示出抑制作用,IC50范围为0.1至1 μM。
有一系列可识别并结合三肽序列RGD(精氨酸-甘氨酸-天冬氨酸)的整联蛋白亚型,代表参与细胞粘附最显著的识别基序。其中,cyclo (-RGDfK)已被广泛应用于生物材料涂层以改善细胞粘附性或作为显像剂用于肿瘤治疗。 [1]
体外:整联蛋白αvβ3在许多细胞类型包括内皮细胞、上皮细胞、成纤维细胞、成骨细胞和平滑肌细胞中表达。整联蛋白αvβ3在发生血管生成的内皮细胞中上调,肿瘤血管生成期间在内皮细胞中高表达。据报道, Cyclo (-RGDfK)对αvβ3 /αvβ5具有高亲和力,因此可以促进体外成骨细胞和软骨细胞的细胞粘附。[1,2]
体内:在兔子体内进行动物研究。据证实,新形成的骨组织与RGD-肽包被的植入物产生直接接触,而无包被的植入物似乎与新形成的骨组织分离。这种分离是由一种可阻断植入物和骨骼之间结合的纤维组织层引起。[3]
临床试验:目前尚未进行临床试验。
参考文献:
[1]Mas-Moruno C, Rechenmacher F and Kessler H. Cilengitide: the first anti-angiogenic small molecule drug candidate. design, synthesis and clinical evaluation. Anticancer Agents Med Chem. 2010; 10: 753-68.
[2]Hersel U, Dahmen C, Kessler H. RGD modified polymers: Biomaterials for stimulated cell adhesion and beyond. Biomaterials. 2003; 24: 4385-415.
[3]Schaffner P, Meyer J, Dard M, Wenz R, Nies B, Verrier S, Kessler H, Kantlehner M. Induced tissue integration of bone implants by coating with bone selective RGD-peptides in vitro and in vivo studies. J Mater Sci: Mater Med. 1999: 10: 837–9.