Background
Cy7 maleimide is a near-infrared, sulfhydryl reactive dye which has low aqueous solubility. This reagent can label the proteins contain free sulfhydryl groups. Labeled proteins thus obtained are used in NIR bioimaging applications. In tissues or in live organism, NIR imaging systems can be used to visualize distribution of labeled proteins. For biomolecule labeling, the labeling reagent has low aqueous solubility, using of organic co-solvent to dissolve this molecular is necessary for efficient reaction. First, Cyanine dye should be dissolved in organic solvent and then added to a solution of biomolecule in appropriate aqueous buffer.
In splenocytes, for ease of detection, P22 particles were labeled internally with Cy7-maleimide. P22-Cy7 alone or P22-Cy7 decorated with DecSelf was incubated with splenocytes at 37℃ to encourage phagocytosis [1].
Reference:
[1]. Schwarz, B.; Madden, P.; Avera, J.; Gordon, B.; Larson, K.; Miettinen, H.; Uchida, M.; LaFrance, B.; Basu, G.; Rynda-Apple, A.; Douglas, T. Symmetry Controlled, Genetic Presentation of Bio-Active Proteins on the P22 Virus-Like Particle Using an External Decoration Protein. ACS Nano, 2015, 9(9), 9134–9147.
Chemical Properties
| | |
| --- | --- |
| Storage | 24 months after receival at -20°C in the dark. Transportation: at room temperature for up to 3 weeks. Avoid prolonged exposure to light. Desiccate. |
| M.Wt | 707.34 |
| Formula | C43H51ClN4O3 |
| Solubility | soluble in organic solvents (DMSO, DMF, dichloromethane), low solubility in water |
| Chemical Name | 6-[(2E)-3,3-dimethyl-2-[(2E)-2-[3-[(E)-2-(1,3,3-trimethylindol-1-ium-2-yl)ethenyl]cyclohex-2-en-1-ylidene]ethylidene]indol-1-yl]-N-[2-(2,5-dioxopyrrol-1-yl)ethyl]hexanamide |
| SDF | Download SDF |
| Canonical SMILES | CC1(C2=CC=CC=C2[N+](=C1C=CC3=CC(=CC=C4C(C5=CC=CC=C5N4CCCCCC(=O)NCCN6C(=O)C=CC6=O)(C)C)CCC3)C)C |
| 运输条件 | 试用装:蓝冰运输。 其他可选规格:常温运输或根据您的要求用蓝冰运输。 |
| 一般建议 | 为了使其更好的溶解,请用37℃加热试管并在超声波水浴中震动片刻。不同厂家不同批次产品溶解度各有差异,仅做参考。若实验所需浓度过大至产品溶解极限,请添加助溶剂助溶或自行调整浓度。 |
质量控制
化学结构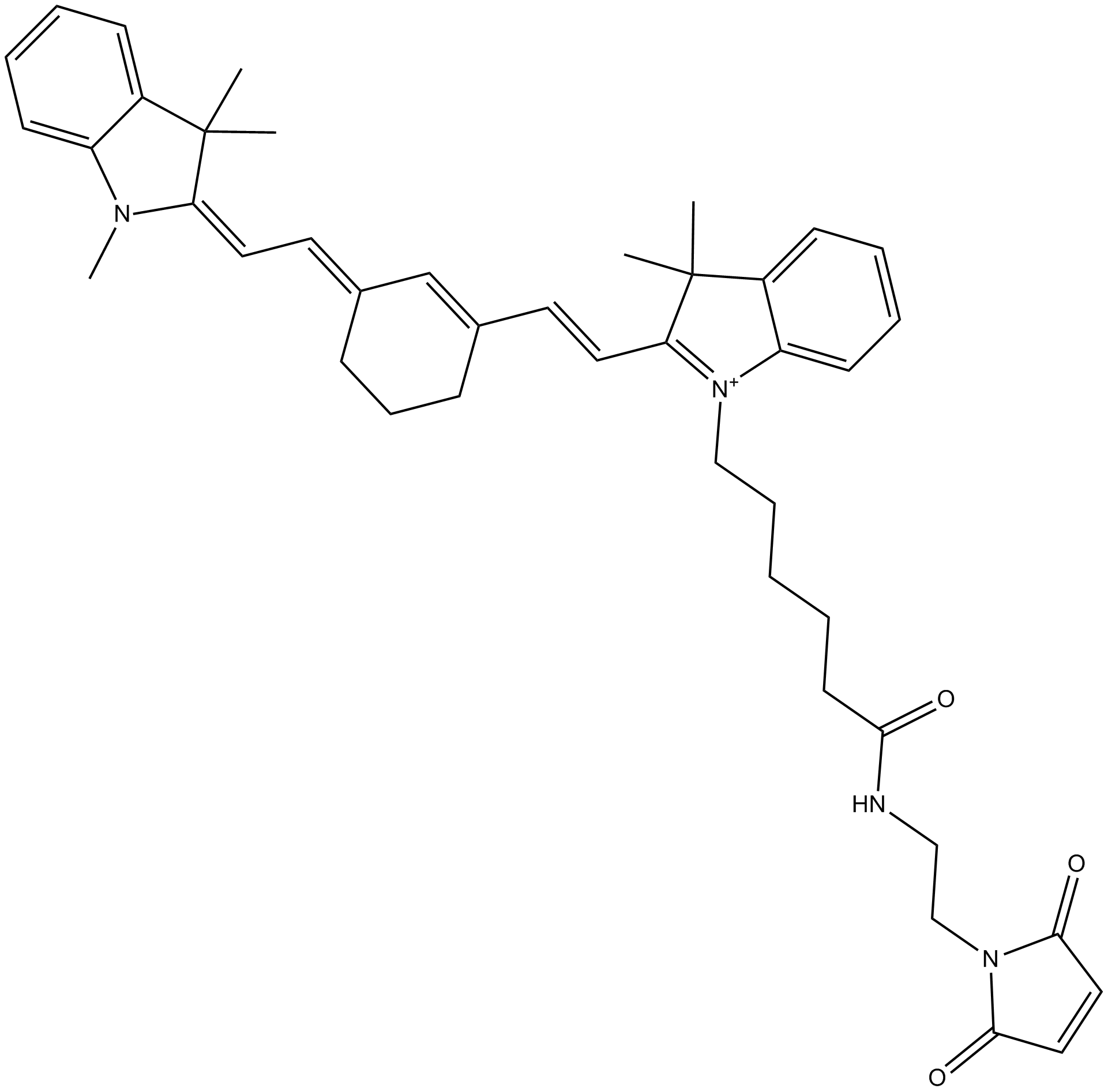 相关生物数据