Background
CTEP is a potent, long-acting, and orally bioavailable inhibitor of metabotropic glutamate receptor 5 (mGlu5) with IC50 value of 11.4nM [1].
CTEP is a negative allosteric modulator of mGlu5 and has inverse agonist activity. In the in vitro binding assay, CTEP binds to human, mouse and rat mGlu5 with Kd values of 1.7nM, 1.8nM and 1.5 nM, respectively. In HEK293 cells expressing mGlu5, CTEP inhibits quisqualate-induced Ca2+ mobilization and inositol phosphate accumulation with IC50 value of 11.4nM and 6.4nM, respectively. In addition, it shows an IC50 value of 40.1nM in the IP accumulation assay, demonstrating its inverse agonist activity. CTEP is proved to be a highly selective inhibitor of mGlu5. It shows no significant activity against mGlu1, mGlu2, mGlu3, mGlu4, mGlu6, mGlu7 or mGlu8 at concentration up to 10μM [1].
In the in vivo Vogel conflict drinking test, CTEP markedly increases drinking time at doses of 0.3mg/kg. In adult C57BL/6 mice brain, CTEP displaces the mGlu5 antagonist ABP688 in the regions expressing mGlu5 by 50% at dose of 77.5 ng/g [1].
References:
[1] Lindemann L, Jaeschke G, Michalon A, et al. CTEP: a novel, potent, long-acting, and orally bioavailable metabotropic glutamate receptor 5 inhibitor. Journal of Pharmacology and Experimental Therapeutics, 2011, 339(2): 474-486.
文献引用
Chemical Properties
| | |
| --- | --- |
| Physical Appearance | A solid |
| Storage | Store at -20°C |
| M.Wt | 391.77 |
| Cas No. | 871362-31-1 |
| Formula | C19H13ClF3N3O |
| Solubility | ≥19.6mg/mL in DMSO |
| Chemical Name | 2-chloro-4-[2-[2,5-dimethyl-1-[4-(trifluoromethoxy)phenyl]imidazol-4-yl]ethynyl]pyridine |
| SDF | Download SDF |
| Canonical SMILES | CC1=C(N=C(N1C2=CC=C(C=C2)OC(F)(F)F)C)C#CC3=CC(=NC=C3)Cl |
| 运输条件 | 试用装:蓝冰运输。 其他可选规格:常温运输或根据您的要求用蓝冰运输。 |
| 一般建议 | 为了使其更好的溶解,请用37℃加热试管并在超声波水浴中震动片刻。不同厂家不同批次产品溶解度各有差异,仅做参考。若实验所需浓度过大至产品溶解极限,请添加助溶剂助溶或自行调整浓度。 |
试验操作
激酶实验 [1]:

放射性配体结合分析

对于全部的过滤放射性配体结合实验来说,将表达靶受体或受体组合的膜制剂重悬浮于放射性配体结合缓冲液(15 mM Tris-HCl, 120 mM NaCl, 5 mM KCl, 1.25 mM CaCl2和1.25 mM MgCl2, pH 7.4), 然后将重悬的膜与合适浓度的放射性配体以及未标记的药物在96孔板中混合,总体积200μL,适当温度下孵育60分钟。孵育结束后,用Filtermate 196 harvester将膜过滤到用0.1%聚乙烯亚胺洗涤缓冲液(50 mM Tris-HCl, pH 7.4)预孵育的Whatman Unifilter上,用冰冷的洗涤缓冲液洗三次。每孔加入45μL MicroScint 40然后摇晃20分钟之后,利用猝灭校正过的Topcount微闪烁计数器对在过滤器上捕获的放射性进行定量。膜的浓度和处理时间由每次的预实验决定。

动物实验:

动物模型

成年雄性C57BL/6小鼠模型;成年雄性Sprague-Dawley大鼠模型;Fmr1敲除小鼠模型

剂量

0.01-3.0mg / kg,口服灌胃,18小时;或2mg / kg,每48小时口服,持续2周

应用

CTEP(0.1和0.3 mg/kg)在小鼠应激诱导的高热过程和大鼠的Vogel冲突饮酒测试中具有剂量依赖性活性 [1]。 此外,在Fmr1基因敲除小鼠的海马中,CTEP纠正过度蛋白质合成,mGlu长期抑郁症和听源性癫痫发作 [2]。

注意事项

请于室内测试所有化合物的溶解度。实际溶解度和理论值可能略有不同,这是由实验系统的误差引起的,属于正常现象。

References:

1Lindemann, L., Jaeschke, G., Michalon, A., Vieira, E., Honer, M., Spooren, W., Porter, R., Hartung, T., Kolczewski, S., Buttelmann, B., Flament, C., Diener, C., Fischer, C., Gatti, S., Prinssen, E. P., Parrott, N., Hoffmann, G. and Wettstein, J. G. (2011) CTEP: a novel, potent, long-acting, and orally bioavailable metabotropic glutamate receptor 5 inhibitor. J Pharmacol Exp Ther. 339, 474-486

2Michalon, A., Sidorov, M., Ballard, T. M., Ozmen, L., Spooren, W., Wettstein, J. G., Jaeschke, G., Bear, M. F. and Lindemann, L. (2012) Chronic pharmacological mGlu5 inhibition corrects fragile X in adult mice. Neuron. 74, 49-56
生物活性
描述
CTEP (RO4956371)是一种新型、长效和可口服的mGlu5受体变构拮抗剂,IC50值为2.2 nM。
靶点
mGlu5 receptor
IC50
2.2 nM
质量控制
化学结构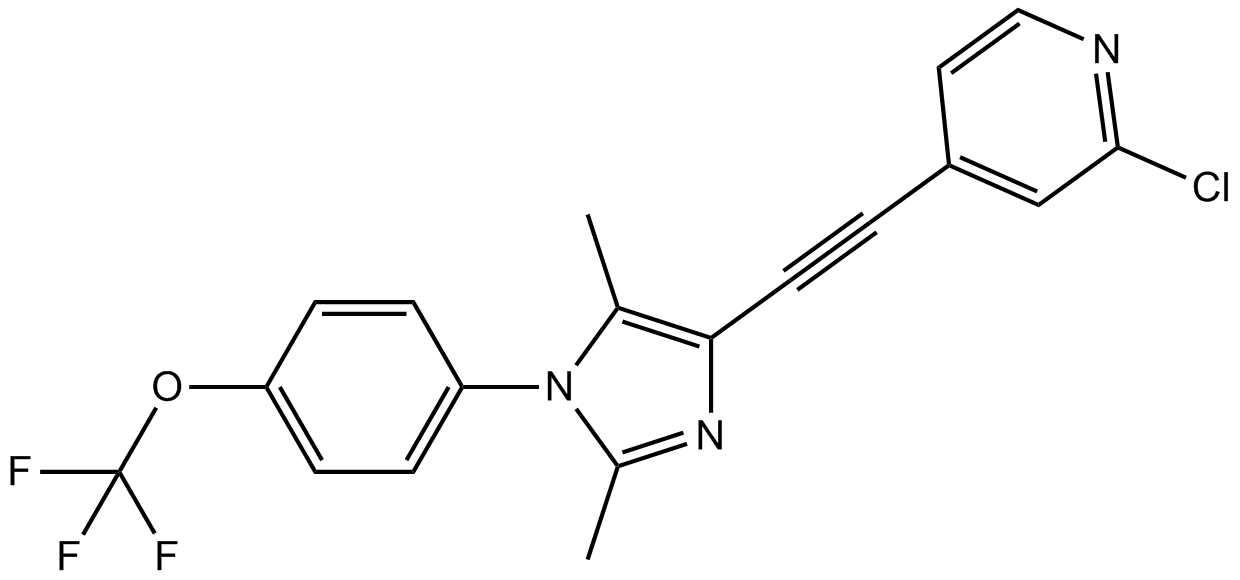 相关生物数据