Background
Crizotinib is a potent, ATP-competitive, small-molecule and orally available inhibitor of c-Met kinase with a Ki value of 4 nmol/L[1].
Crizotinib has shown to inhibit wild-type c-Met phosphorylation with a mean IC50 value of 11 nmol/L in multiple human endothelial and carcinoma cell lines. Crizotinib has been demonstrated to inhibit cell growth and induce apoptosis in human GTL-16 gastric carcinoma cells. Additionally, crizotinib could inhibit cell migration and invasion induced by HGF in human NCI-H441 lung cancer cells. Moreover, crizotinib has revealed to block cell scattering of MDCK [1].
Crizotinib has been indicated to suppress tumor growth in GTL-16, NCI-H441 NSCLC, Caki-1 RCC, U87MG glioblastoma or PC-3 prostate tumor xenograft mice [1].
References:
[1] Zou HY1, Li Q, Lee JH, Arango ME, McDonnell SR, Yamazaki S, Koudriakova TB, Alton G, Cui JJ, Kung PP, Nambu MD, Los G, Bender SL,Mroczkowski B, Christensen JG. An orally available small-molecule inhibitor of c-Met, PF-2341066, exhibits cytoreductive antitumor efficacy through antiproliferative and antiangiogenic mechanisms. Cancer Res. 2007 May 1;67(9):4408-17.
文献引用
Chemical Properties
| | |
| --- | --- |
| Physical Appearance | A solid |
| Storage | Store at -20°C |
| M.Wt | 450.34 |
| Cas No. | 877399-52-5 |
| Formula | C21H22Cl2FN5O |
| Synonyms | Crizotinib,PF-2341066, PF02341066, PF 2341066 |
| Solubility | ≥7.5mg/mL in DMSO |
| Chemical Name | 3-[(1R)-1-(2,6-dichloro-3-fluorophenyl)ethoxy]-5-(1-piperidin-4-ylpyrazol-4-yl)pyridin-2-amine |
| SDF | Download SDF |
| Canonical SMILES | CC(C1=C(C=CC(=C1Cl)F)Cl)OC2=C(N=CC(=C2)C3=CN(N=C3)C4CCNCC4)N |
| 运输条件 | 试用装:蓝冰运输。 其他可选规格:常温运输或根据您的要求用蓝冰运输。 |
| 一般建议 | 为了使其更好的溶解,请用37℃加热试管并在超声波水浴中震动片刻。不同厂家不同批次产品溶解度各有差异,仅做参考。若实验所需浓度过大至产品溶解极限,请添加助溶剂助溶或自行调整浓度。 |
试验操作
细胞实验[1]:

细胞系

LLC SP和MP细胞系

溶解方法

在DMSO中的溶解度>10 mM。为了获得更高的浓度,可以将离心管在37℃加热10分钟和/或在超声波浴中震荡一段时间。原液可以在-20℃以下储存几个月。

反应条件

12 h;IC50=21.3 nM(MP细胞);22.4 nM,细胞存活率:50.0±0.6%(SP细胞)

应用

Crizotinib对MP细胞和SP细胞的抑制效应通过集落形成实验进行测定。Crizotinib对MP细胞的IC50值为21.3 nM。而SP细胞在crizotinib处理后没有显著变化。然而,当crizotinib(22.4 nM)与verapamil(500 ?M)联合治疗时,SP细胞具有50.0±0.6%的生存率,而crizotinib(22.4 nM)单独治疗时,SP细胞的生存率为105.3±0.4%。生长曲线表明crizotinib抑制MP和SP细胞的生长,这种抑制作用是浓度和时间依赖的。

动物实验[1]:

动物模型

NU/NU裸鼠

剂量

瘤内注射

应用

用皮下移植LLC SP或MP细胞的免疫缺陷小鼠检测致瘤性。未分类的LLC细胞以1×105的量可形成异种移植物。与对照组(PBS: 834±41 mm3)相比,crizotinib治疗的LLC组(225±29 mm3)在治疗后的40天肿瘤面积显著减小。

注意事项

请测试所有化合物在室内的溶解度,实际溶解度和理论值可能略有不同。这是由实验系统的误差引起的,属于正常现象。

References:

[1] Xia P, Gou W F, Zhao S, et al. Crizotinib may be used in lewis lung carcinoma: A novel use for crizotinib[J]. Oncology reports, 2013, 30(1): 139-148.
生物活性
描述
Crizotinib (PF-02341066)是一种有效的c-Met/ALK抑制剂,IC50值分别为11 nM和24 nM。
靶点
c-Met
ALK
IC50
11 nM
24 nM
质量控制
化学结构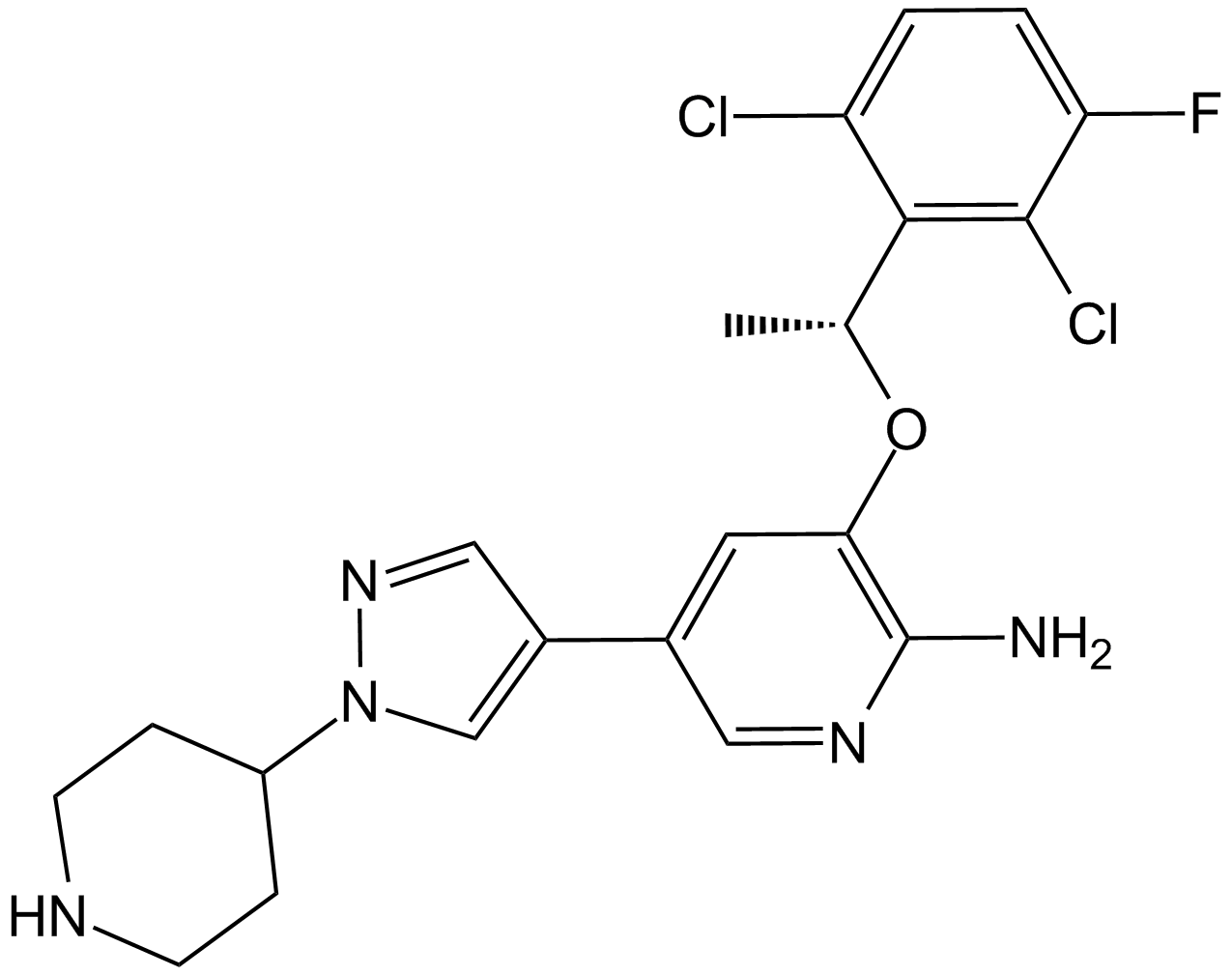 相关生物数据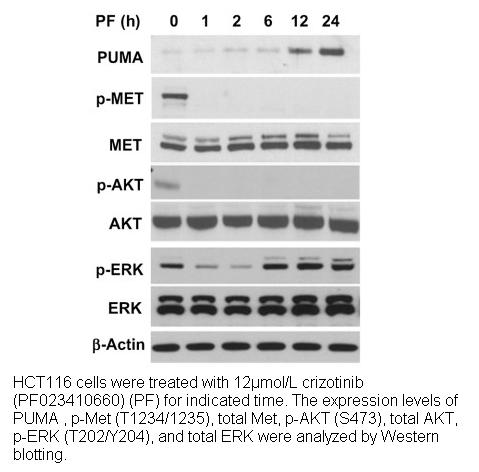 相关生物数据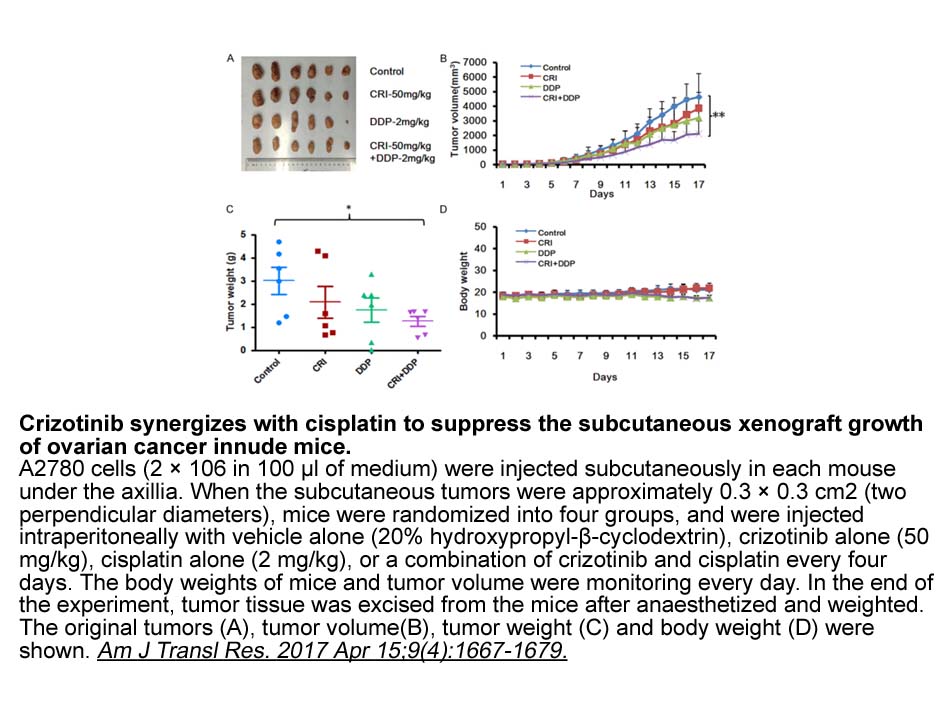 相关生物数据