Background
CHIR-99021 is a highly specific glycogen synthase kinase-3 (GSK-3) inhibitor which can inhibit both isoforms with IC50 of 10 nM (GSK-3α) and 6.7 nM (GSK-3β).
CHIR-99021 was proved to promote self-renewal and maintain pluripotency of both B6 and BALB/c ES cells via stabilizing the downstream effectors like c-Myc and β -catenin[1]. In J1 mESC cells, CHIR-99021 played an important role in maintaining the colony morphology as well as the self-renewal when combined with leukemia inhibitory factor (LIF). CHIR-99021 has shown to regulate multiple signaling pathways which involve Wnt/β-catenin, TGF-β, Nodal and MAPK, and the expression of epigenetic regulatory genes like Dnmt3l[2].
CHIR-99021 has been demonstrated to promote DN3 thymocytes proliferation and differentiation in the absence of pre-TCR signaling, Notch1 signaling or CXCL12[3]. However, study has also found that higher concentration (10 μM but not 1 μM or 3 μM) of CHIR99021 might selectively inhibit differentiation by activating IL-7 signaling pathway[3].
Reference:
1. Ye S1, Tan L, Yang R, Fang B, Qu S, Schulze EN, Song H, Ying Q, Li P. Pleiotropy of glycogen synthase kinase-3 inhibition by CHIR99021 promotes self-renewal of embryonic stem cells from refractory mouse strains. PLoS One. 2012;7(4):e35892.
2. Wu Y1, Ai Z, Yao K, Cao L, Du J, Shi X, Guo Z, Zhang Y. CHIR99021 promotes self-renewal of mouse embryonic stem cells by modulation of protein-encoding gene and long intergenic non-coding RNA expression. Exp Cell Res. 2013
3. PLoS One. 2013;8(3):e58501. doi: 10.1371/journal.pone.0058501. Epub 2013 Mar 20. Schroeder JH1, Bell LS, Janas ML, Turner M. Pharmacological inhibition of glycogen synthase kinase 3 regulates T cell development in vitro. PLoS One. 2013;8(3):e58501.
Chemical Properties
| | |
| --- | --- |
| Physical Appearance | A solid |
| Storage | Store at -20°C |
| M.Wt | 501.8 |
| Cas No. | 1797989-42-4 |
| Formula | C22H18Cl2N8.HCl |
| Solubility | ≥25.1mg/mL in DMSO |
| Chemical Name | 6-((2-((4-(2,4-dichlorophenyl)-5-(5-methyl-1H-imidazol-2-yl)pyrimidin-2-yl)amino)ethyl)amino)nicotinonitrile hydrochloride |
| SDF | Download SDF |
| Canonical SMILES | N#CC1=CC=C(NCCNC2=NC=C(C3=NC=C(C)N3)C(C4=CC=C(Cl)C=C4Cl)=N2)N=C1.Cl |
| 运输条件 | 试用装:蓝冰运输。 其他可选规格:常温运输或根据您的要求用蓝冰运输。 |
| 一般建议 | 为了使其更好的溶解,请用37℃加热试管并在超声波水浴中震动片刻。不同厂家不同批次产品溶解度各有差异,仅做参考。若实验所需浓度过大至产品溶解极限,请添加助溶剂助溶或自行调整浓度。 |
试验操作
细胞实验 [1]:

细胞系

CHO-IR细胞或原代大鼠肝细胞

制备方法

在DMSO中的溶解度大于10 mM。若配制更高浓度的溶液,一般步骤如下:请将试管置于37 °C加热10分钟和/或将其置于超声波浴中震荡一段时间。原液于-20 °C可放置数月。

反应条件

0.01 ~ 10 μM

实验结果

在CHO-IR细胞或原代大鼠肝细胞中,CHIR-99021呈剂量依赖性地诱导GS活性,使其高出基线的2 ~ 3倍。在CHO-IR细胞中,CHIR-99021诱导GS活化,其EC50值为0.763 μM。

动物实验 [2]:

动物模型

ZDF大鼠

给药剂量

16或48 mg/kg;口服给药

实验结果

在ZDF大鼠中,CHIR-99021治疗(16或48 mg/kg;口服给药;口服葡萄糖前1小时)显著改善葡萄糖耐量,分别使血浆葡萄糖降低14%和33%。此外,在口服给予葡萄糖前,较高剂量的CHIR-99021也能降低高血糖。

注意事项

请于室内测试所有化合物的溶解度。虽然化合物的实际溶解度可能与其理论值略有不同,但仍处于实验系统误差的允许范围内。

References:

[1]. Ring DB, Johnson KW, Henriksen EJ, Nuss JM, Goff D, Kinnick TR, Ma ST, Reeder JW, Samuels I, Slabiak T, Wagman AS, Hammond ME, Harrison SD. Selective glycogen synthase kinase 3 inhibitors potentiate insulin activation of glucose transport and utilization in vitro and in vivo. Diabetes. 2003 Mar;52(3):588-95.
生物活性
描述
CHIR-99021 (CT99021) HCl是CHIR-99021的盐酸盐,是GSK-3α/β的抑制剂,其IC50值为10 nM/6.7 nM。
靶点
GSK-3α
GSK-3β
IC50
10 nM
6.7 nM
质量控制
化学结构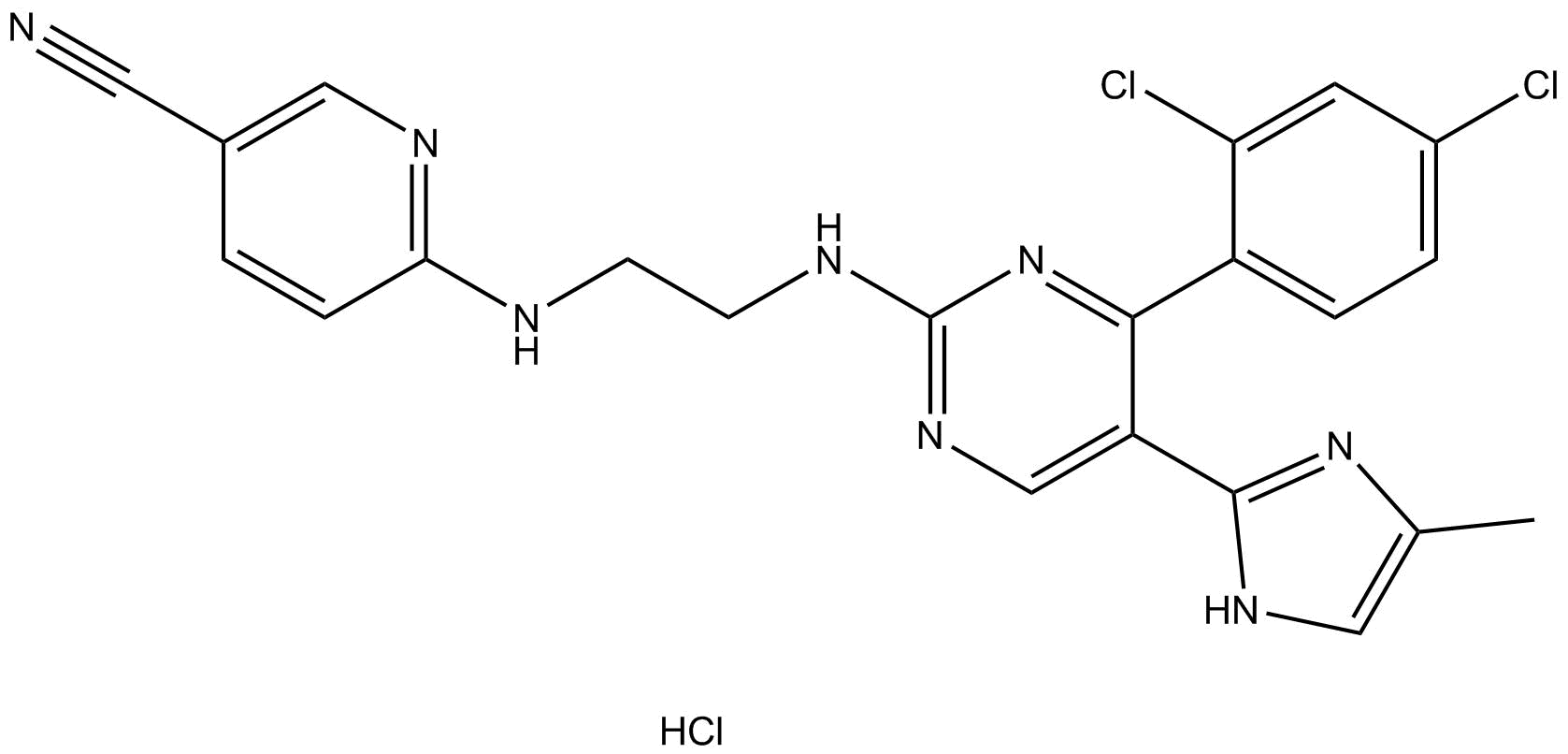 相关生物数据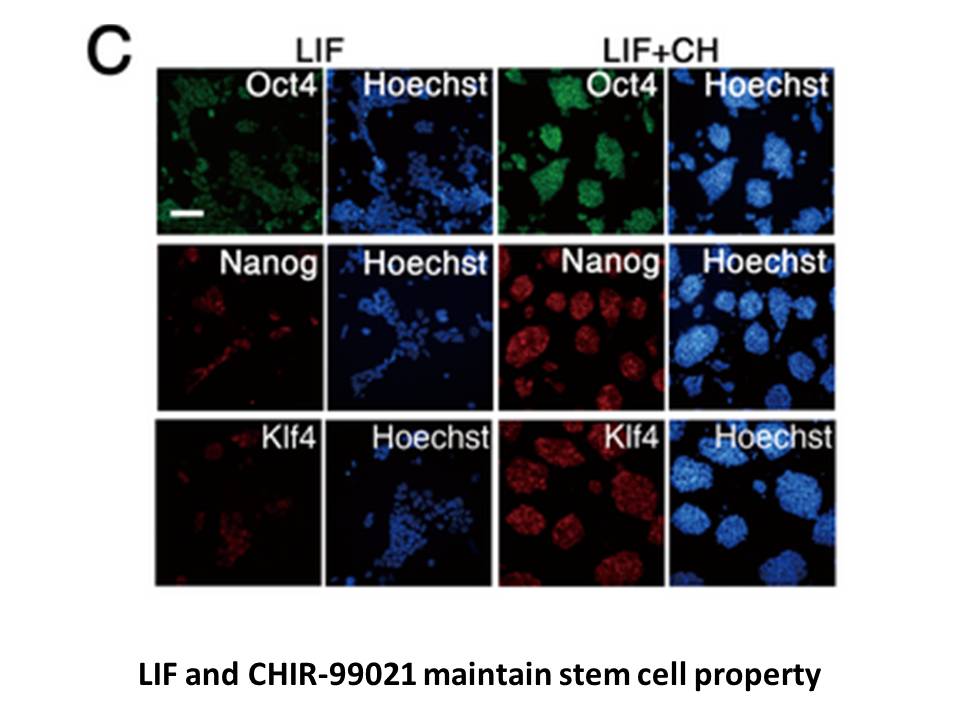 相关生物数据