质量控制
化学结构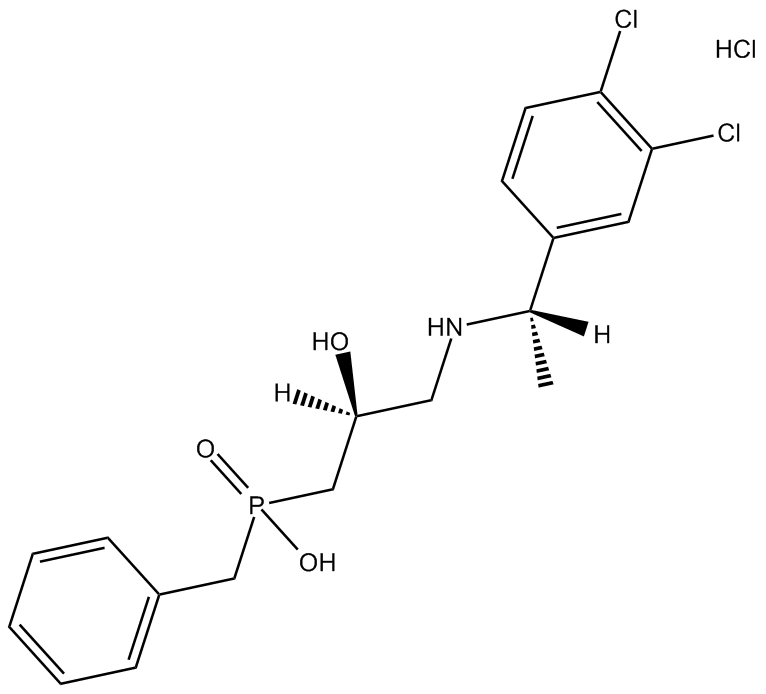 化学性质
CAS号
149184-22-5
SDF
Download SDF
化学名
benzyl((S)-3-(((S)-1-(3,4-dichlorophenyl)ethyl)amino)-2-hydroxypropyl)phosphinic acid hydrochloride
SMILES
C[C@@](NC[C@@](O)([H])CP(CC1=CC=CC=C1)(O)=O)([H])C2=CC(Cl)=C(Cl)C=C2.Cl
分子式
C18H22Cl2NO3P.HCl
分子量

438.71

溶解度
<43.87mg/ml in DMSO
储存条件
Store at RT
物理性状
White solid
运输条件
试用装:蓝冰运输。
其他可选规格:常温运输或根据您的要求用蓝冰运输。
一般建议
为了使其更好的溶解,请用37℃加热试管并在超声波水浴中震动片刻。不同厂家不同批次产品溶解度各有差异,仅做参考。若实验所需浓度过大至产品溶解极限,请添加助溶剂助溶或自行调整浓度。
产品描述
IC50: 5 nM
CGP 55845是一种强效的和选择性的GABAB受体拮抗剂,消除激动剂结合(pKi = 8.35)并阻断GABA和谷氨酸释放(pEC50值分别为8.08和7.85)。CGP 55845防止GABAB应答巴氯芬(在异丙肾上腺素测定中,IC50 = 130 nM),并增加体外对葡萄糖的低血糖反应。 [1,2]
突触前GABAB受体似乎调节若干神经递质的释放。GABAB受体激动剂巴氯芬,通过自身受体防止GABA本身的释放,拮抗(-)巴氯芬对GABA释放的抑制作用和生长抑素样免疫反应(SRIF-LI)比对谷氨酸的拮抗作用强效10倍以上。然而,CGP 35348在预防巴氯芬对谷氨酸和SRIF-LI的作用比对GABA释放作用强效约70倍。
体外:存在CNQX和d(2)-2-amino-5-phosphonovaleric acid时,GABAB受体的拮抗剂CGP 55845 A阻止抑制性突触后电位-B和双脉冲抑郁。[3]。
这种分泌对镉敏感,通过CGP 55845增效,并被酮色林阻断。汇总这些数据表明,CB受体作为直接葡萄糖传感器,低血糖的处理利用与缺氧类似的神经递质和神经调节机制[4]。惊厥4-氨基吡啶(4-AP)和GABAB受体拮抗剂CGP 55845都应用于成年豚鼠海马切片,导致引发巨大的GABA介导的突触后电位(GPSPs)和痫样放电。[5]。
体内:目前尚未进行体内研究。
临床试验:目前尚未进行临床研究。
参考文献:
[1] Waldmeier PC, Wicki P, Feldtrauer JJ, Mickel SJ, Bittiger H, Baumann PA. GABA and glutamate release affected by GABAB receptor antagonists with similar potency: no evidence for pharmacologically different presynaptic receptors. Br J Pharmacol. 1994 Dec;113(4):1515-21.
[2] Cunningham MD, Enna SJ. Evidence for pharmacologically distinct GABAB receptors associated with cAMP production in rat brain. Brain Res. 1996 May 13;720(1-2):220-4.
[3] Deisz RA. The GABA(B) receptor antagonist CGP 55845A reduces presynaptic GABA(B) actions in neocortical neurons of the rat in vitro. Neuroscience. 1999;93(4):1241-9.
[4] Zhang M, Buttigieg J, Nurse CA. Neurotransmitter mechanisms mediating low-glucose signalling in cocultures and fresh tissue slices of rat carotid body. J Physiol. 2007 Feb 1;578(Pt 3):735-50. Epub 2006 Nov 23.
[5] Salah A, Perkins KL. Effects of subtype-selective group I mGluR antagonists on synchronous activity induced by 4-aminopyridine/CGP 55845 in adult guinea pig hippocampal slices. Neuropharmacology. 2008 Jul;55(1):47-54. doi: 10.1016/j.neuropharm.2008.04.010. Epub 2008 Apr 23.