Background
CBR-5884 is a selective inhibitor of 3-phosphoglycerate dehydrogenase (PHGDH) with IC50 of 7 μM. PHGDH catalyzes the first committed step of serine biosynthesis, is overexpressed in tumors and cancer cell lines via focal amplification and nuclear factor erythroid-2-related factor 2 (NRF2)-mediated up-regulation. So CBR-5884 can inhibit de novo serine synthesis in cancer cells.
CBR5884 selectively inhibits the proliferation of breast and melanoma cancer lines that have a high propensity for serine synthesis but has no effect on lines that rely on extracellular serine uptake. CBR-5884 is a noncompetitive and time-dependent inhibitor of PHGDH and disrupts its oligomerization state. The dose at which CBR-5884 has an effect on serine labeling was consistent with the in vitro biochemical IC50 of 33 ± 12 μM for PHGDH. At such concentrations, CBR-5884 has no effect on two other NAD+-dependent dehydrogenases, lactate dehydrogenase (LDH) and MDH1. The Ki value are 50 ± 20 μM and 50 ± 3 μM for 3-PG and NAD+, respectively. CBR-5884 is not generally cytotoxic at concentrations up to 40 μM as determined by two independent cellular viability assays. Treating the breast lines with CBR-5884 in serine-replete media inhibited growth of the four lines that grew without extracellular serine in a dose-dependent manner, with growth inhibition ranging from 35% to 60% at 30 μM CBR-5884. Serine depletion increases the efficacy of CBR-5884 in lines already sensitive under serine-replete conditions as evidenced by an 80–90% decrease in proliferation with 30 μM CBR-5884. [1]
Reference:
1.Identification of a small molecule inhibitor of 3-phosphoglycerate dehydrogenase to target serine biosynthesis in cancers. Proc Natl Acad Sci U S A. 2016 Feb 16;113(7):1778-83.
文献引用
Chemical Properties
| | |
| --- | --- |
| Physical Appearance | A solid |
| Storage | Store at -20°C |
| M.Wt | 336.39 |
| Cas No. | 681159-27-3 |
| Formula | C14H12N2O4S2 |
| Solubility | ≥16.8mg/mL in DMSO |
| Chemical Name | ethyl 5-(furan-2-carboxamido)-3-methyl-4-thiocyanatothiophene-2-carboxylate |
| SDF | Download SDF |
| Canonical SMILES | O=C(NC1=C(SC#N)C(C)=C(C(OCC)=O)S1)C2=CC=CO2 |
| 运输条件 | 试用装:蓝冰运输。 其他可选规格:常温运输或根据您的要求用蓝冰运输。 |
| 一般建议 | 为了使其更好的溶解,请用37℃加热试管并在超声波水浴中震动片刻。不同厂家不同批次产品溶解度各有差异,仅做参考。若实验所需浓度过大至产品溶解极限,请添加助溶剂助溶或自行调整浓度。 |
质量控制
化学结构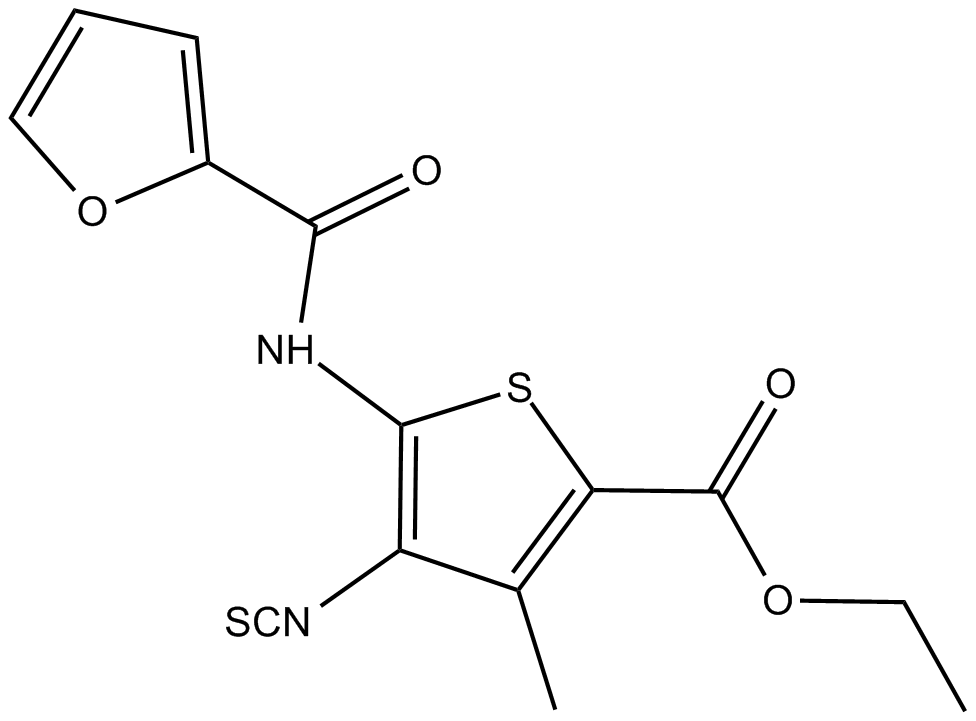 相关生物数据