Background
IC50: N/A
Puromycin aminonucleoside, 3'-Amino-3'-deoxy-N6,N6-dimethyladenosine, is the aminonucleoside portion of the antibiotic puromycin. Puromycin aminonucleoside (PAN)-induced nephrosis in rats can provide a model for investigating the pathogenesis of severe proteinuric conditions.
In vitro: A pervious study used scanning (SEM) and transmission (TEM) electron microscopy to test the in vitro effects of PAN on rat glomerular podocytes. Slices of rat kidney were incubated with PAN. SEM analysis of glomeruli on kidney slices indicated incubation with PAN decreased the number of microvilli on podocyte cell bodies and increased the number of glomeruli. TEM morphometry showed PAN incubation significantly retarded the loss of podocyte foot processes that was observed in control groups [1].
In vivo: In Wistar rats, multiple injections of PAN resulted in sustained severe proteinuria and FSGHS lesions of their glomeruli. In PVG/c rats, a higher PAN dose was needed to induce chronic proteinuria. In acute PAN nephrosis induced by a single intravenous injection of PAN the mesangium of Wistar rats showed large amounts of lipid in contrast to a few small mesangial lipid droplets in nephrotic PVG/c rats. Moreover, after injection of colloidal carbon in nephrotic PVG/c rats no enhanced carbon accumulation was found in the mesangium when compared to nonproteinuric controls [2].
Clinical trial: N/A
References:
[1] Grond J,Muller EW,van Goor H,Weening JJ,Elema JD.  Differences in puromycin aminonucleoside nephrosis in two rat strains. Kidney Int.1988 Feb;33(2):524-9.
[2] Bertram JF,Messina A,Ryan GB.  In vitro effects of puromycin aminonucleoside on the ultrastructure of rat glomerular podocytes. Cell Tissue Res.1990 May;260(3):555-63.
文献引用
Chemical Properties
| | |
| --- | --- |
| Storage | Store at -20°C |
| M.Wt | 294.31 |
| Cas No. | 58-60-6 |
| Formula | C12H18N6O3 |
| Synonyms | 3'-Amino-3'-deoxy-N6,N6-dimethyladenosine |
| Solubility | ≥14.45 mg/mL in DMSO, ≥29.4 mg/mL in EtOH with gentle warming, ≥29.5 mg/mL in H2O with gentle warming |
| Chemical Name | 4-amino-2-[6-(dimethylamino)purin-9-yl]-5-(hydroxymethyl)oxolan-3-ol |
| SDF | Download SDF |
| Canonical SMILES | CN(C)C1=NC=NC2=C1N=CN2C3C(C(C(O3)CO)N)O |
| 运输条件 | 试用装:蓝冰运输。 其他可选规格:常温运输或根据您的要求用蓝冰运输。 |
| 一般建议 | 为了使其更好的溶解,请用37℃加热试管并在超声波水浴中震动片刻。不同厂家不同批次产品溶解度各有差异,仅做参考。若实验所需浓度过大至产品溶解极限,请添加助溶剂助溶或自行调整浓度。 |
试验操作
细胞实验 [1]:

细胞系

Madin-Darby犬肾(MDCK)细胞

溶解方法

该化合物在DMSO中的溶解度大于14.5 mg/mL。若获取更高浓度的溶液,可在37℃下孵育10分钟,随后在超声波浴中摇匀。-20℃以下可储存数月。

反应条件

48 h

应用

在载体和PMAT转染的MDCK细胞中,Puromycin aminonucleoside(PAN)显示细胞毒性,IC50值分别为48.9 ± 2.8和122.1 ± 14.5 μM。PAN(250 μM)对表达PMAT和载体转染细胞均有毒性。在pH 6.6时,PMAT表达细胞中的Puromycin aminonucleoside摄取比pH 7.4条件下高4倍。

动物实验 [2,3]:

动物模型

肾病大鼠

给药剂量

静脉注射,60 mg/kg,150 mg/kg

应用

在肾病大鼠中,静脉注射PAN (8 mg/100 g),在第4天,每个肾小球的足细胞数为90.7。 PAN治疗的肾病大鼠中,每只小鼠肾小球的肾素量在第4天和第7天分别降至0.46 ± 0.06 fmol及0.35 ± 0.04 fmol。在Puromycin aminonucleoside治疗的肾病大鼠中,每个足细胞的肾素量显著降低,与蛋白尿的发生有关。皮下给药PAN(100 mg/kg)的大鼠体重减轻,血清肌酐水平高于对照组,表明Puromycin aminonucleoside损伤肾功能。

注意事项

由于实验环境的不同,实际溶解度可能与理论值略有不同,请测试室内所有化合物的溶解度。

References:

[1]. Xia L, Zhou M, Kalhorn T F, et al. Podocyte-specific expression of organic cation transporter PMAT: implication in puromycin aminonucleoside nephrotoxicity. American Journal of Physiology-Renal Physiology, 2009, 296(6): F1307-F1313.

[2]. Kawakami, Hirotaka, et al. Dynamics of absolute amount of nephrin in a single podocyte in puromycin aminonucleoside nephrosis rats calculated by quantitative glomerular proteomics approach with selected reaction monitoring mode. Nephrology Dialysis Transplantation 27.4 (2011): 1324-1330.

[3]. Nosaka, Kazuo, et al. An adenosine deaminase inhibitor prevents puromycin aminonucleoside nephrotoxicity. Free Radical Biology and Medicine 22.4 (1997): 597-605.
质量控制
化学结构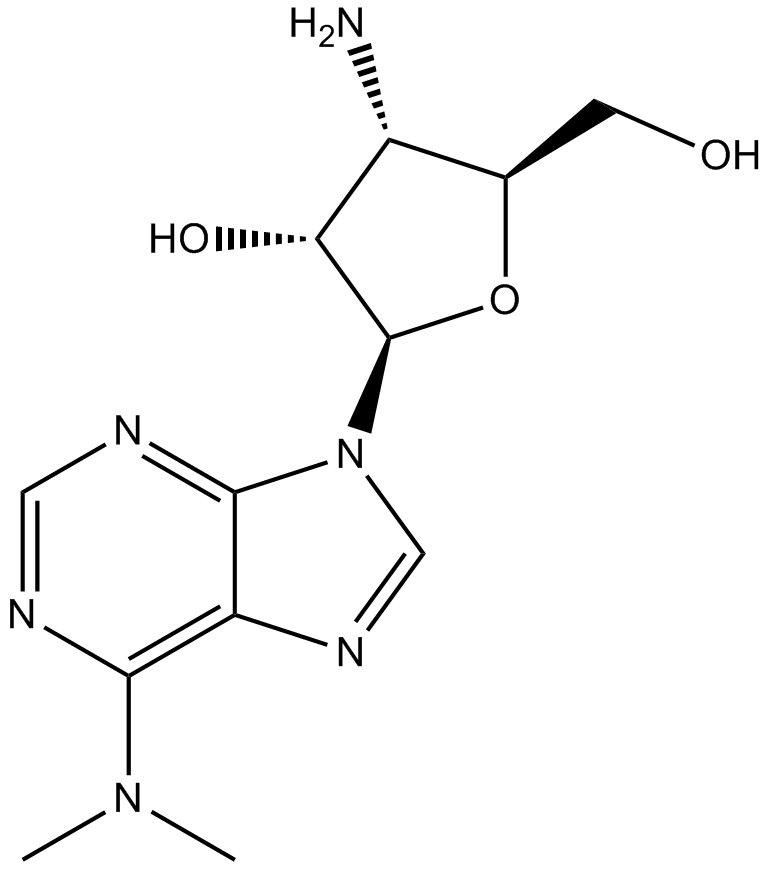 相关生物数据