Background
Oseltamivir is an inhibitor of influenza neuraminidase [1].
Oseltamivir is a prodrug that is converted by intestinal and/or hepatic esterases to the neuraminidase inhibitor molecule, oseltamivir carboxylate. Neuraminidase cleaves the terminal a-Neu5Ac residues from the newly synthesized virion progeny and let it elute from the infected cell and seek new host cells to infect. Oseltamivir efficiently block sialidase activity and significantly inhibit the releasing mechanism [1].
In the treatment of adults, oseltamivir reduces the time to first alleviation of symptoms and investigator mediated unverified pneumonia. In prophylaxis trials, oseltamivir reduced symptomatic influenza in participants by 55%. Oseltamivir also has some harm. Adults treated with oseltamivir are associated with an increased risk of nausea. And in prophylaxis trials there is an increased risk of headaches on-treatment [2].
As a neuraminidase inhibitor, the substitution of the amino acid histidine to tyrosine at position 275 (H275Y) in the neuraminidase gene of H1N1 can cause the resistance of oseltamivir [3].
References:
[1]. Enguang Feng, Deju Ye, Jian Li, Dengyou Zhang, Jinfang Wang, Fei Zhao, Rolf Hilgenfeld, Mingyue Zheng, Hualiang Jiang and Hong Liu. Recent Advances in Neuraminidase Inhibitor Development as Anti-influenza Drugs. Chem Med Chem, 2012, 7: 1527-1536.
[2]. Tom Jefferson reviewer, Mark Jones, Peter Doshi, Elizabeth A Spencer, Igho Onakpoya, Carl J Heneghan. Oseltamivir for influenza in adults and children: systematic review of clinical study reports and summary of regulatory comment. BMJ, 2014, 348: g2545.
[3]. Rashmi Dixit, Gulam Khandaker, Scott Ilgoutz, Harunor Rashid and Robert Booy. Emergence of Oseltamivir Resistance: Control and Management of Influenza before, during and after the Pandemic. Infectious Disorders-Drug Targets. 2013, 13 (1): 34-45.
文献引用
Chemical Properties
| | |
| --- | --- |
| Storage | Store at -20°C |
| M.Wt | 312.4 |
| Cas No. | 196618-13-0 |
| Formula | C16H28N2O4 |
| Synonyms | GS 4104; GOP-A-Flu; GS 4104; Tamiflu-Free; Tamvir |
| Solubility | ≥31.2 mg/mL in DMSO, ≥119.4 mg/mL in EtOH with gentle warming, ≥82 mg/mL in H2O with gentle warming |
| Chemical Name | ethyl (3R,4R,5S)-4-acetamido-5-amino-3-pentan-3-yloxycyclohexene-1-carboxylate |
| SDF | Download SDF |
| Canonical SMILES | CCC(CC)OC1C=C(CC(C1NC(=O)C)N)C(=O)OCC |
| 运输条件 | 试用装:蓝冰运输。 其他可选规格:常温运输或根据您的要求用蓝冰运输。 |
| 一般建议 | 为了使其更好的溶解,请用37℃加热试管并在超声波水浴中震动片刻。不同厂家不同批次产品溶解度各有差异,仅做参考。若实验所需浓度过大至产品溶解极限,请添加助溶剂助溶或自行调整浓度。 |
试验操作
细胞实验 [1]:

细胞系

MDA-MB-231和MCF-7细胞

制备方法

可溶于DMSO。若配制更高浓度的溶液,一般步骤如下:请将试管置于37℃加热10分钟和/或将其置于超声波浴中震荡一段时间。原液于-20℃可放置数月。

反应条件

500、600、700和800 μg/mL;24、48和72小时

实验结果

在MDA-MB-231和MCF-7细胞以及相应的长期耐Tamoxifen克隆中,于孵育72小时后,Oseltamivir治疗呈剂量依赖性地降低了EGF刺激活细胞以及细胞活力相关的唾液酸酶活性。相对于单一用药,1 μM Cisplatin、 5-FU、Paclitaxel、Gemcitabine或Tamoxifen和Oseltamivir (≥ 300 μg/ mL) 联合用药在第24、48和72小时显著降低细胞活力。

动物实验 [1]:

动物模型

携带MDA-MB-231细胞异位移植肿瘤的RAGxCγ双突变小鼠

给药剂量

30和50 mg/kg;腹腔注射

实验结果

与空白对照组相比,Oseltamivir治疗(30 mg/kg,每日1次,腹腔注射)减少肿瘤血管生成以及生长速度,同时显著降低了肿瘤重量以及肺部扩散。在剂量为50 mg/kg时,Oseltamivir完全阻断肿瘤血管生成、肿瘤生长以及肺部扩散。在移植后第180天,Oseltamivir显著延长小鼠的生存期。Oseltamivir使肿瘤体积缩小。停药56天后,肿瘤无复发。

其它注意事项

请于室内测试所有化合物的溶解度。虽然化合物的实际溶解度可能与其理论值略有不同,但仍处于实验系统误差的允许范围内。

References:

[1]. Haxho F, Allison S, Alghamdi F, Brodhagen L, Kuta VE, Abdulkhalek S, Neufeld RJ, Szewczuk MR. Oseltamivir phosphate monotherapy ablates tumor neovascularization, growth, and metastasis in mouse model of human triple-negative breast adenocarcinoma. Breast Cancer (Dove Med Press). 2014 Dec 9;6:191-203.
质量控制
化学结构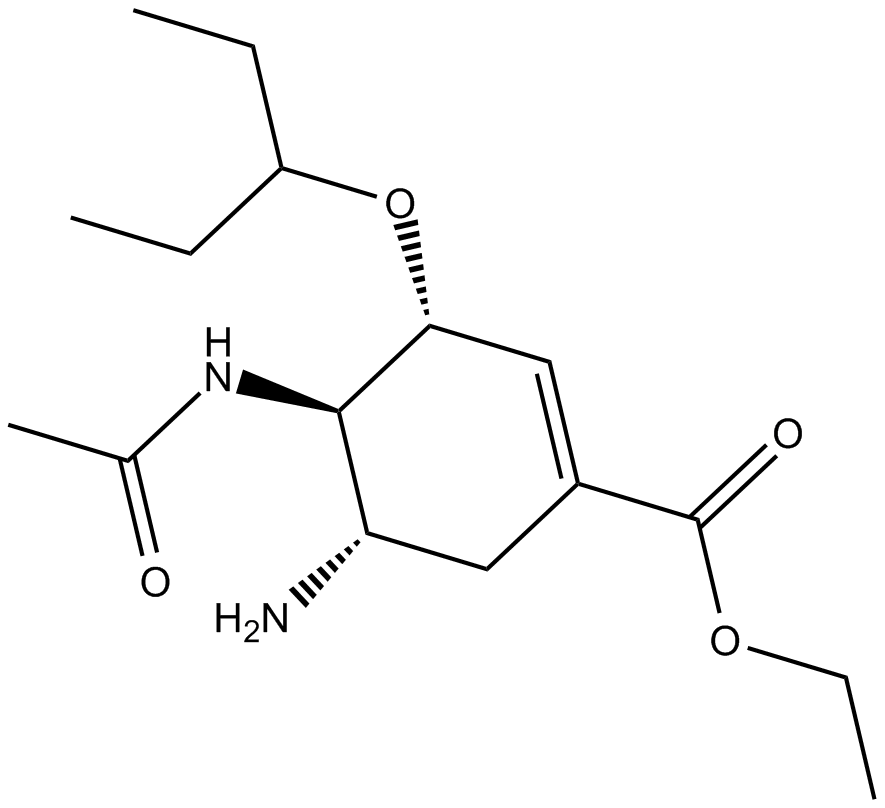 相关生物数据