Background
Caspofungin acetate(MK-0991), a new antifungal agent with minimal toxicity, inhibits synthesis of 1,3-β-D-glucan, an essential component of the fungal cell wall [1].
In vitro: Incubation ofA. fumigatuwith a single dose of caspofungin affected the same proportion of apical and subapical branching cells for up to 72 h.The cells at the active centers for new cell wall synthesis withinA. fumigateshyphae are killed when they are exposed to caspofungin [1]. Caspofungin acetate irreversibly inhibited the enzyme 1,3-β-D-glucan synthase, preventing the formation of glucan polymers and disrupting the integrity of the fungal cell wall. The elimination half-life of caspofungin acetate was 9-10 hours [2]. Caspofungin showed activity againstAspergillusspp. as well as a variety ofCandidaspp[3]. Growth kinetic studies of caspofungin acetate against Candida albicans and Candida tropicalis isolates showed that caspofungin acetate exhibited fungicidal activity (i.e., a 99% reduction in viability) within 3 to 7 h at concentrations ranging from 0.06 to 1 μg/ml (0.25 to 4 times the MIC)[4].The minimal inhibitory concentration for 90% inhibition of Candida species by caspofungin acetate were as follows:C. albicans 0.5 μg/mL (range, 0.25-0.5), C. glabrata 1.0 μg/mL (range, 0.25-2.0), C. tropicalis 1.0 μg/mL (range, 0.25-1.0), C. parapsilosis 0.5 μg/mL (range, 0.25-1.0), and C. krusei 2.0 μg/mL (range, 0.5-2.0)[4].
Clinical trials: In a trial of 128 patients with Candida esophagitis, clinical response rates were higher with caspofungin acetate 50 or 70 mg/day (85%) than with amphotericin B 0.5 mg/kg/day (67%)[2].
References:
[1]. Bowman J C, Hicks P S, Kurtz M B, et al. The antifungal echinocandincaspofungin acetate kills growing cells of Aspergillus fumigatus in vitro[J]. Antimicrobial agents and chemotherapy, 2002, 46(9): 3001-3012.
[2]. Hoang A. Caspofungin acetate: an antifungal agent[J]. American journal of health-system pharmacy, 2001, 58(13): 1206-1214.
[3]. Pacetti S A, Gelone S P. Caspofungin acetate for treatment of invasive fungal infections[J]. Annals of Pharmacotherapy, 2003, 37(1): 90-98.
[4]. Bartizal K, Gill C J, Abruzzo G K, et al. In vitro preclinical evaluation studies with the echinocandin antifungal MK-0991 (L-743,872)[J]. Antimicrobial Agents and Chemotherapy, 1997, 41(11): 2326-2332.
文献引用
Chemical Properties
| | |
| --- | --- |
| Physical Appearance | A solid |
| Storage | Store at -20°C |
| M.Wt | 1213.42 |
| Cas No. | 179463-17-3 |
| Formula | C56H96N10O19 |
| Solubility | ≥60.671mg/mL in DMSO |
| Chemical Name | acetic acid compound with (Z)-N-((2R,6S,7Z,9S,11R,12S,13E,14aS,15S,20S,21Z,23S,24Z,25aS)-20-((R)-3-amino-1-hydroxypropyl)-12-((2-aminoethyl)amino)-23-((1S,2S)-1,2-dihydroxy-2-(4-hydroxyphenyl)ethyl)-2,8,11,14,15,22,25-heptahydroxy-6-((R)-1-hydroxyethyl)-5 |
| SDF | Download SDF |
| Canonical SMILES | CCC(C)CC(C)CCCCCCCCC(=O)NC1CC(C(NC(=O)C2C(CCN2C(=O)C(NC(=O)C(NC(=O)C3CC(CN3C(=O)C(NC1=O)C(C)O)O)C(C(C4=CC=C(C=C4)O)O)O)C(CCN)O)O)NCCN)O.CC(=O)O.CC(=O)O |
| 运输条件 | 试用装:蓝冰运输。 其他可选规格:常温运输或根据您的要求用蓝冰运输。 |
| 一般建议 | 为了使其更好的溶解,请用37℃加热试管并在超声波水浴中震动片刻。不同厂家不同批次产品溶解度各有差异,仅做参考。若实验所需浓度过大至产品溶解极限,请添加助溶剂助溶或自行调整浓度。 |
试验操作
细胞实验 [1]:

细胞系

烟曲霉细胞

溶解方法

该化合物在DMSO中的溶解度> 10 mM。若配制更高浓度的溶液,一般步骤如下:请将试管置于37℃加热10分钟和/或将其置于超声波浴中震荡一段时间。原液于-20℃可放置数月。

反应时间

32 μg/ml 处理6小时; 或2 μg/ ml处理12小时

应用

Caspofungin抑制细胞壁β-1,3-葡聚糖的合成,其引发对几丁质合成的补偿性刺激。Caspofungin诱导烟曲霉的形态学变化。此外,Caspofungin处理烟曲霉诱导ChsG依赖性几丁质合成的上调和富含几丁质的小菌落的形成。

References:

1Walker, L. A., Lee, K. K., Munro, C. A. and Gow, N. A. (2015) Caspofungin Treatment of Aspergillus fumigatus Results in ChsG-Dependent Upregulation of Chitin Synthesis and the Formation of Chitin-Rich Microcolonies. Antimicrob Agents Chemother. 59, 5932-5941
质量控制
化学结构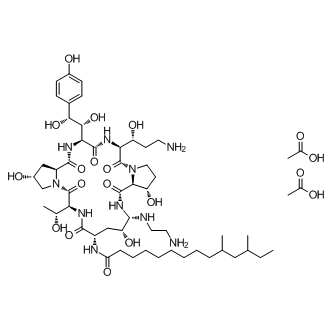 相关生物数据