质量控制
化学结构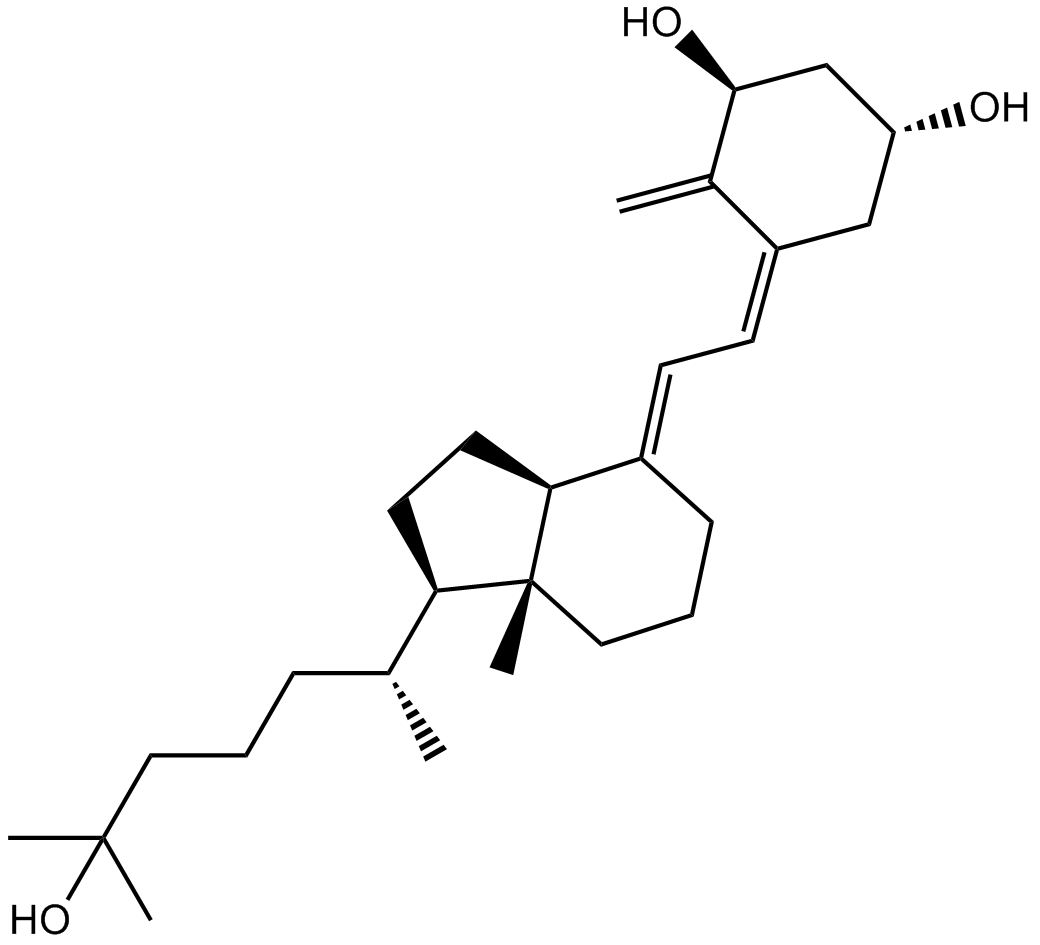 化学性质
CAS号
32222-06-3
SDF
Download SDF
化学名
(1R,3S,5Z)-5-[(2E)-2-[(1R,3aS,7aR)-1-[(2R)-6-hydroxy-6-methylheptan-2-yl]-7a-methyl-2,3,3a,5,6,7-hexahydro-1H-inden-4-ylidene]ethylidene]-4-methylidenecyclohexane-1,3-diol
SMILES
CC(CCCC(C)(C)O)C1CCC2C1(CCCC2=CC=C3CC(CC(C3=C)O)O)C
分子式

C27H44O3

分子量

416.64

溶解度
≥20.832mg/mL in DMSO
储存条件
Store at -20°C
物理性状
A solid
运输条件
试用装:蓝冰运输。
其他可选规格:常温运输或根据您的要求用蓝冰运输。
一般建议
为了使其更好的溶解,请用37℃加热试管并在超声波水浴中震动片刻。不同厂家不同批次产品溶解度各有差异,仅做参考。若实验所需浓度过大至产品溶解极限,请添加助溶剂助溶或自行调整浓度。
实验操作
细胞实验[1]:

细胞系

基底细胞癌(BBC)细胞系ASZ001

溶解方法

在DMSO中的溶解度大于20.8mg/mL。为了获得更高的浓度,可以将离心管在37℃加热10分钟和/或在超声波浴中震荡一段时间。原液可以在-20℃以下储存几个月。

反应条件

10 nM,48 h

应用

在BCC ASZ001细胞中,calcitriol显著抑制Hh信号通路,激活Vdr信号通路。Calcitriol抑制细胞增殖,但是caspase 3/7的活性没有变化,所以其对凋亡没有影响。

临床实验[2]:

临床样本

11-35岁的近期发病1型糖尿病病人

剂量

每天0.25 μg,持续2年

应用

在6,12和24个月,calcitriol组和安慰剂组的A1C,C肽和胰岛素需求值没有区别。这些结果表明,所使用剂量的calcitriol不能保护具有高C肽的近期发病1型糖尿病病人的β细胞功能。

注意事项

请测试所有化合物在室内的溶解度,实际溶解度和理论值可能略有不同。这是由实验系统的误差引起的,属于正常现象。

References:

[1]. Uhmann A, Niemann H, Lammering B, et al. Antitumoral effects of calcitriol in basal cell carcinomas involve inhibition of hedgehog signaling and induction of vitamin D receptor signaling and differentiation[J]. Molecular cancer therapeutics, 2011, 10(11): 2179-2188.

[2]. Bizzarri C, Pitocco D, Napoli N, et al. No Protective Effect of Calcitriol on β-Cell Function in Recent-Onset Type 1 Diabetes[J]. Diabetes care, 2010, 33(9): 1962-1963.
产品描述
Calcitriol是维生素D的一种形式,可转变成比其他形式的维生素D更有效和速效的代谢产物[1]。
Calcitriol通过调控细胞免疫系统的分化、生长和功能,在矿物质和骨骼稳态方面扮演重要角色。体外研究显示,calcitriol在人外周血细胞(PBMC)中可剂量依赖地抑制LPS诱发的肿瘤坏死因子-α(TNF-α)和白细胞介素-1β(IL-1β)的产生。此外,在体内实验中,calcitriol也可显著地降低TNF-α和IL-1β的基底透析增加。除此之外,calcitriol也被报道可通过对钙和PTH代谢的直接作用,调节细胞因子的生成[2]。
参考文献:
[1] Holick MF, Schnoes HK, DeLuca HF. Identification of 1,25-dihydroxycholecalciferol, a form of vitamin D3 metabolically active in the intestine. Proc Natl Acad Sci U S A. 1971 Apr;68(4):803-4.
[2] Panichi V1, De Pietro S, Andreini B, Bianchi AM, Migliori M, Taccola D, Giovannini L, Tetta C, Palla R. Calcitriol modulates in vivo and in vitro cytokine production: a role for intracellular calcium. Kidney Int. 1998 Nov;54(5):1463-9.