Background
CA-074, a specific cathepsin B inhibitor, also abolished the neurotoxic effects caused by Abeta42-activated BV2 cell [1]. Co-treatment of cultures with the cathepsin B inhibitors CA-074 or Z-FA-FMK suppressed the cytostatic effects of TPA and activation of pro-uPA [2]. Administration of CA-074 suppresses the response to exogenous antigens, such as hepatitis B virus antigen, ovalbumin and Leishmania major antigen, and induces switching of the helper T cell responses from Th-2 to Th-1 of CD4+ T cell, thereby down regulating the production of IgE and IgG1 [3]. Pharmacological inhibition of cat B in catB(+/+) mice with L-3-trans-(propylcarbamoyl)oxirane-2-carbonyl-Lisoleucyl-L-proline (CA-074 Me) also reduced TNF-alpha-induced liver damage. [4] Administration of cathepsin B inhibitors, E-64, CA-074 and vitamin B6, caused the strong suppression of the Th-2 type immune responses .
Inhibitor of cathepsin B (Ki = 2-5 nM). Displays selectivity over cathepsins H and L (Ki = 40-200 μM). Shown to reduce bone metastasis in a 4T1.2 breast cancer model.
References:
1. Identification of cathepsin B as a mediator of neuronal death induced by Abeta-activated microglial cells using a functional genomics approach. Gan, L., Ye, S., Chu, A., Anton, K., Yi, S., Vincent, V.A., von Schack, D., Chin, D., Murray, J., Lohr, S., Patthy, L., Gonzalez-Zulueta, M., Nikolich, K., Urfer, R. J. Biol. Chem. (2004)
2. Phorbol ester activation of a proteolytic cascade capable of activating latent transforming growth factor-betaL a process initiated by the exocytosis of cathepsin B. Guo, M., Mathieu, P.A., Linebaugh, B., Sloane, B.F., Reiners, J.J. J. Biol. Chem. (2002)
3. Insights into the roles of cathepsins in antigen processing and presentation revealed by specific inhibitors. Katunuma, N., Matsunaga, Y., Himeno, K., Hayashi, Y. Biol. Chem. (2003)
4. Cathepsin B knockout mice are resistant to tumor necrosis factor-alpha-mediated hepatocyte apoptosis and liver injury: implications for therapeutic applications. Guicciardi, M.E., Miyoshi, H., Bronk, S.F., Gores, G.J. Am. J. Pathol. (2001)
文献引用
Chemical Properties
| | |
| --- | --- |
| Storage | Store at -20°C |
| M.Wt | 383.44 |
| Cas No. | 134448-10-5 |
| Formula | C18H29N3O6 |
| Synonyms | CA-074,CA074 |
| Solubility | ≥19.17mg/mL in DMSO |
| Chemical Name | (2S)-1-[(2S,3S)-3-methyl-2-[[(3S)-3-(propylcarbamoyl)oxirane-2-carbonyl]amino]pentanoyl]pyrrolidine-2-carboxylic acid |
| SDF | Download SDF |
| Canonical SMILES | CCCNC(=O)C1C(O1)C(=O)NC(C(C)CC)C(=O)N2CCCC2C(=O)O |
| 运输条件 | 试用装:蓝冰运输。 其他可选规格:常温运输或根据您的要求用蓝冰运输。 |
| 一般建议 | 为了使其更好的溶解,请用37℃加热试管并在超声波水浴中震动片刻。不同厂家不同批次产品溶解度各有差异,仅做参考。若实验所需浓度过大至产品溶解极限,请添加助溶剂助溶或自行调整浓度。 |
试验操作
细胞实验[1]:

细胞系

人类脐静脉内皮细胞(HUVECs)

溶解方法

该化合物在DMSO中的溶解度大于10 mM。若配制更高浓度的溶液,一般步骤如下:请将试管置于37℃加热10分钟和/或将其置于超声波浴中震荡一段时间。原液于-20℃可放置数月。

反应条件

24 h;10 mM

实验结果

CA-074是组织蛋白酶B的特异性抑制剂,10 mM的CA-074对HUVEC细胞活力的影响为96.9±1.2%,其膜可渗透类似物CA-074-Me对HUVEC细胞活力的影响为101.7±0.4%,可忽略不计,类似于10mM米诺环素的效果(102.3±2.6%)。

动物实验[2]:

动物模型

雌性Balb/c小鼠

剂量

50 mg/kg;腹膜内注射

实验结果

为了测试半胱氨酸蛋白酶抑制剂的在体疗效,我们使用选择性CA-074抑制剂治疗4T1.2肿瘤小鼠。抑制剂对4T1.2荷瘤小鼠的原发性肿瘤生长没有影响。然而,转移分析显示化合物之间存在显著差异。CA-074显著减少转移到肺(P < 0.05)和骨(P <0.05)的肿瘤细胞。

注意事项

请测试所有化合物在室内的溶解度,实际溶解度和理论值可能略有不同。这是由实验系统的误差引起的,属于正常现象。

References:

[1] Premzl A, Turk V, Kos J. Intracellular proteolytic activity of cathepsin B is associated with capillary‐like tube formation by endothelial cells in vitro[J]. Journal of cellular biochemistry, 2006, 97(6): 1230-1240.

[2] Withana N P, Blum G, Sameni M, et al. Cathepsin B inhibition limits bone metastasis in breast cancer[J]. Cancer research, 2012, 72(5): 1199-1209.
生物活性
CA 074是一种组织蛋白酶B(Cathepsin B)抑制剂(Ki = 2-5 nM),比对组织蛋白酶H和L的选择性高(Ki = 40-200 μM),可减少4T1.2乳腺癌模型中的骨转移。
靶点
cathepsin B
Ki
2-5nM
质量控制
化学结构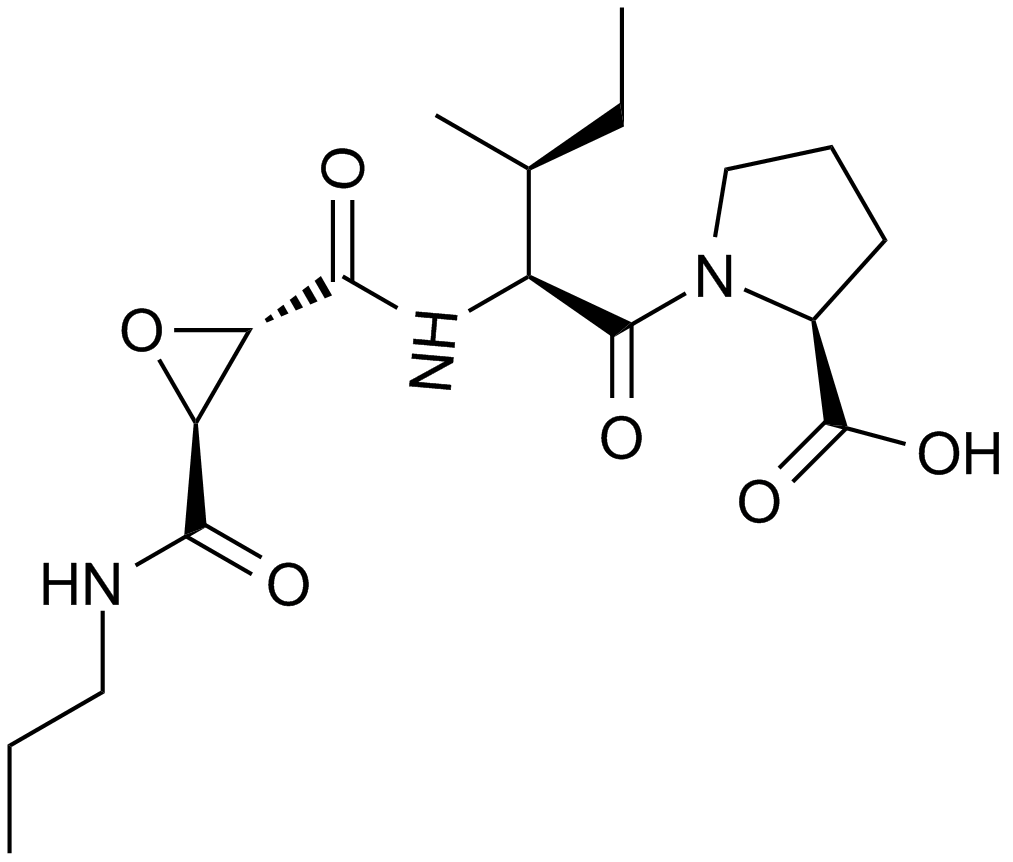 相关生物数据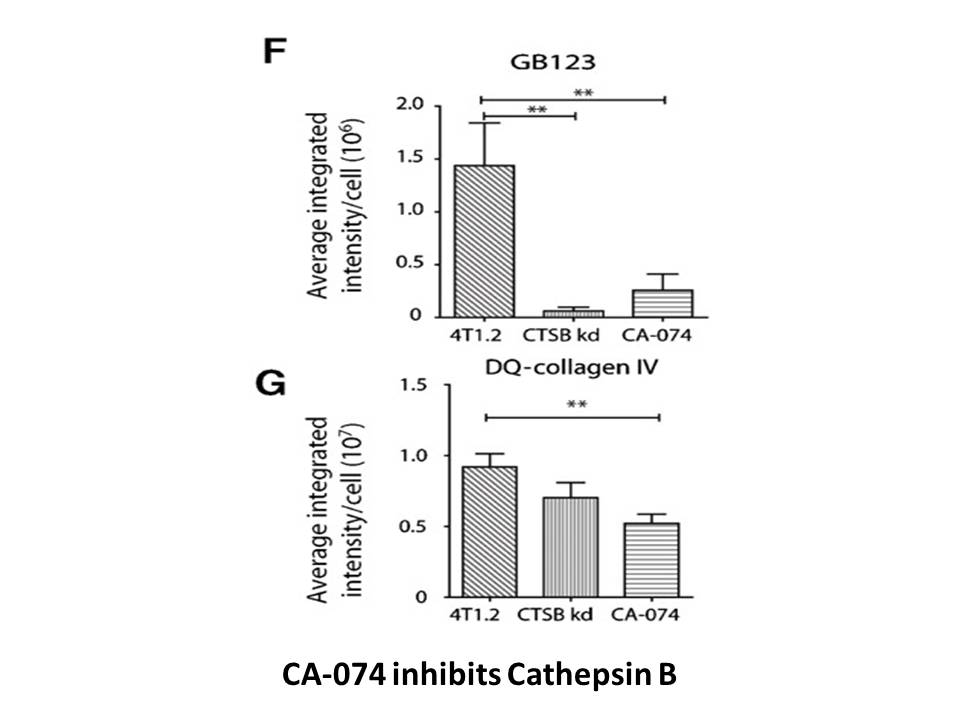 相关生物数据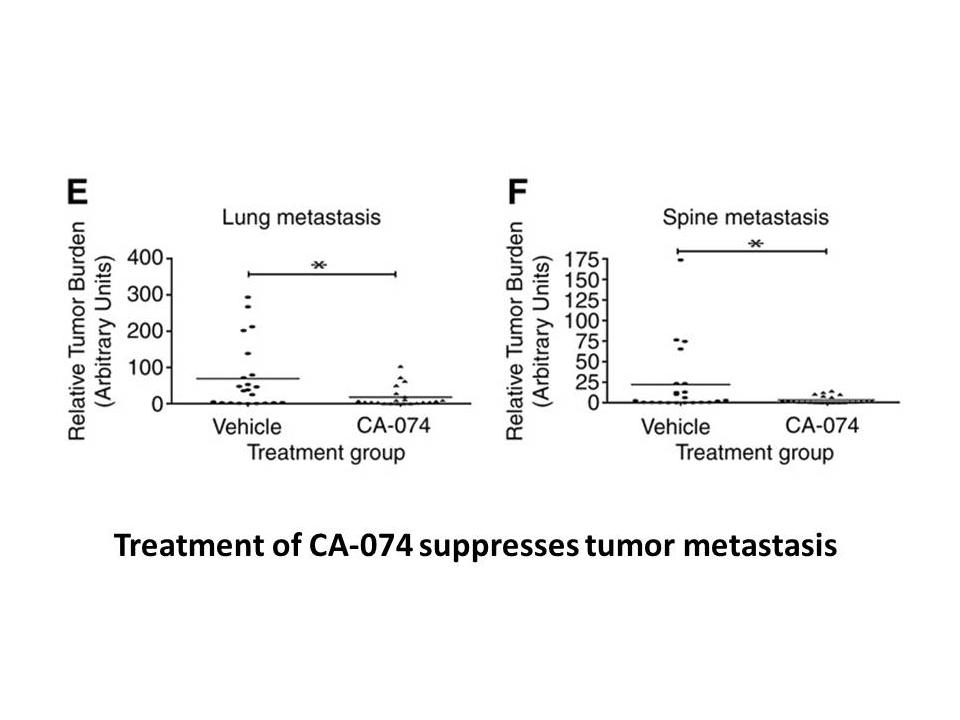 相关生物数据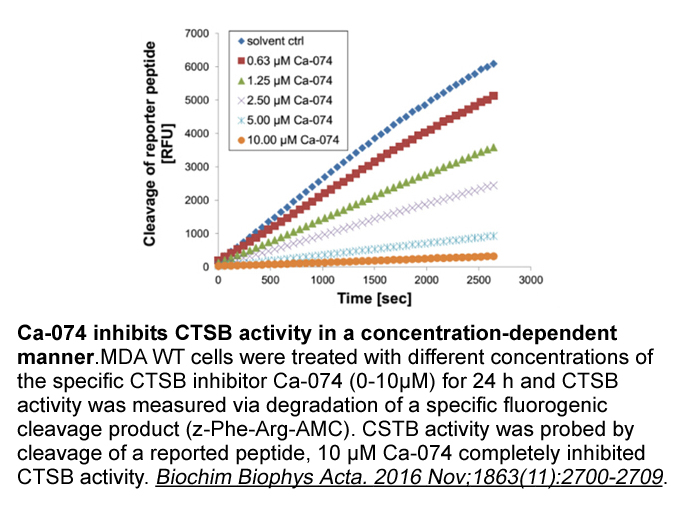 相关生物数据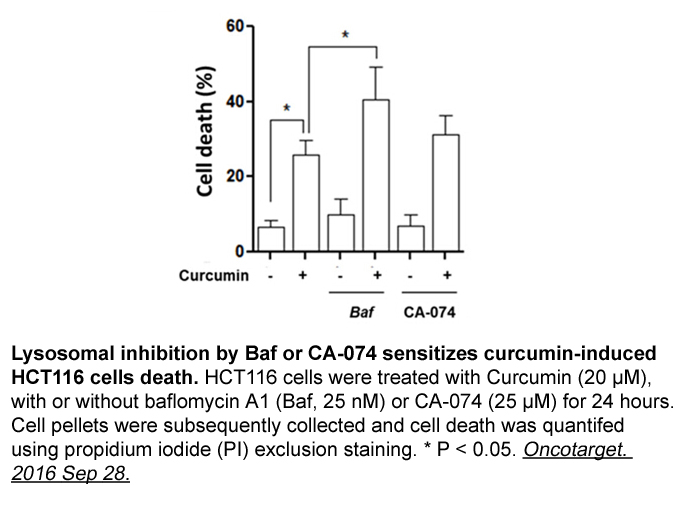 相关生物数据