Background
CA-074 Me is a membrane-permeable and selective inhibitor of cathepsin B with IC50 value of 36.3 nM [1, 2].
CA-074 Me is a methyl ester derivative of CA-074. In cultured human gingival fibroblasts, CA-074 Me exerted a 95% inhibition of cathepsin B and partial inhibition (54%) of the combined activities of cathepsins B and L. CA-074 Me was also found to inhibit cathespin L under reducing conditions. It inhibited the activity of purified human cathepsin L by more than 90% when the enzyme had been pre-incubated with 1.4 mM DTT or 4.2 mM GSH for 2 hours. Besides that, CA-074 Me completely inhibited cathepsin B in the presence of 1.4 mM DTT [2, 3].
References:
[1] Wu X, Zhang L, Gurley E, et al. Prevention of free fatty acid–induced hepatic lipotoxicity by 18β-glycyrrhetinic acid through lysosomal and mitochondrial pathways. Hepatology, 2008, 47(6): 1905-1915.
[2] Steverding D. The cathepsin B-selective inhibitors CA-074 and CA-074Me inactivate cathepsin L under reducing conditions. Open Enzyme Inhibition Journal, 2011, 4: 11-16.
[3] Buttle D J, Murata M, Knight C G, et al. CA074 methyl ester: a proinhibitor for intracellular cathepsin B. Archives of biochemistry and biophysics, 1992, 299(2): 377-380.
文献引用
Chemical Properties
| | |
| --- | --- |
| Physical Appearance | A yellow oil |
| Storage | Store at -20°C |
| M.Wt | 397.5 |
| Cas No. | 147859-80-1 |
| Formula | C19H31N3O6 |
| Solubility | ≥19.875mg/mL in DMSO, ≥51.5 mg/mL in EtOH with ultrasonic, <2.53 mg/mL in H2O |
| Chemical Name | methyl (2S)-1-[(2S)-3-methyl-2-[[(2S,3S)-3-(propylcarbamoyl)oxirane-2-carbonyl]amino]pentanoyl]pyrrolidine-2-carboxylate |
| SDF | Download SDF |
| Canonical SMILES | CCCNC(=O)C1C(O1)C(=O)NC(C(C)CC)C(=O)N2CCCC2C(=O)OC |
| 运输条件 | 试用装:蓝冰运输。 其他可选规格:常温运输或根据您的要求用蓝冰运输。 |
| 一般建议 | 为了使其更好的溶解,请用37℃加热试管并在超声波水浴中震动片刻。不同厂家不同批次产品溶解度各有差异,仅做参考。若实验所需浓度过大至产品溶解极限,请添加助溶剂助溶或自行调整浓度。 |
试验操作
细胞实验[1]:

细胞系

McNtcp.24细胞

溶解方法

在DMSO中的溶解度>10 mM。为了获得更高的浓度,可以将离心管在37℃加热10分钟和/或在超声波浴中震荡一段时间。原液可以在-20℃以下储存几个月。

反应条件

0.1 µM,2小时

应用

在0.1 ?M CA-074 Me缺乏或存在时,细胞在单独培养基或含有50 ?M GCDC的培养基中培养。2小时孵育后对细胞凋亡进行定量。在McNtcp.24细胞中,组织蛋白酶B(cathepsin B)的抑制剂CA-074 Me减少GCDC介导的组织蛋白酶B活性的增加和细胞凋亡。该结果证实,在原代大鼠肝细胞中,组织蛋白酶B活性增加并有助于胆汁盐介导的细胞凋亡。

动物实验[2]:

动物模型

CatB+/+ 小鼠

剂量

4 mg/100 g;腹腔注射

应用

与注射生理盐水的对照小鼠相比,CA-074 Me预处理的catB+/+小鼠中TNF-α治疗后血清ALT的水平显著降低,肝组织结构得以保留,只有中度损伤。这些结果表明,药理学抑制cat B(组织蛋白酶B)的活性可能部分衰减TNF-α诱导的肝损伤。

注意事项

请测试所有化合物在室内的溶解度,实际溶解度和理论值可能略有不同。这是由实验系统的误差引起的,属于正常现象。

References:

[1] Faubion W A, Guicciardi M E, Miyoshi H, et al. Toxic bile salts induce rodent hepatocyte apoptosis via direct activation of Fas. The Journal of clinical investigation, 1999, 103(1): 137-145.

[2] Guicciardi M E, Miyoshi H, Bronk S F, et al. Cathepsin B knockout mice are resistant to tumor necrosis factor-α-mediated hepatocyte apoptosis and liver injury: implications for therapeutic applications. The American journal of pathology, 2001, 159(6): 2045-2054.
生物活性
描述
CA-074 Me是一种细胞通透性的cathepsin B抑制剂。
靶点
cathepsin B
IC50
2.2 nM
质量控制
化学结构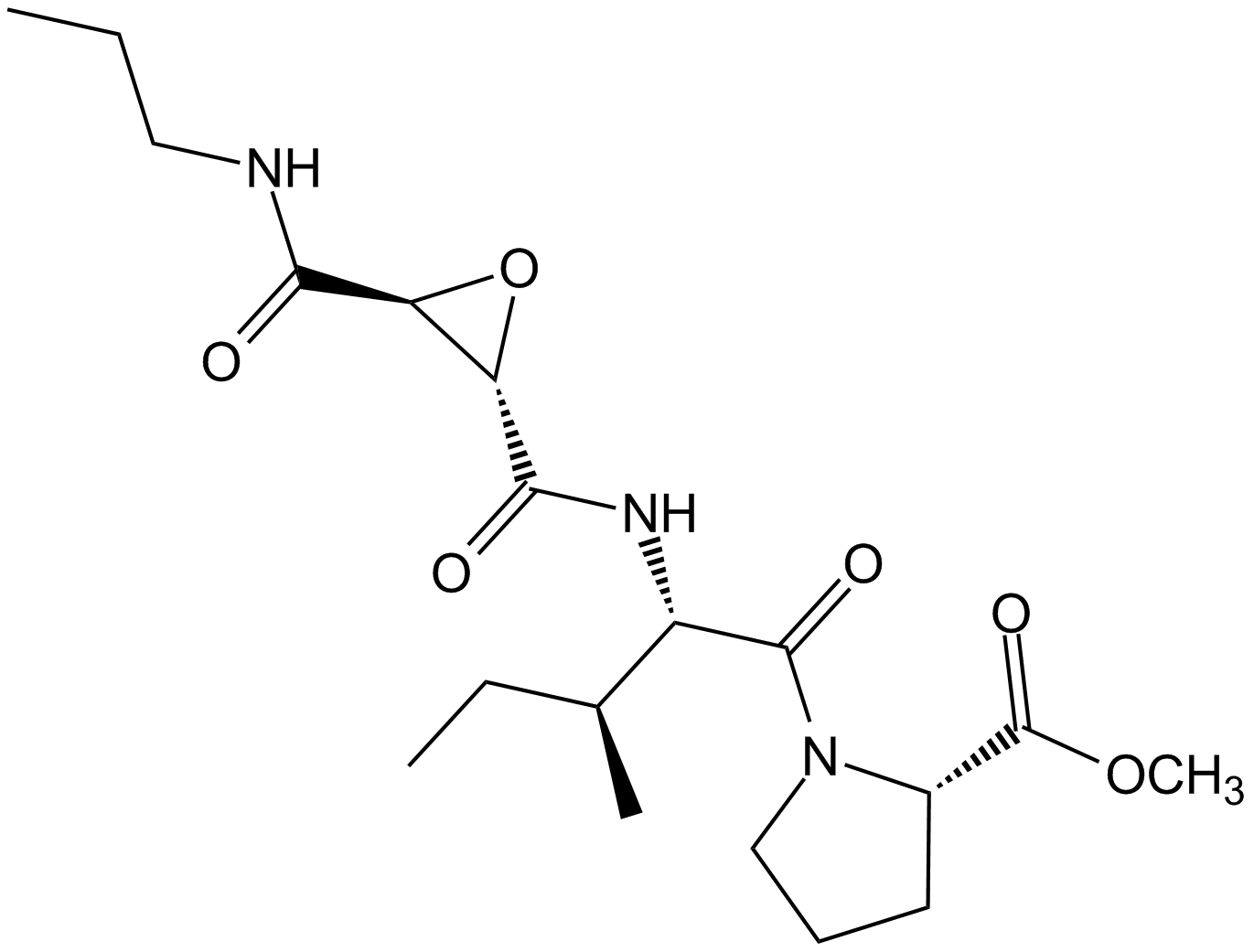 相关生物数据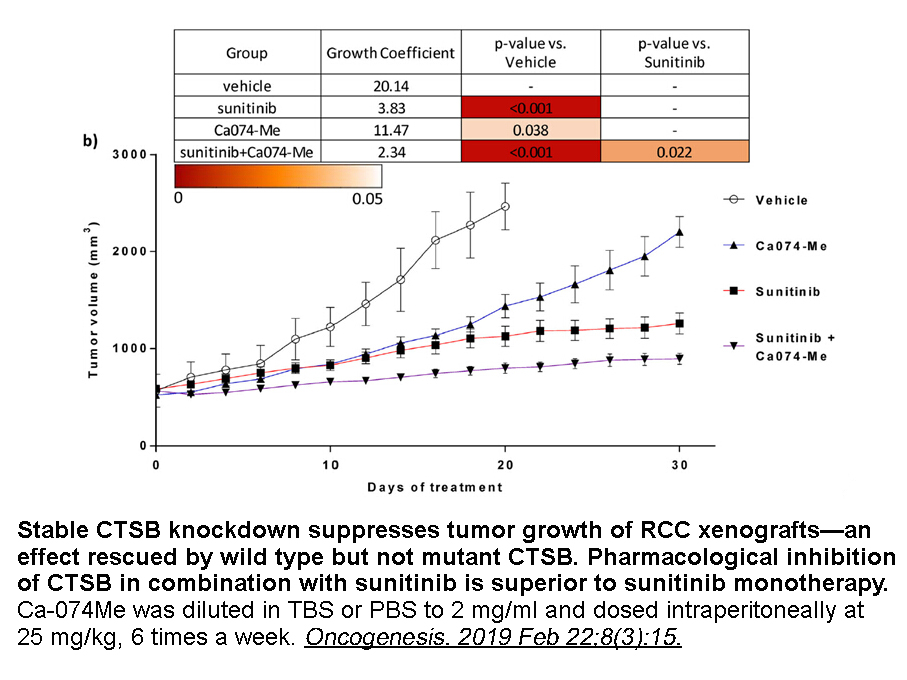 相关生物数据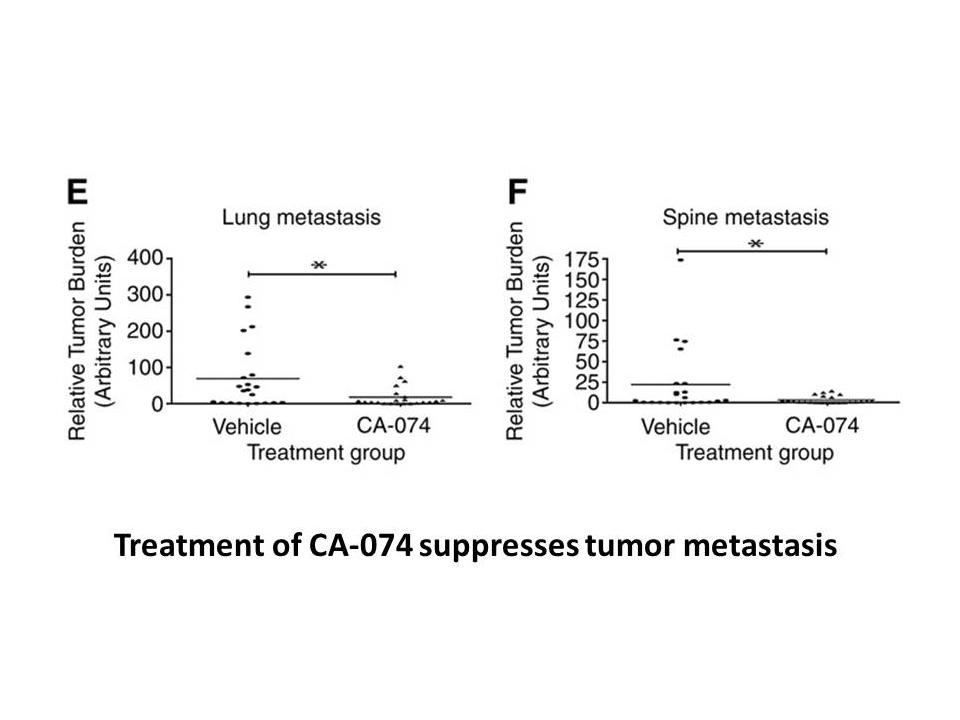 相关生物数据
相关生物数据
Related Biological Data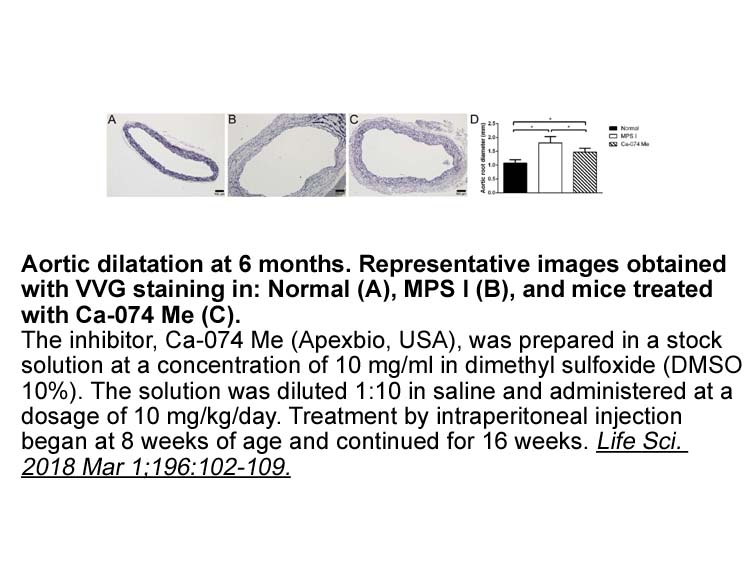 Related Biological Data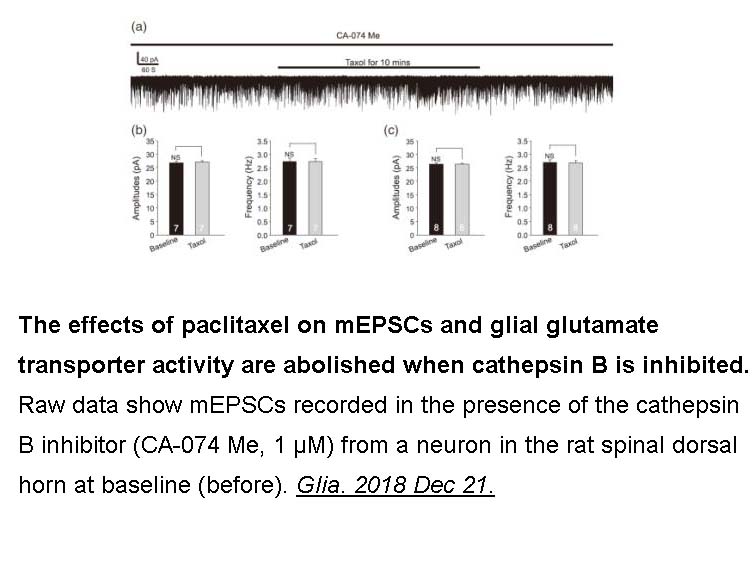 Related Biological Data