质量控制
化学结构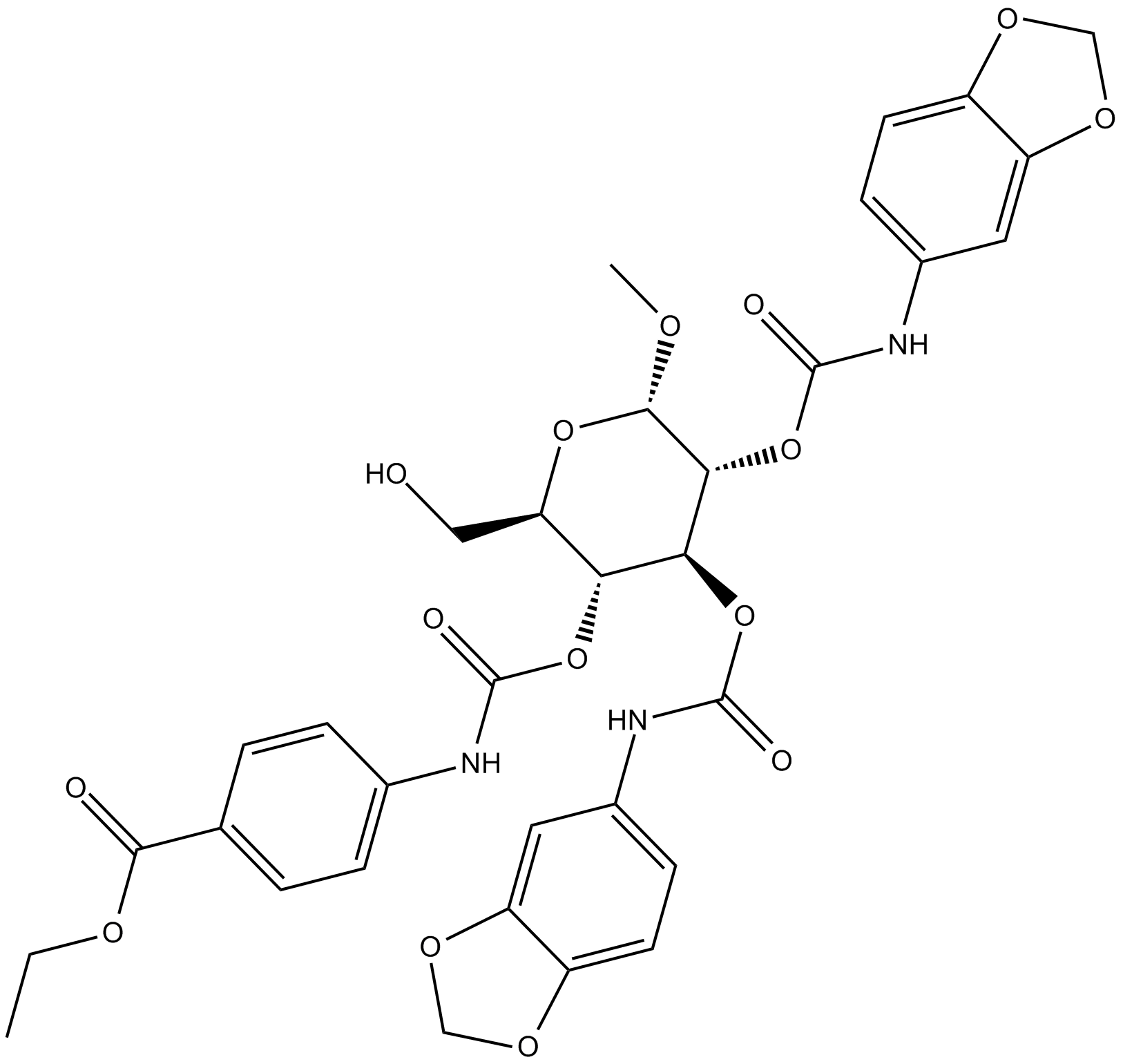 化学性质
CAS号
1137359-47-7
SDF
Download SDF
化学名
ethyl 4-(((((2R,3R,4S,5R,6S)-4,5-bis((benzo[d][1,3]dioxol-5-ylcarbamoyl)oxy)-2-(hydroxymethyl)-6-methoxytetrahydro-2H-pyran-3-yl)oxy)carbonyl)amino)benzoate
SMILES
O=C(OCC)C1=CC=C(NC(O[C@@H]2[C@@H](CO)O[C@H](OC)[C@H](OC(NC3=CC=C(OCO4)C4=C3)=O)[C@H]2OC(NC5=CC=C(OCO6)C6=C5)=O)=O)C=C1
分子式
C33H33N3O15
分子量

711.63

溶解度
≥71.2mg/mL in DMSO
储存条件
Store at -20°C
物理性状
A solid
运输条件
试用装:蓝冰运输。
其他可选规格:常温运输或根据您的要求用蓝冰运输。
一般建议
为了使其更好的溶解,请用37℃加热试管并在超声波水浴中震动片刻。不同厂家不同批次产品溶解度各有差异,仅做参考。若实验所需浓度过大至产品溶解极限,请添加助溶剂助溶或自行调整浓度。
产品描述
BRD7552是胰腺十二指肠同源框1(PDX1)的诱导剂[1] [2]。
PDX1是包含同源结构域的转录因子家族的成员。它是一个关键的转录因子,对成熟β细胞的功能和胰腺发育至关重要[1]。PDX1是β细胞转分化的一个主调节转录因子[2]。
在人类细胞中,BRD7552通过表观遗传学改变PDX1启动子区域,上调PDX1的表达[3]。在基于细胞的表型筛选试验中,BRD7552被发现是PDX1的诱导剂,它被用来诱导PDX1的表达。在PANC-1细胞中,BRD7552上调PDX1的mRNA和蛋白质水平。BRD7552在PDX1启动子区域改变表观遗传标记,这与转录激活一致。在PANC-1细胞培养中,BRD7552部分补充PDX1,增强引入三种基因诱导的胰岛素表达[2]。在PANC-1细胞中,BRD7552处理9天,剂量依赖性增加胰岛素mRNA表达。在原代人胰岛细胞5个供体样本中的三个中,BRD7552治疗3或5天剂量依赖性地显著诱导PDX1,治疗5天后显著诱导胰岛素[1]。在人PANC-1导管细胞系中,BRD7552能够诱导PDX1的表达[4]。
目前没有可用的在体实验数据。
参考文献:
[1]. Yuan Y, Hartland K, Boskovic Z, et al. A small-molecule inducer of PDX1 expression identified by high-throughput screening[J]. Chemistry & biology, 2013, 20(12): 1513-1522.
[2]. Yuan Y. Small-Molecule Modulators of Pancreatic Ductal Cells: Histone Methyltransferases and β-Cell Transdifferentiation [D]. 2013.
[3]. Zhao Y. Developing Therapies with Functional Beta Cells to Treat Diabetes[J]. International Journal of Translational Science, 2015, 1: 41-66.
[4]. Fodor A, Cozma A, Karnieli E. Personalized epigenetic management of diabetes[J]. Personalized Medicine, 2015, 12(5): 497-514.