Background
EC50: 18 nM for TNF-α in THP-1 cells
The signal transduction pathway leading to the production of TNF-α from stimulated inflammatory cells, while not fully understood, has been shown to be partially regulated by p38 mitogen activated protein (MAP) kinase. The p38 MAP kinase plays a crucial role in regulating the production of proinflammatory cytokines. Blocking this kinase may offer an effective therapy for the treatment of many inflammatory diseases. BIRB 796 is a highly potent inhibitor of p38 MAPK.
In vitro: BIRB 796 is a picomolar inhibitor of human p38 MAP kinase with a 12,000-fold increase in binding affinity. Moreover, BIRB 796 behavors as one of the most potent and slowest dissociating human p38 MAP kinase inhibitors now known [1].
In vivo: In a LPS-stimulated TNF-α synthesis mouse model, a 65% inhibition of TNF-α synthesis was observed when BIRB 796 was dosed orally at 10 mg/kg. In a model of established collagen-induced arthritis using B10.RIII mice, BIRB 796 showed a 63% inhibition of arthritis severity when dosed orally at 30 mg/kg qd [2].
Clinical trial: No clinical efficacy (Crohn's Disease Endoscopic Index of Severity) was seen for BIRB 796 in comparison with placebo. A significant and dose-dependent decrease of C-reactive protein level was seen transiently after BIRB 796 after 1 week with a return to baseline level over time [3].
References:
[1] Pargellis C, Tong L, Churchill L, Cirillo PF, Gilmore T, Graham AG, Grob PM, Hickey ER, Moss N, Pav S, Regan J.  Inhibition of p38 MAP kinase by utilizing a novel allosteric binding site. Nat Struct Biol. 2002 Apr;9(4):268-72.
[2] Regan J, Breitfelder S, Cirillo P, Gilmore T, Graham AG, Hickey E, Klaus B, Madwed J, Moriak M, Moss N, Pargellis C, Pav S, Proto A, Swinamer A, Tong L, Torcellini C.  Pyrazole urea-based inhibitors of p38 MAP kinase: from lead compound to clinical candidate. J Med Chem. 2002 Jul 4;45(14):2994-3008.
[3] Schreiber S, Feagan B, D'Haens G, Colombel JF, Geboes K, Yurcov M, Isakov V, Golovenko O, Bernstein CN, Ludwig D, Winter T, Meier U, Yong C, Steffgen J; BIRB 796 Study Group.  Oral p38 mitogen-activated protein kinase inhibition with BIRB 796 for active Crohn's disease: a randomized, double-blind, placebo-controlled trial. Clin Gastroenterol Hepatol. 2006 Mar;4(3):325-34.

文献引用
Chemical Properties
| | |
| --- | --- |
| Physical Appearance | A solid |
| Storage | Store at -20°C |
| M.Wt | 527.66 |
| Cas No. | 285983-48-4 |
| Formula | C31H37N5O3 |
| Solubility | ≥26.4mg/mL in DMSO, ≥11.24 mg/mL in EtOH with ultrasonic, <2.96 mg/mL in H2O |
| Chemical Name | 1-[5-tert-butyl-2-(4-methylphenyl)pyrazol-3-yl]-3-[4-(2-morpholin-4-ylethoxy)naphthalen-1-yl]urea |
| SDF | Download SDF |
| Canonical SMILES | CC1=CC=C(C=C1)N2C(=CC(=N2)C(C)(C)C)NC(=O)NC3=CC=C(C4=CC=CC=C43)OCCN5CCOCC5 |
| 运输条件 | 试用装:蓝冰运输。 其他可选规格:常温运输或根据您的要求用蓝冰运输。 |
| 一般建议 | 为了使其更好的溶解,请用37℃加热试管并在超声波水浴中震动片刻。不同厂家不同批次产品溶解度各有差异,仅做参考。若实验所需浓度过大至产品溶解极限,请添加助溶剂助溶或自行调整浓度。 |
试验操作
细胞实验: [1]

细胞系

MM.1S细胞

制备方法

该化合物在DMSO中的溶解度大于10 mM,若配制更高浓度的溶液,一般步骤如下:请将试管置于37℃加热10分钟和/或将其置于超声波浴中震荡一段时间。原液于-20℃可放置数月。

反应条件

400 nM,24 hours

实验结果

BIRB 796抑制MM.1S细胞中Dex诱导的p38 MAPK和Hsp27的磷酸化和基线水平。在24-72小时,单独给予Dex强烈抑制MM.1S细胞增殖,BIRB 796显著增强其生长抑制作用。细胞周期分析表明BIRB 796通过增强凋亡进而增强Dex介导的生长抑制(Sub-G1部分:对照组为6.1%,单独的BIRB 796为8.0%,单独的Dex组为34.7%,BIRB 796和Dex共同作用为 45.7%)。

动物实验: [2]

动物模型

雄性Crlj:CD1(ICR)小鼠

给药剂量

口服,250、500 或1000 mg/kg

实验结果

为了表征肝毒性的作用机制,使用从BIRB-796处理的小鼠的肝脏制备的总RNA进行毒性基因组分析。在250、500和1000mg/kg剂量BIRB-796下,多种基因被上调或下调,包括α-2-HS-糖蛋白、载脂蛋白A-IV、CD5样抗原,组织蛋白酶S等。

注意事项

请于室内测试所有化合物的溶解度。虽然化合物的实际溶解度可能与其理论值略有不同,但仍处于实验系统误差的允许范围内。

References:

[1] Yasui H, Hideshima T, Ikeda H, et al. BIRB 796 enhances cytotoxicity triggered by bortezomib, heat shock protein (Hsp) 90 inhibitor, and dexamethasone via inhibition of p38 mitogen-activated protein kinase/Hsp27 pathway in multiple myeloma cell lines and inhibits paracrine tumour growth. British journal of haematology, 2007, 136(3): 414-423.

[2] Iwano S, Asaoka Y, Akiyama H, et al. A possible mechanism for hepatotoxicity induced by BIRB-796, an orally active p38 mitogen-activated protein kinase inhibitor. Journal of Applied Toxicology, 2011, 31(7): 671-677.
生物活性
描述
BIRB 796(Doramapimod)是一种高选择性的MAPK p38α抑制剂,其Kd值为0.1 nM,相比JNK2选择性高330倍,对c-RAF、Fyn和Lck抑制能力弱,对ERK-1、SYK、IKK2、ZAP-70、EGFR、HER2、PKA、PKC、PKCα/β/γ无抑制能力。
靶点
p38α MAPK
IC50
0.1 nM (Kd)
质量控制
化学结构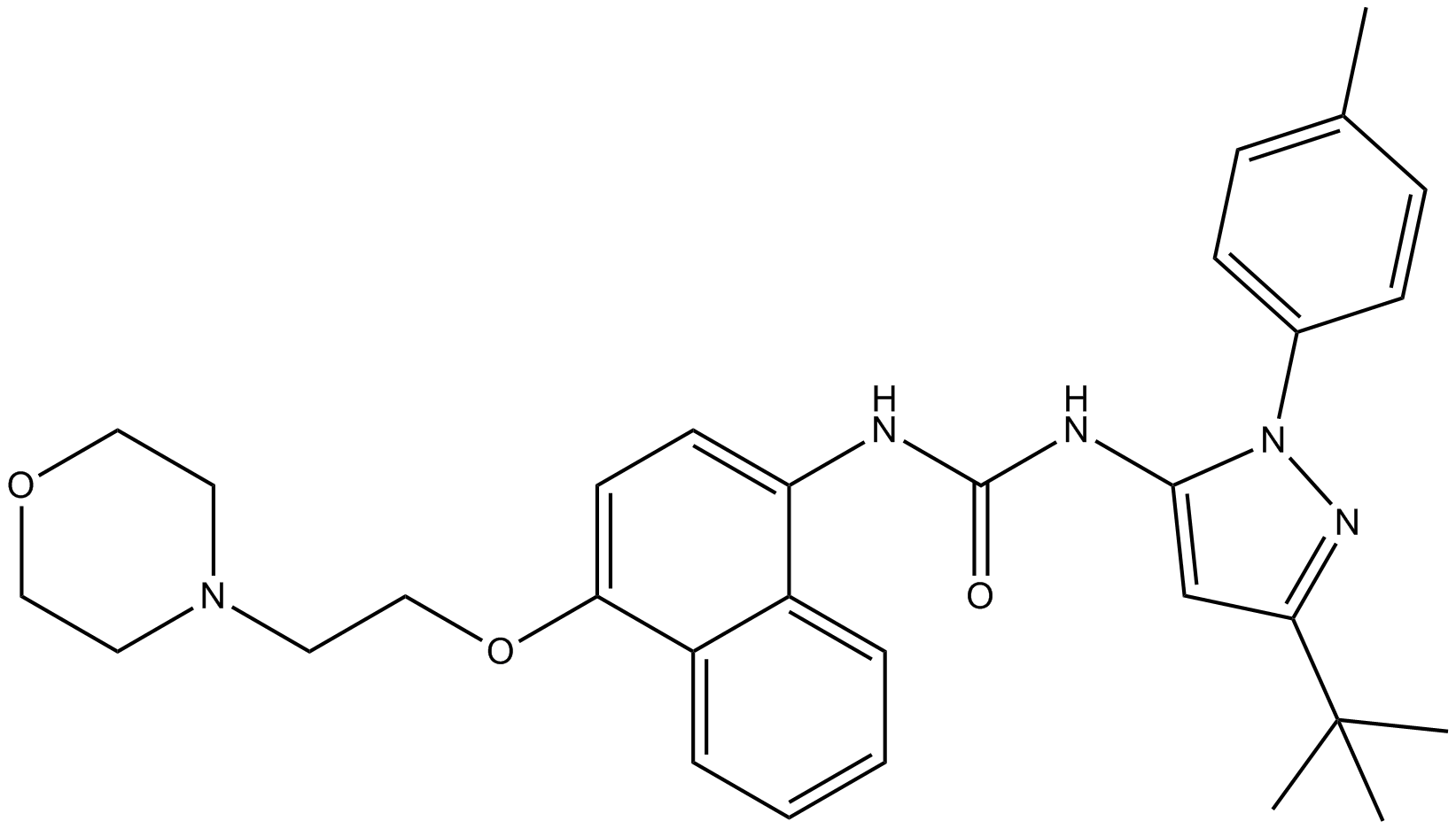 相关生物数据
相关生物数据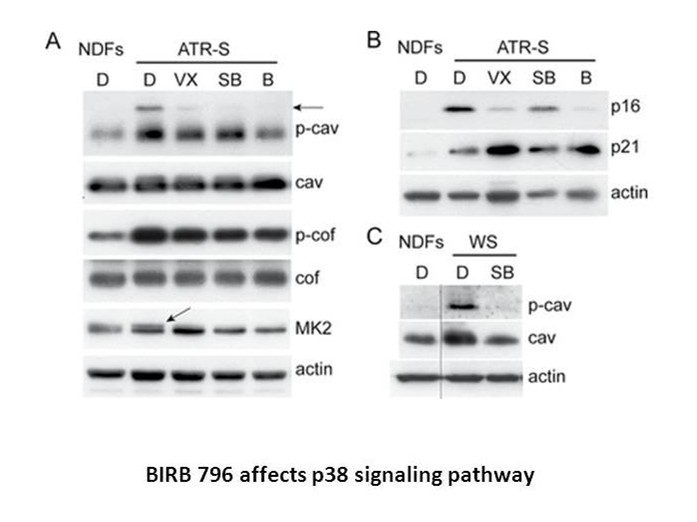 相关生物数据